Instant Pot Asian Beef and Rice
Cook this Asian Beef and Rice in your InstantPot! My InstantPot has been getting a total workout this week! I fell in love with beef and rice, but who has time to cook it the old fashioned way?
Instant Pot Asian Beef and Rice
Can you make beef and rice in a slow cooker?
Well, you could, but you would have to make some adjustments that might not make it worthwhile to do. The beef would be perfect as a slow cooker dish. You could marinate it overnight, follow the recipe to sear it and then cook it for 8-9 hours on low.
However, it's tricky to cook the rice in the slow cooker. You can usually get away with long-grain brown rice on high for four hours, but at that point, you are better off following the InstantPot recipe.
The point of the slow cooker is more of a set it and forget it scenario. If you only have four hours to cook it, it's not really worth risking your recipe. Now if you want to cook the rice separately, this dish is great as a slow cooker option.
How to make beef and rice in the InstantPot
I use my InstantPot every time I am cooking rice. It's fast, I don't have to worry about waiting for the water to boil. I don't have to keep an eye on it. I just set it and forget it. There is quite a bit of variation in terms of cooking it.
If your InstantPot comes with a "Rice" setting, that's meant for white or parboiled rice only. If you are cooking up some delicious long-grain brown rice, you are going to want to use the "Manual" setting on high and cook it for 22-25 minutes, depending on your pot.
Check out my other post on how to get the perfect rice in your InstantPot!
Tip: For best results, marinate the beef the night before for the meat to develop more flavor.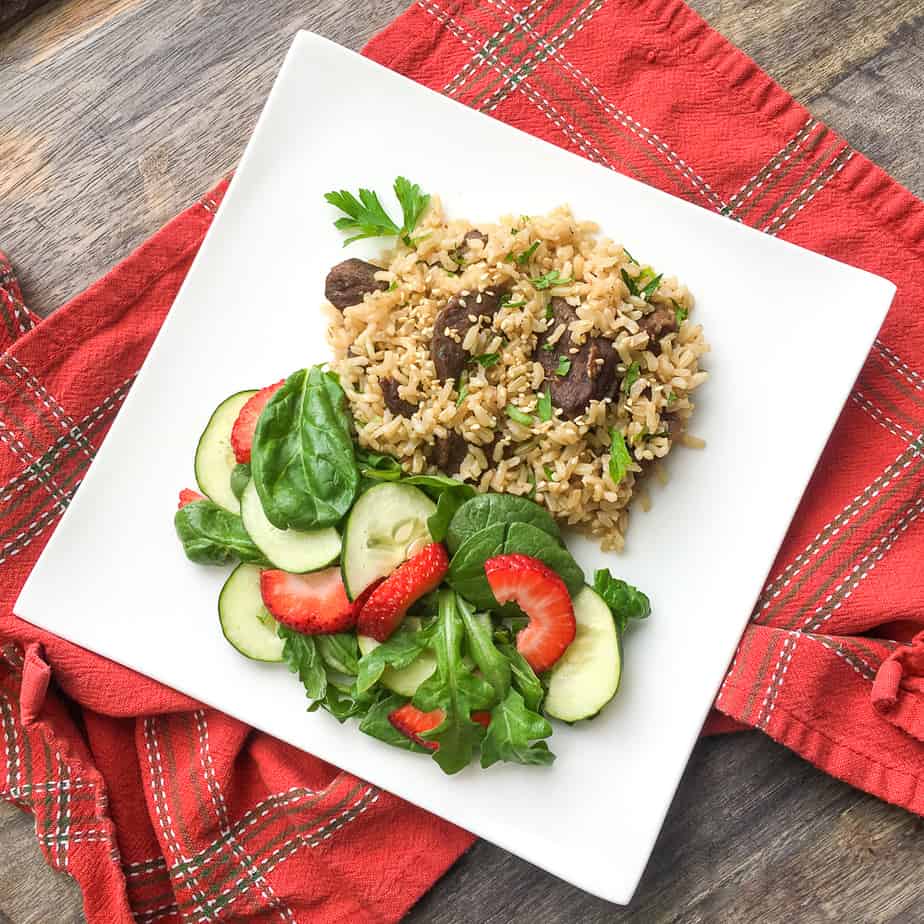 What sides should I serve?
Going with the Asian theme, you could pick up some coleslaw mix or slice up some red and green cabbage and serve with a ginger dressing. Cucumbers are a great choice as well. If you want a hot side, steamed broccoli with sliced garlic is a wonderful choice. Adding some veggies as a side is always a great way to fill up with limited calories. Plus the added fiber that veggies provide is always helpful. I also feel that when I am eating more vegetables, I'm fuller and less likely to binge eat. Conquering emotional eating is still a struggle for me, but this course as helped with that battle.
How many points are in beef and rice?
This delicious recipe has 9 points on the purple plan and 10 on the blue plan and green plan. The points aren't super high, but you will want to plan for this meal ahead of time. If you want to enjoy this dish but have had a day that's a bit higher in points that you would like, your weekly points are always an option. It's important to learn how to balance your weekly points! 🙂
BLUE PLAN: 10 Points
GREEN PLAN: 10 Points
PURPLE PLAN: 9 Points
Print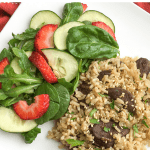 Instant Pot Asian Beef and Rice
---
Author:

Total Time:

42 minutes

Yield:

4

servings

1

x
3 T. gluten-free soy sauce or coconut amino
2T. sesame oil, divided
2 T. honey
2 T. lime juice
½ t. garlic powder
½ t. onion powder
2 t. fresh ginger, finely minced
1 t. crushed red pepper flakes
Sea salt and black pepper, to taste
1½ lbs. stew beef, cubed
1¼ c. water or beef broth
1 c. long-grain brown rice, rinsed and drained
1 T. sesame seeds
3 T. fresh parsley, finely chopped
---
Instructions
Combine soy sauce, 1 tablespoon sesame oil, honey, lime juice, garlic powder, onion powder, fresh ginger, and red pepper flakes in a glass bowl.
Season with salt and black pepper, to taste, and stir to combine.
Set aside.
Place the beef cubes into a sealable plastic bag and pour the marinade on top.
Seal and gently turn the bag to thoroughly coat the beef.
Marinate at room temperature for at least 30 minutes, or place in the refrigerator overnight. Turn bag occasionally for even distribution of the marinade.
To prepare, add remaining 1 tablespoon sesame oil to Instant Pot and press the "Sauté" button.
Adjust the heat setting to high.
Once hot, transfer the beef cubes to the Instant Pot and discard the remaining marinade. Brown the beef on all sides, approximately 3-4 minutes.
Add the beef broth and scrape up the brown bits from the bottom of the container.
Turn Instant Pot off and add brown rice.
Season with salt and black pepper, to taste.
Add lid and securely lock.
Flip the pressure value to the "Sealing" position and press the "Manual" button.
Adjust setting to high and set cook time for 22 minutes.
After a brief pause, the Instant Pot will automatically start building pressure.
When cook time is complete, allow pressure to release naturally for 10 minutes, and then do a quick release for any remaining pressure.
Carefully remove the lid and fluff the rice with a fork.
Taste and adjust seasonings, as desired.
Transfer to a platter and sprinkle with toasted sesame seeds and chopped parsley, if desired. Serve immediately with your favorite sides. Enjoy!
Prep Time:

10 minutes

Cook Time:

32 minutes
Nutrition
Serving Size:

about 1/2 cup