Vegetable and Tahini Tray Bake
Getting back into the swing of things can be a daunting task. Our vegetable and tahini tray will help you jump start that process and have you feeling great to boot. This dish was fun to make and loaded with color and flavor.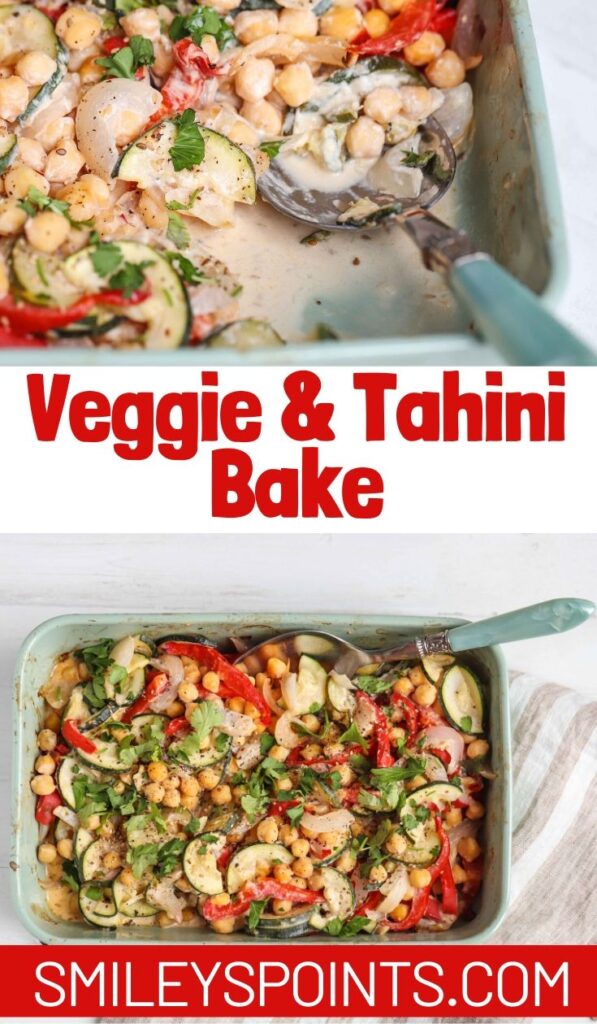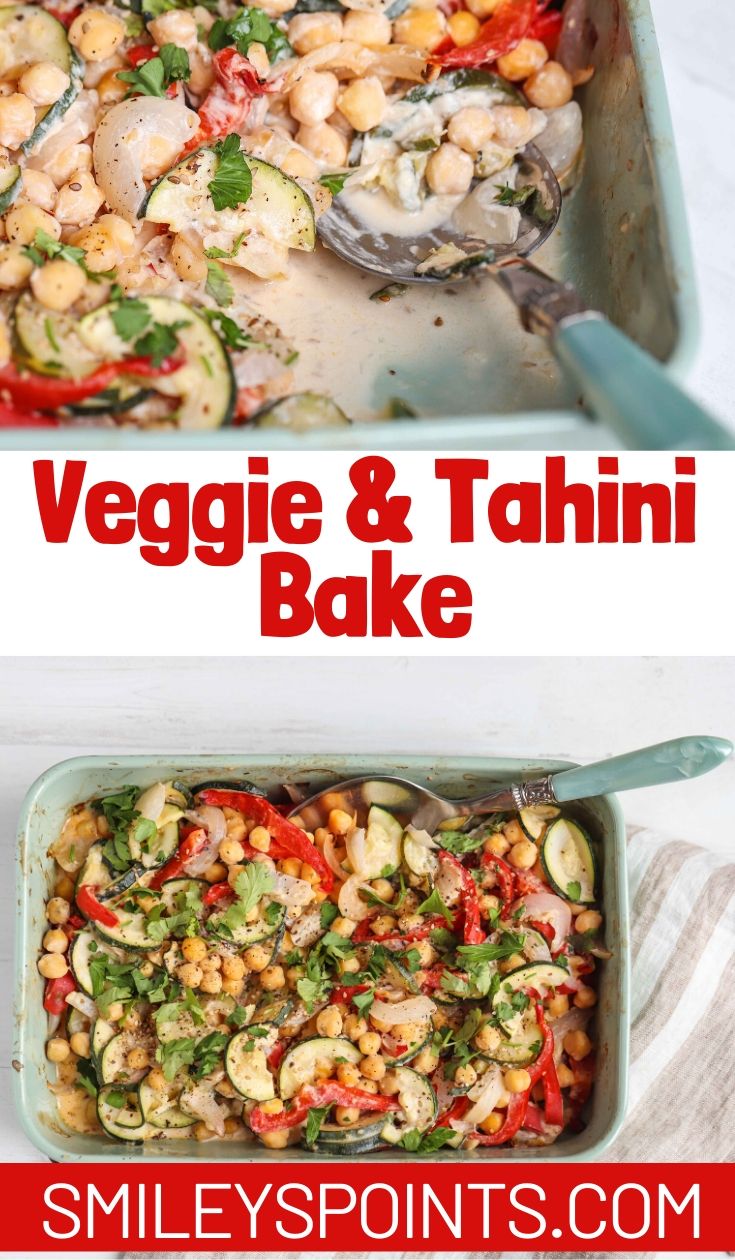 Vegetable and tahini bake
With only 10 ingredients and you won't believe how much flavor this dish has. I was surprised and you all know I love flavor and will not steer you wrong. I am not a vegetarian or a vegan but I do love my veggies and this dish is loaded with them.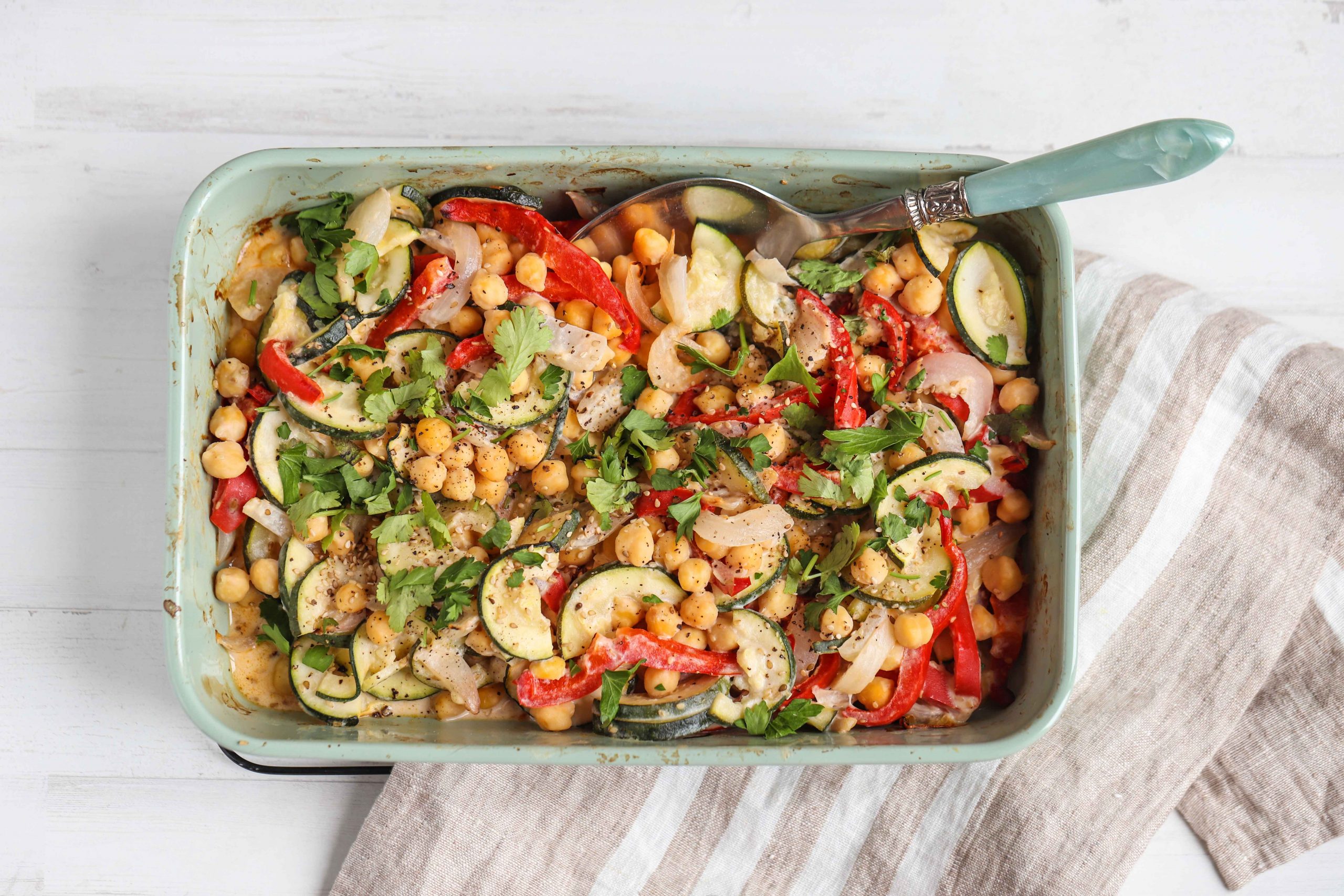 How do I add protein to a vegetarian diet?
Chickpeas are an excellent source of protein for this meal. With the protein content of 1 cup (uncooked) coming in around 39 grams of protein (1 cup cooked chickpeas is around 14.5g of protein), you are sure to feel full longer and enjoy the benefits of all of the vitamins and nutrients found in the other vegetables.
A truly delicious and nutritious meal. When you are following a vegan or vegetarian diet you have to ensure you are eating some protein. It is far to easy to forgo protein sources but make sure you are incorporating them into your meal plans.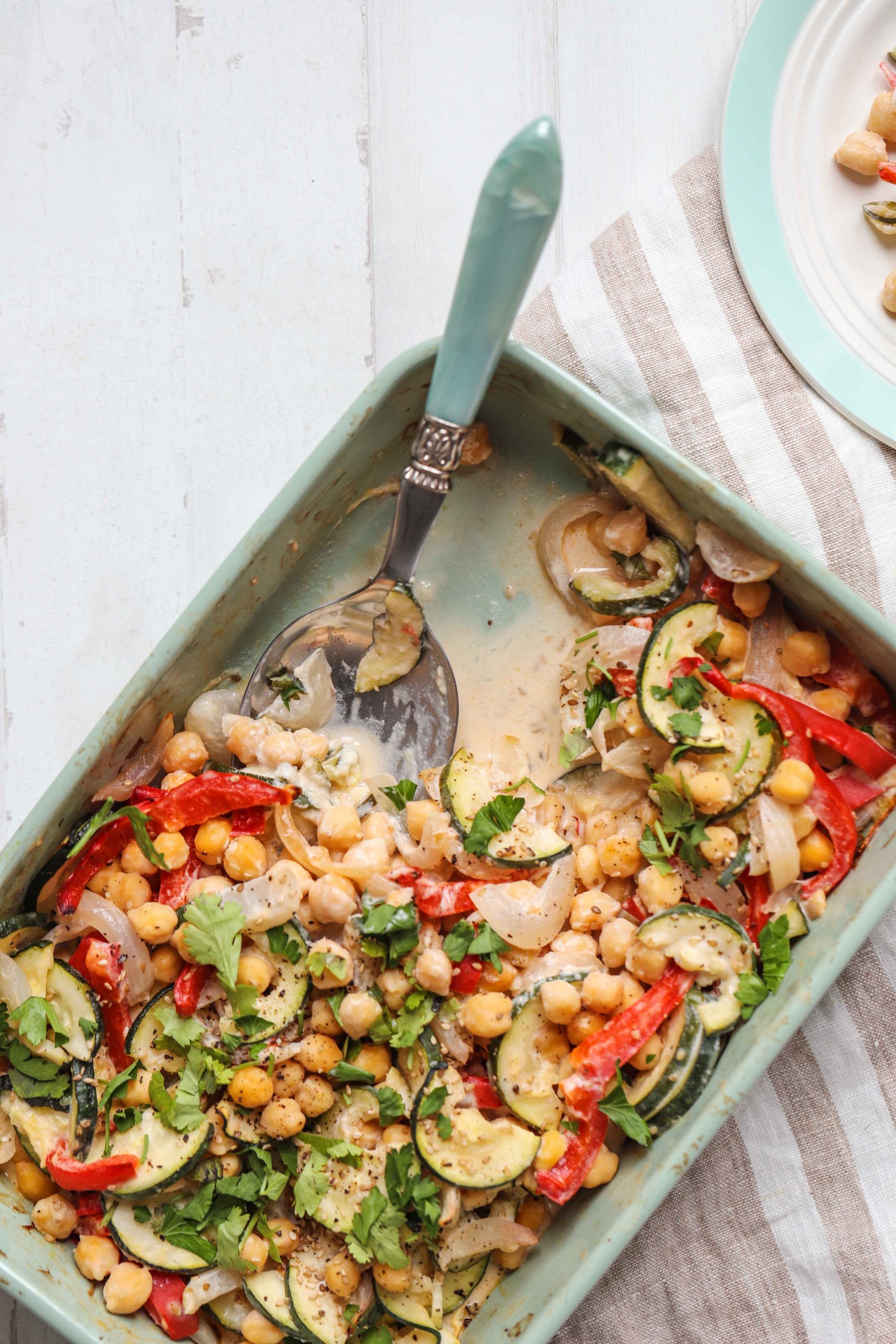 What are some other add-ins?
You will notice that there are no mushrooms in this dish, you can add them for another texture and a slightly different flavor profile depending on the mushroom you choose. I live in Arizona and there has been a recent recall on mushrooms due to salmonella so we have not purchased any in a bit.
Mushrooms need to be my next garden experiment. I have tomatoes and a few herbs that I have been enjoying cooking with. I will have to branch out and learn about growing and harvesting my own mushrooms. If you are interested in my gardening excursions or just want to learn about starting your own check out my gardening section. It is all about tomatoes right now but as I grow more things I will include more info over there.
Broccoli is another great vegetable you can add to this dish. If you like your broccoli with a little crunch steam it or blanch it before adding it to the mix. stir to mix the broccoli in and enjoy. I would add the broccoli at the end so that you don't overcook it.
Tofu is a fantastic add-in. Want to add a little more protein? Do you want another texture that is absolutely delicious and will add even more depth to this dish? Tofu is your answer. Extra firm tofu cubed and sauteed then added to the sauce before you toss it in with the vegetables is the absolute best way to enjoy tofu with this dish.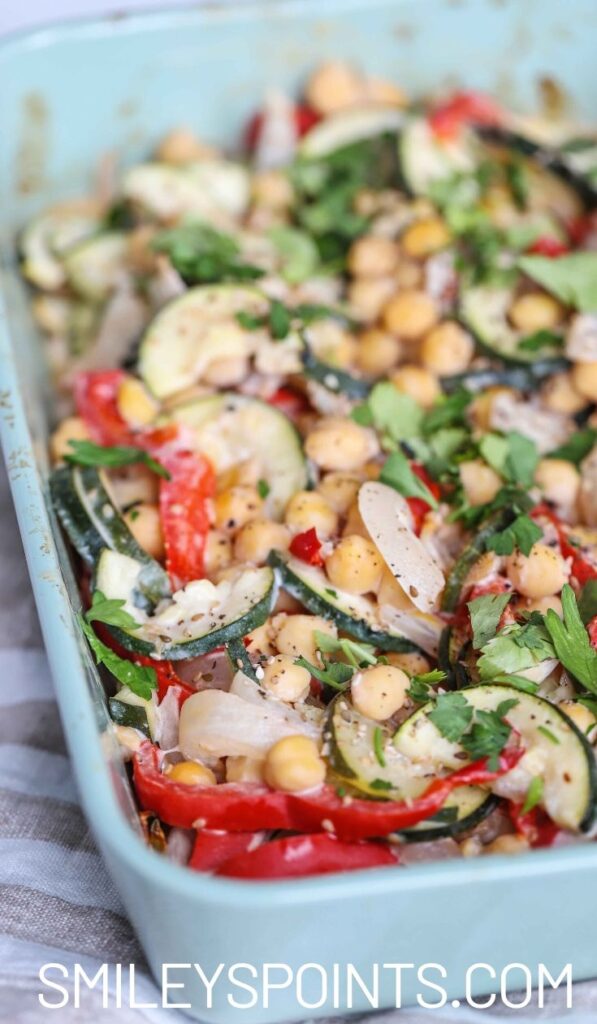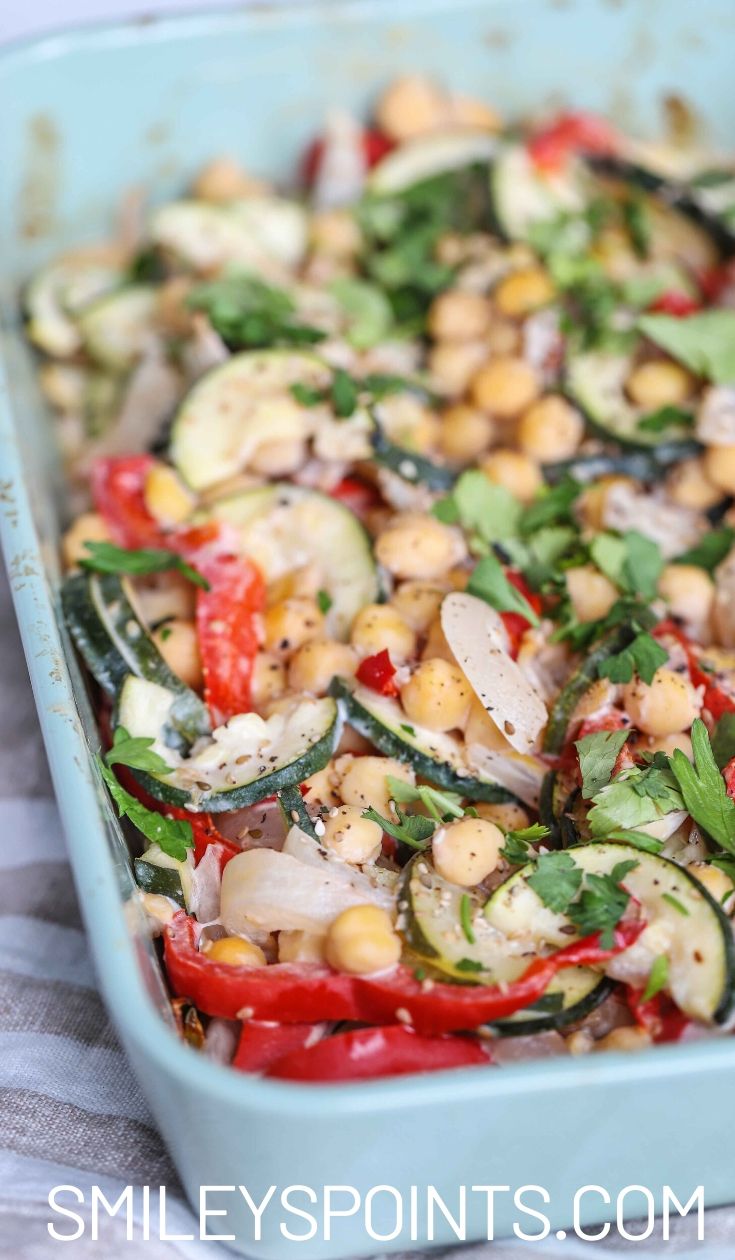 Looking for more great vegan inspired recipes?
Check out some of our meal plans for more great recipes
BLUE PLAN: 4 Points

GREEN PLAN: 5 Points

PURPLE PLAN: 4 Points
Print
Vegetable and Tahini Tray Bake
---
1 onion, sliced
1 zucchini, sliced
1 red bell pepper, sliced
1 cup chickpeas, drained
1 Tbsp. olive oil
3 Tbsp. tahini
1 lemon, juice only
3 Tbsp. almond milk
1 Tbsp. sesame seeds
handful coriander, chopped
---
Instructions
Preheat oven to 190°C (375°F).
Place the chopped vegetables in a baking tray, drizzle with olive oil and season with salt and pepper. Mix well and cook in the oven for 35 minutes or until vegetables are cooked.
In a small bowl, mix the tahini, lemon juice, milk, and sesame seeds, then set aside.
Once vegetables are cooked, mix them with the tahini sauce and serve with fresh coriander.