This green bean salad recipe is far different than what you might expect. Fresh green beans, ripe tomatoes, and a hint of cheese adds a pop of flavor and creaminess to every bite.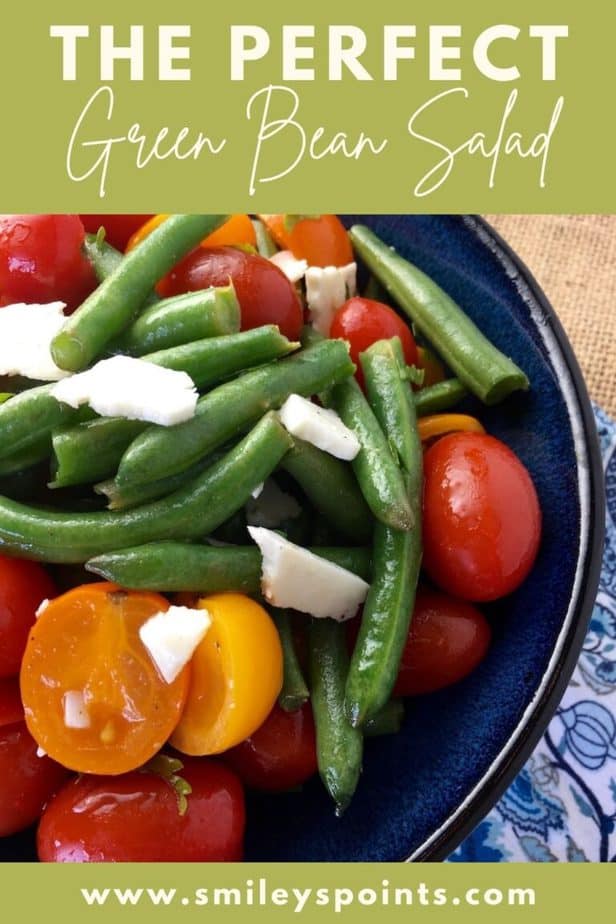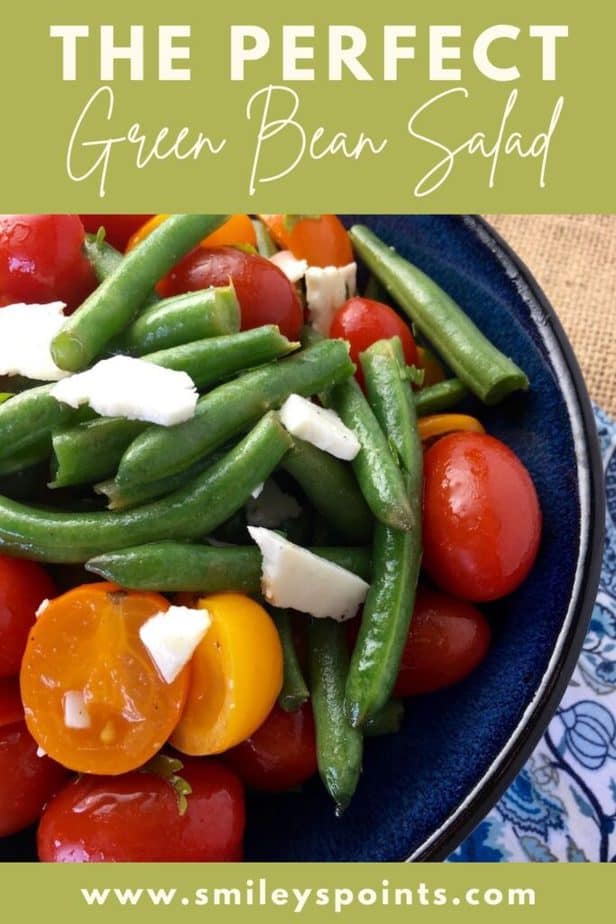 ---
"Healthi formerly iTrackbites is an alternative to Weight Watchers. "
---
Green Bean Salad Recipe
Green beans are one of the most versatile vegetables you can add to your meal plan. They can so easily be adjusted to fit a number of flavors, and they are packed with nutrients. I love that I can serve them up in something light and bright like a salad or alone with a hint of richness from garlic. This recipe, however, is going to become your favorite new side. It's so easy to whip up in seconds, and is ideal for adding those extra vegetable portions to your day.
Why Should I Add More Veggies to My Plate?
One thing I learned fast when following the WW plans and using mindful eating practices was that vegetables are the key to success. Not only are they low in points and calories, they are packed with fiber.
Fiber and protein are the two things that help me stay full longer. So, to balance out a meal, I like to have a nice portion of vegetables. The problem is, they can be boring just by themselves. That's why you need to do more than open a package or can of vegetables. Adding a light dressing, or mixing with some fresh herbs, can give ordinary vegetables a whole new life!
When you make your plate 50% vegetables, you are more likely to be full faster, and thus eat fewer of the high point items on your plate. Plus, the nutrition in these is ideal for fueling your body with tons of energy.
If you want more low or zero point options to add to your meals make sure you check out the lists we gathered for each plan below.
Can I Make This a Vegan Bean Salad?
You can definitely make this vegan! Vegetables themselves are naturally vegan. In fact, the only non-vegan item in this recipe is the feta cheese. You can easily simply leave that out or replace with a vegan feta option.
I like Violife Feta as a nice vegan option you can buy in your local grocery store. If you prefer making your own, The Edgy Veg has a great vegan feta recipe that is ideal for this recipe.
Note: If you use alternative vegan feta for this recipe you will need to recalculate the points.
Please calculate EVERY recipe you find online in your recipe app. I have found the WW app updates frequently, making some counts inaccurate. All points are accurate at the time of posting, but just to be safe I recommend calculating points by using your recipe builder. You can do this in  Healthi formerly iTrackBites as well (for free!).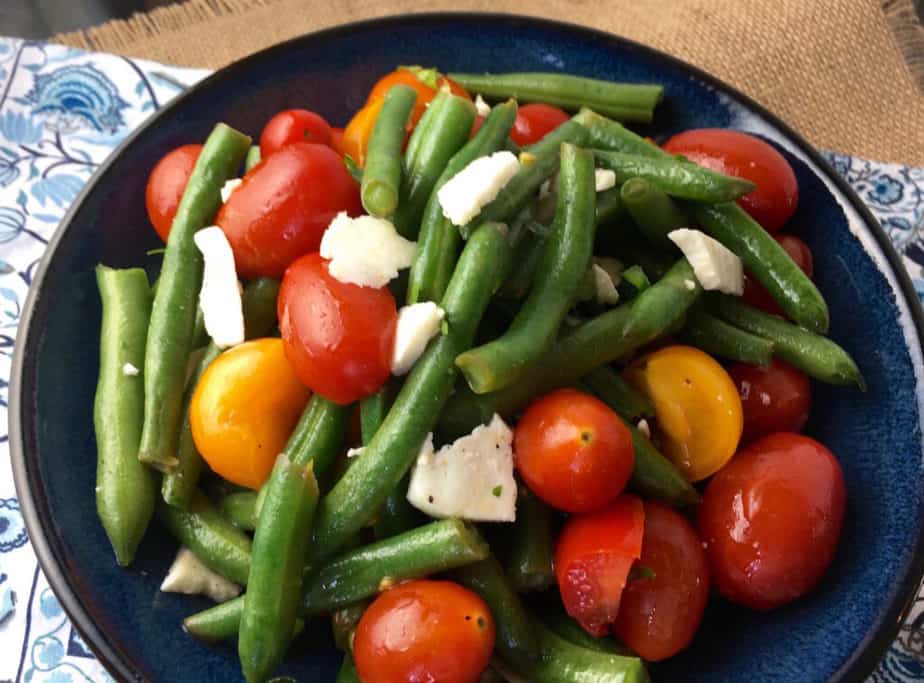 Can I Use Canned or Frozen Green Beans?
While it is possible, I highly discourage using anything but fresh beans for this recipe. My wife prefers her vegetables just barely tender. This is a personal preference, but also gives better texture and a much brighter flavor.
Additionally, fresh vegetables retain more nutrients. That means you get the most benefits out of this when not cooking for longer times. Who wouldn't want to make the most out of their vegetables? I know I sure want to make sure I am adding healthy items to my meals, and this is a natural option.
Is This Bean and Tomato Salad Gluten Free?
Yes! Thankfully, all of the ingredients, including the feta, are naturally gluten-free. If you change out the feta for a vegan option, you may need to verify that they are also gluten-free.
Can I Use Any Tomato In This Salad Recipe?
Grape tomatoes are handy for this recipe since they are already bite sized. While I prefer cutting them in half, you could leave them whole if you are in a hurry. There is no specific tomato that is better than others for this recipe, but I do have my own personal favorites.
Grape tomatoes, cherry tomatoes, heirloom varieties cut into chunks, and Roma tomatoes are probably most common. If you have fresh produce and can get beefsteak tomatoes that have been vine-ripened, you'll have amazing flavor and juiciness that really pops in this salad.
Weight Watchers not working?
Read about my (successful) Noom experience!
How Long is This Salad Good in the Fridge?
When stored in an airtight container, this is good for 3-4 days in the refrigerator. I prefer it fresh the first day as the herbs are brightest. You can keep it for longer or make it ahead of time to serve at potlucks or for meal prepping purposes.
How Can I Turn This Into a Full Meal?
If you want to use this as the base for a full meal, you can easily do so. Since it has so many flavors it works great as a base alongside a protein. Below are some ideas that can work to make this a satisfying full meal.
Struggling to Pay for WW?
Sometimes WW just doesn't fit into the budget for everyone. If that's the case, make sure you check out Healthi formerly iTrackbites as an alternative!
How to do WW on Healthi formerly iTrackBites
Find info on the Purple Plan here.
Find info on the Blue Plan here.
Find info on the Green Plan here.
iTrackBites full overview
cost: Healthi formerly iTrackbites costs $36 for the year (using this link for 40% off makes it $36 if you use COACH_SMILEY as the code. You need to put in the code to save the MOST $$$), WW is $16+ for the month, and it's the same formula! UPDATE JAN 2021 — sign up for a free account, then use code COACH_SMILEY after your profile is set up. Click DISCOVER PRO, enter the promo code, and you'll get Healthi formerly iTrackbites for just $24.99 a year!! Use this tutorial if you're unsure on how to use a promo code on iTrackBites. (They keep changing this!! So I update this tutorial often.)
choices: I can choose PointsPlus, Freestyle, or any other plan I want with Healthi formerly iTrackbites. Even with the new WW changes, they only offer 3 plan options (not PointsPlus).
logs: You can export your tracker data by the week, month, or quarter with Healthi formerly iTrackbites. WW does not give you access to quarterly data.
accuracy: I've found inaccurate info in the WW app due to members submitting and not paying attention to the right numbers. With Healthi formerly iTrackbites, I know if I see the green check, it's been verified as accurate. This puts my mind at ease!
BLUE PLAN: 5 Points

GREEN PLAN: 5 Points

PURPLE PLAN: 5 Points
Print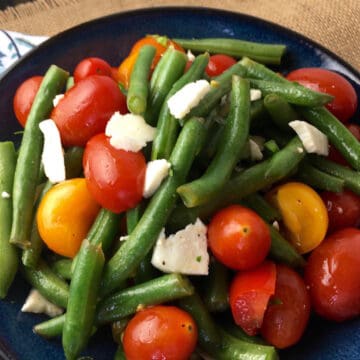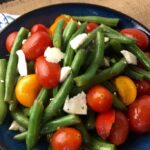 Green Bean Salad
---
Author:

Total Time:

17 minutes

Yield:

4

servings

1

x
Description
This versatile salad combines garden fresh herbs and veggies with the delicious salty flavor of Feta cheese. As an added bonus, it takes less than 20 minutes to put together and can be enjoyed either warm or cold.
---
1½ lbs. fresh green beans, tips removed and cut in half
1 pint grape tomatoes, washed and cut in half
1 T. fresh basil leaves, finely chopped
1 T. fresh parsley leaves, finely chopped
2 T. extra virgin olive oil
2 T. sherry vinegar
Sea salt and black pepper, to taste
1/2 c. Feta cheese, crumbled
---
Instructions
Over high heat, bring a large pot of salted water to a boil. Add green beans and cook until crisp tender, approximately 3-4 minutes. Drain the green beans and then transfer to a large bowl of ice water to prevent further cooking.
Remove green beans from the ice bath and pat dry before adding to a large glass or other non-reactive bowl. Add the tomatoes, basil, parsley, olive oil, and vinegar to the bowl and toss to combine. Season with salt and pepper, to taste.
Gently fold in crumbled Feta cheese and serve immediately. Salad can also be chilled and served cold.
Prep Time:

10

Cook Time:

7