Hate Oatmeal? These two recipes are sure to change your mind give them a try and see if you start liking the belly-warming, keep you full until lunchtime, breakfast treat.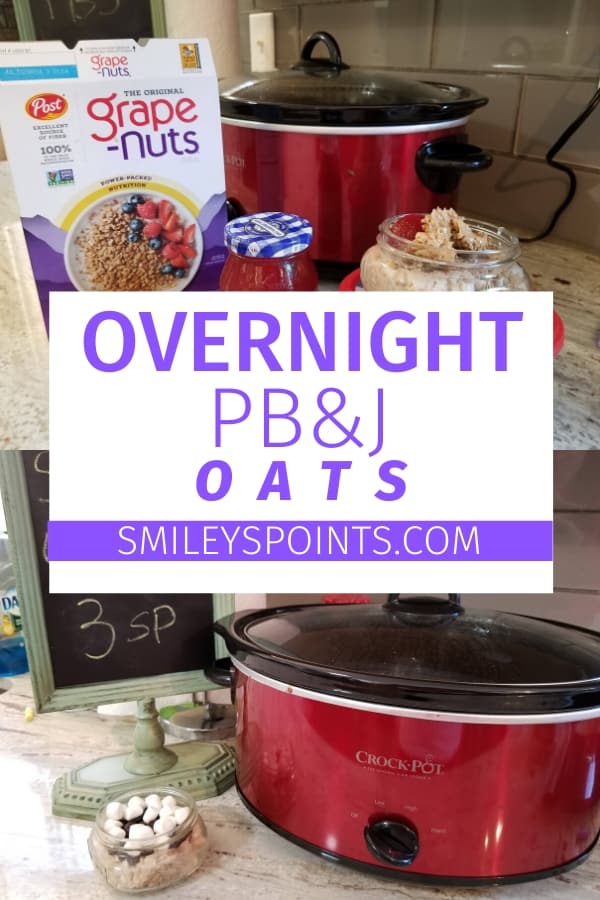 How To Stop Hating Oatmeal
I'm so happy you're here. 🙂 Note: Smiley's Points participates in affiliate programs. That's how the bills get paid! There is no additional charge to you and I only recommend products I know and love.
What is it you hate about oatmeal? If it is the taste then let's change that up a bit and give you a few ideas to freshen it up a bit and make it palatable. Barrett Pastor has been busy lately. She cooked up her famous Overnight Oats and shot a video of a few of her favorite add-ins. After trying the Original Peanut Butter and Jelly Oats I had to give these a try.
Meal Prep
If you are like me you know meal prepping makes it easier to count points. I am more likely to count points when I meal prep. I like to make freezer meals and write on the bags so I know at a glance how many points I am about to eat and where I am in my points bank. Barrett makes her overnight oats and stores them in these cute little jars in the fridge for when she is ready to eat them. I think this is awesome. She writes on the lids what is inside like smores or crunch and at a glance she can tell what is under the lid 🙂 Pure genius. There is a link in the description of the video for those exact jars 🙂 Her link is above also.
Oatmeal Nutrition Facts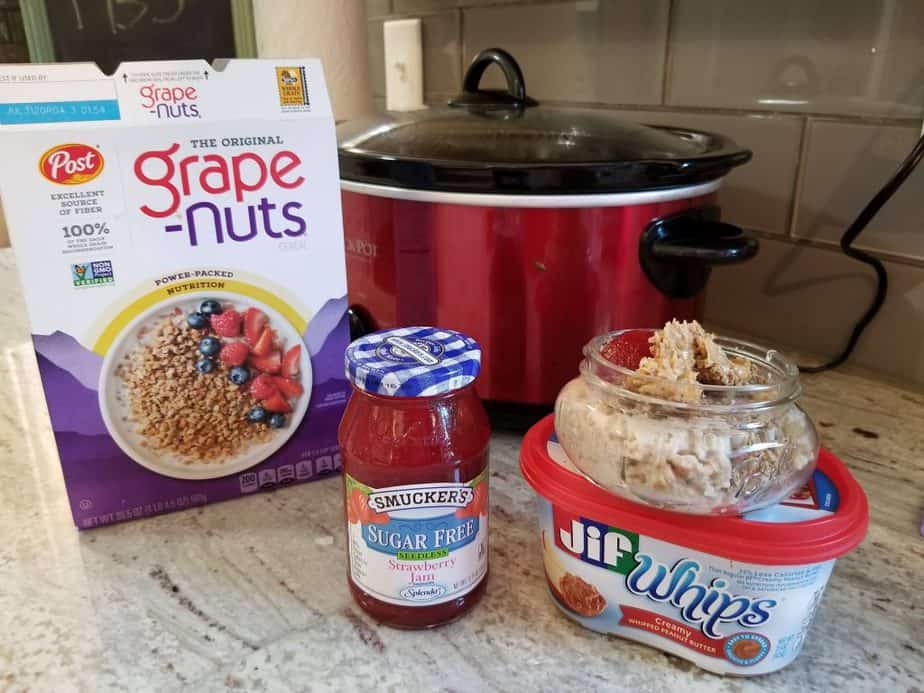 Oats are one of the healthiest grains on earth. They are gluten-free and a great source of important vitamins and minerals. Studies show that oatmeal has a ton of health benefits including weight loss. These are just a few of the 9 reasons covered on the Healthline.

You guys know I like to include the calories, carbs and fiber content because I need to watch those myself. If you are not watching those and still losing weight I envy you 🙂 I want to include everything I can to help all of us get there so here it goes.
| | | | | |
| --- | --- | --- | --- | --- |
| Oats | Serving Size | Calories | Carbs | Fiber |
| Rolled Oats | 1 cup | 307 | 55.9 | 8.2 |
The Good Stuff
For 1 Cup Of Oatmeal With 1 Cup of Unsweetened Almond Milk
BLUE PLAN: 6 Points

GREEN PLAN: 6 Points

PURPLE PLAN: 1 points
Our Serving size is 1/4 Cup this recipe will make about 10 servings
Now to make your oatmeal delicious. The add-ins are what make the oatmeal scrumptious. So in this video Barrett adds in 1 serving of Lilly's chocolate chips and marshmallows. Can you say smores 🙂 This isn't your everyday oatmeal. This isn't your box oatmeal either this is a new and improved way to create a healthy delicious breakfast that will definitely keep you full until lunch.
Add-Ins
With the add-ins the points will go up some, I will include the points with the add-ins after the recipes 🙂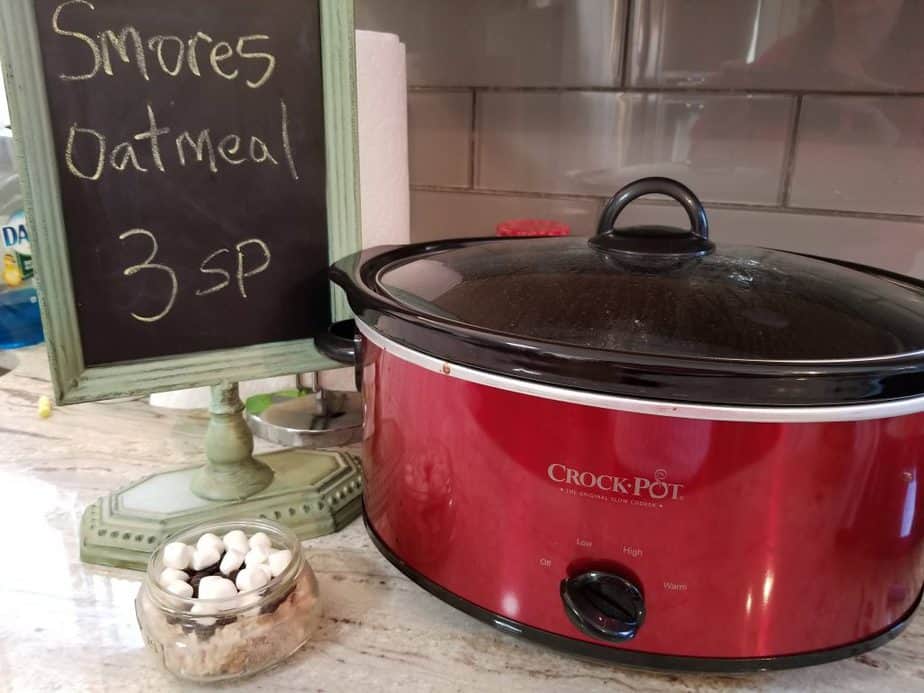 For Oatmeal Smores
Lily's Chocolate Chips 1 serving about 60 chips for 2 points Barrett uses 30 for 1 point
Marshmallows 1 serving about 10 minis
BLUE PLAN: 4 Points

GREEN PLAN: 4 Points

PURPLE PLAN: 3 Points
For Crunchy PB&J Oatmeal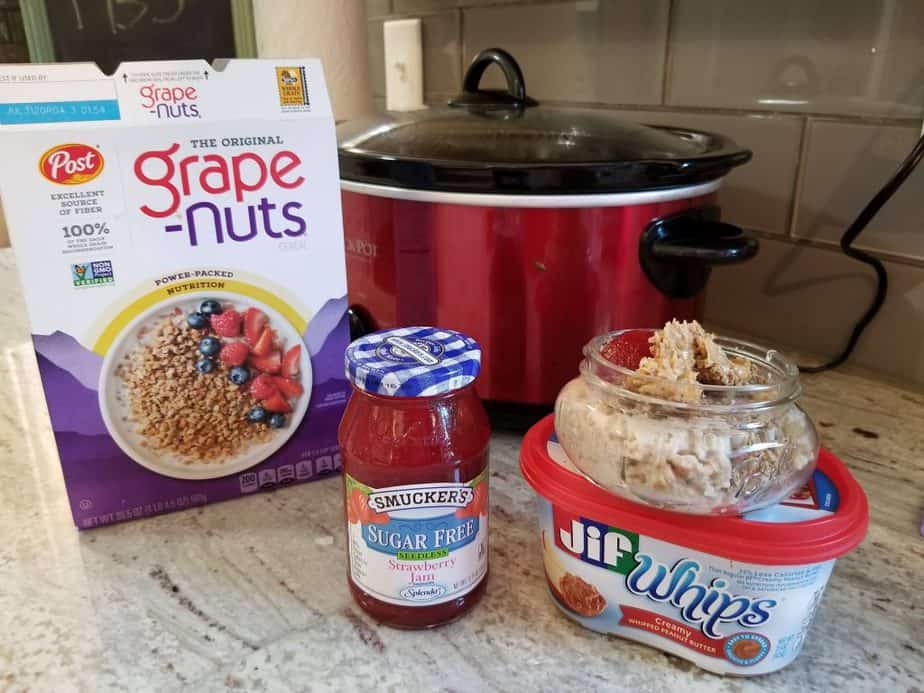 13 grams of grape nuts
1 tbs Jiff Whips peanut butter
1 tbs sugar-free strawberry Smuckers
BLUE PLAN: 4 Points

GREEN PLAN: 4 Points

PURPLE PLAN: 3 Points
More Delicious Recipes

Bacon and Egg Wraps
Easy Egg Casserole
Air-Fryer Egg Souffle
Best Vegetarian Recipes
Print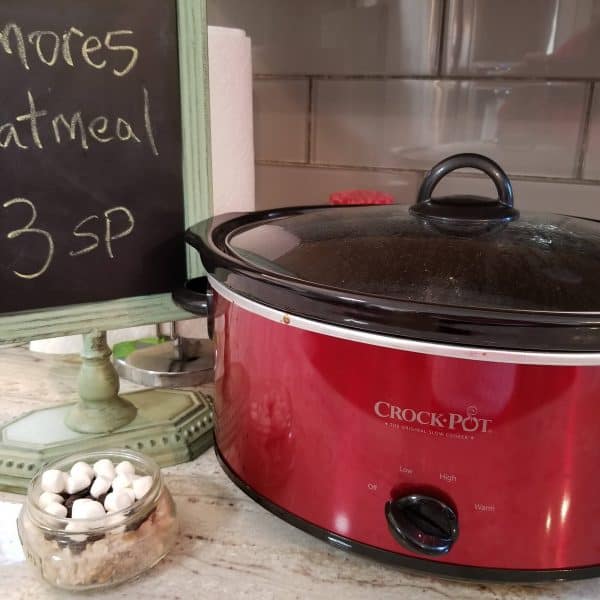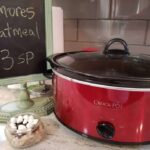 How Not to Hate Oatmeal
---
3 cups of Quaker Oats oatmeal
2 tbs vanilla
3 tbs cinnamon or more to taste 
3 cups of unsweetened almond milk
3 cups of water
---
Instructions
Add ingredients to your slow cooker and simmer on low for three hours
Cool your oatmeal
Store your oatmeal in serving size containers until you are ready to eat.
Your add-ins go into your oatmeal after it is cooked.