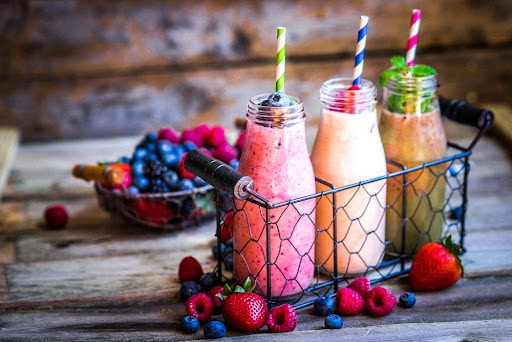 Some people claim detox drinks successfully remove toxins from the body. While most people associate this with weight loss – since weight loss is a by-product of a cleanse – you can also use it to promote good overall health. We outline what to drink to detox your body.
Do Detox Methods Work?
The Journal of Human Nutrition and Dietetics concludes that some studies indicate commercial detox diets may improve how the liver removes toxins. It also outlines the limitations of these studies, citing flawed methodologies and not having a large enough sample size to draw a significant conclusion.
Current gastroenterology reports discovered detox diets may aid in weight loss, but the results are due to a reduction in calories. The authors further commented that normal diets help people lose weight through calorie reduction. However, in the long term, they are found to lack sustainability needed to maintain the weight loss.
There is also a concern that the individual may not be receiving the proper nutrients required for a healthy body.
Are Detox Drinks Good or Bad?
Detox drinks aren't entirely bad when used safely and properly. The challenge with some of the drinks or advice is that people only consume the detox drink over a long period. This will give unhealthy results. Doing this will deprive the body of much-needed nutrients and force it into starvation.
While the body can handle short durations (one to two days) of reduced-calorie reduction (also known as intermittent fasting), going any longer than this has detrimental effects.
However, if you consume detox drinks as part of a well-balanced diet, this will aid in your overall health and weight loss efforts.
The most beneficial type of drink is a smoothie. These fall into the categories of green, fruit, and combination smoothies.
Green smoothies contain nutrients but are low in salt, fat, and sugar. Some of the ingredients may be overpowering but following well-reviewed recipes will allow you to find a combination that tastes good without the overpowering effect.
Fruit smoothies are high in sugar and should be consumed in moderation. They contain more fiber than fruit juices. You can up the protein level by adding yogurt.
Combination smoothies combine both fruit and vegetables, eliminating the overpowering effect of the veggies while reducing the sugar of fruits. Some people add nuts and seeds as protein. Adding chia seeds will boost omega-3 content.
What to Drink to Detox Your Body – 6 Amazing Drinks
Smoothies are a great way to make drinks on the go and are a popular quick beverage. Adding crushed ice is a great way to cool off when temperatures are soaring. They are easy to make with little fuss and have virtually no clean-up.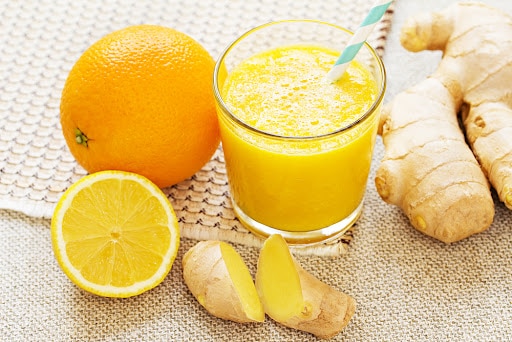 Orange and Ginger Smoothie
Type of Drink: Fruit Cleanse
This drink will rid the body of waste products, resulting in a flatter stomach. It will also leave you feeling lighter.
Blend a single, peeled banana, ½ a cup of sliced mangoes, and ¼ cup of orange juice combined with ¼ cup of drinking water. Add four to five ice cubes and a splash of sparkling water. Elevate this mixture by including ¼" of peeled and minced fresh ginger. Fresh ginger is believed to increase your body's natural detoxification system.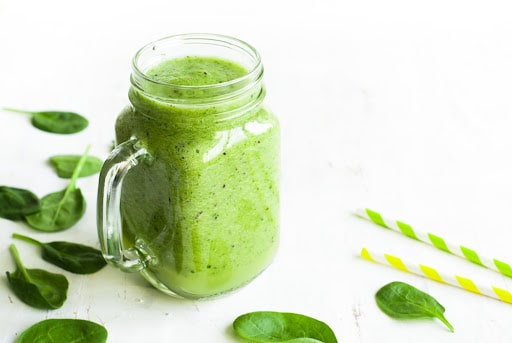 Vegetable Detox Smoothie
Type of Drink: Vegetable Cleanse
To make this vegetable detox recipe, chop three carrots, three kale leaves, two celery stalks, two beets, one turnip, half a bunch of spinach, half a cabbage, half a bunch of parsley, half an onion, and two garlic cloves. Then, pour Beloka mineral water into the mixture in a blender. Blend until it is a fine puree. Avoid straining to preserve the nutrients.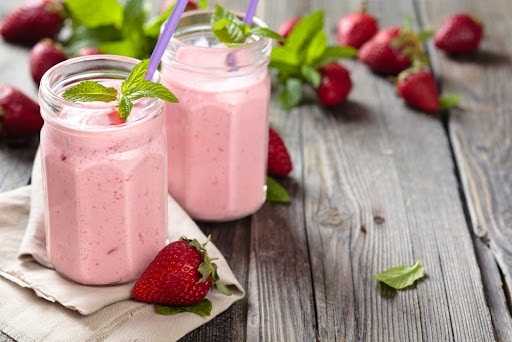 Fruit Detox Smoothie
Type of Drink: Fruit Cleanse
Fruits are a great source of fiber and provide essential vitamins and minerals to the body. Place eight ounces of orange juice, four ounces of Beloka mineral water, half a cup of strawberries, half an inch slice of ginger, one small clove of garlic, one tablespoon of flax oil, one tablespoon of lecithin granules, one tablespoon of freshly squeezed lemon juice, and one tablespoon of protein powder in a blender. Mix until smooth.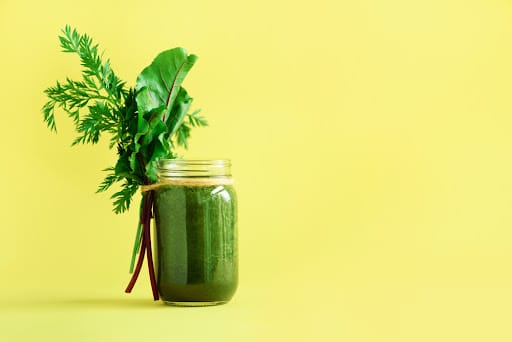 Green Powerhouse Smoothie
Type of Drink: Combination Cleanse
This smoothie will boost your immune system. It is full of antioxidants, minerals, and vitamins essential for good health. It is great for a quick breakfast, as a snack, or to cool down on a hot day.
Begin by adding one cup raw spinach and one cup raw kale to a blender. Blending your greens first will make for a smoother shake. Then, add one cup pineapple, one cup mango, one banana, and 1 ½ – 2 cups of water. Blend the mixture until it is smooth.
If you want a thicker smoothie, use less water. For a thinner one, use more.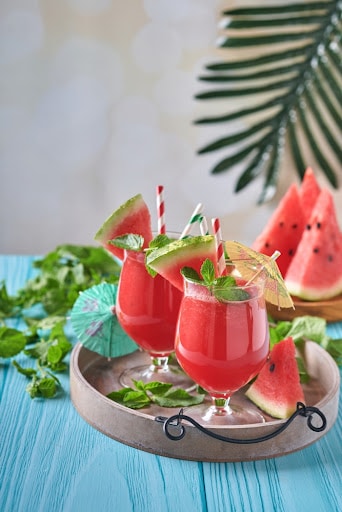 Red Fruit and Watermelon Smoothie
Type of Drink: Fruit Cleanse
For a thirst-quenching and refreshing drink, look no further than this smoothie. The red fruits and strawberries help your body drain toxins. Plus, strawberries are a perfect source of vitamin C. Red fruits act as antioxidants to protect against cellular aging.
This recipe makes enough for two people. Wash a handful of strawberries (around one cup) and remove the leaves. Remove the peel and seeds from three cups of watermelon. Rinse one cup of red fruits composed of currants, raspberries, and blueberries. Juice one teaspoon of lime.
Place the ingredients into your blender and add water until it reaches the desired density. Pour it into a bottle, jar, or glass. Place a colorful straw into the glass plus some red fruits as decoration.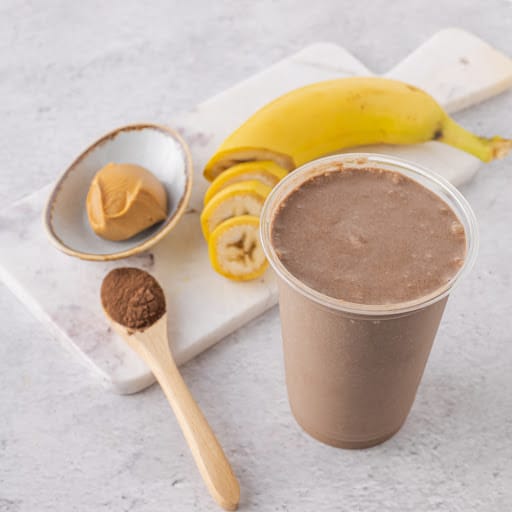 Peanut Butter and Banana Smoothie
Type of Drink: Combination
Bananas are rich in nutrients. They improve blood sugar levels, support digestive tract health, are full of antioxidants, and help you feel fuller longer. Peanut butter is a good source of protein, but watch the sugar content in some brands. Purchase ones naturally-made or fresh. They have the best taste and are a healthier alternative.
Place two medium frozen bananas and one medium banana (room temperature) into a blender. Puree the mixture until smooth. Add four tablespoons of creamy peanut butter, one cup of milk, and one cup of ice cubes. Blend the mixture until the ice is crushed and all ingredients are combined.
For added protein (and flavor), some people use chocolate or vanilla protein powder or flax seeds. You can either use it with or without the peanut butter.
How Many Detox Smoothies Should I Have in a Day?
Allow your body a chance to restore its natural balance and provide your body with adequate nutritional intake by drinking a detox juice smoothie once a day. You need to leave your body enough time to recover from expelling waste. Too much time spent in the bathroom isn't a good thing as it can cause dehydration.
So, while you may see your stomach becoming flatter and feel lighter, this can quickly become dangerous. Furthermore, the calorie count in smoothies is generally around 150 calories. This is the same as a soda but more nutritious. Plus, smoothies will not replace a well-rounded diet.
If you want a lower-calorie detox diet drink, there are some great recipes here. These are just refreshing detox juice drinks – not smoothies. They will also work but have a decreased calorie count. However, detoxification smoothies and drinks should never act as a replacement for a well-balanced meal.
Smoothie Suggestions
If you don't have a lot of free time in your daily schedule, you can stock your freezer with smoothies. Separate the mixtures into quart bags and place them in the freezer so you always have a quick snack or meal ready. Just thaw the mixture and you are good to go.
If you are freezing your smoothies, be sure to lay them flat for easy storage.
Getting bored of the same old thing? Mix things up by making popsicles out of the smoothies. The most popular type for this is an orange banana smoothie placed in a mold. Place it in the freezer and wait for it to solidify. This is great for a healthy summertime party snack or a sweet treat without the loaded calories.
When considering what to drink to detox your body, always consider the calorie count and how much you consume. Smoothies are a great meal replacement and a wonderful way to incorporate quick healthy eating into your diet.
These recipes are a great source of antioxidants, fiber, and vitamins. They are great for overall digestive health and getting rid of toxins. However, they should never be used as meal replacements. An excess of any body detox drink can quickly become unhealthy. They are best used in moderation.
If you would like additional recipes, consult Noom and Healthi. They are a great source of healthy information.