PINK GRAPEFRUIT MARTIN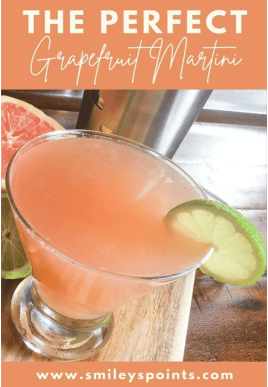 This pink grapefruit martini is light and refreshing and is sure to be a hit at your next gathering. You are going to love the clean refreshing taste of this amazing drink.
HOW TO MAKE THE PERFECT PINK GRAPEFRUIT MARTINI.
My pink grapefruit martini is the perfect drink for a warm summer or fall evening. When making this fantastic drink remember to enjoy responsibly. The alcohol is slightly masked by the refreshing flavors of lime and grapefruit and makes this a sneaky drink 🙂.It contains just enough alcohol to take the edge off of your day.
Have you tried itrackbites? we love it!
iTrackBites has an app with a huge food database, restaurant guide, a bar code scanner, a supportive community, and even more programs to choose from
HOW TO MAKE AN ALCOHOL FREE MARTINI
For an equally delicious alcohol-free version, replace the vodka and orange liquor with 1 cup sparkling water and ¼ cup fresh orange juice. Then, pour all ingredients into a pitcher filled with ice, rather than a cocktail shaker, to combine before serving.
To make this drink with fewer points use Ocean Spray diet grapefruit juice it is ZERO points. Try Deep Eddy's Red grapefruit vodka it is 2 points for 1 ounce. Other brands of vodkas are 2 points per ounce and 3 points for 1 1/2 ounces so be careful which one you choose.
More low point alcohol drink options can be found here 🙂
Your low point beer options are here too 🙂
Easy Jello Shots
BLUE PLAN: 9 Points
GREEN PLAN: 9 Points
PURPLE PLAN: 9 Points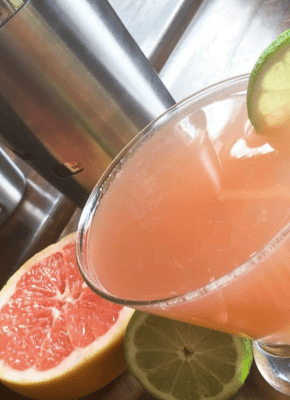 PINK GRAPEFRUIT MARTINI  
by Kevin Smiley

DID YOU MAKE THIS RECIPE?
Tag @smileyspointsofficial
on Instagram and hashtag it #smileyspoints