Easy Instant Pot Pork Chops
These rustic pork chops are packed with tons of flavor, and they are so quick and easy to prepare. This recipe is sure to become a new go-to family favorite! You are going to love these, OMG these are by far the best pork chops I have ever made.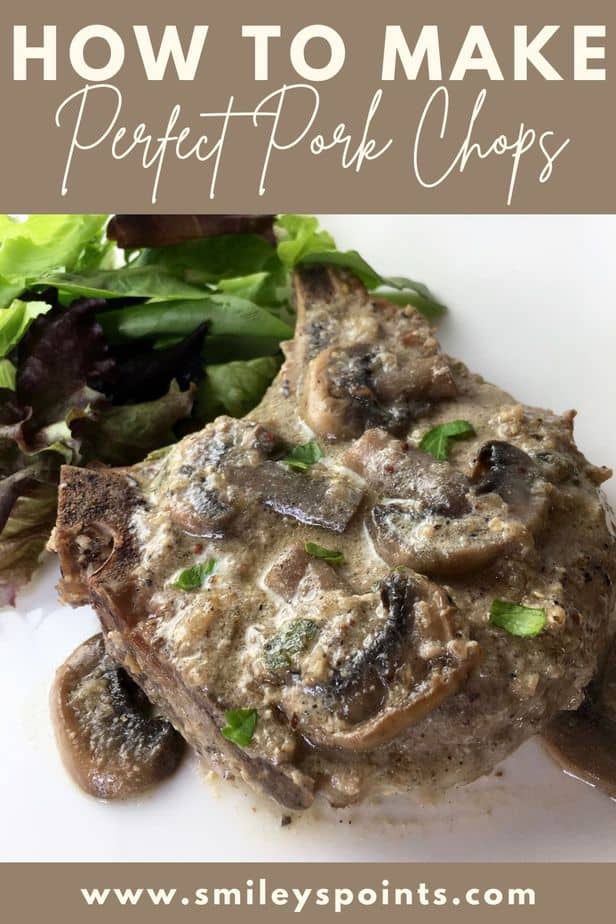 I'm so happy you're here. 🙂 Note: Smiley's Points participates in affiliate programs. That's how the bills get paid! There is no additional charge to you and I only recommend products I know and love.
Pro Tips for making the best pork chops
For best results, allow your pork chops and dairy ingredients to set at room temperature for 30 minutes or so before you begin cooking. Cooking meat right out of the refrigerator will take longer and your results will not be as consistent. Adding chilled dairy products to hot sauces can cause them to curdle.
What to serve with pork chops
Pork chops are mild flavored so they pair well with a variety of sides. From sweet to savory you can't go wrong. here are a few of my favorites that are sure to complement your meal no matter if it is a small intimate meal for the family or a feast for a party.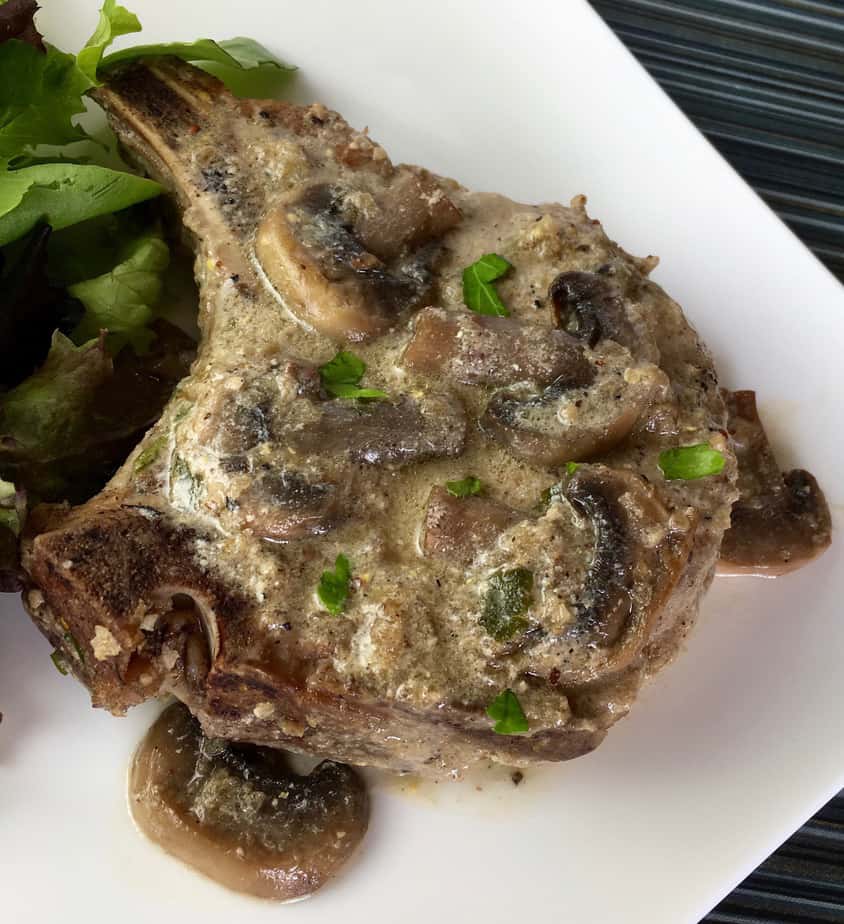 Fried Apples It's the sweet and savory mix that is sure to have them running back for more. Try adding them on top of your pork chops too.
Fried Rice I love to use wild rice when I make this dish. My wife's favorite. It pairs well with pork chops and beef roast.
Glazed Carrots like the fried apples, these add a little sweetness to the meal.
Rolls The cheddar bay biscuits copycat recipe is a perfect addition to pork chops
Scalloped Potatoes yum that cheesy goodness is a perfect match for tender pork chops.
How do you know when pork chops are fully cooked?
Pork is one of the meats you have to cook completely before consuming. So knowing when it is done is important. I use a meat thermometer inserted into the thickest part of the chop. this ensures it has reached an internal temperature of at least 145° I err on the side of caution and make sure mine chops are around 165°
Whats the key to a perfect pork chop?
A few keys to make sure your pork chops come out perfect every time.
Make sure they are room temperature. Set them out 30 minutes before you start to cook.
Seasonings I use smoked paprika and cayenne pepper to liven my dishes up. Garlic, onion powder, salt, and pepper are sufficient for an amazing tasting pork chop.
Searing what is known as the Maillard reaction will ensure you get the best flavor.
Cook them thoroughly so you don't make anyone sick minimum temp of 145°
What wine goes well with pork chops?
Most wines will pair well with pork chops I prefer red wine but try out a few and see what fits your palette the best. It also depends on what you are serving as a side dish. With fried apples or the glazed carrots, a chardonnay will pair very well. when serving cheddar bay biscuits or cornbread opt for a sweeter or dessert wine.
Slow cooker recipes you can make in your Instant Pot
Slow Cooker Vegetable Soup
Slow Cooker Southwestern Breakfast Casserole
Slow Cooker Beef and Broccoli
Slow Cooker Creamy Wild Rice and Mushroom Soup
Slow Cooker Mexican Shredded Beef
BLUE PLAN: 7 Points

GREEN PLAN: 7 points

PURPLE PLAN: 7 Points
Print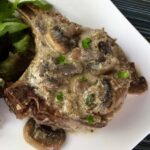 Easy Instant Pot Pork Chops
---
Author:

Yield:

4

servings

1

x
3 T. extra virgin olive oil
4 bone-in pork chops, approximately 1/2" thick, room temperature
Sea salt and freshly ground black pepper, to taste
8 oz. white mushrooms, washed and sliced
2 T. yellow onion, finely minced
2 cloves garlic, peeled and minced
¾ c. chicken broth, preferably organic
¼ c. half and half, room temperature
¼ c. non-flavored, full-fat Greek yogurt, room temperature (Meijer Plain Greek Yogurt)
3 T. fresh parsley, stems removed and leaves finely chopped, divided
Optional: 1 t. ground arrowroot (to thicken sauce)
---
Instructions
Press "Saute" button to heat up your Instant Pot using "Sauté Normal" function. Wait until it says "HOT" (about 8 mins)
Season pork chops on each side with salt and pepper to taste and add them 2 at a time to the hot Instant Pot.
Brown pork chops on each side, approximately 2 minutes per side.
Remove pork chops from pot and set aside. 
Reduce heat to medium and add sliced mushrooms to pot.
Cook until mushrooms release their juices, approximately 6-7 minutes, the mushrooms should be a little crispy on the edges.
Add onion and garlic to pot and cook for 1-2 minutes more, stirring once or twice.
Deglaze the pan by adding the chicken broth and scraping up the brown bits on the bottom with a wooden spoon.
Add the pork chops back to the pot and make sure the pork chops are partially covered by the broth. 

Close the lid, then turn the venting knob to the sealing position.
Pressure cook on high pressure for 0 minutes.
Natural release for 8 minutes
Yes, you can set the Instant Pot to 0 minutes and it will start naturally releasing as soon as it comes to pressure.
Transfer chops to a serving plate and cover them to keep warm.
Press the saute button and set it to high
While the chops rest, stir in the *half and half, Greek yogurt, and 2 tablespoons fresh parsley until blended into the pot sauce.
Continue cooking until heated through, about 1-2 minutes.
Season with additional salt and pepper, to taste, and remove from heat.
To serve, spoon mushroom sauce over the pork chops and sprinkle with additional parsley. Serve immediately.
Tip: If you prefer a thicker sauce, combine 1 teaspoon of arrowroot with some water and stir the slurry into the pot before returning the pork chops to finish cooking them.
Nutrition
Serving Size:

1 pork chop