Slow Cooker Mexican Shredded Beef
Slow cooker Mexican shredded beef is a great variation of our easy spoon roast recipe. Using your slow cooker the beef is amazingly tender and flavorful. Adding a few different spices to change up the flavor we have created this Mexican inspired dish.
---
"Healthi formerly iTrackbites is an alternative to Weight Watchers. "

---
How to make slow cooker Mexican shredded beef
Start with a well-marbled beef chuck roast. This will ensure that you get a tender flavor-filled roast. Slow cooking is the best way, in my opinion, to get the most tender pull apart roasts. Slow cooking also infuses the spices you use into the meat.
Now add your spices, and beef broth and let it simmer for a few hours. For the best-tasting roast, I recommend marinating the roast for a few hours or even overnight in the fridge. Marinating the roast will allow the acids to break down the muscle fibers and create an extremely tender roast every time.
What tortilla shells do you use?
Before I started WW I swore by mission brand tortilla shells. I would not buy anything else. Now I have tried quite a few and have found that I really like the taste of Ole' Extreme Wellness tortillas. They are high in fiber and low carb. The 8″ ones are 1 point on all three plans. I have WW to thank for making me try a different brand of tortilla shells. These shells are soft right out of the package and do not require heating before you use them.
What do I do with the leftovers?

This is one of those super easy and incredibly versatile recipes that can be served in so many ways. For example, it's perfect in classic tacos or lettuce wraps or paired with rice or roasted vegetables. Leftovers can also be added to vegetable soups or mixed green salads for a quick lunch the next day.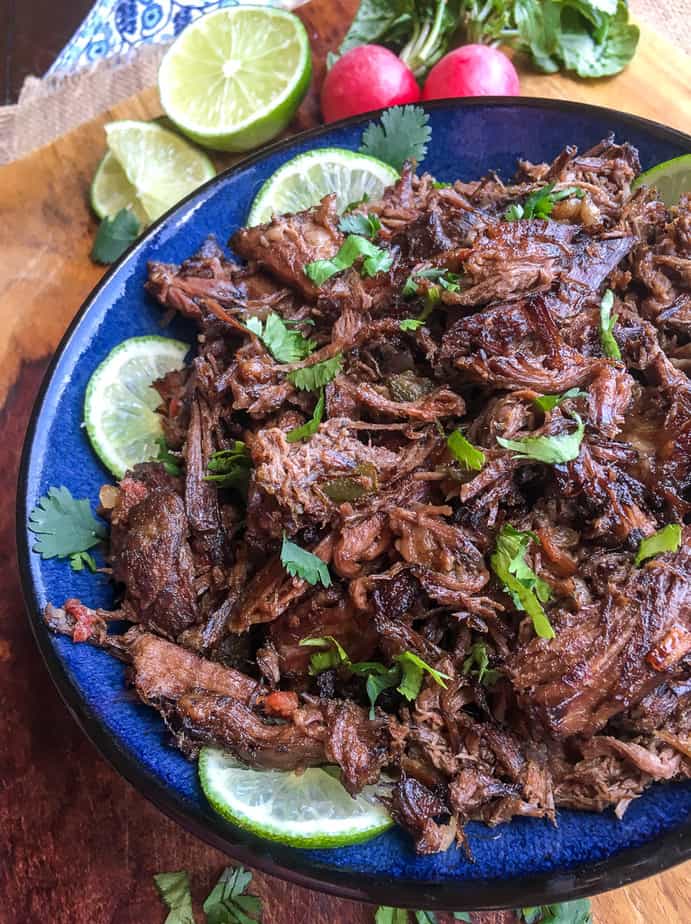 Now that you have eaten and everyone has given you compliments on your meal the leftovers can be frozen and used for a soup or on a salad later in the month. I love freezer meals they save me a lot of time and since I write the points right on the bag. I don't have to track the meal again.
Tips
Marinate overnight in the fridge with your favorite marinade
Allow meat to cook in the slow cooker for at least 8 hours.
Allow meat to sit in the juice once it is done cooking for 5-10 minutes to absorb even more flavor.
Drain the meat before serving if you are making tacos
To garnish your meal use these ideas
Cut 2 limes into 8 wedges and place them on the sides of the plate
Sprinkle 1/2 teaspoon of cilantro over the meat once it is on the plate.
Carrot spears can be used to add a touch of color.
BLUE PLAN: 8 Points

GREEN PLAN: 8 points

PURPLE PLAN: 8 points
Print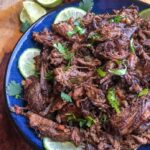 Slow Cooker Mexican Shredded Beef
---
Author:

Total Time:

8 hours 10 minutes

Yield:

6 servings
Non-stick cooking spray
2½ lbs. beef chuck roast
Sea salt and black pepper, to taste
½ medium yellow onion, diced
1 medium jalapeno, thinly sliced
1½ t. ground cumin
1 t. garlic powder
½ t. smoked paprika
½ t. chipotle powder
1 t. dried Mexican oregano
1 10-oz. can tomatoes with green chilies
1 c. beef stock
1 T. fresh lime juice
---
Instructions
Spray the bottom and sides of 6-quart slow-cooker crock with non-stick cooking spray. Generously season the beef with salt and pepper on all sides and place in slow cooker crock. Add all remaining ingredients, cover, and cook on low for 8 hours.
When done cooking, remove the lid and shred beef with two forks while still inside the slow cooker.
Allow shredded beef to marinate in warm cooking juices for 5 minutes to absorb more flavor. Transfer shredded beef from slow cooker to a serving platter with tongs, allowing excess liquid to drain.
Top with chopped cilantro and serve immediately with fresh lime wedges and additional cooking juices on the side, if desired.
Enjoy!
Prep Time:

10 minutes

Cook Time:

8 hours
How to be successful on the new myWW plans
What to do if WW is costing too much
Have you tried Healthi formerly iTrackbites?
Sign up for FREE through my referral link (mobile) and
leave a comment letting me know what you think!
Use code COACH_SMILEY as a PROMO CODE at checkout to get Healthi formerly iTrackbites for just $24.99 a year!