Creamy Wild Rice and Mushroom Soup
My creamy wild rice and mushroom soup will quickly become a family favorite. I used some things already in my pantry and fridge to throw together this amazing creamy wild rice and mushroom soup for dinner. It was quick and easy to prepare and in a few hours, I had a tasty meal. You can substitute many different spices or add a few to make this your own.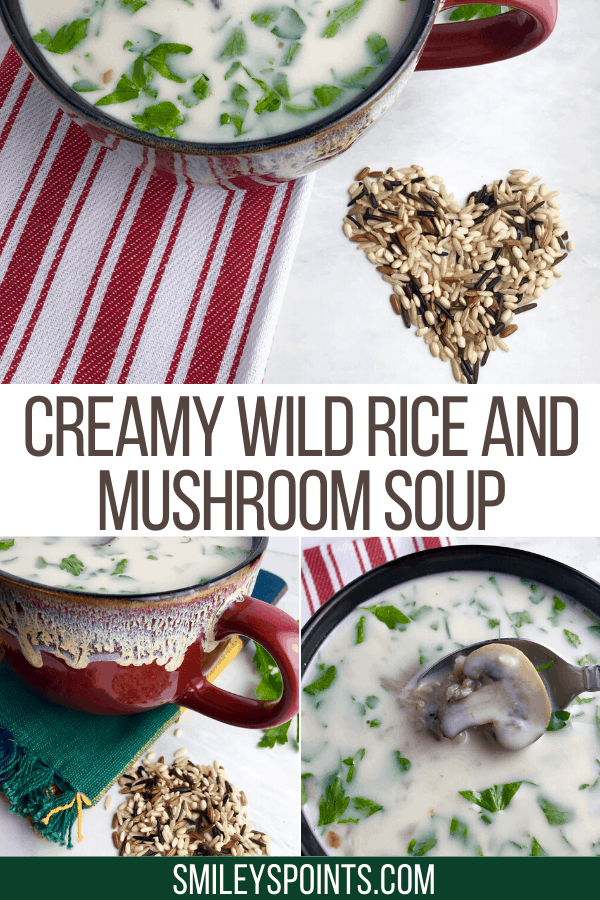 ---
"Healthi formerly iTrackbites is an alternative to Weight Watchers. "

---
Creamy Wild Rice and Mushroom Soup
This satisfying, earthy soup is so warm and comforting. The wild rice is filling, while the finely minced and chopped vegetables give the soup a more consistent flavor throughout. What's more, some of its "creaminess" comes from pureed cannellini beans, rather than a larger amount of high-fat dairy products.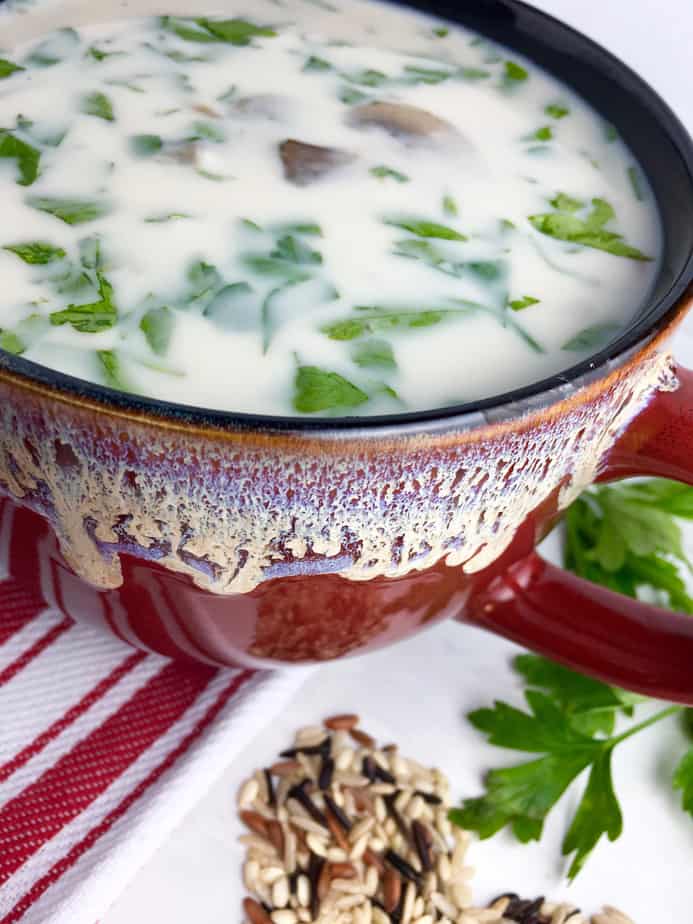 How to make vegan creamy wild rice mushroom soup
To make this recipe vegan-friendly all you have to do is substitute coconut milk for half and half. You can use almond milk or your favorite milk substitute to make this dish creamy and delicious. I would always use the tempering process to ensure the best results.
What is tempered half and half?
Tempering is a process where you take some of the boiling liquid from your soup pot and add it to a separate bowl. You then add half and half to the bowl and mix well. Now you add the contents of the bowl back to the main pot and as you mix it will create a smooth creamy texture.
Tempering helps to prevent the milk from curdling when you add heat to it. The mixture in the bowl is warm but not boiling hot. Remember to stir your pot when you are adding the milk mixture back so that it blends well.
What type of rice do I use?
I like to use wild rice because of the many benefits it provides. You can use white or brown rice also. Brown rice will be zero points on the myWW purple plan. Keep in mind the points and nutritional value of the ingredients you use. I love wild rice and the texture it lends to different dishes. I know I have to eat it in moderation because I have to watch my carb intake if I want to continue to lose weight.
Can you overeat zero point foods?
The short answer is yes!! The zero point foods list is a guide to healthier eating. I have done zero-point days with a lot of success but I have had to watch which ones I ate the most of. I have found that watching how many carbs I ate on a regular basis has helped to contribute to my weight loss. Here is a link to a chart I made of all of the zero-point foods and their carb content. I made this to help me decide which zero-point foods to eat more of and which ones to moderate. I hope my zero-point foods list helps you too. I linked a list to each plan at the bottom so no matter what plan you are on you will have the information at your fingertips. I have even included a printable so you can put it on your fridge. (that is where mine is:)
Tips
For best results, use a multi-color wild rice blend. Black rice will turn purple when the cream is added.
For less salt, rinse and drain the beans before pureeing them with a little water.
To prevent curdling, avoid stirring cold dairy products directly into the hot soup.
Freeze leftovers for an easy meal later.
How to be successful on the new myWW plans
Does WW cost too much? Try Healthi formerly iTrackbites
Have you tried Healthi formerly iTrackbites?
Sign up for FREE through my referral link (mobile) and
leave a comment letting me know what you think!
Use code COACH_SMILEY as a PROMO CODE at checkout to get Healthi formerly iTrackbites for just $24.99 a year!
BLUE PLAN: 3 Points

GREEN PLAN: 4 Points

PURPLE PLAN: 2 Points
Print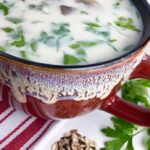 Creamy Wild Rice and Mushroom Soup
---
Author:

Total Time:

8 hours 20 minutes

Yield:

6

1

x
1 c. multi-color wild rice blend, uncooked*
1 small white onion, roughly chopped
3 stalks celery, roughly chopped
2 large carrots, peeled and chopped
3-4 cloves garlic, peeled
12 oz. fresh mushrooms, washed, divided
1 15-oz. can cannellini beans, undrained**
1 whole bay leaf
2 t. garlic powder
6-8 c. vegetable stock, divided
Salt and black pepper, to taste
½ c. half and half, tempered
¼ c. fresh parsley, finely chopped
---
Instructions
Rinse the wild rice under cold running water until water runs clear.
Let drain and transfer to a 5 or 6-quart slow cooker crock.
Add onion, celery, carrots, and garlic to a food processor and pulse until very finely minced and transfer to slow cooker crock.
Add 8 oz. mushrooms to food processor and pulse until finely chopped.
Thinly slice remaining mushrooms and add to slow cooker pot, along with the finely chopped mushrooms.
Puree cannellini beans until smooth and pour into slow cooker crock with other ingredients. Add bay leaf, garlic powder, and 6 cups of vegetable stock.
Season with salt and black pepper, to taste, and stir to thoroughly combine all ingredients.
Cover and cook on high for 3-4 hours or low for 6-8.
Actual cooking time will vary by individual slow cooker, so check for doneness after 2½ hours (or 5½ hours for low) and adjust cooking time accordingly.
(The rice should be tender, but not mushy when finished).
When cooking time is complete, remove bay leaf and discard.
Add tempered half and half, chopped parsley, and additional vegetable stock, if necessary, to achieve the desired consistency.
Stir to combine thoroughly.
Season with additional salt and black pepper, to taste, and serve immediately.
Enjoy!
Prep Time:

20 minutes

Cook Time:

8 hours
Thank you for PINNING our recipes! It helps us tremendously! 🙂