I'm so happy you're here. 🙂 Note: Smiley's Points participates in affiliate programs. That's how the bills get paid! There is no additional charge to you and I only recommend products I know and love.
My Slow cooker beef and broccoli is a great dinner to start right after breakfast is served and the kids are on their way to school. I have even made this one the day before and reheated it out of the fridge. it is amazing either way. You are going to love this one either served right away or the next day.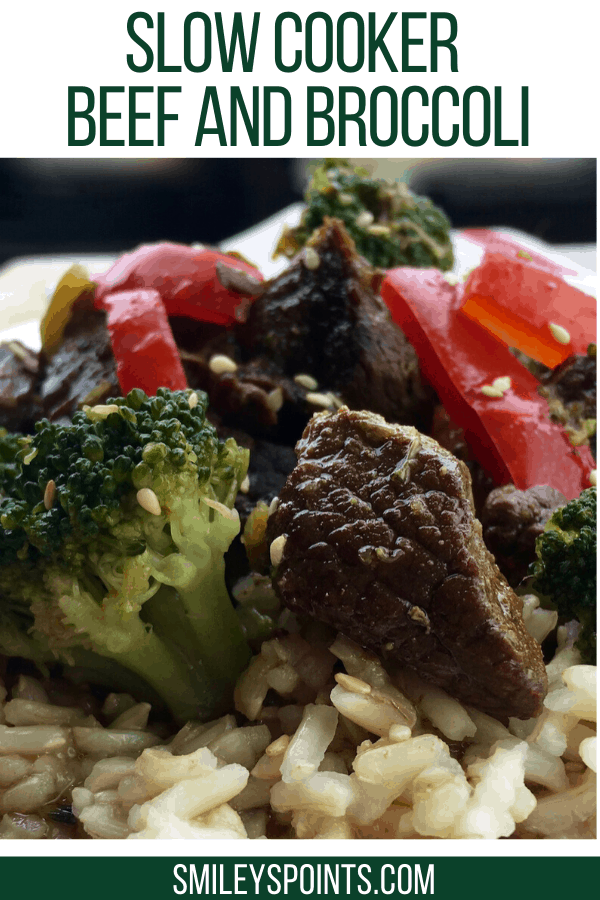 ---
"Healthi formerly iTrackbites is an alternative to Weight Watchers. "
---
Slow Cooker Beef And Broccoli
I have been using my slow cooker a ton lately to make meals ahead of time. I love to make freezer meals, I also, like that I can throw everything in the pot and a few hours later dinner is served. It also makes cleaning up easier. One dish maybe two and you are done.
How do you make beef and broccoli in the slow cooker?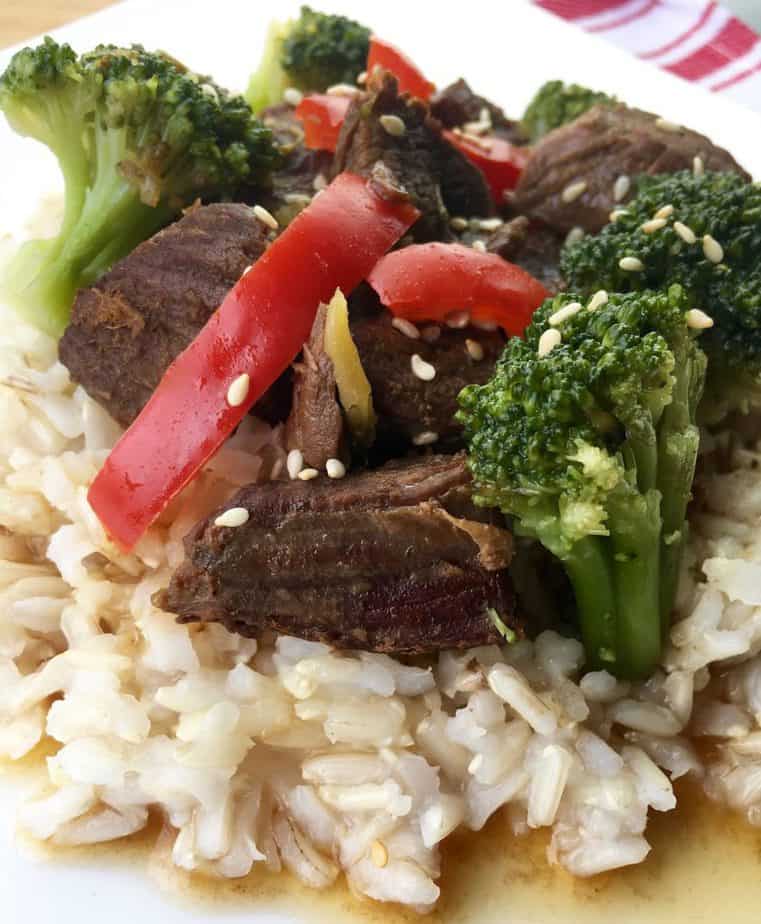 This tasty beef and broccoli recipe can be pulled together quickly for a fast and easy weeknight meal. To avoid mushy vegetables, don't add them until 15 to 20 minutes before this dish is done cooking.
Do I have to defrost the broccoli first?
The frozen broccoli doesn't need to be defrosted prior to cooking, so feel free to add them directly from the bag into your slow cooker. I have thrown in some frozen corn and cauliflower also with amazing results. Remember actual cooking times will vary by individual unit, so be sure to watch closely the first time you prepare this recipe to achieve desired results.
My pro tips
Adding the vegetables 15-20 minutes before done cooking will yield crisp-tender results.
Cook longer for softer veggies.
Add corn, cauliflower or any other vegetable of your choice for an even heartier meal.
You can add them frozen no need to thaw
Vegetables don't usually add points so feel free to "beef" it up a bit 🙂
You can use coconut-aminos in place of soy sauce
Substitute your favorite oil for sesame oil.
How do you thicken the beef and broccoli sauce?
I use a slurry of cornstarch and water. I use a slurry to make sure I don't get clumps of cornstarch in my sauce. To make the slurry I mix 1/4 cup of cornstarch and 1/2 cup of water in a bowl or cup. I then mix the slurry into the pot to thicken the sauce. I add the slurry and the broccoli at the same time and a few minutes later a delicious meal is ready to be served.
How big is the serving size?
This makes a hearty serving 4 ounces of meat per serving, A generous 1/2 cup of rice and you have a filling dinner. This is a protein-rich meal with the added benefits of whole-grain brown rice and nutritious vegetables. I am getting hungry just writing this 🙂
BLUE PLAN: 9 Points

GREEN PLAN: 9 Points

PURPLE PLAN: 5 Points
Print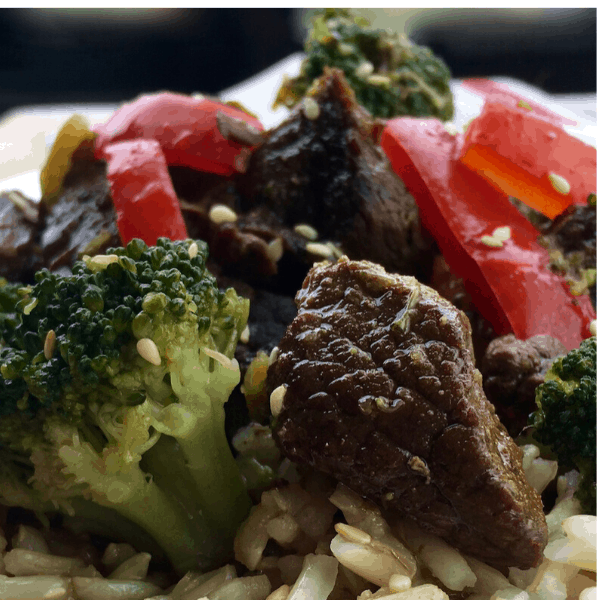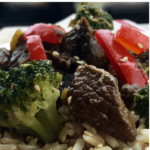 Slow Cooker Beef Broccoli
---
Author:

Total Time:

10 minute

Yield:

6

servings

1

x
1½ lbs. beef stew meat, cut into chunks 1½ c. beef stock
3-4 cloves garlic, finely minced
½ c. gluten-free soy sauce
1 T. honey
2 T. toasted sesame oil
Salt and black pepper, to taste
2 T. arrowroot
1 14-oz. bag frozen broccoli florets
1 red bell pepper, cut in short, thin strips
3 c. brown rice, cooked
1 T. toasted sesame seeds (optional)
---
Instructions
Add beef stew chunks to 5 or 6-quart slow cooker crock.
In a medium glass whisk beef stock, garlic, soy sauce, honey, and sesame oil to combine. Season with salt and black pepper, to taste.
Pour mixture on top of beef. Cover and cook for 3-4 hours on high or 6-7 hours on low.
To create a thicker sauce, create a slurry by combing 2 tablespoons of arrowroot with ¼ cup of liquid from the slow cooker.
Set aside.
15-20 minutes before done cooking, remove the lid and stir in the arrowroot slurry, then the frozen broccoli and red bell pepper.
Cover and finish cooking.
Serve immediately with cooked brown rice and a drizzle of sauce from the slow cooker. Garnish with some toasted sesame seeds before serving, if desired.
Notes
Tip: Adding the vegetables 15-20 minutes before done cooking will yield crisp-tender results. Cook longer for softer veggies.
Prep Time:

10 minutes

Cook Time:

3-7 hours
Need more support? Join my Facebook Groups!

WW Recipes and Support With Smiley's Points (All Plans)
Low Point Recipes Only (All Plans)
PURPLE PLAN Group
BLUE PLAN Group
GREEN PLAN Group
Weight Watchers costing too much? Want to switch back to an older plan?
Have you tried Healthi formerly iTrackbites?
Sign up for FREE through my referral link (mobile) and
leave a comment letting me know what you think!
Use code COACH_SMILEY as a PROMO CODE at checkout to get Healthi formerly iTrackbites for just $24.99 a year!