This sun-dried tomato pasta salad is not your traditional mayo-based potato salad. It is different a refreshing twist that is sure to liven up the main course.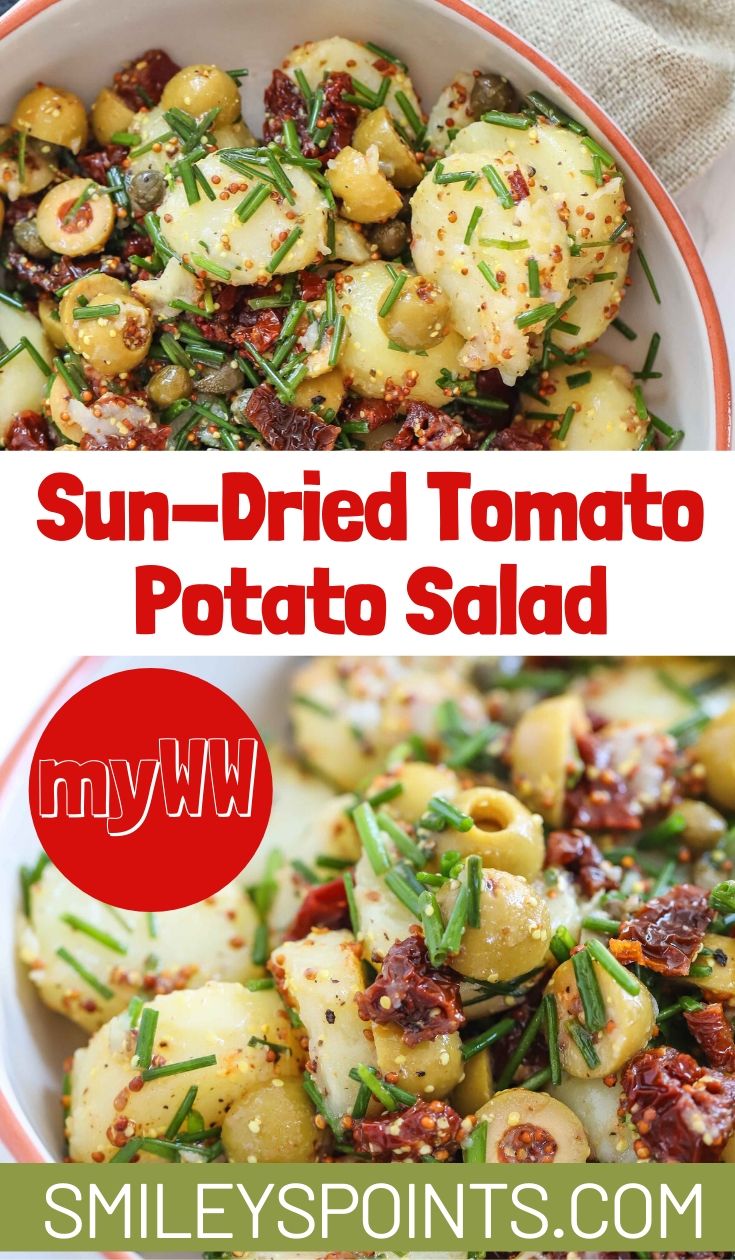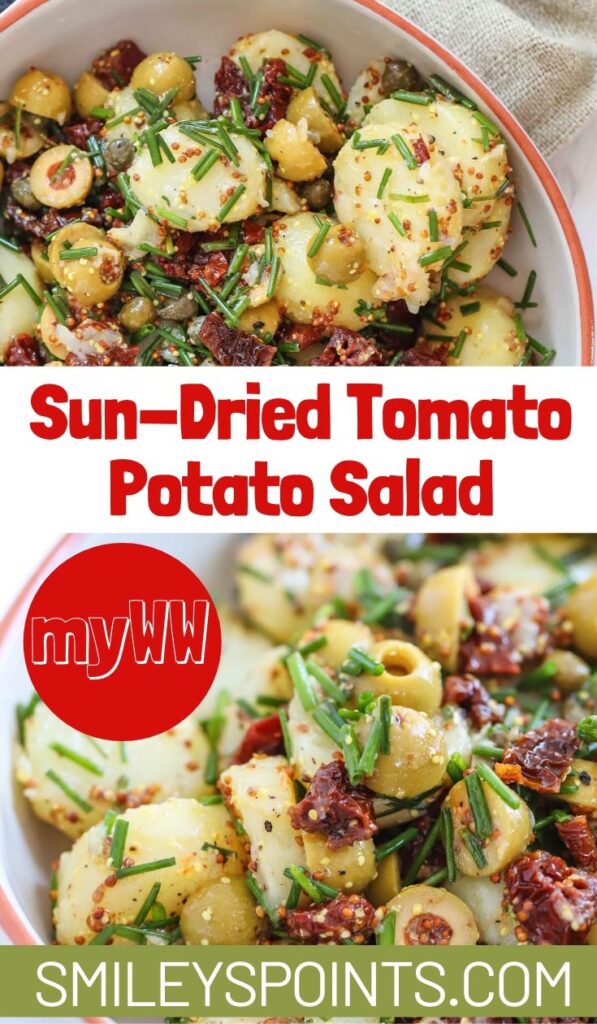 What do I take to a holiday dinner?
This is a great dish to make and take with you to family gatherings. You can make it for gatherings at home also. My family loves it when I make this dish alongside Herb Roasted Chicken or Instant Pot Beef Stew
Other great salads to take to a holiday dinner would be a mixed bean salad, Asian Cabbage Salad, or a green bean salad with feta cheese, if you feel up to it take two and be the star of the gathering.
Weight Watchers potato salad
Don't let yourself get out of hand with this delicious salad. It can be dangerous as it tastes so good. Remember to eat enough to satisfy you and count your points. You got this and even though it is the holiday season you know come January you will be happy and excited to see how much better your clothes are fitting and how fantastic you feel.
Unique twist on old classic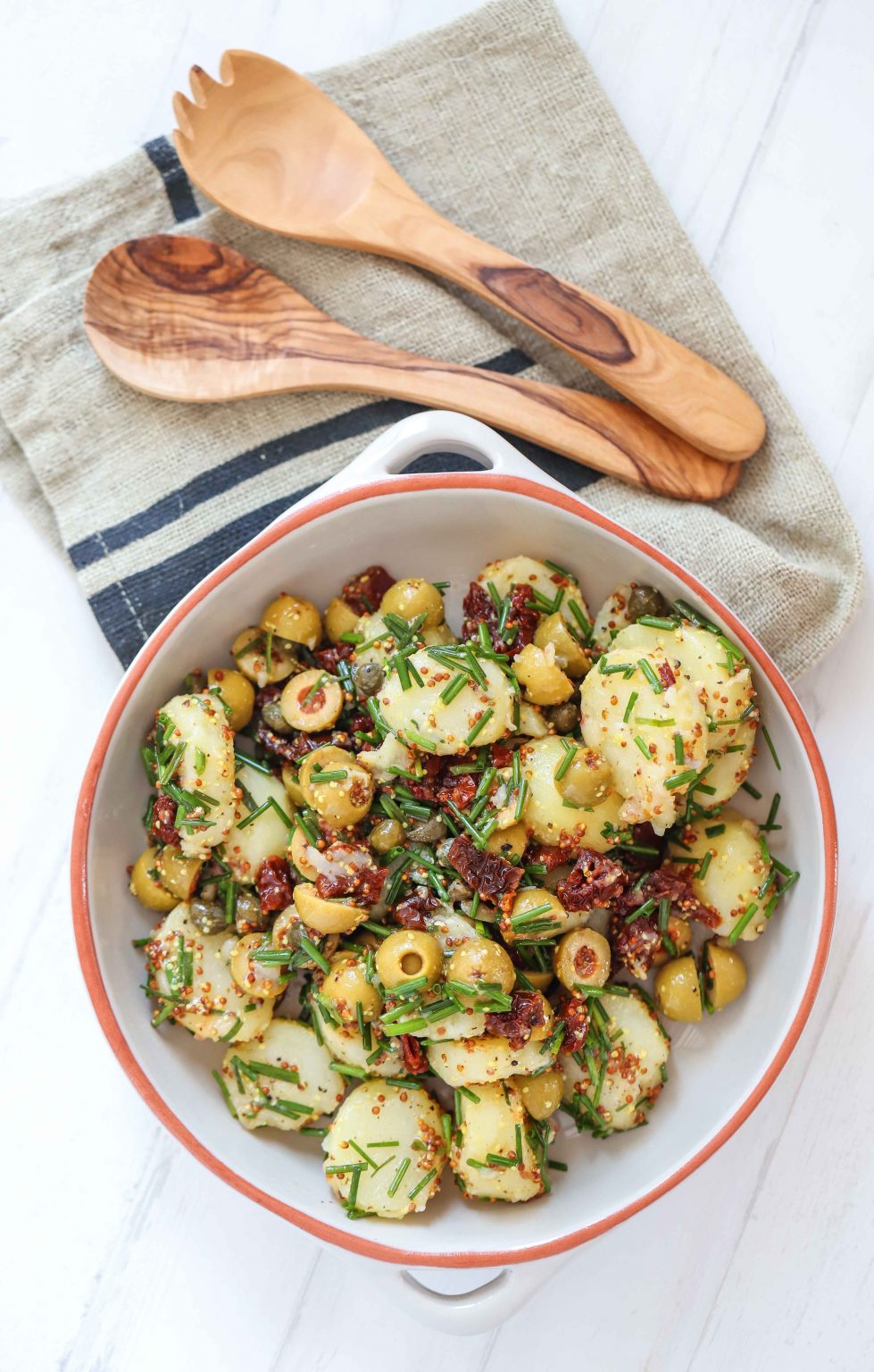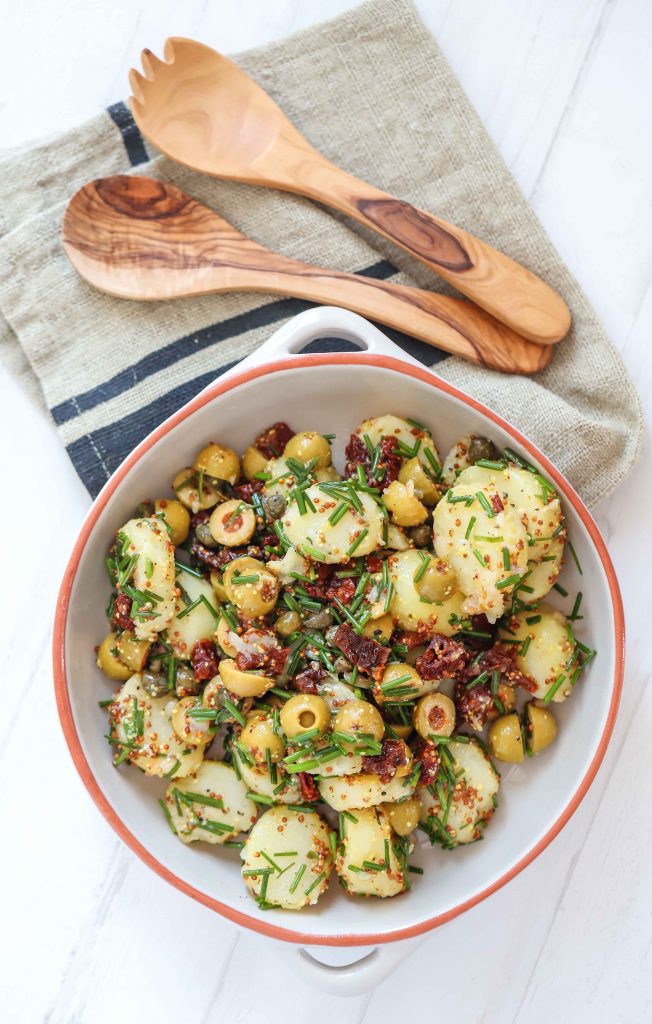 This amazing sundried tomato salad gives you a unique twist on an old classic. Adding sundried tomatoes to a potato salad will excite your taste buds and have your family and guests begging for more.
Where do I get sundried tomatoes from?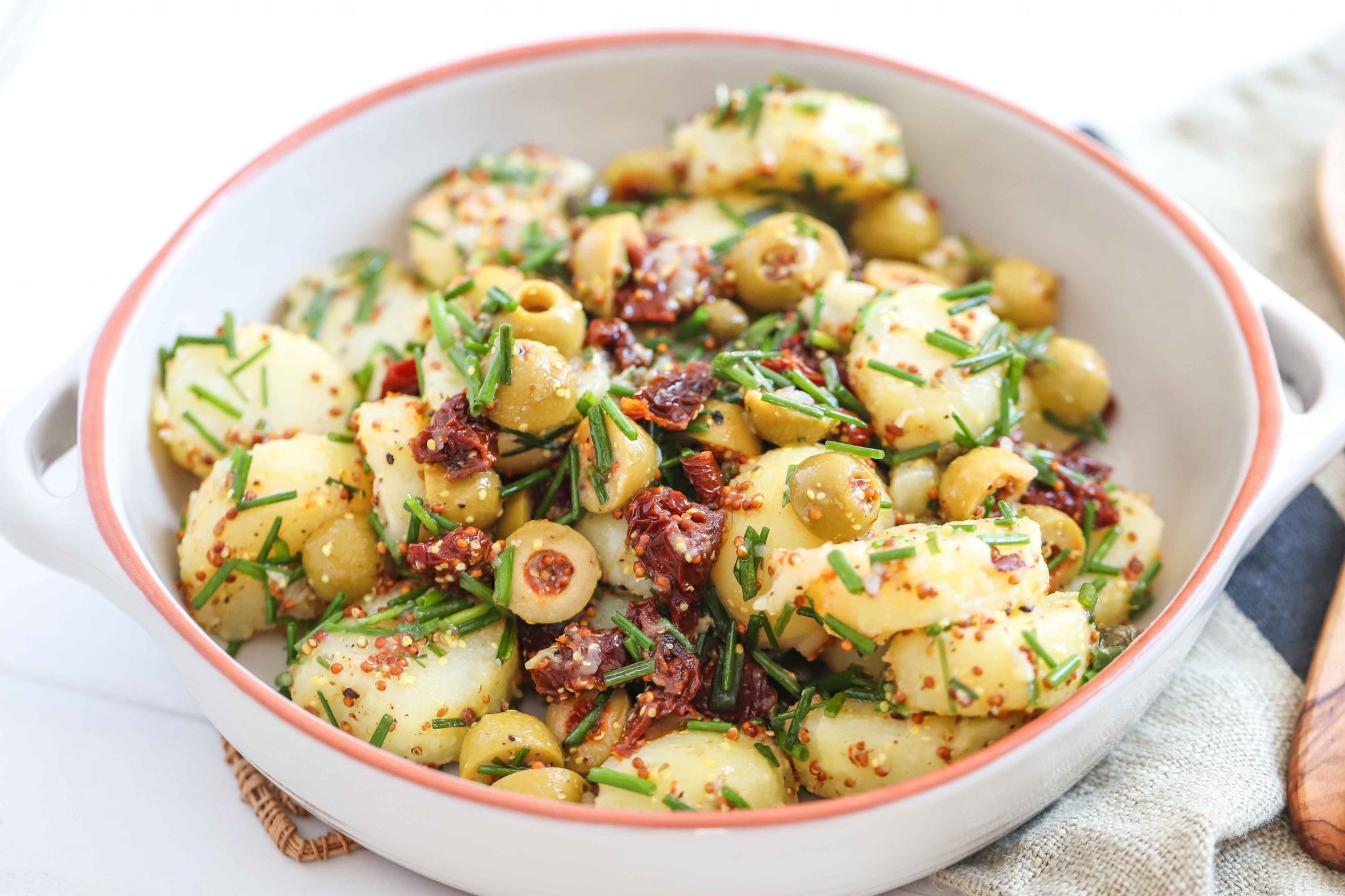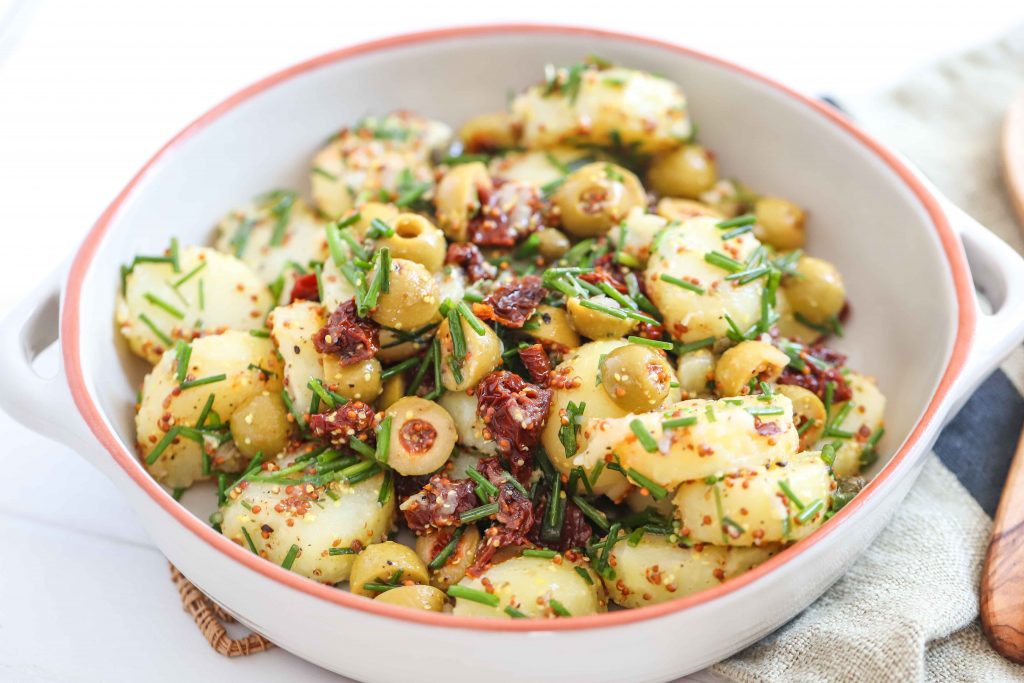 I use fresh cherry tomatoes from my garden and make sun-dried tomatoes in the oven. This may take a while longer but it is so worth it in my opinion. Head over to gimme some oven for a fantastic recipe for making your own sundried tomatoes in the oven. You can opt to buy some at your local grocer but it is so much better when they come fresh from your garden.
What wine pairs well with salad?
This salad has yellow mustard as one of the ingredients and because of its flavor profile, you will want a wine that will compliment but not overpower the salad. I would go with dry wines like a Chardonnay that is partially oaked, This will enhance the flavor of the salad and please the palate as well.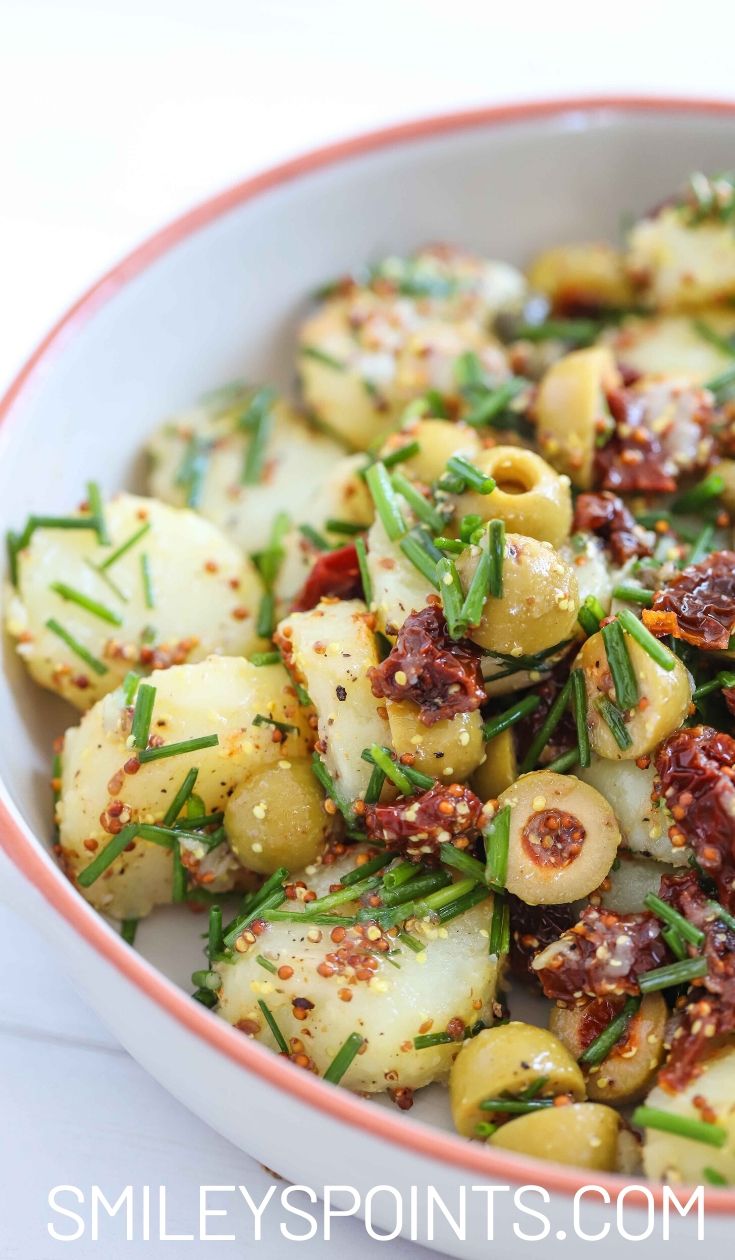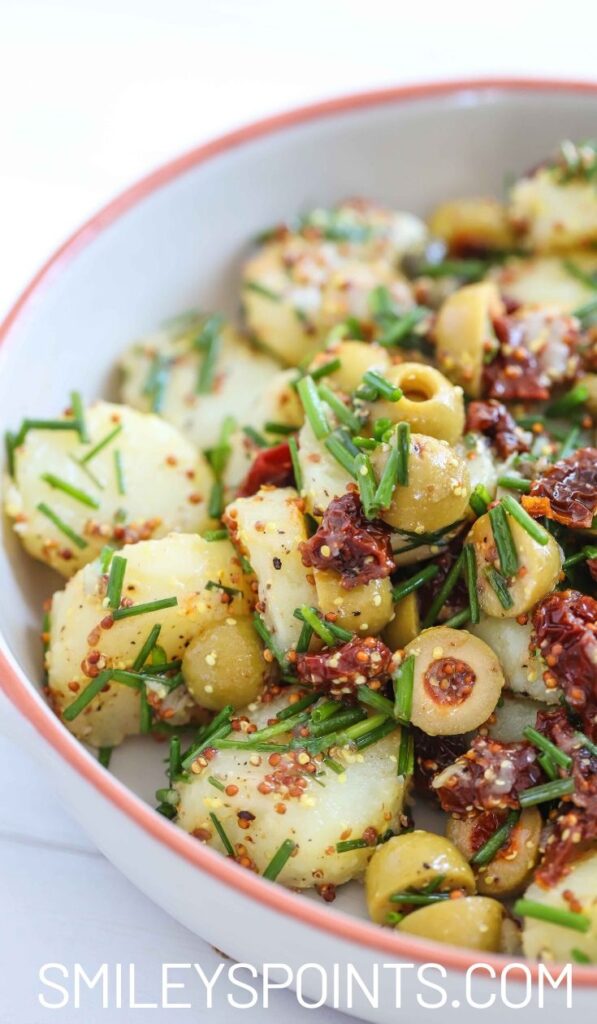 How do I lower the points of this salad?
This amazing sun-dried tomato potato salad is lower in points and will not break the bank allowing a little extra room for that glass of wine. There are a few tweaks you can use to make this one lower in points.
To be honest there isn't a way I can think of to lower the points of this delicious dish without compromising the flavor. You will love this one so much and so will your family.
More potato recipes
Low Point potato alternatives
Turkey and Sweet Potatoes
Black Bean and Sweet Potato Chili
Baked Potato Soup
Sweet Potato Curry

BLUE PLAN: 5 Points

GREEN PLAN: 5 Points

PURPLE PLAN: 2 Points
Print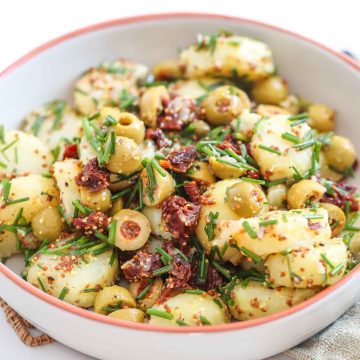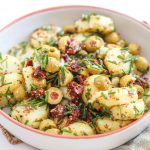 Sun-Dried Tomato Potato Salad
---
Author:

Total Time:

30 minutes

Yield:

4

servings

1

x
1 lb. baby potatoes
½ cup green olives, halved
½ cup sundried tomatoes, drained, roughly chopped *or take the time to make your own*
2 Tbsp. capers, drained
handful chives, chopped
1 Tbsp. oil from sundried tomatoes
1 Tbsp. wholegrain mustard
1 Tbsp. apple cider vinegar
---
Instructions
Place the potatoes in a pot of salted water and bring to a boil, lower the heat and simmer for about 20 minutes. Once cooked, drain and rinse in cold water. Once slightly cooled, peel, halve and place them in a bowl.
Add in the olives, sundried tomatoes, capers, and chives. Next, mix the oil for the tomatoes, mustard, and apple cider vinegar and drizzle over the salad. Season to taste with salt and pepper, mix well and serve.
Prep Time:

10 minutes

Cook Time:

20 minutes