Air Fryer Peanut Butter Cookies
The easiest way to make your favorite peanut butter cookies is now even easier! Air Fryer Peanut Butter Cookies will change everything. A delicious and healthier spin on a classic snack, these decadent treats are perfect for when that after-dinner sweet tooth starts kicking in; they're also ideal as an elegant dessert on any special occasion or just because you want something good tasting but healthy too.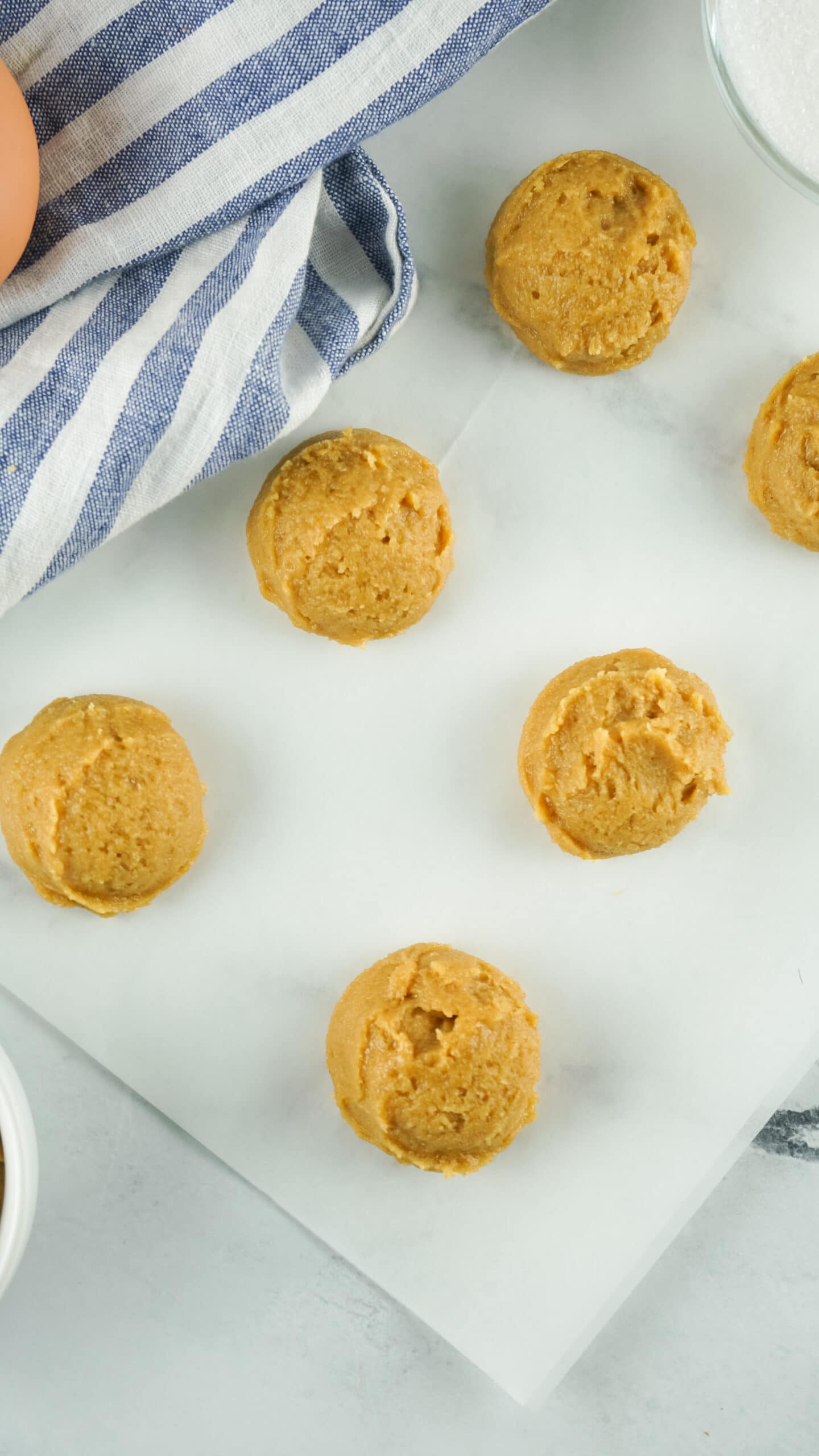 Cookies are always a fun way to celebrate any occasion, but if you want an easy recipe that your kids can help make too then look no further than these delicious air-fried chocolate chip cookies. They're rich in flavor and made with only three simple ingredients.
How to make peanut butter cookies in the airfryer
Making crispy peanut butter cookies is easy with an air fryer. They will turn out golden brown on the outside while still being soft in the middle, just like we remember from when mom used to make them.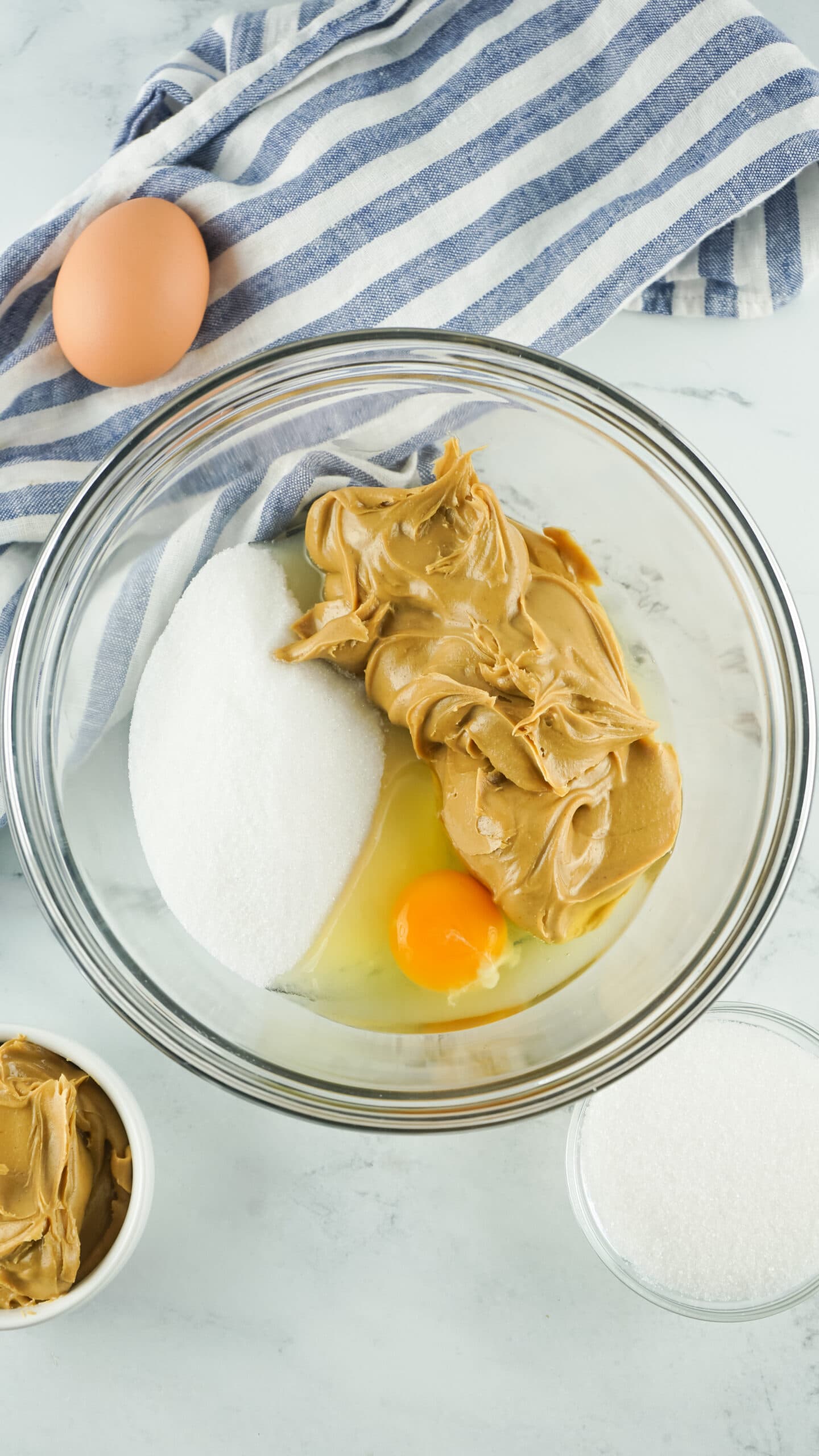 Air frying is healthier and faster
Air frying is a convenient and healthy way to cook food. These easy cookies are 20% faster than baking or microwaving, plus they don't heat up your kitchen. The crispy exterior paired with a soft interior makes them perfect for any occasion, especially if you want something sweet but without all those pesky calories that are found in store-bought cookies.
I swear that every time I've made these delicious air fryer cookie recipes my family is always asking for more.
[GIVE TIPS LIKE IF YOUR HANDS ARE STICKY, USE A BIT OF FLOUR OR OIL]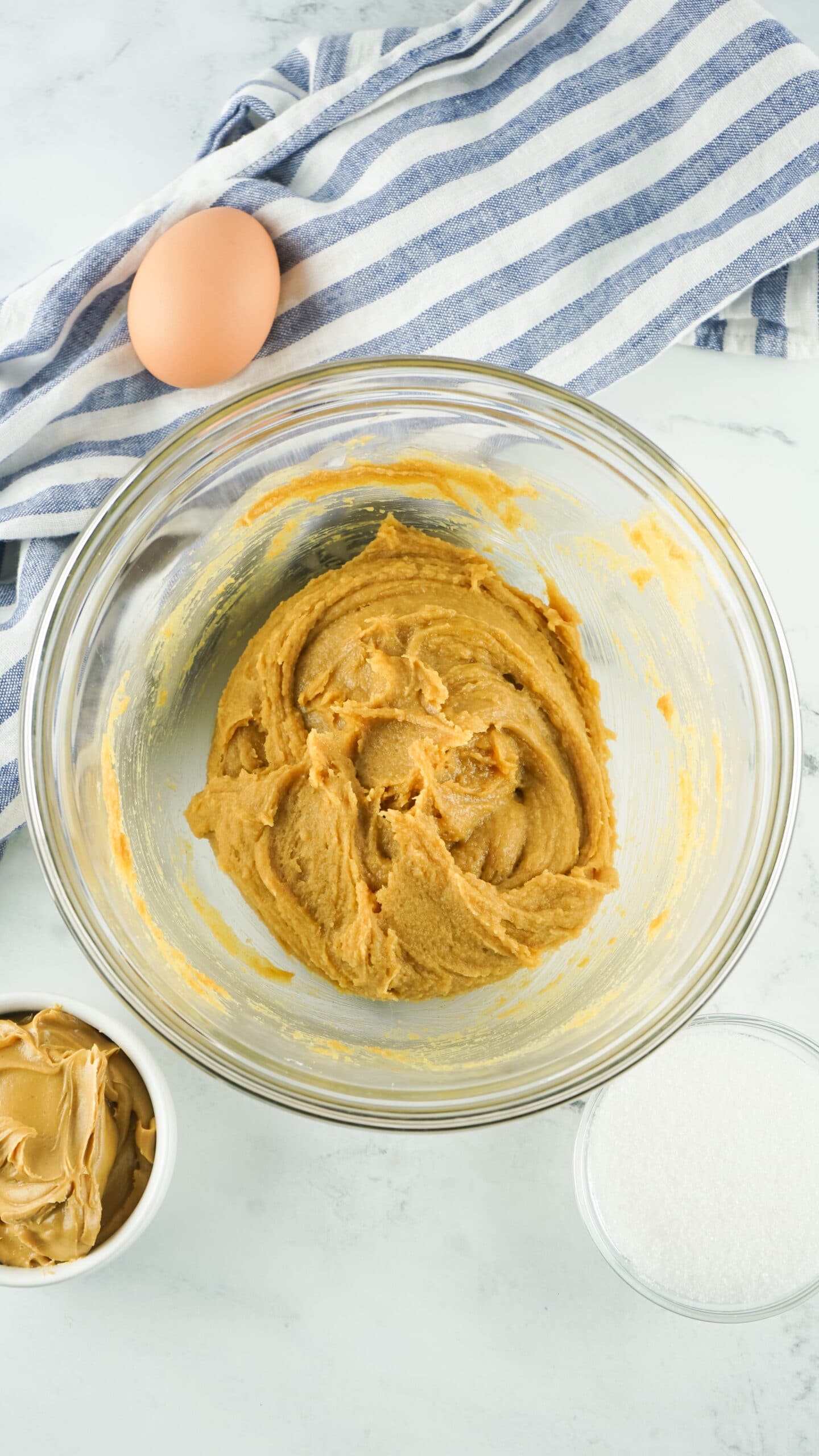 What happens if you put a cookie in an air fryer?
The outside of these air fryer peanut butter cookies will become slightly crispy while leaving the inside chewier than a traditional oven-baked recipe. In general, this is what happens to most cookie recipes made in an AirFryer. You get yummy chewy crispy deliciousness.
You might not be able to cook them in bigger batches like the oven, but you save so much cooking time, oven heating time, etc. that it's still quicker.
Should peanut butter cookie dough be refrigerated before air frying?
Putting peanut butter cookie dough in the fridge before baking will make sure you have a firm enough product to avoid expansion when using an air fryer. You should put them on top of parchment paper and then into your fridge.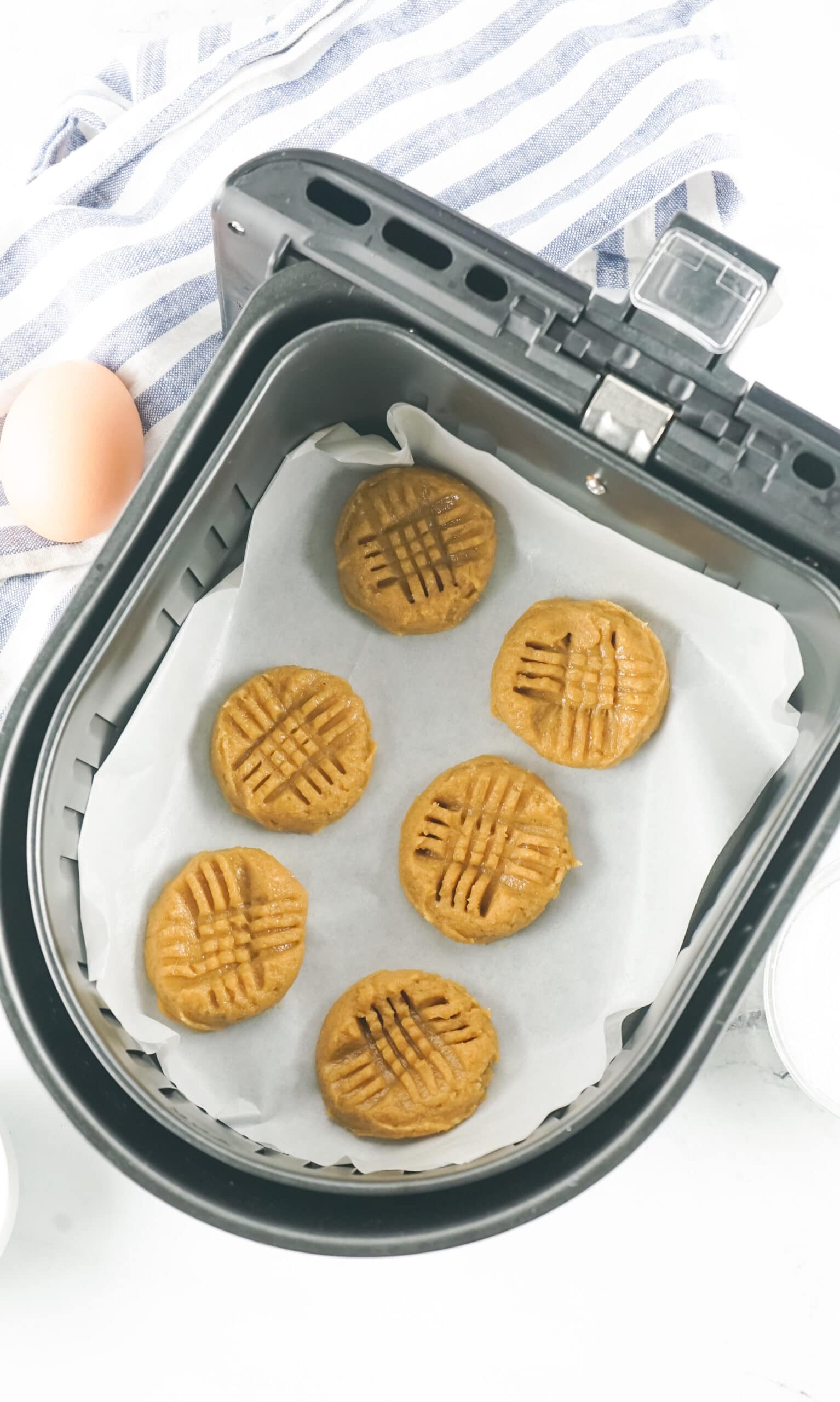 How long will peanut butter cookies last?
Peanut butter cookies in the air fryer will stay fresh for up to a week when stored in an airtight container. You can also freeze leftovers and enjoy them throughout the month. However, just as with most desserts, PB cookies are the best straight out of the oven.
Do I have to use parchment paper for these easy air fryer cookies?
Yes. Due to the breathing holes in the bottom of your air fryer, the cookie dough will seep through as the cooking process starts. No one wants to clean up that mess! I don't suggest tin foil as it will cause them to cook too quickly and unevenly. Parchment paper in my opinion is the best choice.
Can you freeze peanut butter cookies?
Peanut butter cookie dough can be frozen for up to a month. Simply place individual cookies on a baking sheet and freeze for 30 minutes before transferring to a freezer bag.
You can also freeze leftover air fryer peanut butter cookies to enjoy later. To defrost, simply allow the cookies to thaw overnight in your refrigerator before enjoying.
If you're looking for a healthier and faster way to make peanut butter cookies, an air fryer is the way to go. These easy air fryer cookies come out perfect every time – crispy on the outside and chewy in the middle. Plus, they are about 20% faster than baking or microwaving. So if you're looking for a delicious and easy cookie recipe, give this one a try.
Make it healthier
This healthier peanut butter cookie recipe will work as bariatric peanut butter cookies, for after weight loss surgery as well.
Tips for making the best peanut butter cookies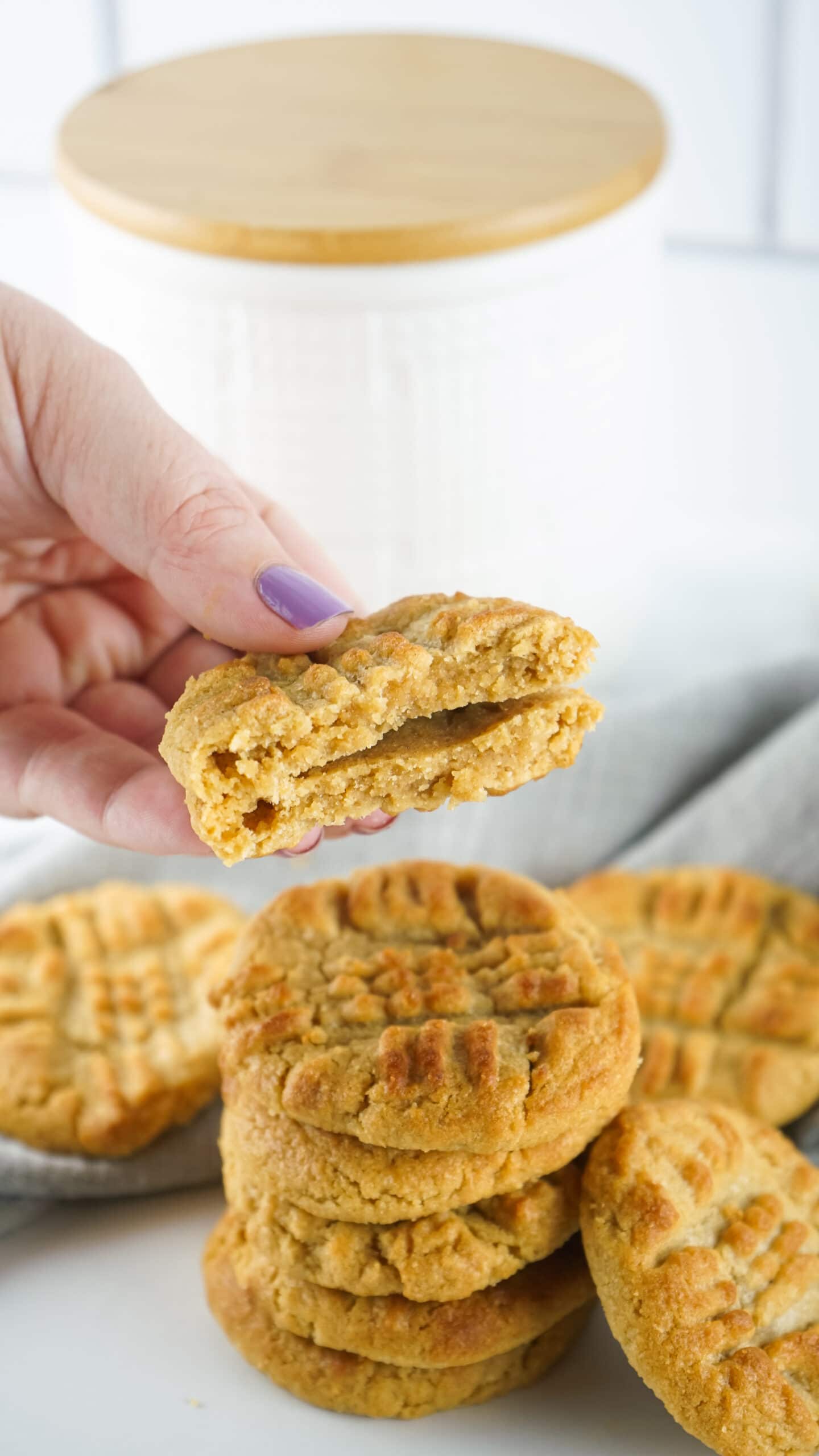 Do not skip the chilling step. The air fryer will make the cookies spread and be crumbly more than the oven. The chilling step keeps them from spreading too much and keeps them from being a crumbly mess when leaving the air fryer.
It's also very important to not touch the cookies until they've set for a minimum of 4 minutes. This allows them to set up and not fall apart when removed from the air fryer.
I like to shape the parchment paper to the bottom of my air fryer, then pull it out and prepare my cookies on it. This way, I can just set the parchment paper back inside without having to set one cookie at a time inside the air fryer.
Each air fryer is a different shape. Mine allowed for 4-6 cookies at a time, but your shape might not allow that many, and it may allow for more. Just be sure to give enough space for the cookies to spread a bit and you'll be good to go.
Putting more or less cookies doesn't require you to adjust the cook time or rest time.
This cookie dough is very sticky, so it's best to not get your hands involved in the scooping process and stick to a scoop or spoon.
Each air fryer has various cooking settings. If your air fryer doesn't have a 370 degree setting, choose the closest step under it as opposed to over it.
More low point dessert recipes
Classic oatmeal raisin cookie recipe
Cherry Fruit Fluff
Orange Fluff Salad
Cast Iron Blueberry Crisp
Print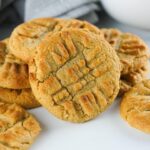 Air Fryer Peanut Butter Cookies
---
Description
This delicious Air Fryer dessert is sure to cure your sweet tooth! Make them healthier by swapping the sugar out for protein powder, and using PB2 or natural peanut butter.
---
1 Cup Creamy Peanut Butter (sub PB2 and water for a healthier protein packed version)

¾ Cup Splenda or the low calorie sweetener of your choice

1 Large Egg
---
Instructions
Combine all three ingredients in a medium mixing bowl. Mix until fully combined.

Chill in the fridge for 30 minutes.

Using a 1 ½-inch cookie scoop, or heaping tablespoon, scoop the dough onto parchment paper.

Using a fork, press the cookie flat, first one direction, then again from the opposite direction to make a crosshatch pattern on top.

Line the bottom of your air fryer with parchment paper. Be sure to not have extra parchment paper running up the side of the air fryer or it will get caught by the air and fold over the cookies.

Place as many cookies in your air fryer that will fit, while giving each cookie a half inch space. I was able to do about 4-6 at a time.

Set your air fryer at 370 degrees and cook them for 4 minutes before letting them rest in the air fryer for 4 minutes.

Repeat until you've used up your batter. Enjoy!