Taco Tuesday will be so much easier with this easy beef taco skillet! You can prepare your tacos so that even your pickiest eaters will enjoy them.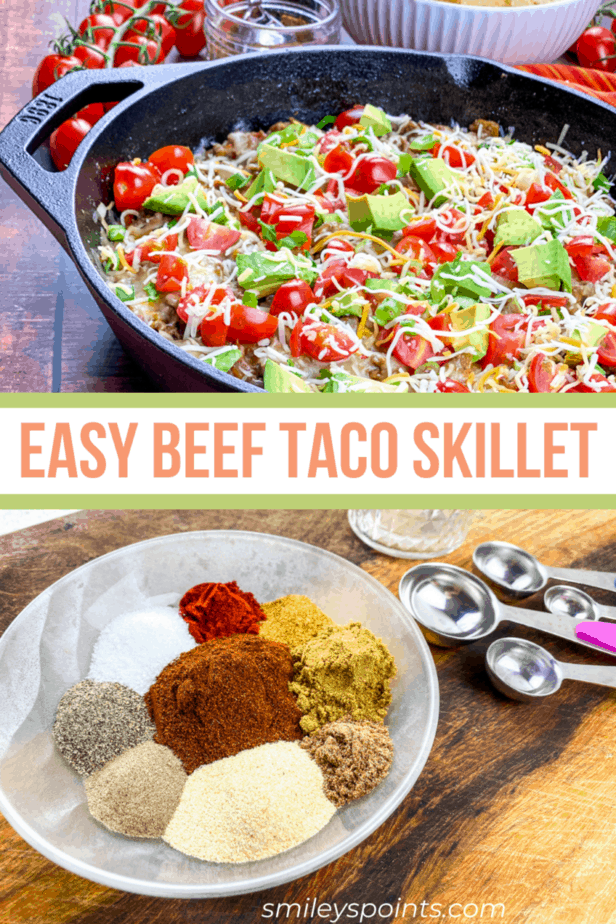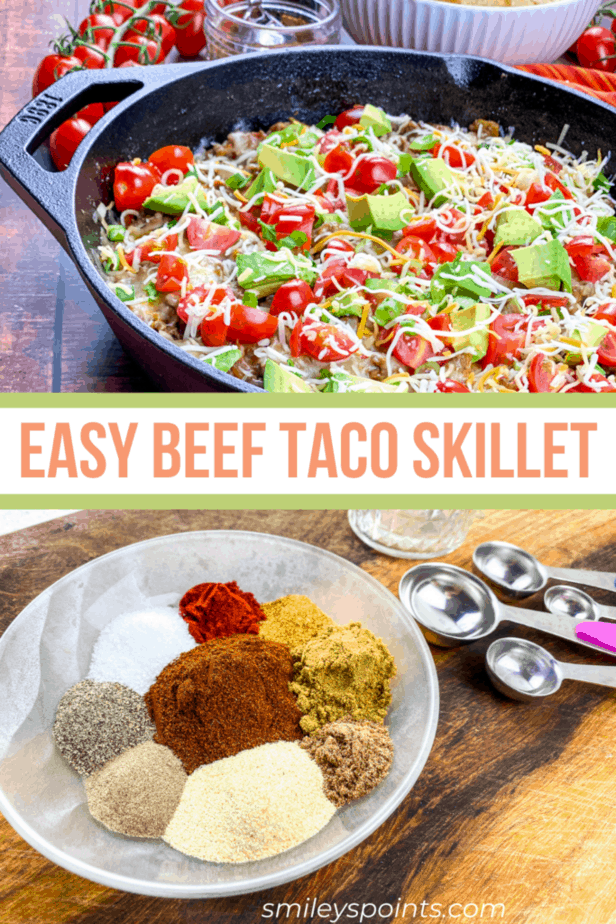 Taco Tuesday just got an upgrade
We simply love a good taco in our house. But it's always fun to mix it up. This recipe provides the perfect vehicle for everyone to have an amazing taco dinner. And by making your own taco blend, you can control the spice and salt, which is a huge plus.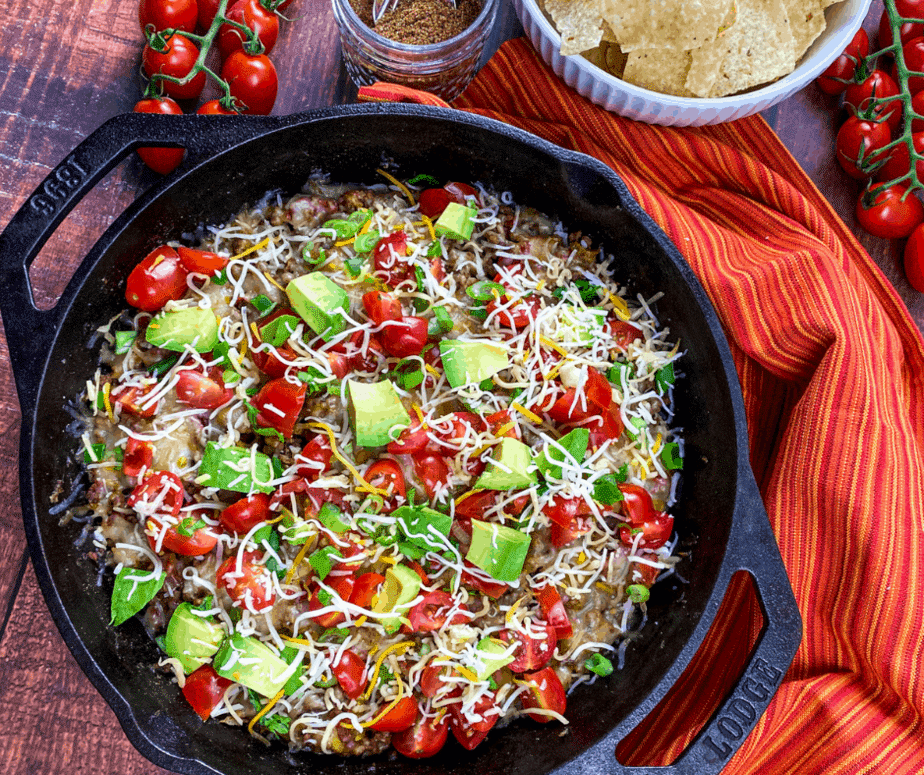 What can I substitute for beef?
This recipe is titled beef tacos, but that doesn't mean that you have to stick to beef. One of the beautiful things about tacos is that the spice blend is the star of the show. So you could easily substitute ground turkey, ground chicken, tofu, chickpeas, or just a veggie blend of pepper and onions.

If you are using ground chicken, it does tend to be a. more dry protein, so you are going to want to cook it at a lower temperature to retain some of the fat. You could also add some mushrooms or zucchini for extra moisture.

For ground turkey in this taco skillet, I would suggest one that is 80% lean. You can drain off the extra fat, but this way you will have meat that isn't dry.

Tofu makes an excellent ground beef substitute. You can start with a Meatless Monday and have leftovers for Taco Tuesday. Look for extra-firm tofu and crumble it before cooking. If you are vegan and want a cheesy taste to your taco, mix in some nutritional yeast. This article will give you some more information on using tofu as a beef substitute.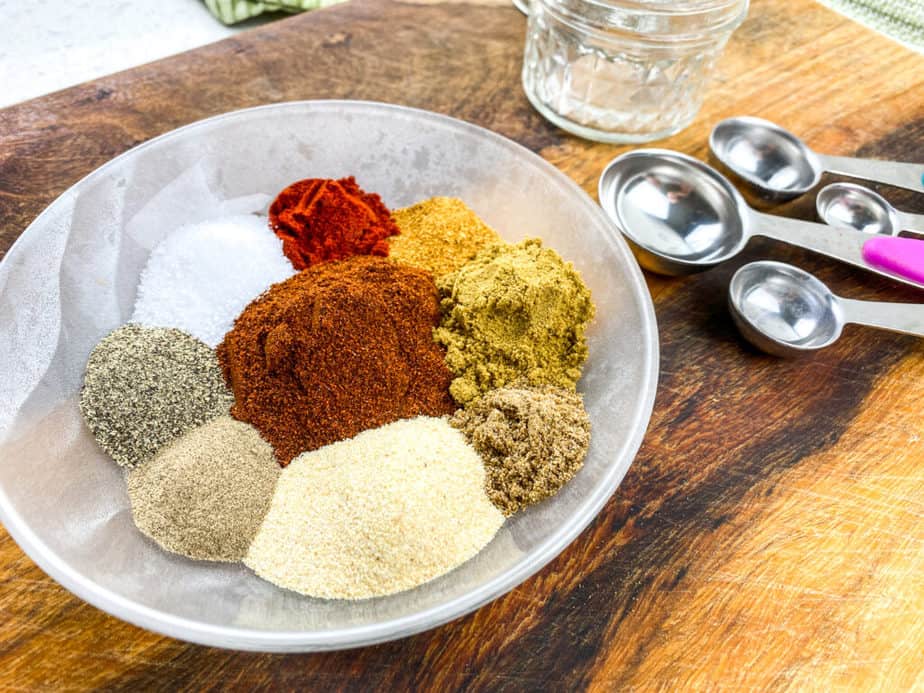 The taco seasoning blend is top notch
I'm not a huge fan of anything spicy. And by not a huge fan, I mean I cannot tolerate spicy at all. I'm good with flavor, but not spice. That's one of the reasons I love making my own spice blends. I can control how spicy they come out. I also don't like to use a huge amount of salt when I cook and MSG is a no-go as well.

Another hint on the spice – the recipe calls for fire-roasted tomatoes with green chilis. Use plain fire-roasted tomatoes for less spice.

This taco seasoning blend for the skillet tacos is fantastic! I use a bit less chili powder and omit the cayenne pepper and it's perfect! If you're someone who likes more spice, ramp up the cayenne pepper and add some red pepper flakes. See, this recipe can fit anyone with any taste.

Taco Seasoning:
2 T. chili powder
1 T. ground cumin
1 t. ground coriander
2 t. garlic powder
1 t. smoked paprika
1 ½ t. fine sea salt
1 t. ground black pepper
½ t. ground white pepper
¼ – ½ t. cayenne pepper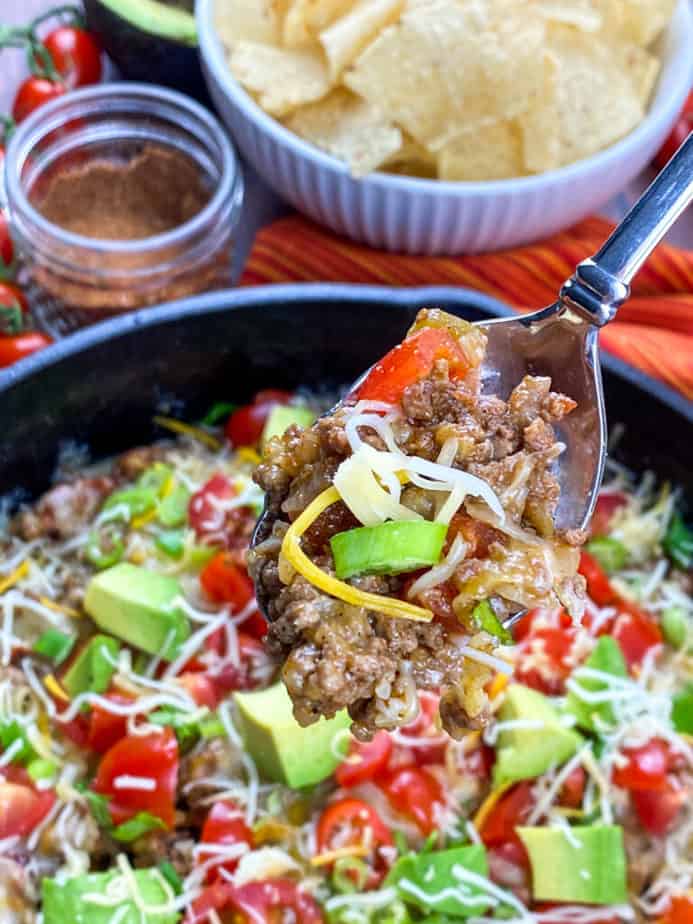 Wrap it up!
You've made your delicious tacos, so how do you serve them? The options are limitless! You can always go with the tried and true, corn taco shells. Simply heat them up in the oven and you can enjoy that delicious taco crunch. Serve with a baked spinach dip for a little greenery.

If you are trying to be a bit more healthy, some romaine or bib lettuce is the way to go. Romaine will also give you that satisfying crunch, but without any extra calories. You can enjoy more of the delicious taco meat with this option.

We tend to toast corn or flour tortillas in the oven. Using a taco holder, simply drape the tortillas over the humps and bake for about 5 minutes at 350º. Keep an eye on them so they don't burn. These are lower in calories and fat than traditional taco shells but give a delicious crunch as well.

You can also make a nice salad and throw the taco meat on top of it. Perfect for lunches since it's not as messy as a taco. You can also put it on a bed of yellow rice, or yellow rice with some greens.

No matter what you chose, you cannot go wrong with these delicious tacos!
BLUE PLAN: 8 POINTS

GREEN PLAN: 8 POINTS

PURPLE PLAN: 8 POINTS
Print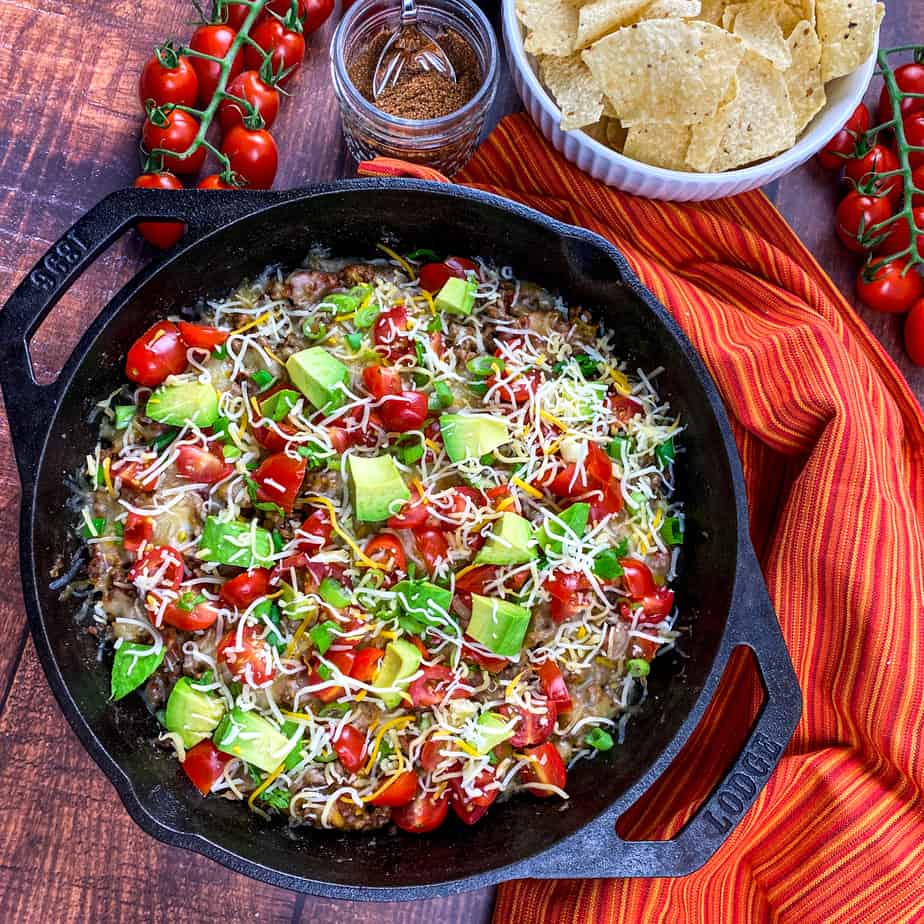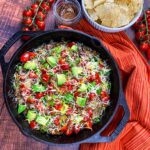 Easy Beef Taco Skillet
---
Author:

Total Time:

30 minutes

Yield:

6

1

x
Taco Seasoning:
2 T. chili powder
1 T. ground cumin
1 t. ground coriander
2 t. garlic powder
1 t. smoked paprika
1 ½ t. fine sea salt
1 t. ground black pepper
½ t. ground white pepper
¼ – ½ t. cayenne pepper*
1 T. extra virgin olive oil
½ medium white onion, diced
3–4 cloves garlic, minced
Sea salt and black pepper, to taste
1¼ lbs. ground beef (80% lean)
2 T. taco seasoning
1 10-oz. can fire-roasted tomatoes with green chilis, drained
4 oz. shredded Mexican-blend cheese (+ extra for serving or topping)
---
Instructions
Mix all the taco seasonings in a bowl and transfer to an airtight container.
In a large skillet over medium heat, add the olive oil. Then add the diced onions and garlic and season to taste with salt and pepper. Stir it up and then sauté, stirring occasionally, until the onions are soft and have some color to them, about 4-5 minutes.
Add the beef to the skillet and cook until browned, stirring occasionally about 4-5 minutes. Remove from the heat and carefully drain the fat.
Add the taco seasoning, fire-roasted tomatoes with green chilies and stir to combine. Cook, stirring frequently until the tomatoes are heated through and the beef mixture is completely coated in the taco seasoning, about 2-3 minutes. Taste and add additional taco seasonings as desired.
Remove from the heat and top with shredded cheese. Cover until the cheese is completely melted, about 1-2 minutes. Serve and enjoy!
Notes
The remaining taco seasoning can be stored in an airtight container with a tight-fitting lid for several months.
Prep Time:

15

Cook Time:

15