Have you been looking for a breakfast with a southwestern flair? Have you been looking for something different to feed the crew on a Saturday morning? How about a quick easy breakfast for dinner idea? We have the answer right here with our Slow cooker southwestern breakfast casserole.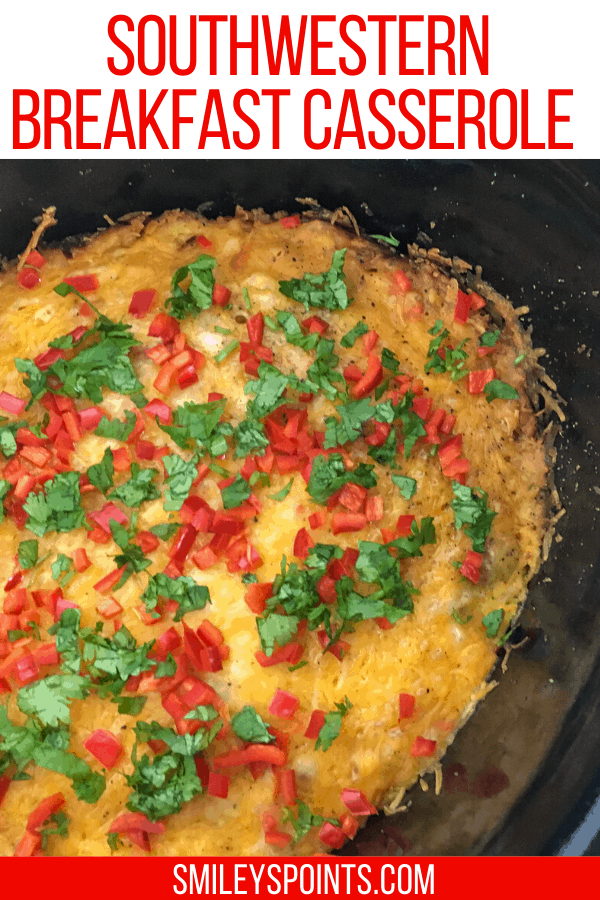 We start with some farm fresh eggs and a tasty mix of ingredients that you are sure to love, sit down and enjoy this dish with the family. Make sure you bookmark and save the link so you can come back to the recipe and make it time and time again. Pin it and share it with the world. 🙂
Slow Cooker Southwestern Breakfast Casserole
Cook times can vary significantly across different slow cooker models, so check on your casserole at about the 3-hour point to see how it is doing. I have made this dish in 2 different slow cookers and have had to adjust the time by about 15 minutes to get it perfect.
Southwestern breakfast casserole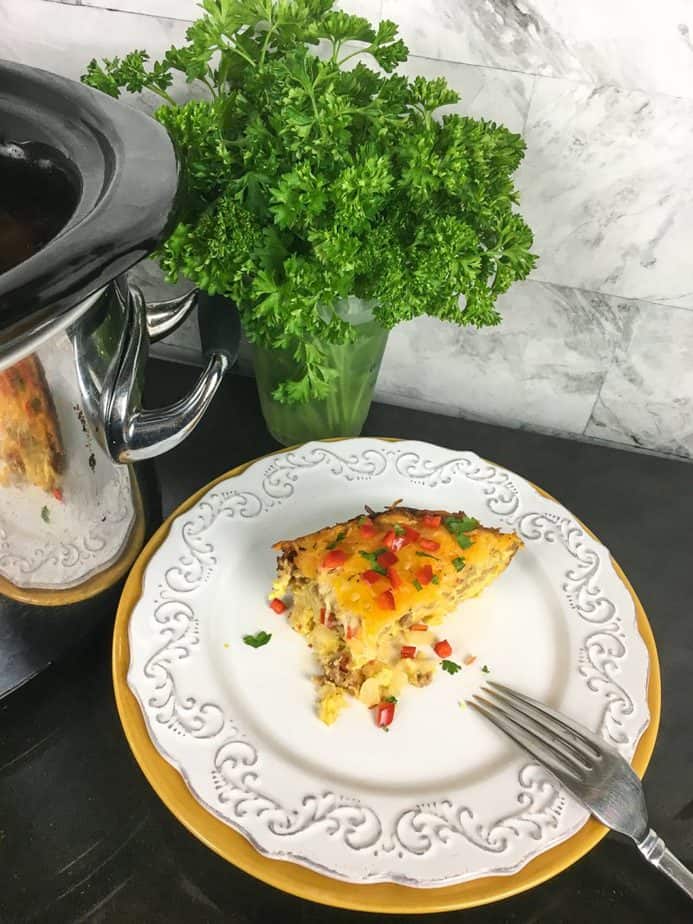 Do you use fresh or powdered ingredients?
I always say use the freshest ingredients available to you for the best flavor. I don't always have fresh basil or garlic cloves on hand so I do use garlic powder or dried basil at times. The meals still taste amazing. For this dish, I do prefer to use chipotle powder to fresh chipotle peppers. I feel the powder gives this dish flavor without giving it to much of a kick.
I love heat in my food don't get me wrong, I love flavor, not just spicy heat I want the food to taste great with a bit of a kick. I tried making this with the fresh peppers and I think there were some overpowering flavors, I wanted to make the flavors complimentary so you can taste everything not just peppers or just garlic. With this recipe, I experimented to get it just right. Let me know how you like it and what you would change in the comments. 🙂
How do I change up the recipe a little?
I have added mushrooms and jalapenos to change this recipe up a bit. You can add broccoli or even chicken breast pieces. My southwestern slow cooker breakfast casserole is a very versatile dish with many add-in options you could make this dish 2-3 times a week and have a different taste every time. Try your own different substitutions and let me know in the comments what you come up with and how you like it.
What side dishes can I have with this recipe?
I love eating this casserole with a mimosa or a cup of coffee. Since most of my veggies and protein are in the main dish I usually pair this with a coffee or juice for the kids. I don't usually drink a lot of juice because of the sugar content but in moderation, you can have anything and still live a healthy happy life. Make sure to add your points for sides and drinks and enjoy the meal.
BLUE PLAN: 4 Points

GREEN PLAN: 6 Points

PURPLE PLAN: 3 Points
Print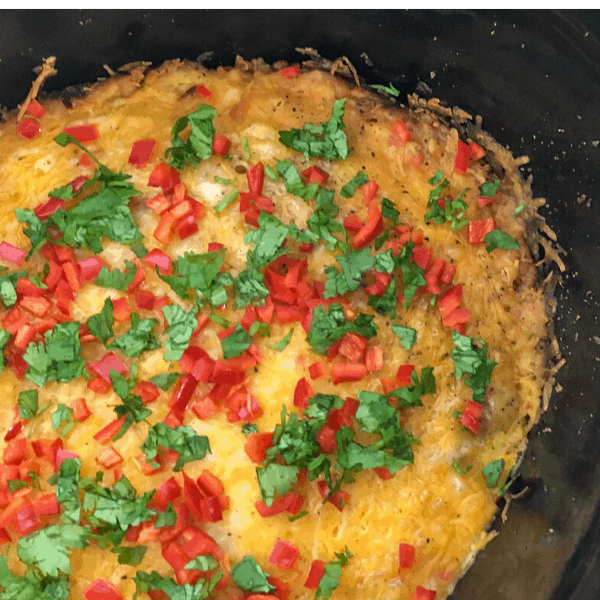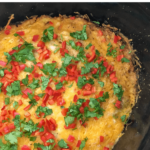 Slow Cooker Southwestern Breakfast Casserole
---
Author:

Total Time:

4 hours 10 minutes

Yield:

8 servings
Non-stick cooking spray
16 oz. veggie crumbles (can use turkey or sausage instead)
1 20-oz. bag hash browns, shredded
½ t. ground cumin
½ t. garlic powder
1 medium red pepper, finely chopped
8 large eggs
½ c. water
¼ t. chipotle powder
Sea salt and black pepper, to taste
2 c. fat-free shredded cheese
---
Instructions
Spray a 6-quart or larger slow cooker crock with non-stick cooking spray.
Cook sausage in a large skillet until nicely browned, approximately 8-10 minutes.
Remove from heat and carefully drain excess grease from the skillet.
Set aside.
Spread hash browns in an even layer across the bottom of the slow cooker crock.
Add the browned sausage and sprinkle the ground cumin and garlic powder on top.
Add the chopped red pepper and season with salt and black pepper, to taste.
Whisk the eggs and water together in a large bowl and pour evenly across the top of the other ingredients.
Spread shredded cheese on top of all ingredients
Cover and cook on low for 4 hours.
Serve immediately topped with green onion, red pepper, fresh cilantro, and/or additional shredded cheese, if desired.
Enjoy!
Notes
Optional Garnish:
Chopped green onions, red pepper, fresh cilantro, and/or additional shredded cheese
Prep Time:

10 minutes

Cook Time:

4 hours
Nutrition
Serving Size:

1/8 of the pot approx 3/4 cup
More great breakfast ideas
More Delicious Recipes

Bacon and Egg Wraps
Easy Egg Casserole
Air-Fryer Egg Souffle
Best Vegetarian Recipes
How to be successful on myWW