One question we see in groups a lot is if someone should get an air fryer or a pressure cooker. While both are absolutely wonderful additions to your kitchen when following any healthy lifestyle, there are tons of benefits to an air fryer. Why use an air fryer specifically with WW? Well, that's all about helping you enjoy the same foods you always have while also keeping points low. On top of sharing a few of my reasons for using an air fryer, I am going to share with you all about a cookbook I absolutely love that will help you get started!
Why Use an Air Fryer with WW?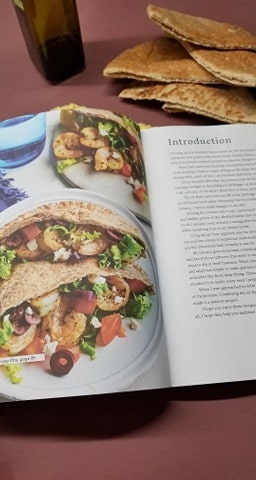 I am so excited to share with you about a brand new cookbook out by my good friend!  Katie Hale has recently published her first book, Mediterranean Air Fryer and it is chock full of delicious recipes you will love.  Since we love sharing about air fryers and how handy they are with the WW programs, I knew it would be ideal to share with you! While this book isn't solely about the WW program, neither are we.  We are all about being mindful in your food choices and health, so this easily fits into our daily life.
Air Fryer's Cut Out Added Bad Fats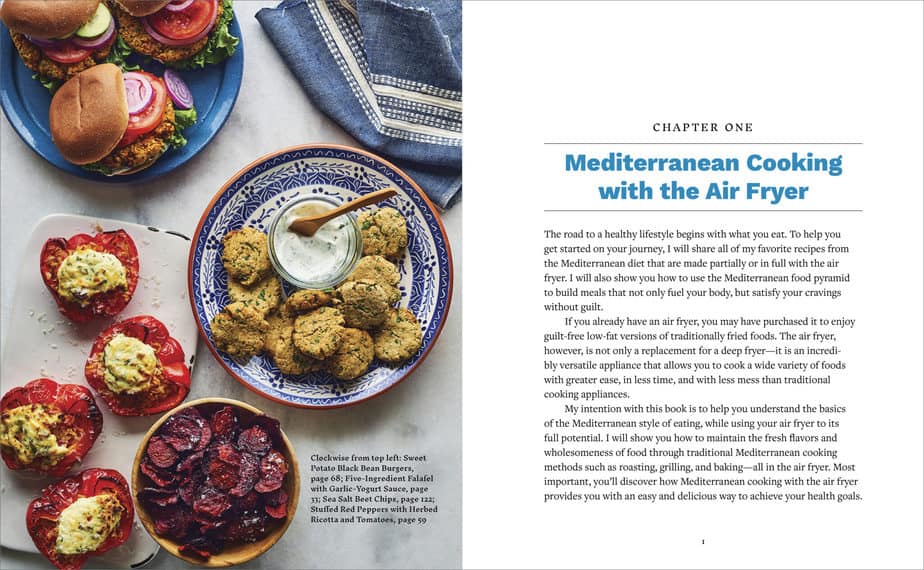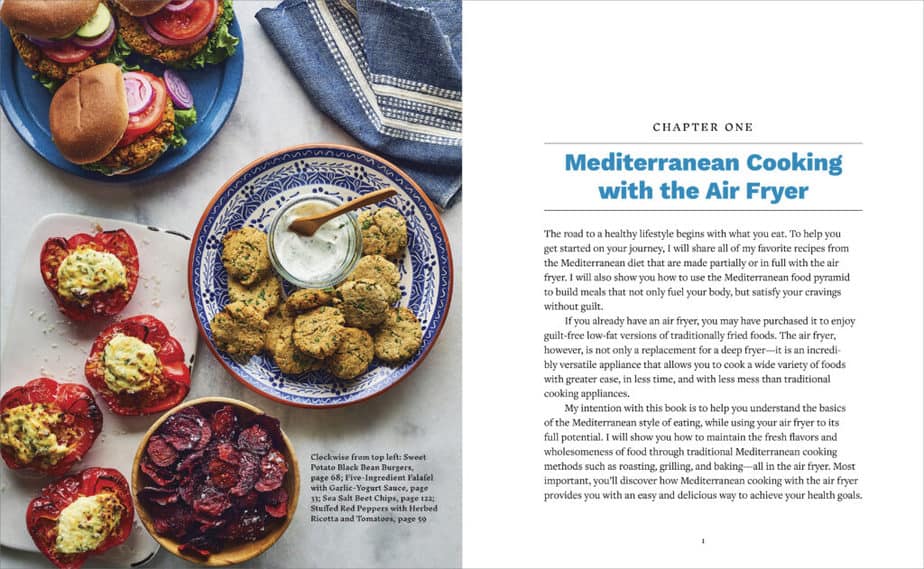 While not all fat is bad, as evidenced in the recipes in the Mediterranean Air Fryer book, there are a lot of foods you may love that is "deep-fried fat" and loaded with those bad fats.  Adding healthy fats like olive oil, avocado, nuts, and coconut oil is a big part of a healthy well thought out diet plan, after a while, you won't miss those bad fats.
The air fryer allows hot air to flow all around the food giving you that crisp texture you want without drenching your food in oils.  So, rather than deep-frying your favorite pita chips or potatoes, you can air fry them to get the same texture without the unwanted calories or fat.
Katie has included some great recipes that showcase just how easy it is to add that texture you want in an air fryer. Simple air fryer pita chips cut out a ton of points with your favorite high protein hummus or yogurt dips. Another popular option she included that I absolutely love is roasted chickpeas! Such a nice protein-packed bite of crunch!
Air Fryer's Do More Than Just "Fry"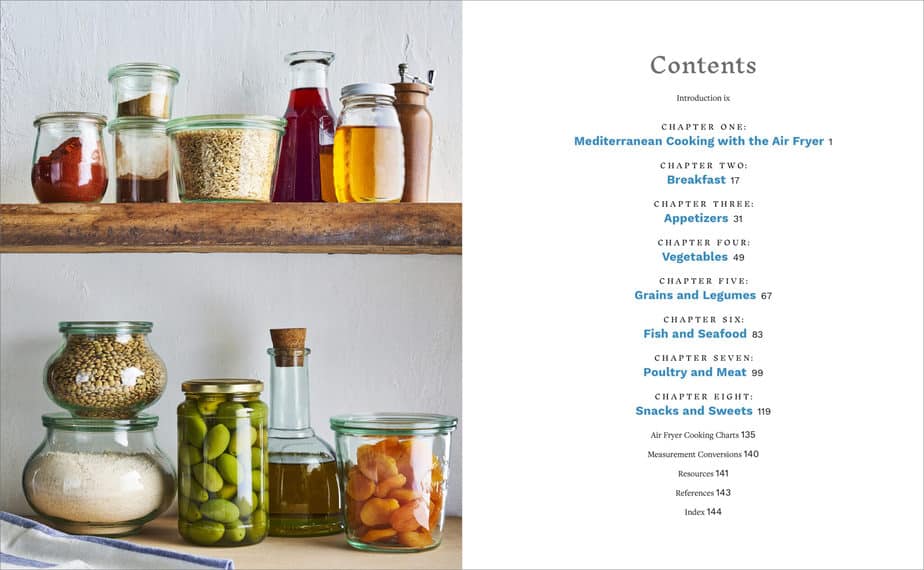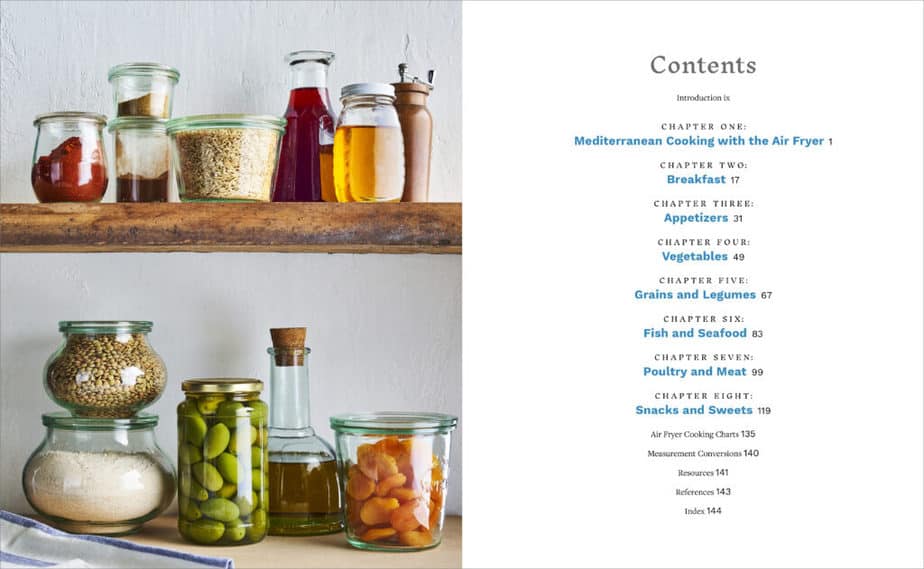 Another huge benefit of an air fryer is that it is so versatile. You can bake, roast, and grill in your air fryer right alongside the "fry" option.  We've made the most tender chicken, roasted vegetable sides, and of course, my favorite, banana bread recipe all in an air fryer!  There is just no limit to what you can do using the variety of functions in an air fryer.
Katie showcases a classic chicken kebab that is full of flavor and ready in minutes. There is also a shockingly easy whole red snapper recipe that can give you that fresh fish you want packed with protein and low points on most WW plans. Think outside the box to use your air fryer for more than just those French fries and fish sticks!
Air Fryer's Save Time in the Kitchen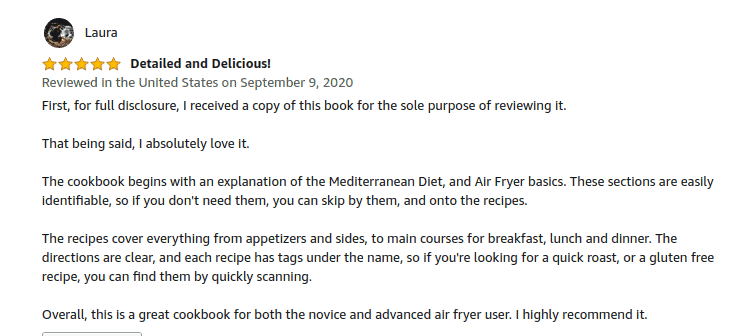 I would much rather be out in the Slingshot for a ride before dinner than to be slaving over the stove cooking meals. In fact, meal prep and planning is a must for me to stay on track with a healthier lifestyle. So, anything that saves time is going to be a hit in our house. The air fryer really helps make that possible.
Many recipes take less time to prepare when they are made in the air fryer. The hot air flow all around the food adds not just texture, but even cooking. This results in many recipes cooking in less time. That results in more time with your family or doing things you love!
What is the Best Air Fryer?
We personally use the Ninja Foodie as it is more than just an air fryer. There are other options available that fit into a budget. The main thing to remember when buying an air fryer is to consider the size. If you are feeding a family with your air fryer, you'll want to invest in the larger options to make sure you don't have to make multiple batches of food.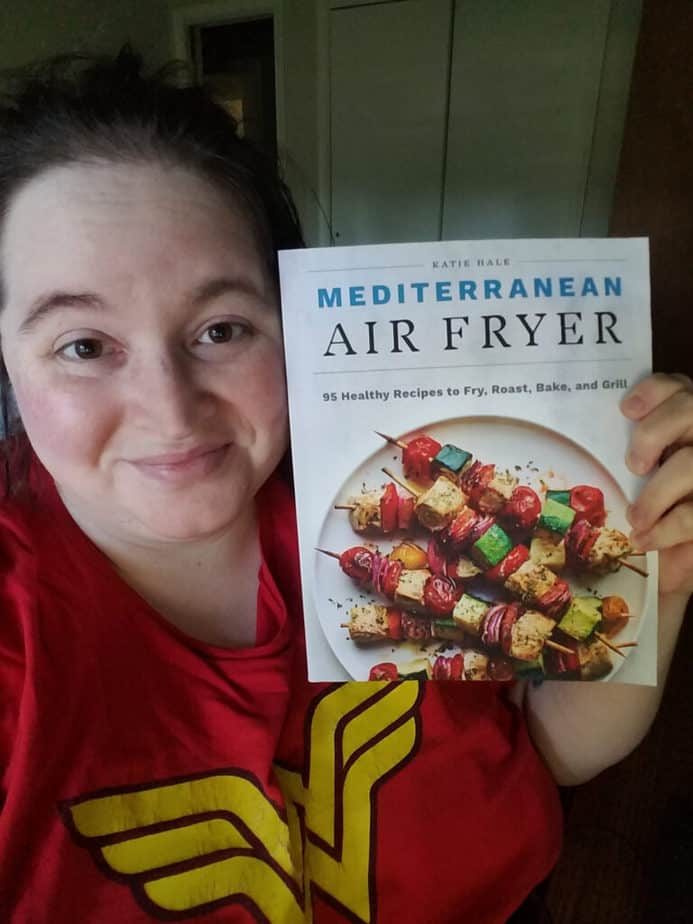 To get started using your air fryer, you should grab the Mediterranean AIr Fryer eBook that is available now on Kindle, or pre-order the paperback copy available on 9/15/20.  It is loaded with 95 recipes featuring how to fry, roast, bake, and grill healthy meals.  Tons of fresh fruits, vegetables, whole grains, and lean proteins are in this with many recipes automatically low in WW points if you are following one of the current programs.
You can look forward to enjoying recipes like a spinach and swiss frittata with mushrooms, citrus green beans with red onions, pesto shrimp with wild rice pilaf, or even a chocolate lava cake. One of my favorite recipes is the sweet potato black bean burger! Packed with protein and flavor, it's a healthy choice that is ideal for the WW program.
More Airfryer Recipes
Airfryer Egg Souffle
Healthy Banana Bread
Buffalo Cauliflower Bites
Cheddar Bay Biscuits