There are pros and cons to attending Weight Watchers meetings in person, but they're not required for success with the program. Weight Watchers online is also an option – a more affordable one at that. Deciding whether you need the accountability of in-person meetings or if you can do online only is something only you can do. Keep in mind that you can change from online to in-person (or vice versa) at any time, so don't be afraid to try online only first!
Online vs In Person Meetings with Weight Watchers
If you're a homebody or have a chaotic schedule, you may find that in-person Weight Watchers meetings don't work for you. Online only is another option and many have found great success with it.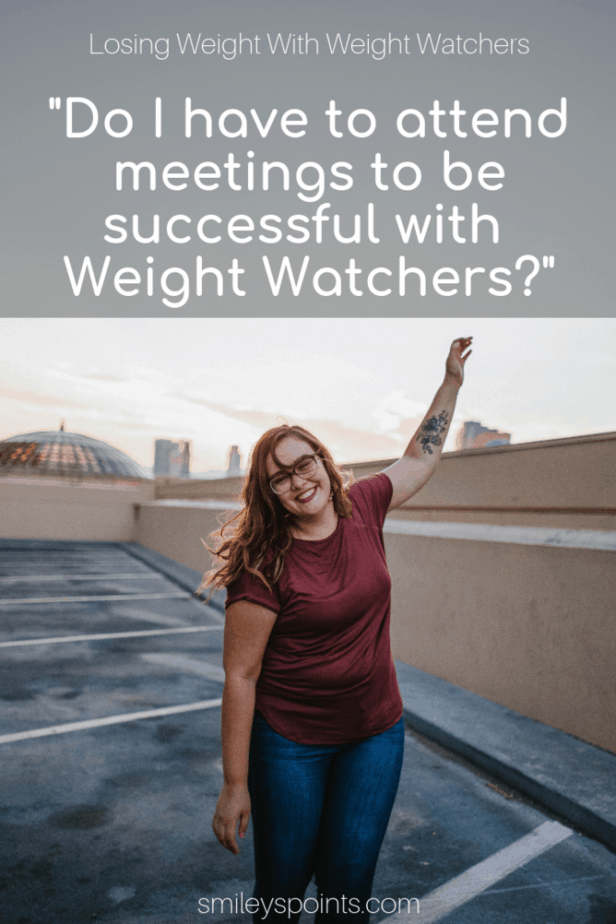 Many people can lose weight utilizing the Weight Watchers app alone.
Well, not quite alone, but you can use the app and other (free) online resources to ensure your success with the Weight Watchers program. Now that Weight Watchers has transitioned to Wellness that Works, they've teamed up with Headspace – a mindfulness app – to help you eat better, move better, and get overall support for your wellness journey. Think of WW as a tool, even a personal assistant, to assist you on your journey to weight loss and better health.
The Weight Watchers app makes point tracking as simple as can be.
Weight Watchers not working?
Read about my (successful) Noom experience!
Are meetings necessary for your success?
Do you really need to attend meetings? Some Weight Watchers members find that attending meetings is crucial to their weight loss success. The meetings provide accountability, reliability, friendship, coaching, and celebrations of all successes. All of these are important as they help keep you motivated and on the right track towards a healthier, slimmer you.
One of the many reasons for attending a meeting is accountability. We all have struggles from time to time. Having an accountability partner, someone to keep you motivated when the going gets rough or when you plateau, is great! The accountability of meetings can push you through to the next milestone. You can also find an online accountability partner if in person meetings aren't your thing. You want to achieve your goals so come on, let's do this together!
Another reason for attending the meeting is the friendships, you make friends and the friendships produce accountability partners so it's a win-win. Remember, together everyone achieves more; this is the basis of teamwork. One of the best reasons to attend a meeting is the expert coaching and advice you receive. Each meeting has a leader who is a subject matter expert. They will answer any questions you may have.
Also, the meetings offer an official weigh in. It's nice to see the number on the scale go down, but it's important to use the same scale and weigh in consistently. Weighing in at the meetings every week keeps the consistency.
What are some pros and cons to attending meetings?
Weight Watchers meetings are so helpful, it may be difficult to see the downside to attending them. We've talked about the pros so let's dig into the potential "cons" as well. In reality, there's no true downside to attending in-person meetings because you're going to gain so much (and lose so much, too!) that the meetings are worth the time and money expense. However, not everyone can attend meetings – whether your work schedule is crazy or you don't have childcare, just know that in-person meetings are not required.
You can still lose weight and get healthy doing online Weight Watchers. Join free online support groups and make accountability buddies. I've found that teaming up with someone who has a similar amount of weight to lose can be super motivating and helpful, because you're both in similar spots and holding each other accountable. If you have 100 pounds to lose and your friend has 20 pounds to lose, you're on completely different journeys (and will have a huge daily point difference as well), so while it can work, it will be a bit different. Finding a mentor who has already lost their 100 pounds may be inspiring for you also!
My advice
For what it's worth, here are my 2 cents: online works just fine for many people and is more affordable than in-person meetings are. I recommend trying online only first for at least a month. Utilize online support groups and blogs for recipes and tips. Track every bite. Drink lots of water. Move your body daily. If after a month or two you feel like you aren't moving in the right direction with your weight loss, sign up for in-person meetings for the added accountability!