Wraps have been a craze as of late. They are healthier lower in carbs and delicious. You can't go wrong as long as you watch what you are putting in them. These are easy to make and as a bonus they are vegetarian. You can make them lower in points by omitting the avocado) or add in healthy fats by keeping the avocado, your choice.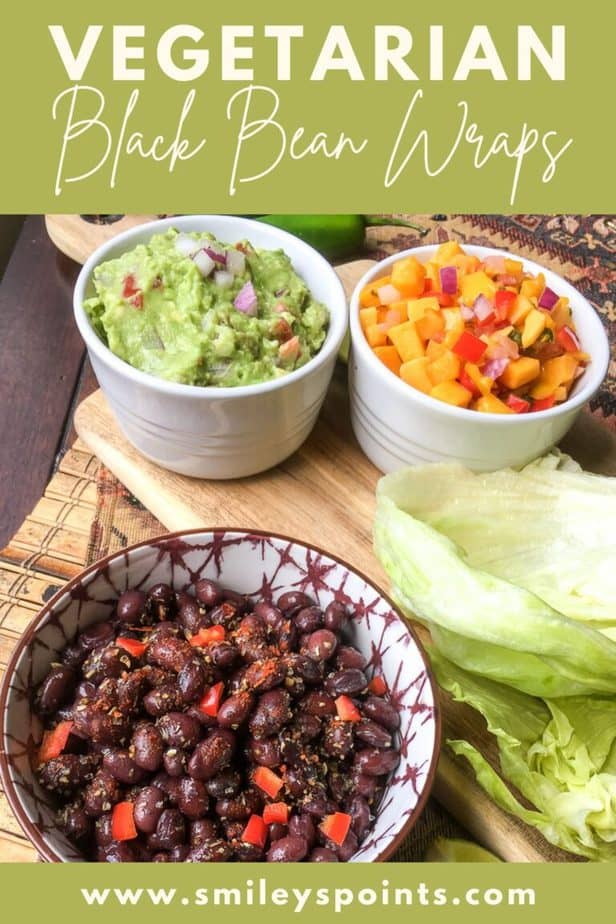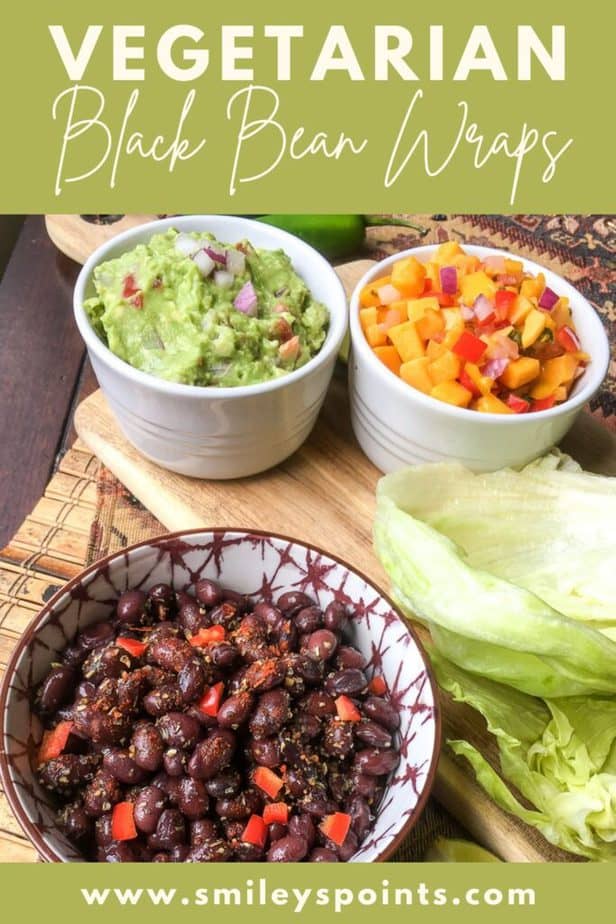 I'm so happy you're here. 🙂 Note: Smiley's Points participates in affiliate programs. That's how the bills get paid! There is no additional charge to you and I only recommend products I know and love.
How to make black bean wraps.
Start off with delicious black beans and add cumin, chili powder, smoked paprika, cayenne, and oregano. I am getting hungry now. If you do not want to use lettuce leaves for you wraps, I like to use Ole' wraps as they are usually only 1-2 points. Making them the perfect choice for wraps.
Do I use canned black beans or the ones from a bag?
I used the ones from a can as they don't take as much time to prepare. If you have the time or you are meal prepping, use dry beans as you will be rewarded with less gas and more flavor. A win-win I would say. I usually preach to use the freshest ingredients possible and in this case that would be using the beans from a bag. (I did use a can for this recipe to minimize the time and because I needed to make dinner now not tomorrow) I didn't meal plan this one, unfortunately.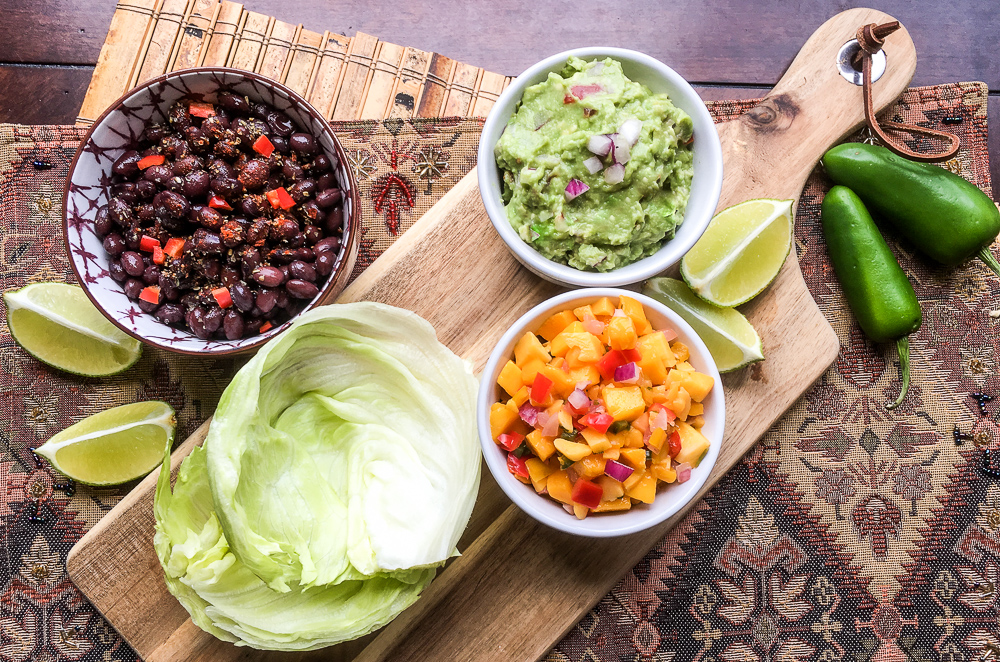 The black beans that you can buy dry, usually in a bag, are more cost-effective as you get way more for your money. Another perk of using dry beans is you know what goes into them. Sometimes canned beans have added salt or other ingredients that you may not want to ingest. Read the label and find out what works best for you.
How do I cook dry beans?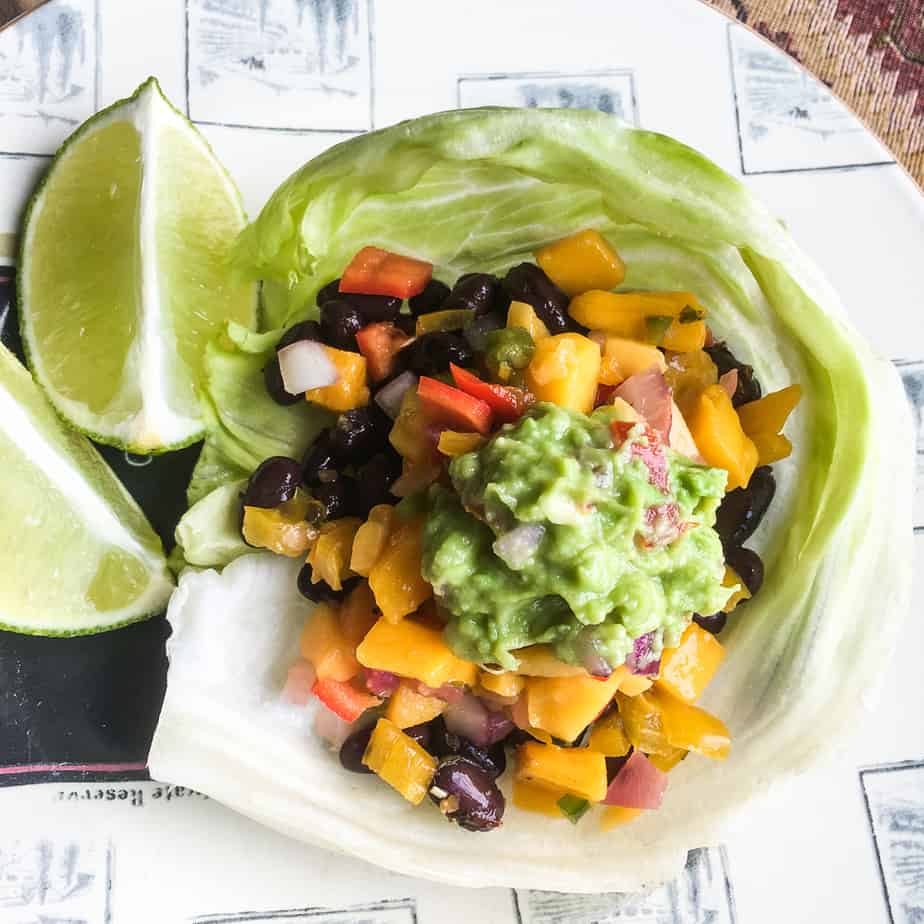 I start by soaking them so they release some of the indigestible sugars that cause us to fart. The musical fruit right? Wholefoods.com explains it way better than I can. I know that when I soak them and then cook them it makes them taste better.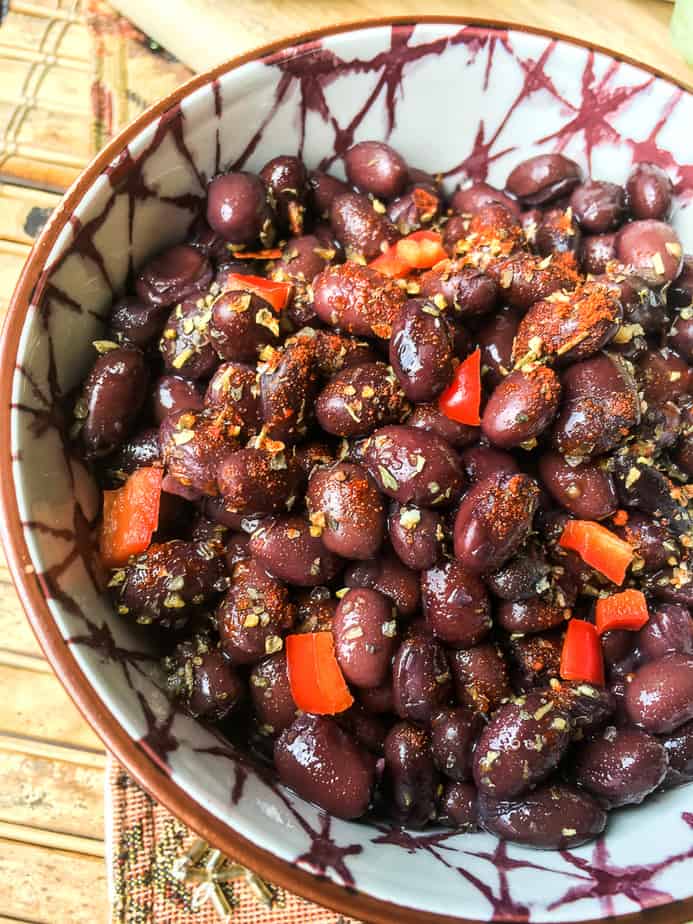 How can I lower the points of this meal?

If you need a lower point wrap there are little tweaks you can make and still have a delicious meal. As I stated earlier you can omit the avocado as that will eliminate 21 points from the entire meal.
That is a whopping 5 points per serving vanished. I don't mind eating good healthy fats as the benefits seem to outweigh the disadvantages. another easy tweak would be to use pan spray rather than olive oil. I use an olive oil spray. omitting the 2 tablespoons of oil reduces the points by 8 overall a 2 point reduction per serving.
No matter which you you make them you are sure to enjoy them. Let me know in the comments if you make these.
More great recipes
I have cooked a few vegetarian meals and have found some tasty ones. Check out my friend Melissa at TheStatenIsalndfamily.com for some more fantastic vegetarian recipes. She is a great cook and shares delicious recipes.
BLUE PLAN: 7 Points

GREEN PLAN: 9 Points

PURPLE PLAN: 7 Points
Print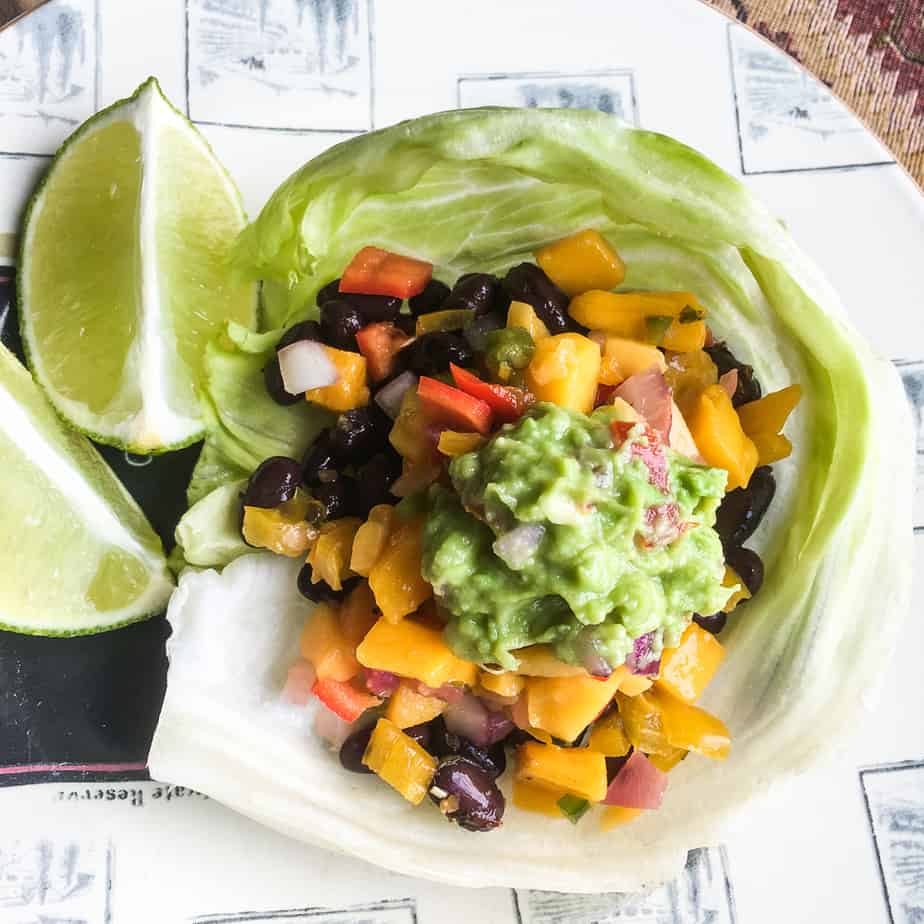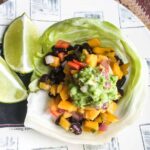 Easy Black Bean Wraps
---
Author:

Yield:

4

servings

1

x
2 T. extra virgin olive oil
1 15-oz. can black beans, drained and rinsed
2 T. water
1 t. ground cumin
½ t. chili powder
1 t. smoked paprika
¼ t. cayenne pepper
¼ t. dried oregano
Sea salt and black pepper, to taste
Optional: ½ medium red bell pepper, finely diced
Guacamole Ingredients:
2 large ripe avocados, pitted
1 medium tomato, seeded and diced
3 T. fresh lime juice
2 T. fresh cilantro, minced
½ medium jalapeño, finely diced
Sea salt and black pepper, to taste
To Serve:
Mango Salsa
Iceberg, butter, or Romaine lettuce leaves for wrapping
---
Instructions
Heat olive oil in a skillet over medium heat. Add beans, water, cumin, chili powder, smoked paprika, cayenne, and oregano. Season with salt and black pepper, to taste, and stir to combine.
Cook, stirring occasionally until the beans are warmed through and the spices become fragrant around 4-5 minutes.
Remove from heat and set aside.
While the beans are cooking, mash the avocado in a small glass or other non-reactive bowl. Add tomato, lime juice, fresh cilantro, and jalapeño. Season with salt and black pepper, to taste, and stir to combine. Set aside.
Transfer warm beans to a bowl and add diced bell pepper, if using. Sprinkle with additional spices, if desired. Serve immediately with large lettuce leaves for wrapping, along with fresh guacamole and this spicy mango salsa. Enjoy!