Stuffed acorn squash is a delicious way to enjoy a filling, well-balanced meal. With plenty of fiber, protein, and flavor, this dish will be a hit!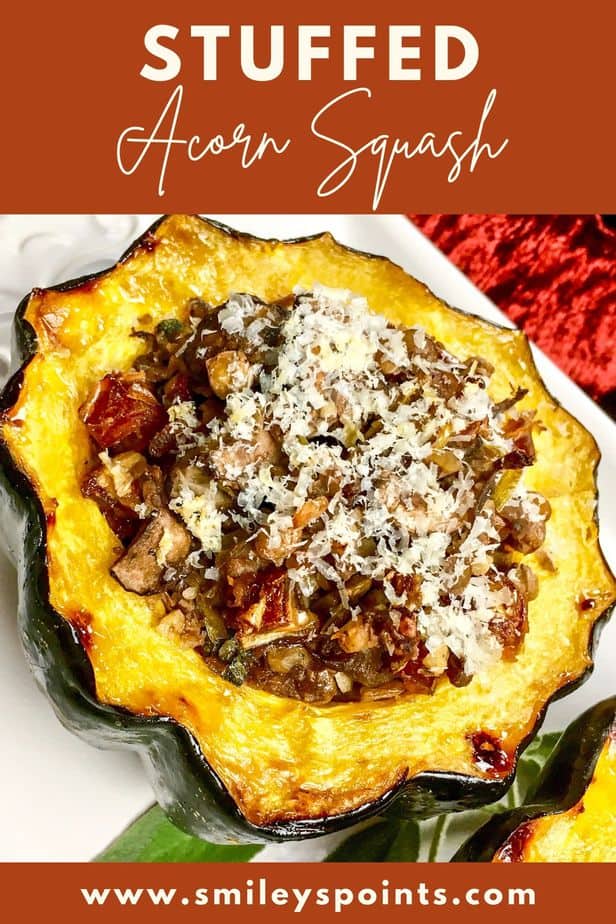 ---
"Healthi formerly iTrackbites is an alternative to Weight Watchers. "

---
Cooler weather is the perfect time for squash
Acorn squash is milder in taste than butternut squash and also more fibrous in texture. It has a sweet and nutty flavor, which is muted a bit by the watery character of its flesh. As the weather gets cooler, it's the perfect time to break out the squash recipes. There are so many different varieties of squash to enjoy. This recipe is a perfect starting point to start enjoying the wide varieties of squash.
The health benefits of acorn squash
Acorn squash is chock full of nutrients and fiber while being low in calories. It has all the vitamin A and C that you will need for the day. The wonderful vegetable can help aid in digestion, ward off cataracts, strengthen your bones, and even help to regulate your blood sugar. Vegetables like squash are perfect when you are trying to manage your weight. They are dense and help fill you up with minimal calories.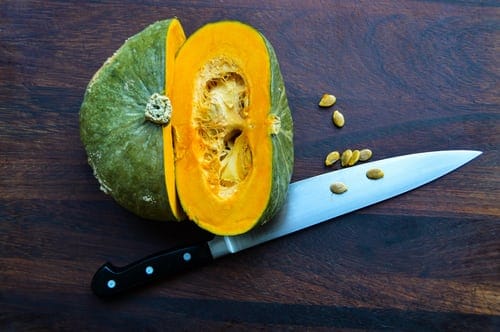 Stuffed with protein
This recipe is packed with protein! The crispy pancetta, the rich and flavorful Portobello mushrooms, the tasty lentils all provide wonderful protein for this dish!
You can easily make it a vegetarian or vegan dish
Stuffed acorn squash can easily be modified to be vegetarian or vegan. Simply eliminate the pancetta and Parmesan cheese and it makes a perfect vegan dish! You could add more lentils or another type of bean to replace the missing ingredients, or replace them with a vegan alternative.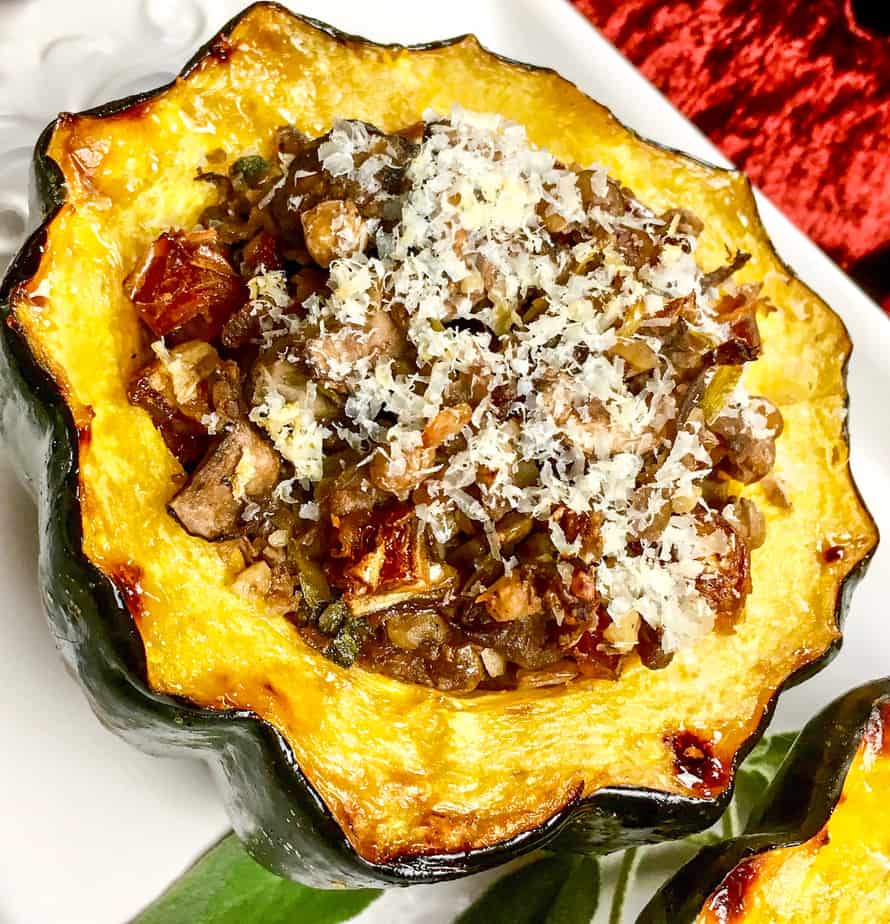 Roast those seeds for a healthy snack
Acorn squash seeds are very similar to pumpkin seeds. They are a bit thinner though, so they turn out crispier.
After you scoop them out, throw them in a colander and rinse them off. You want to make sure all the strings are removed. Dry the seeds on paper towels. You can use a towel, but they will likely stick like crazy. Put them in a bowl and stir with a little olive oil. These little beauties work wonderfully as a sweet or savory snack. You can sprinkle them with a variety of seasonings. Some delicious options are sea salt, garlic salt, everything but the bagel seasoning, cinnamon, cinnamon and sugar, pumpkin pie spice are just a few options.
Put your seeds on a rimmed baking sheet into a 325° oven for 20 minutes. Stir them a few times while you're cooking. If you hear a pop, it's all good. They will be a nice golden brown when they are completed.
Other ways you can prepare acorn squash
If this recipe doesn't exactly tickle your fancy, but you want to enjoy the benefits of acorn squash, you can easily prepare it in your air fryer or instant pot.
To prepare it in the air fryer, cut the acorn squash in half and scoop out the seeds, saving them to bake as a snack. Oil up the squash and place it cut-side down in the basket. Air fry it at 325° for 20 minutes. This will make the acorn squash nice and caramelized.
No air fryer? No problem! You can easily make the acorn squash in your instant pot. Cut the acorn squash in half and scoop the seeds. Add 1 cup of cold water and a trivet to the Instant Pot. Place the acorn squash on the trivet and sprinkle it with a bit of course salt. For smaller acorn squash, cook at high pressure for 4 minutes and then natural release for 10 minutes. For larger acorn squash, cook at high pressure for 6 – 7 minutes and then a natural release for 10 minutes.
If you're looking for a side for this dish, brown rice would pair wonderfully.
This recipe is perfect if you are trying to eat healthier and manage your weight. I've been using Healthi formerly iTrackbites as a weight management program and it's AWESOME!
cost: Healthi formerly iTrackBites costs $36 for the year (using this link for 40% off makes it $36 – use COACH_SMILEY to save!!), WW is $20+ for the month, and it's the same formula and less options
choices: I can choose PointsPlus, Freestyle, or any other plan I want with Healthi formerly iTrackBites. Even with the new WW changes, they only offer 3 plan options (not PointsPlus).
logs: You can export your tracker data by the week, month, or quarter with Healthi formerly iTrackBites. WW does not give you access to quarterly data.
accuracy: I've found inaccurate info in the WW app due to members submitting and not paying attention to the right numbers. With Healthi formerly iTrackBites, I know if I see the green check, it's been verified as accurate. This puts my mind at ease!
BLUE PLAN: 9 Points
GREEN PLAN: 9 Points
PURPLE PLAN: 8 Points
Prep time: 20 minutes
Cook time: 50 minutes
Serves: 6
Print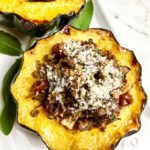 Stuffed Acorn Squash
---
3 acorn squash, cut in half and seeds removed
3 T. extra virgin olive oil, divided
3-4 cloves garlic, finely minced
4 oz. pancetta, diced
1½ lbs. Portobello mushrooms, roughly chopped
½ medium yellow onion, thinly sliced
1 c. green lentils, cooked
1 1/2 T. fresh sage, finely chopped
¼ c. dry red wine
1/3 c. dates, roughly chopped
¼ c. walnuts, chopped
¼ c. Parmesan cheese, freshly grated
Sea salt and pepper to taste
---
Instructions
Position oven rack to the center position, then preheat oven to 400°F. Spray a large baking dish with non-stick cooking spray and set it aside.
Place the acorn squash halves cut side up in the prepared baking dish and brush cut edges with one tablespoon olive oil. Season with salt and black pepper, to taste. Place baking dish on center rack in preheated oven and roast for 40 minutes, or until the squash is fork-tender.
While the squash is roasting, heat the remaining olive oil in a large skillet over medium heat. Add minced garlic and pancetta and cook, stirring occasionally, until slightly browned, approximately 2-3 minutes.
Add chopped mushrooms and cook, stirring occasionally, until they start to brown, approximately 4-5 minutes. Add sliced onions and continue cooking, stirring once or twice, for another 3-4 minutes.
Stir green lentils, fresh sage, and red wine into the skillet. Cook, stirring occasionally, until mixture thickens, approximately 8-10 minutes. Remove from heat and stir in the chopped dates and toasted walnuts. Season with salt and black pepper, to taste. Set aside.
When ready, remove cooked squash from the oven and cool slightly before filling each half with the Portobello mushroom mixture. Sprinkle each half with some freshly grated Parmesan cheese.
Return stuffed squash to oven for another 5-10 minutes, or until heated through and the cheese starts to melt. Remove from oven and serve immediately. Enjoy!