Smiley's Points | Weight Watchers Recipes that Make You Smile! | So happy you're here. :) Smiley's Points participates in affiliate programs. That's how the bills get paid! Though I earn some revenue if you buy a deal through one of our affiliate links, there is no additional charge to you and I only recommend products I know and love.
Have you been missing your favorite Chili Mac recipe? Are you loving Weight Watchers but Chili Mac seems like too many points? Welcome to the club. We love Chili Mac, and we can have it too 🙂 Our Chili Mac recipe is Weight Watchers friendly, and oh so delicious. The best thing about being on Weight Watchers is you can eat what you want within moderation and still lose weight. Track your points and follow the plan and watch the weight fall off.
I love that Chili Mac can fit nicely with a 23 point day. Not something I would have thought of on any other "diet"!
4 Freestyle SmartPoints per serving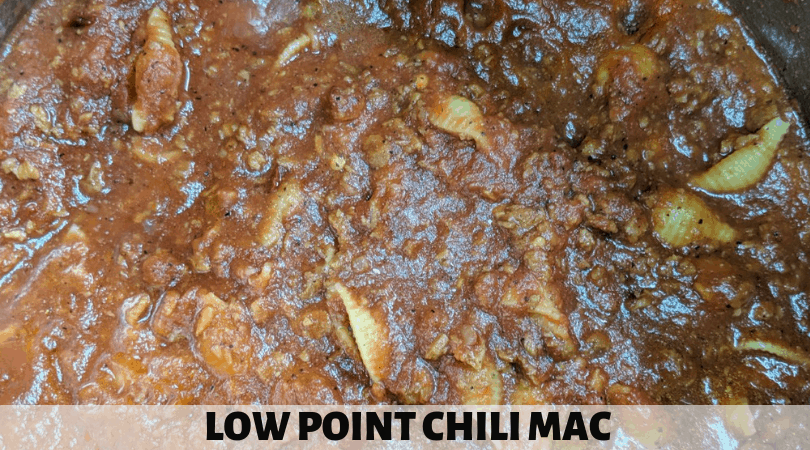 RELATED: Best Weight Watchers Snacks
Weight Watchers Friendly Chili Mac
Chili is one of my all-time favorite meals. Chili Mac is no exception. I love to cook and make wonderful tasting meals for my family to enjoy. The smiles on their faces are thanks enough. Chili used to take me all day to make. I wanted to make sure you could taste all of the flavors and spices. With the Instant Pot, pressure has cut the time in half or less and I still get that slow-cooked flavor. It is amazing to me how well this works and how much time it saves.
Serve this Chili Mac with a side of Corn on the Cob or 1 point Cheddar Bay biscuits.
Are You Prepping Meals For Freezer Cooking?
Chili mac is perfect for freezing and reheating later in the week, or next week. Weight Watchers friendly chili mac keeps very well in single-serve bags in the freezer. I use this method to help with meal planning for weeks to come. I make more than I need and freeze the leftovers in single portion freezer bags. Now when We need a meal I can grab as many as I need out of the freezer reheat them and voila dinner is served no muss no fuss all of the work was done on Sunday so I don't have to cook on Wednesday. This also helps with clean-up no pots and pans to clean no messes on the stove, once we are done eating I just wash the plates and silverware, wipe the table and sit down to enjoy a movie, a book or a board game with the family before bed.
Print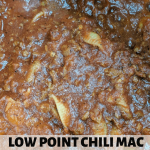 ---
Scale
Ingredients
1 bag Vegan Crumbles 16.2oz
2 12 oz cans Tomato Paste
1 tablespoon Garlic powder
1 tablespoon Paprika
1 tablespoon pepper
1 tablespoon chili powder
1 tablespoon minced onions
1 teaspoon crushed red pepper (optional)
1 cup no fat milk
2 cups zoodles or regular noodles
2 cups fat-free cheese
3 1/2 cups water
---
Instructions
Add oil, vegan crumbles, garlic powder, minced onions, paprika, black pepper, 3 1/2 cups of water, and tomato paste to your Instant Pot.
Pressure cook on high for 10 minutes, natural release for 10 minutes.
When your Instant Pot reads 7 minutes begin to steam your zoodles to soften them.
I like to use the Green Giant spiralized zucchini, but you can use any version of zoodles that you prefer 🙂 Or even better you can spiralize your own.
Once the veggies are ready, put them on a plate
Scoop 1 cup of sauce onto them and enjoy.
---
Notes
Serving size
1 cup of zoodles or 1/4 cup regular noodles
1 cup of Chili
serves 8
4 points per serving with Zoodles
5 points per serving with regular noodles
Category: Main Course
Cuisine: American
More Weight Watchers Recipes to Make You Smile
Herb Roasted Chicken
Low Point Cornbread Chili Casserole
Instant Pot Chicken Parmesan
Buffalo Cauliflower Bites
P.S. Don't forget to join my Facebook group!