Whether you're looking for soups, stews, chilis, or chowders, our Weight Watchers soups have you covered. There's nothing better on a chilly Fall evening than enjoying some soup in front of the fire (or, uh, TV). 🙂 Serve any of these soups with my 1 point Cheddar Bay biscuits for a delicious low point meal.
Best Weight Watchers Soups
While you're here, be sure to check out my most popular Weight Watchers posts!
Best Tips for Maintaining Lifetime Weight with Weight Watchers
Should I Eat My Weight Watchers Weekly Points?
Online vs In Person Meetings with Weight Watchers
How to Stay on Track with Weight Watchers During the Holidays
How to Tell if You're Hungry or Bored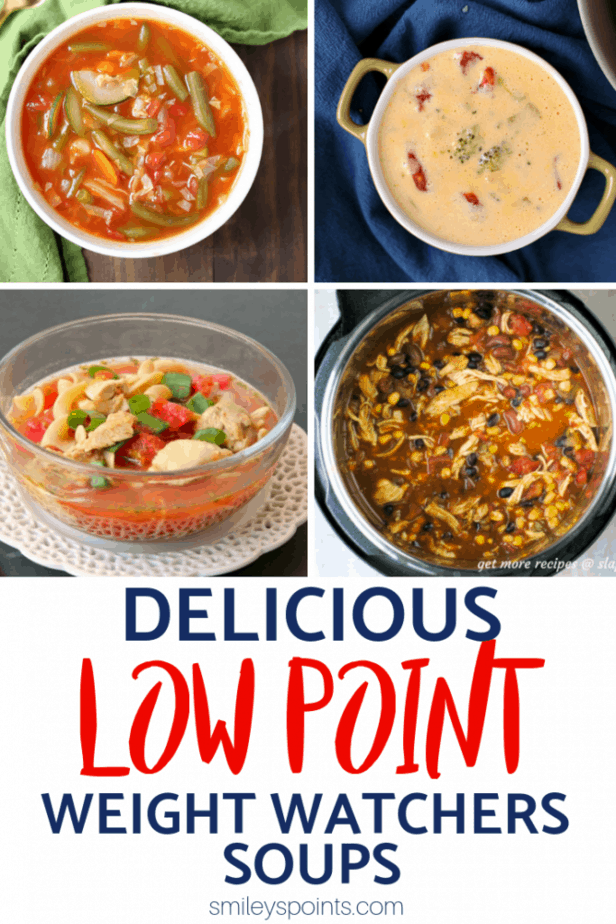 0 Point Weight Watchers Soups
Spicy Turkey Chili {Crock Pot or stovetop}
Caramelized Onion Soup{Instant Pot or Crock Pot}
Turkey Chili
Mexican Chicken Soup
Mexican Chicken Chili
Jerk Chicken Soup {Instant Pot}
Vegetarian Chili
Turkey and Meatball Soup
Chicken Zoodle Soup {Instant Pot}
Black Bean & Corn Soup
Southwest Chicken Soup
1 Point Weight Watchers Soups
Cabbage Roll Soup
Chicken & Bean Soup
Enchilada Soup
Chicken Corn Chowder
Green Chili Chicken Enchilada Soup
Creamy Spinach Florentine
Chicken Pasta Fagioli
Spicy Red Lentil
Leftover Ham Bone Soup
Skinny Creamy Asparagus Soup
2 Point Weight Watchers Soups
Chicken and Wild Rice Soup
Lentil Stew
Ham Split Pea Soup
Shredded Cabbage Soup
Summer Vegetable Soup
Chicken Sausage Gumbo
Hamburger Stew
3 Bean Turkey Sausage Chili
Spicy Cajun Soup
Spicy Seafood Chowder
3 Point Weight Watchers Soups
Vegan Potato Soup
Italian Chicken Noodle Soup
Potato & Shrimp Soup {Instant Pot}
Beef Stew {Instant Pot}
Butternut Squash Soup
Wild Rice Soup
Spanish Potato Onion Soup
Skinny Potato Leek Soup
Chicken Vegetable Rice Soup
Vegetarian Minestrone
Chicken Stew
4 Point Weight Watchers Soups
Lemon Chicken Noodle Soup
Parmesan Tomato Soup {Instant Pot}
Broccoli and Cheddar Soup {Instant Pot}
Lasagna Soup
Chai Pumpkin Soup
Simple Chicken Noodle Soup
Smoked Salmon Potato Leek Soup
Avocado Cucumber Soup