Smiley's Points | Weight Watchers Recipes that Make You Smile! | So happy you're here. :) Smiley's Points participates in affiliate programs. That's how the bills get paid! Though I earn some revenue if you buy a deal through one of our affiliate links, there is no additional charge to you and I only recommend products I know and love.
I'm all about the Instant Pot Weight Watchers Recipes, as you know. Check back often because this post is updated on a regular basis! 🙂
Does your Instant Pot get an almost daily workout like mine does? If not, it's about to! Check out these awesome Instant Pot Weight Watchers recipes. They're ALL 6 points or less!
Instant Pot Weight Watchers Recipes
While you're here, be sure to check out my most popular Weight Watchers posts!
23 Point Meal Plan
Low Point Weight Watchers Soups
How to do Keto and Weight Watchers
Best Tips for Maintaining Lifetime Weight with Weight Watchers
Should I Eat My Weight Watchers Weekly Points?
Online vs In Person Meetings with Weight Watchers
How to Stay on Track with Weight Watchers During the Holidays
How to Tell if You're Hungry or Bored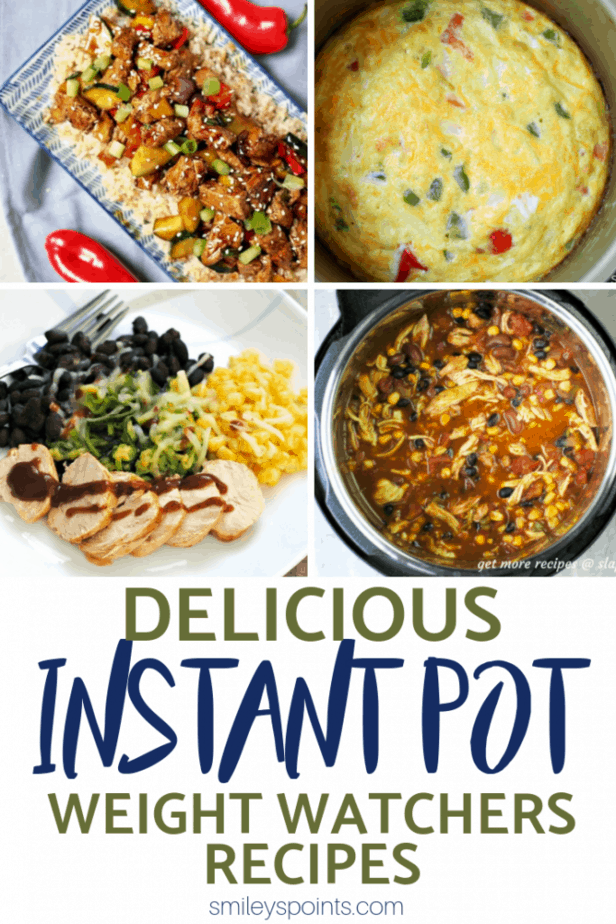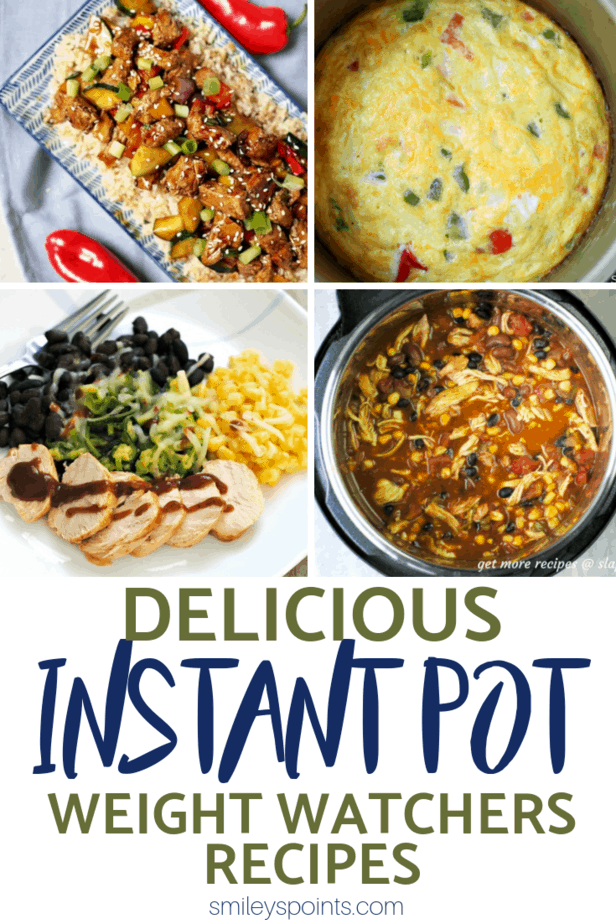 Instant Pot Weight Watchers Breakfast Recipes
Instant Pot Egg Bake – 2 Points
WW Frittatas – 4 Points
Breakfast Fajita Casserole – 2 Points
Omelette Casserole – 1 Point
Sous Vide Egg Bites – 1 Point (and a 3 point version)
Instant Pot Weight Watchers Appetizers and Side Dishes
Corn on the Cob – 0 Points
Instant Pot Boiled Eggs – 0 Points
Jalapeno Dip – 1 Point
Hummus – 0 Points
Baked Beans – 3 Points
Deviled Shrimp Eggs – 1 point for 2
Garlic and Cheese Smashed Cauliflower – 2 Points
Corn on the Cob – 0 Points
Parmesan Garlic Artichokes – 1 Point
Mexican Black Beans – 1 Point
Brussels Sprouts with Bacon and Garlic – 1 Point
Black Bean Dip – 0 Points
Candied Sweet Potatoes – 4 Points
Instant Pot Weight Watchers Main Dish Recipes
Turkey Meatball Soup – 0 Points
Saucy Chicken & Rice – 3 Points
Instant Pot Beef Stew – 6 points
Instant Pot Chicken Parmesan – 1 Point
Instant Pot Kung Pao Chicken – 4 Points
Spicy Beef and Broccoli Stir Fry – 4 Points
Salsa Chicken – 0 Points
Salmon and Asparagus – 0 Points
Chicken Enchilada Casserole – 3 Points
Honey Dijon Chicken – 3 Points
Sun Dried Tomato Chicken Parmesan – 4 Points
Caprese Chicken – 5 Points
Instant Pot Stuffed Peppers – 4 Points
Spicy Mango Chicken – 4 Points
Instant Pot Goulash – 3 Points
Pork Carnitas – 3 Points
Shrimp and Rice – 2 Points
Fiesta Chicken – 0 Points
BBQ Chicken Bowls – 3 Points
Instant Pot Weight Watchers Soups and Chilis
INSTANT POT BROCCOLI CHEDDAR SOUP WITH CHICKEN – 4 points
Zero Point Chicken Taco Soup – 0 Points
Zero Point Chicken Butterbean Soup – 0 Points
Chicken and Bean Soup – 1 Point
Sweet Potato Chili – 1 Point
Potato and Shrimp Soup – 3 Points
Cauliflower Soup – 0 Points
Chicken Zoodle Soup – 0 Points
Jerk Chicken Soup – 0 Points
Split Pea and Ham Soup – 1 Point
Sweet Potato Chickpea Stew – 3 Points
Campfire Stew – 5 Points
Vegetable Soup – 2 Points
Adobo Turkey Chili – 3 Points
Vegetarian Chili – 0 Points
Corn Chowder – 1 Point
Stuffed Pepper Soup – 5 Points
Skinny Steak Soup – 3 Points
Instant Pot Weight Watchers Desserts
Instant Pot Bread Pudding – 2 Points
Apple Cake – 4 Points
Applesauce – 0 Points
PIN IT FOR LATER! 🙂