Are you looking for a faster way to have meals done? Subscription boxes may be the way to go. There are quite a few out there, so which ones are the best bang for your buck and your waistline?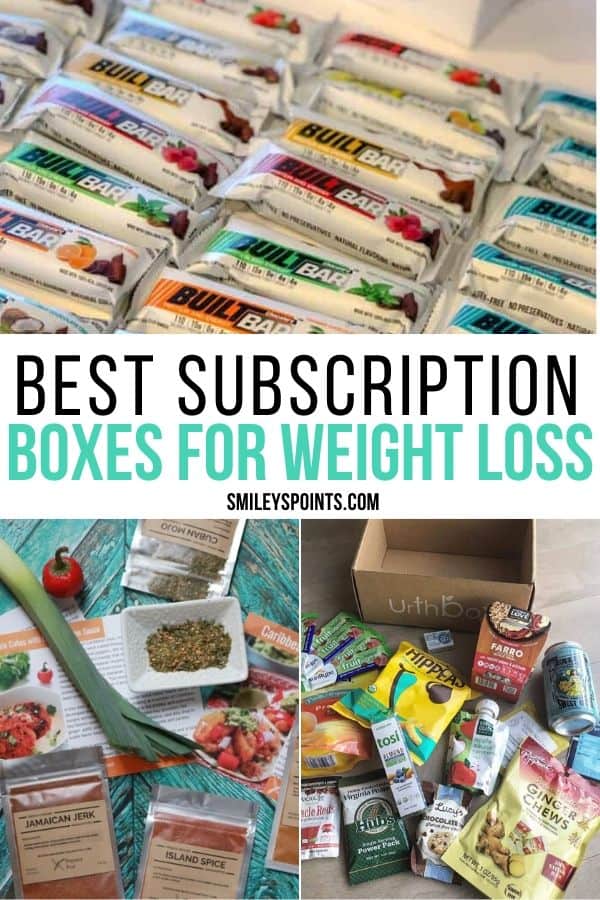 I'm so happy you're here. 🙂 Note: Smiley's Points participates in affiliate programs. That's how the bills get paid! There is no additional charge to you and I only recommend products I know and love.
I will give you a list of a few that I know are good and good for you. Now for me, nothing beats a home-cooked meal but some times you need a break. Believe me, I know and when you are watching your points you do not want to revert to delivery pizza or high point ready-made box meals.
Built-Bars
Built bars are a WW go-to snack. They are inexpensive and super low in points. One of the appeals of the Built-Bar is the taste. Most of them taste amazing. It is all about taste because if they don't taste great then we are not likely to continue to eat them.
Built Bars are also high in protein making them the perfect snack item in between meals. The protein will help you to feel full longer and curb your appetite until lunch or dinner time. A win-win in my book. Use my code to get 12% off your first order. Check out the tasting video I did with my daughter.
Sun Basket
Sun Basket is a great service for those who want to eat cleanly. Their foods are Paleo, vegetarian, and gluten-free. They have carb conscience, Pescatarian, as well as diabetes-friendly meals. Let's not forget Meditteranean! An amazing amount of delicious choices to supplement your own cooking. The meals start around $10.99 for dinners. You can add breakfast and lunch meals also. An all-around winner which is why I listed them near the top 🙂 Want to know more about how they work? Click here to go to their website.
Healthy Surprise
Healthy Suprise is another great option for snacks. I know I listed Built-Bar first. but if you get tired of just eating bars Healthy Surprise has you covered. They do have bars in their subscription boxes but they have more:) All of their foods are designed for clean eating. That means there are no artificial sweeteners, no artificial flavors, no MSG or yeast extract, no high fructose corn syrup, no dairy, no hydrogenated oils, no soy, no gluten, I think you get the point but you can check out their web site to see what all they do not include in their products. The big-box subscription will run you $64.00 a month there are smaller options available too.
What can you expect in a box?

Every month their snackologists put together a new packing list for our three box types. That means all-new, full-size snacks each month. We have a format for our boxes we use to guarantee a good mix. We know you don't want to get 10 bars each month. So you can expect a mix of:
Bars
Drinks
Sweets
Fruits
Exotics
Kale
Veggies
Chips
Nuts
Proteins Paleo Box only
Chocolates seasonal
Fit Snack
Fit Snack has been featured in Cosmopolitan, on Fox News, and the Food Network. With accolades like that, they have to be doing something right. Their snacks are GMO-Free, high in protein, low in sugar, gluten-free, organic, raw, vegan, and all-natural. See they are doing snacks right 🙂 You can cancel or pause your service at any time so no real contract. Take note the subscription service is a recurring payment if you want to pause or cancel the subscription you can right from your accounts page. No emailing or trying to contact them by phone.
What will a Fit Snack box cost you?
They have an awesome subscription plan the prices listed include s&h a fantastic value for being able to have healthy snacks on hand.
Monthly Plan: $28.90 $346.80 per year you pay monthly
3 Month Plan: $27.90 $334.80 per year 83.70 every 3 months
6 Month Plan: $26.90 $322.80 per year $161.40 every 6 months
1 year Plan: $25.90 $310.80 per year
What is in a Fit Snack box?
Depending on the box you choose there are healthy chips. We all love snacking on crunchy salty chips sometimes. Jerky but not the junk you buy at a gas station or big box store, this jerky is hormone-free, lean protein, and low in sugar. The best jerky for a lean fit lifestyle. You will receive nutritious drinks, exclusive workouts, snack bars, granola, and other innovative snacks.
Clean Fit
This little company was founded by Renee. She is a huge organ donor advocate as well as having a personal passion for healthy living. on to the boxes. The Clean Fit program includes quite a bit for a small price. I copied this from their site hurry and signup I don't know how long this amazing deal is going to last.
5 guided lessons and resources to help you be healthy at home (valued at $199)
Limited time only! Founding members receive lifetime access to the recorded lessons! (valued at $99)
10 at-home workouts (valued at $49)
2-week meal planner (valued at $99)
Our Ultimate Healthy Eating Under Quarantine guide (valued at $29)
Access to a private, members-only Facebook group (valued at $49)
Weekly group wellness chats with Renee, founder of CLEAN.FIT (valued at $149)
Morning & evening routine guide (valued at $49)
BONUS MODULE! The Master Your Mindset module will teach you how to stay focused and positive during this time. (valued at $49)
BONUS MASTERCLASS! Our Productivity Masterclass will help you create a plan and leverage this time to work on building the future of your dreams (valued at $199)
BONUS! 1 CLEAN.FIT snack box (valued at $50+) *For you or a friend!
$1,020 total value
Regular Price: $299. For the next 30 days, we're offering this program for only $49!
What comes in a Clean Fit box?
Each monthly Regular size box contains 6-8 premium, hand-curated items: snacks, supplements, and/or protein powders. (Average box value is $50+)
For you #SuperSnackers out there who want to keep on snackin', our #SuperSnacker box contains 15+premium, hand-curated items: snacks, supplements, and/or protein powders. (Average box value is $75+)
Each box also comes with a FREE workout!
How much is a Clean Fit box subscription?
Clean fit offers 2 different subscriptions one for their regular size box and for those of us who are super snackers there is a box for us too. Here is the price breakdown for both. No matter which one you choose, you are sure to win with these boxes.
Jacked Pack
Don't let the name fool you, Jacked Pack is for the serious and amateur alike. If you have a goal to lose weight, get fit, just let them know what your goals are and they will custom build a vitamin regime for you. They will send you 5-10 customized samples that are customized for your goals. They send you samples so you can try out the products before you buy them. The key here is each product is designed to help you reach your own personal goal. It doesn't get more personal than that.
How much does Jacked Pack cost?
Try them out first and once you know they are the perfect fit for you, jump in with both feet and never look back, the new you is just around the corner. The Yearly membership is only $11.25 a month or $135 for the whole year that is like getting 3 months free. If you would like the 6-month plan it is $12.50 a month or $75 and the monthly plan is $15.00. Not to bad for a customized vitamin, supplement, and protein plan that is sure to get you headed in the right direction. Check them out today you won't regret it.
Vegan Cuts
Vegan Cuts is a subscription service that caters to ….you guessed it, vegans. You don't have to follow the vegan lifestyle to enjoy the benefits of some or all of their products. They do not only sell snacks they have a makeup box as well as a beauty box. Their prices are very fair and their products are second to none. They ship to the U.S. Canada and Internationally.
They have been featured in Elle Magazine, VegNews, Oprah's magazine, and TIME, just to mention a few.
What is in a Vegan Cuts snack box?
Let's start with their snack box. This monthly subscription makes discovering new and unique vegan food and drinks easy. This is the longest-standing and most popular subscription at Vegancuts. Here is the breakdown of this subscription box.
Monthly 24.95
3 months $74.85
6 months $134.70
12 months $258.60
What is in a Vegan Cuts makeup box?
The next box is the makeup box, this quarterly subscription box features 4+ premium, full-size cosmetic products that have been carefully curated for you to discover and fall in love with. All of which are 100% vegan and cruelty-free. Here are the prices for this box. Each box contains $100 plus of products.
Quarterly $39.95
Yearly $149.80 (save $10)
What is in a Vegan Cuts beauty box?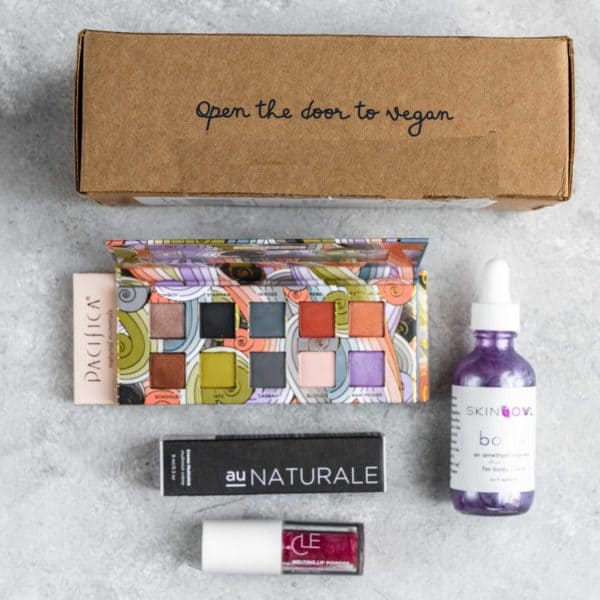 The last box they have is the beauty box. This monthly subscription box is home to 4+ deluxe and full-size beauty products ranging from skincare and cosmetics to bath and self-care items. All of which are 100% vegan and cruelty-free. Typically a $50+ value in each box.
Monthly $22.95
3 months $68.85
6 months $127.50 ($10 savings)
12 months $249.00 ($26 dollar savings)
Farm to People
Farm to People is based in Brooklyn, New York but they ship nationwide. During the Corona Virus outbreak, they have restricted delivery to just the NY area. They bring farm-fresh produce and goods from local growers and artisans to your doorstep. Delivery is free for orders over $50
How does Farm To Peoples subscription plan work?
Their website makes it an easy process to send a gift or set up a subscription for yourself. They ship extremely quickly. They use overnight shipping to ensure the freshest products arrive on your doorstep.
First, choose your base box and how often you would like it to show up. You can add items weekly like eggs, fresh bread, and small-batch pantry items. Most of the items you will receive will be from local growers or artisans in the NY area.
Next, You can customize the contents of your box up to 48 hours before it is delivered. You can swap out items you don't want for those you do. Browse their list of add-ons to complete your weekly grocery list. If you are having guests later in the week you can add a few more eggs or other groceries. Leaving town for the week skip your delivery that week, it is all made easy on their website.
The third step if the farmers or bakers or other artisans harvesting just for you. Farm to people lets the farmer know what is ordered and they pick it fresh just for you. Now that's fresh!
The fourth step is delivery. All of your items are assembled the morning of your delivery, ice packs are added to ensure your perishables are kept as fresh as possible especially if you are not home when the delivery gets there. They test you with updates on where the driver is and an estimated time for your delivery. Your order will get to you between 12 pm (noon) and 10 pm. They currently deliver to all of Manhatten and a growing portion of Queens and Brooklyn.
The last step is for you to cook your meal and share it with your family. Need some inspiration? Check out their recipes section you may find a new exotic food to try:)
If you live in the Manhatten, Brooklyn, or Queens area and want fresh from the farm food delivered to your door weekly or bi-weekly or even monthly check out Farm to People. It just doesn't get any fresher than this.
Piquant Post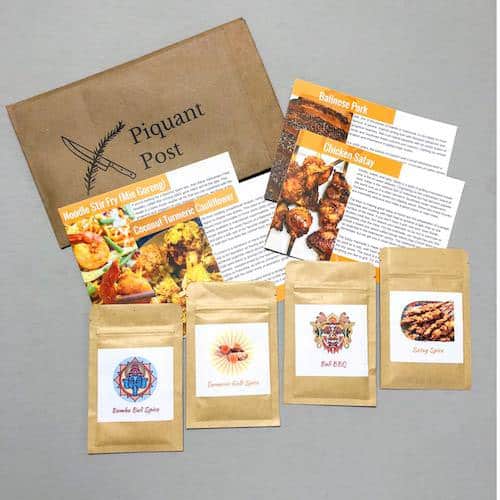 Piquant Post is a spice subscription service that is sure to pique your interests. What you get is a whole world of flavor delivered to your door monthly with recipes to boot.
How much spice will be in each packet from the Piquant Post?
They send enough for 3-4 four-serving meals per packet. So each month's subscription will contain enough for approximately 16 servings. They are shipped in FDA approved food grade pouches and include a recipe to use each spice. You may get a little extra so make sure you measure out the spice so you don't over spice your dish.
Their new BBQ rub is not a subscription as of yet. It is sold seasonally Mar. – Dec. My advice is to grab a few while they are available because if you are like me, you BBQ year-round.
Can I send a subscription as a gift?
When you order this as a gift, This amazing company will email your gift recipient for you and let them know their gift is on the way. The email is sent right around the time the gift gets to them. So they will get the email right around the same day,(maybe a day earlier) the products arrive. Want to send a gift card instead? They will send the gift card to you and you can send it to your intended recipient.
Where do they get their seeds from?
Straight from their site: "Where possible, we purchase whole spice seeds and pods then toast (if appropriate) and custom grind our spices to blend according to our recipes. By sourcing new herbs and spices each month and making small batches, we maximize the freshness and flavor of our spices."
Piquant Post ships worldwide so no matter where you are in the world you can get the spices you want and make some delicious meals from the recipes they send with them.
Urthbox
Urthbox is a monthly collection of healthy snacks, beverages, and other products. I like this one because every month is a surprise. It's like getting a Christmas present every month. If you are looking to discover new healthy foods, if you are tired of getting the same thing all the time, you have to give Urthbox a try you won't regret it.
What are the different Urthbox boxes?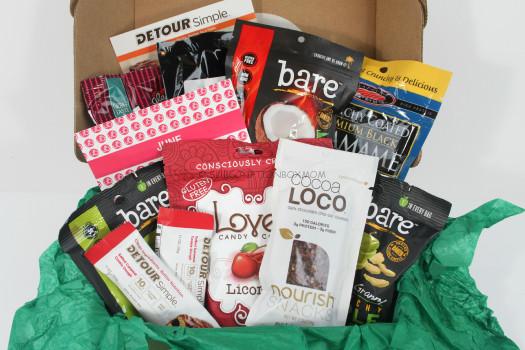 You have a choice of boxes, You can choose Gluten-free, Diet, Classic, or Vegan. Once you choose your box they will put together an array of tasty snack items as well as beverages that are sourced from well-known trustworthy brands. You get up to 30 items per box with a value of up to $100. A win in my book.
Every month they will help you discover safe, healthy, and natural products from trustworthy brands that you can purchase at your local stores or online.
In Classic, Gluten-Free, Vegan, and Diet box options, they will send you foods, beverages, snacks, and more that are NON-GMO, Organic and All Natural focused, right to your door every month.
What is in an Urthbox?
Urthbox has a ton of items that they pick from to create their boxes each month. I will include a small list of some of the items that may be found in their boxes. UrthBox is specifically designed to deliver primarily ready-to-eat snacks with a few extras every month including beverages, personal care products, and tasty new treats.
Juices and cleanses
Snack bars
Crackers
Superfoods
Cookies
Chips
Dried Fruits and Veggies
They even have supplements
Personal hygiene items and skincare items.
How much does an Urthbox subscription cost?
They have four tiers to choose from :
A mini is $14.99 a month and includes 7+ snacks.
A small is $24.99 and is double the snacks of the mini you get a whopping 14+ snacks in this box. $161.94 / 6months
A medium is $34.99 and comes with 20+ snacks enough to get me through the month, not including the weekends 🙂 221.94 / 6 months
A large is $44.99 has 27+ snacks and is by far the best value with a savings of 40% $281.94 / 6 months
You can choose a 3,6, or 12-month subscription, Urthbox has free shipping throughout the US and only $6.95 to ship a box to Canada. Free or low-cost shipping for this amazing box is a real bonus.
Can I earn points with Urthbox?
Yes, you can, You can earn points on every purchase and once you earn 200 points you can redeem them for 20% off your purchase. Frees shipping healthy snacks delivered to my door and a points system so I can save more money. I am all in, what are you waiting for? Head over to their website and get to ordering. Your healthy snacks are just a click away.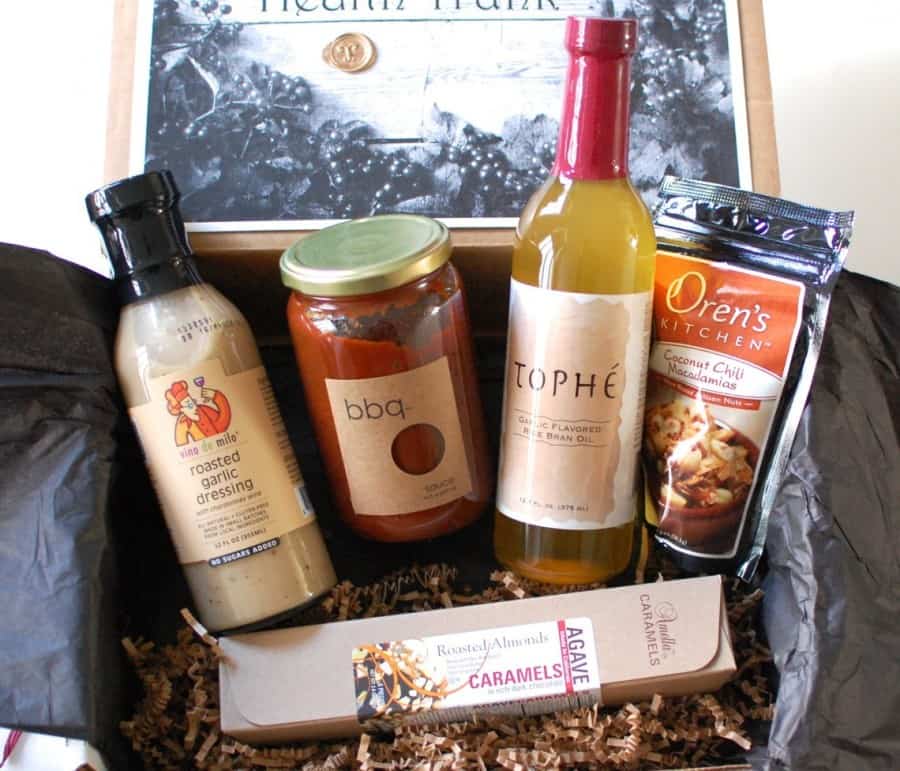 Taste Trunk is where you go when you want to experience the artistry of food. What does that mean? Taste trunk designs gifts to be experienced. Each box is a voyage of discovery, a journey in taste. Try one and you will be hooked.
You have heard of saving the best for last well I didn't intend it that way but here we are. When you visit their web page you know you are about to enter into a whole new realm of taste and presentation. Giving a taste trunk as a gift is showing you truly care about the giftee and you want to make sure they enjoy every delicious moment.
From the packaging to the contents inside you can choose every little detail so your gift is made perfect for the person who receives it. With gift box subscriptions starting at a mere $180 for three months, That's only $60 a month!! You and your recipient will love the value and the products.
Taste is important, we thrive to make the best tasting recipes and great tasting food for our families. With this subscription service, you are guaranteed to start out with the finest and freshest ingredients. The result will be pure enjoyment in your mouth and your tastebuds will sing your praises for weeks to come.
What are the different types of subscriptions?
There are 3 listed on their site they are the Gourmet, the BBQ, and the Sweet subscription. All three start at $180/ 3 months and are more than worth every penny. Every subscription box has handpicked items that are designed to complement each other and provide variety.
What comes in the Sweet Subscription?
Whether you love freshly baked cookies & brownies for dessert or unique sugars and sauces for baking, the Sweet Subscription offers a variety of delectable treats made using the finest ingredients. Each month you'll receive a new, deliciously handpicked trunk that likely won't last very long once it arrives. In the box, you will have 5-8 handpicked items from different brands that are designed to complement each other.
What comes in the BBQ Subscription?
Each month is like a trip through a backyard smokehouse. Want to discover old family recipes and distinctive flavors? The BBQ Subscription features brands that know their BBQ. They stay away from the mass market, sugar-laden imitations, and opt for the good stuff. As soon as you try them, you'll know the difference.
In the box, you can expect top-quality rubs, fresh aromatic spices, and a few oils that will have your BBQ grill cooking up a storm and your family screaming for more. Send this as a gift to someone you know loves to BBQ and they are sure to share their experience with you as hopefully some of the food 🙂 In this box you can expect 5-6 handpicked items to make you, or the person you gift this box too, the Pitmaster for this season and next guaranteed!!!
What comes in the Gourmet Subscription?
Each month is like a trip through a local farmer's market, except they do all of the legwork. Want to discover exciting items that you never knew existed? This subscription features brands using their creative talents to challenge your normal kitchen routine. So step outside of the grocery store box and try something new! It just might change the way you cook. In this box, you will get 5-6 delicious items every month.
Head over to Taste Trunk and see for yourself the delectable products that are waiting for you. 🙂
How to be successful on the new myWW plans.
Need more support? Join my Facebook Groups!

WW Recipes and Support With Smiley's Points (All Plans)
Low Point Recipes Only (All Plans)
PURPLE PLAN Group
BLUE PLAN Group
GREEN PLAN Group