Which Healthi formerly iTrackBites Plan is Best?
The best Healthi formerly iTrackBites plan is the one that works for you! Today I'm going to talk about each Healthi formerly iTrackBites plan so you can see what they're all about even before committing to one.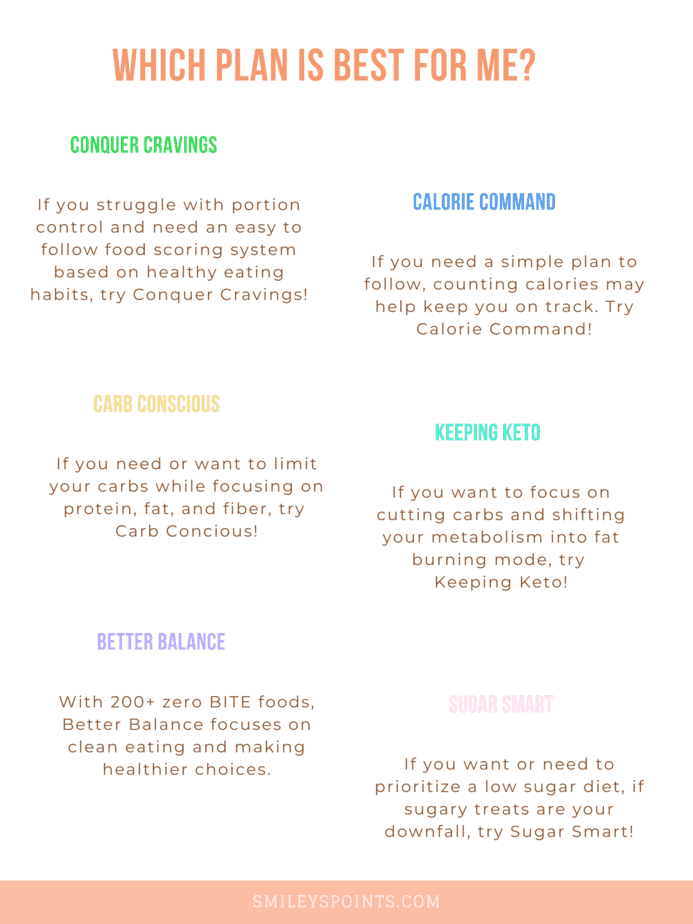 ---
"Healthi formerly iTrackbites is an alternative to Weight Watchers. "

---
What is the best Healthi formerly iTrackBites plan?
If you find that you are a carboholic like I am you may find that the Sugar Smart plan is the best for you initially. You may also find that Keeping Keto is a better fit. If you've got more self-control than I do, another plan may fit. 😉
The great thing about Healthi formerly iTrackBites is that you have six plan options, and you can track secondary macros (like calories) without a ton of added work or switching to another app.
Do you have a hard time with making good food choices or controlling your portions even when you eat healthy foods? Are sweets and snacking a problem? Beginning with Better Balance or Sugar Smart may be the answer for you, these two plans will help you to control your carb and sugar intake but not have you feeling deprived or hungry at the end of the day.
No matter which of the plans you choose to begin your journey, you have the ability to change plans as your journey, lifestyle, and eating habits change.
Before we dive into each Healthi formerly iTrackBites program, be sure to grab my promo code (COACH_SMILEY) and use it no matter which plan you sign up with! If you aren't sure how to use the code, DO NOT PROCEED until you read how to use iTrackBites promo codes. There's no reason to pay full price for the app when I worked with Healthi formerly iTrackBites to get you a coupon! 😉
Sugar Smart
The Sugar Smart plan is for those who want to watch their carb/sugar intake, or have an issue with sweet cravings and sugary treats. On the Sugar smart plan, you have a higher amount of DAILY & WEEKLY BITES in comparison to other Healthi formerly iTrackBites weight loss programs. The minimum range is 30 DAILY + 14 WEEKLY. Both daily and weekly BITES decrease as you lose weight.
Don't fret about the decrease in points, as you will find that as you achieve different milestones you will not need as many bites. If you do find that you are hungry throughout the day, you can utilize the zero-bites list or increase your bites.
How Bites are calculated: Sugar Smart considers calories, saturated fat, sugar, and protein.
WW Equivalent: Old SmartPoints / WW Green Plan
Pro Tip: Keep sugar cravings in check by keeping portion sizes small if a recipe is high in sugar.
Better Balance
The Better Balance plan is a well balanced (pun intended) plan that allows you fewer bites but more zero bite foods. This is the plan that is most like the Blue plan from myWW.
If you are coming over from one of the Weight Watchers plans and you were on the old Freestyle program or you are on the new Blue plan, Better Balance is the one that is most like it.
To do the purple plan from myWW there is a workaround for Healthi formerly iTrackBites.
PRO TIP: For best success on the Better Balance Plan, eat responsibly! Use calories or Macros as your secondary tracking metric to make sure you're not eating too many Zero Bite foods.
How Bites are calculated: Better Balance considers calories, saturated fat, sugar, and protein.
WW Equivalent: Freestyle / WW Blue Plan
Tip: This plan helps you focus on fresh, clean eating. Avoid processed foods to keep Bites low.
Carb Conscious
Carb Conscious focuses on limiting the number of carbs you eat while maximizing the amount of protein. This plan will teach you more about complex carbs and how to utilize them more often to fuel your body. You would rather eat complex carbs than simple ones.
If controlling sweets is not your Achilles Heel, then Carb Conscious may very well be where you want to start. Despite its name, Carb Conscious is a very well-balanced plan. It is not a low carb or keto-based plan. Instead, it is simply the first one to consider carbohydrates in the equation.
I started on Carb Conscious and decided I needed a little more help with the sweets I was consuming so I switched to Sugar Smart which has given me the best results thus far. Remember, each person and body is different and how your body responds to what you eat will differ also. Learning what to eat and how is the key to sustained weight loss and a healthier you.
How Bites are calculated: Carb Conscious considers fat, carbs, fiber, and protein.
WW Equivalent: PointsPlus
Pro Tip: With this program, you'll be limiting carbs. Don't be afraid to up your fat intake.
Conquer Cravings
On the Conquer Cravings plan, you learn about portion control which helps you to create fantastic eating habits. On this plan, you can still eat what you want as you can on all of the other plans but the difference here is you learn how to eat the correct portion of each item so you can enjoy all of them.
The bonus for me is that as my eating habits evolve and change, I can change plans to the one that is best suited for where I am in life right now. I can make sure I am on the right plan for my body and health.
How Bites are calculated: Conquer Cravings considers calories, fat, and fiber.
WW Equivalent: Old Classic, based on Weight Watchers 2008 Program Momentum.
Pro Tip: With Conquer Cravings, you'll want to make sure you meal plan and keep portion sizes in check.
Calorie Command
Calorie Command is the one most of my group tends to gravitate towards. Counting calories really does give you the freedom to eat what you want without eliminating entire food groups. There are also no bites or any math you have to do here.
Keeping Keto
If you love the Keto diet, or have been wondering what all the hype is and you wanted to try it out, Keeping Keto is the plan for you. Keto is generally high fat and very low carbs.
This plan, unlike Carb Conscious, focuses on keeping your carbohydrate intake extremely low. It has been said that putting your body into a state of ketosis can drastically reduce your cholesterol levels, lower your blood sugar, and change your metabolism from a carb burning machine to a fat burning machine.
Keeping Keto is not for everyone, and if it does not work for you, don't despair! One of the other Healthi formerly iTrackBites plans is sure to be a fit for you. Keto for me required a ton of focus and as a self-proclaimed carboholic, I had a tough time even getting my body into a state of ketosis. I was not able to maintain this way of eating for very long. This was my experience, yours may be different.
Which Healthi formerly iTrackBites plan is best for me?
There isn't a best plan for everyone. Weight Watchers figured that out and expanded their plans to 3. Healthi formerly iTrackBites has 6 different plans that you can choose from.
This allows you the flexibility to change plans as your journey progresses. As we get older, our bodies change. Our need for proteins and complex carbohydrates change also. We cannot expect everyone to fit into one nice neat plan. We as a community know that there isn't a one size fits all solution.
Pro tip: The key to success with any Healthi formerly iTrackBites plan is accountability. Track your Bites daily even if they are ugly!
How do I get started with Healthi formerly iTrackBites?
Once you sign up for the app. either the free version or once you have used my code. you will take a quick assessment test that will let you know what plan is likely the best fit for you. You don't have to start with the plan the assessment picks for you. Healthi formerly iTrackBites knows we are all different and the is a general guideline of where you can begin your journey.
Don't start a new plan making tweaks and adjustments you've seen other members in the community do. You can make those adjustments later if you feel they will help you to stay on track. My suggestion is to stick to the plan as designed for awhile then adjust if you need to. Let the plan work for you before you begin trying to change it.
You can alter little things to make it a better fit for your lifestyle but work the plan for a month and journal so you will know for sure if the small changes will benefit you and help you to reach your goals.
Weighing in with Healthi formerly iTrackBites
Set yourself up for success. Your weigh-in day can be an uplifting moment to motivate you to stay on track, or it can be a depressing reminder of that day you went a little overboard. It is all up to you and your mindset.
To be successful, if you know you struggle with weekends set your weigh-in day for Wednesday. If you need a little boost on Monday morning to and you are a competitive person setting your weigh-in day for first thing Monday may help you to curb the binge eating over the weekend. It is all about mindset. Either way, make sure you are setting yourself up for success.
Sign up for Healthi formerly iTrackBites
If you haven't yet, sign up for a free account! Be sure to use my promo code COACH_SMILEY to get a discount if you upgrade to a paid plan. And read my post about using an Healthi formerly iTrackBites promo code if you aren't sure! 🙂
cost: Healthi formerly iTrackBites costs $36 for the year (using this link for 40% off makes it $36 – use COACH_SMILEY to save!!), WW is $20+ for the month, and it's the same formula and less options
choices: I can choose PointsPlus, Freestyle, or any other plan I want with Healthi formerly iTrackBites. Even with the new WW changes, they only offer 3 plan options (not PointsPlus).
logs: You can export your tracker data by the week, month, or quarter with Healthi formerly iTrackBites. WW does not give you access to quarterly data.
accuracy: I've found inaccurate info in the WW app due to members submitting and not paying attention to the right numbers. With Healthi formerly iTrackBites, I know if I see the green check, it's been verified as accurate. This puts my mind at ease!
Be sure to PIN THIS to your favorite pin board! 🙂