Copycat Starbucks Pumpkin Muffins
Have you have been dying for a fall treat but don't want to hit up Starbucks? Make your own Copycat Starbucks Pumpkin Muffins that are just as delicious and satisfying!
Copycat Starbucks Pumpkin Muffins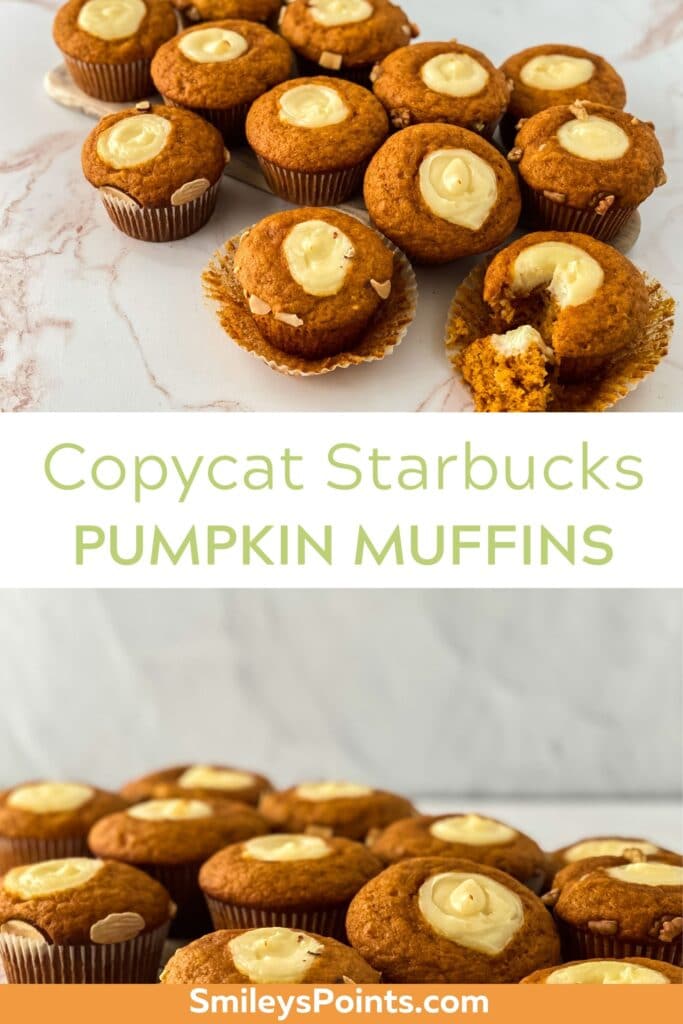 Copycat Starbucks Pumpkin Muffins
We all know that Starbucks is the go-to place for all things pumpkin including pumpkin spice lattes, and pumpkin muffins. That's why we came up with this Copycat Starbucks Pumpkin Muffins recipe – it tastes delicious and satisfies your craving! You won't regret giving this recipe a try.
Did you know that the pumpkin spice latte was created in 2003, which makes it even cooler to see how popular it's become.
What is your favorite Starbucks drink? Let us know in the comments below!
Why Starbucks pumpkin muffins are delicious
But it's not because they're made with pumpkin and spices or anything like that. I mean that is no secret. They're just as moist and flavorful as other muffins, but the secret is in how they're baked: for a shorter time at a lower temperature so the muffin stays light and tender on the inside, while being browned on top from caramelized sugar. And this gives them their deliciously crispy crust. It all makes for one perfect fall treat!
What do you think the secret is to making good copycat Starbucks pumpkin muffins?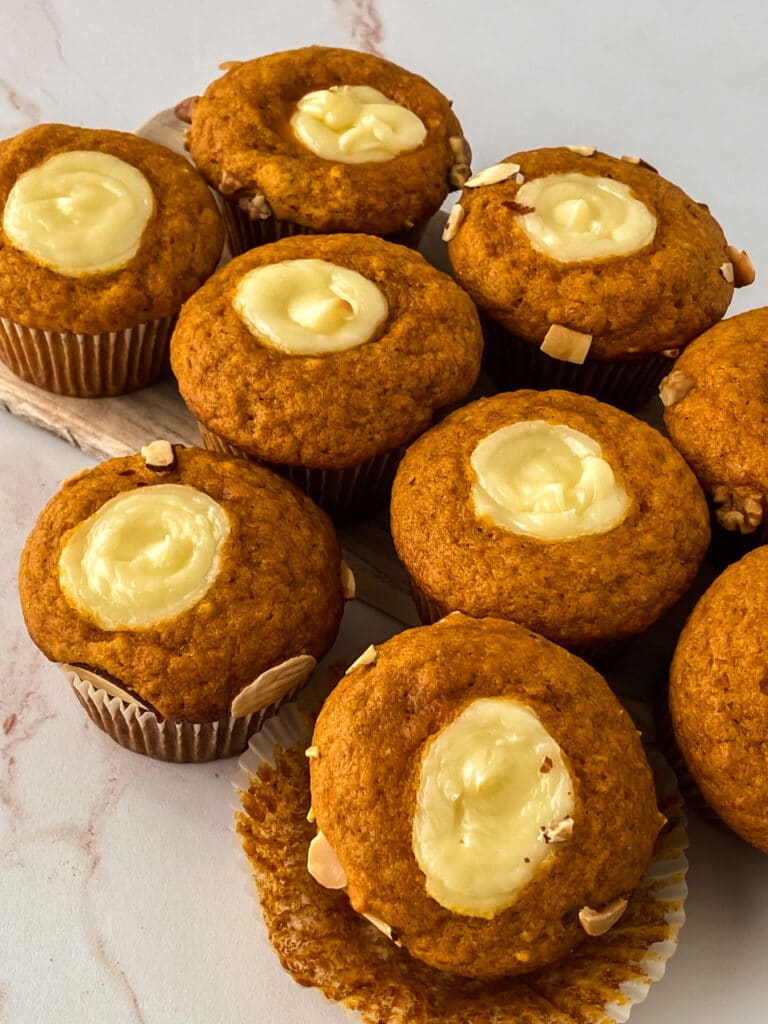 The secret to making perfect Copycat Starbucks Pumpkin Muffins is not only the temperature at which they are baked but also how long they are baked for. As mentioned before, baking them for less time at a lower temperature will keep them moist and tender on the inside while giving them their trademark crispy outside crust. And this means that it's crucial not to over-bake them!
It might seem like common sense that one would want the muffin to be well-done since that's where it gets its crunchiness from… But if these muffins are overcooked, then they lose all of their moisture and become crumbly. And nobody wants to eat a crumbly muffin! So the trick is to make sure these are cooked enough, but not too much!
Why are Starbucks pumpkin muffins are so good?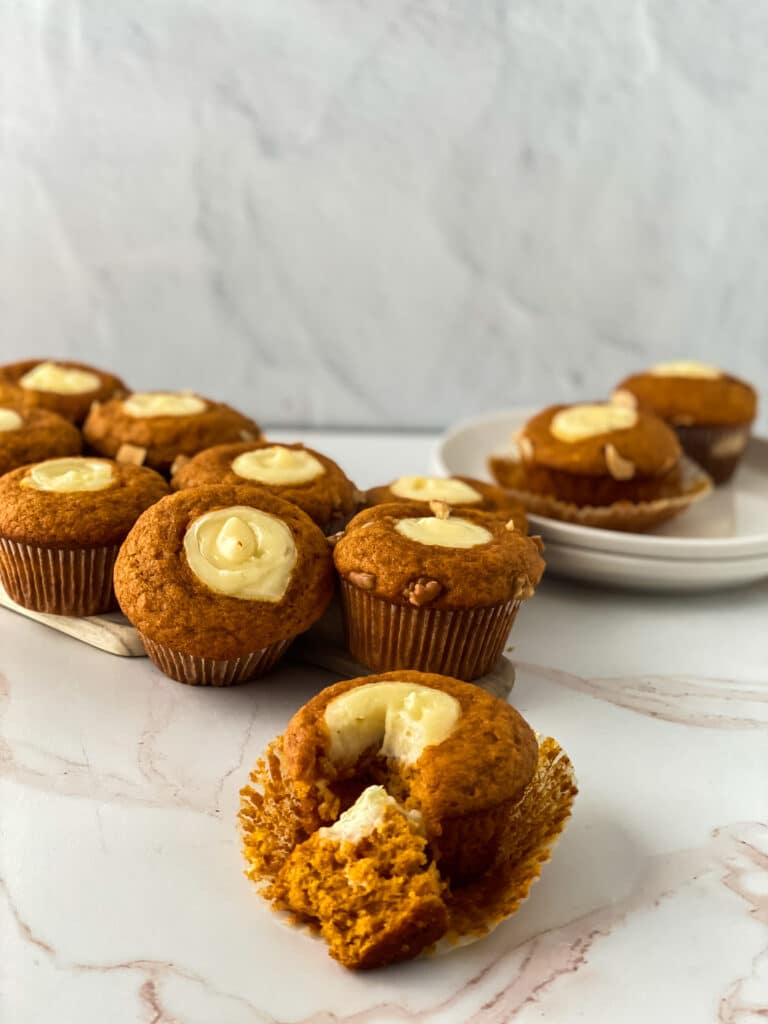 The reason that Starbucks Pumpkin Muffins are so good is because of the way they're baked. They have a crispy crust on the outside, but they stay moist and tender on the inside instead of being dry like most muffins. This gives them their signature texture! And every time I bite into one of these delicious treats, it's never anything less than perfect!
How you would customize Starbucks pumpkin muffins to fit your own lifestyle?
I'd love to customize my Copycat Starbucks Pumpkin Muffins by adding even more pumpkin and spices. I'm thinking of maybe adding a few more teaspoons of cinnamon and nutmeg as well as some ginger powder since those flavors give pumpkin pie its classic taste. These will definitely make the recipe for this fall treat even more seasonal, which is what it's all about! It also means more yummy fall flavors… In one single little muffin!
Making Copycat Starbucks Pumpkin Muffins isn't hard. You just need to take your time and follow all of the steps I mentioned here!
What to serve with these copycat Starbucks pumpkin muffins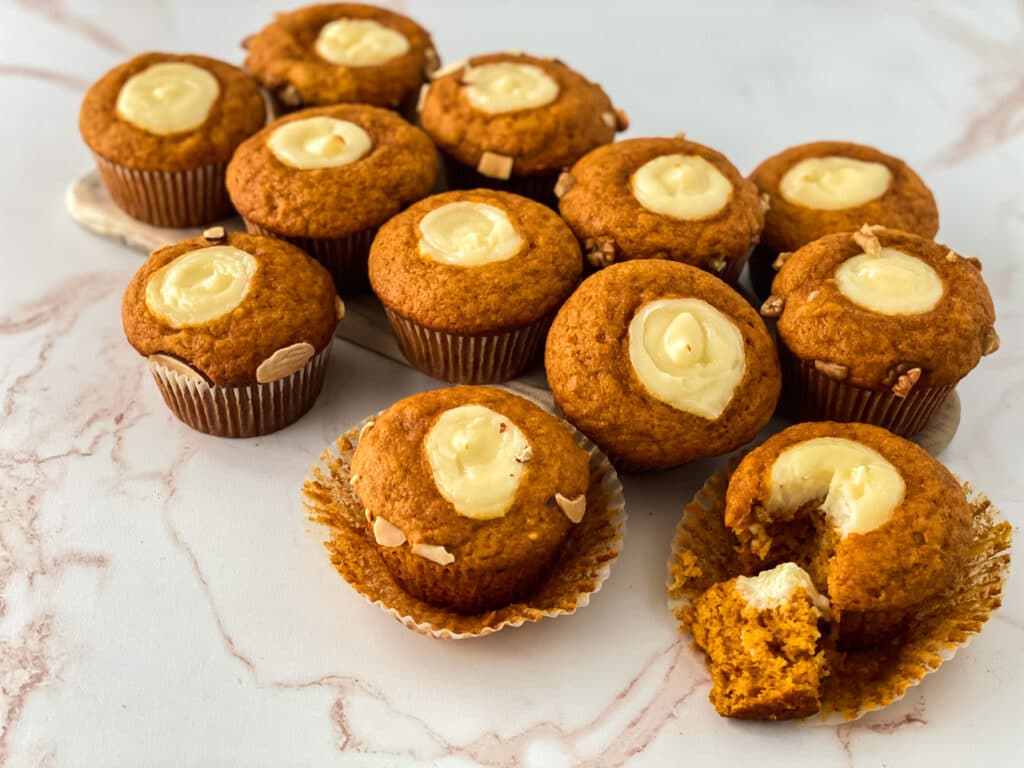 Make these muffins for breakfast with a hot cup of coffee or tea or save some for snacks during a weekend movie marathon… They'll taste great any time you eat them, so try making some for yourself soon. Everyone will love them!
| | | | | | |
| --- | --- | --- | --- | --- | --- |
| Better Balance | Carb Conscious | Sugar Smart | Calorie Command | Keeping Keto | Conquer Cravings |
| 8 Bites | 5 Bites | 8 Bites | 175 | 30.2 | 4 Bites |
Print
Copycat Starbucks Pumpkin Muffins
---
12 ct muffin pan
Baking cups
Ice cream scooper
2 bowls
Whisk Rubber spatula
Ingredients For the MUFFIN
1 1/2 cups flour
3/4 cup sugar
1/2 cup brown sugar
1 teaspoon baking powder
1 teaspoon baking soda
1/4 teaspoon salt
1 teaspoon pumpkin pie spice
1 1/2 cups pumpkin puree
1/4 cup butter, melted/cooled
1 teaspoon vanilla extract
2 eggs
For the CREAM CHEESE FILLING
4 oz cream cheese, softened
1 teaspoon vanilla extract
3 tablespoon sugar
---
Instructions
Preheat oven to 350 degrees.
Line a muffin tray with liners
In a bowl combine all of the dry ingredients.
In a separate bowl, combine the (wet ingredients) pumpkin, melted butter, vanilla extract, and eggs.
Add the wet mixture to the dry mixture and stir until just combined.
Fill muffin liners with batter about 3/4 full using an ice cream scooper.
cream cheese filling:
Place ingredients into a bowl and mix well.
Use a piping bag or Ziploc bag with corner tip cut off and squeeze out even amounts into the center of the muffins.
It will sink a little and that's okay.
Add pumpkin seeds, slivered almonds or chopped walnuts for added texture around the top of the muffin avoiding the cream cheese dollop. (you can omit the nuts, and seeds if you prefer)
Place muffin tray into the preheated oven to bake for about 18-20 minutes.