Weight Watchers Thanksgiving Plan
Are you dreading the upcoming holidays and wondering how you are going to stay on track with your weight loss and fitness goals? I hope these few tips will help get you through and moving on to the new year with a smile on your face and few pounds lighter.
Weight Watchers isn't a diet, so the key to staying on track during the holidays (at least for me!) is just to take a few bites of each food rather than loading up on huge portions of mashed potatoes and high point desserts.
Want to enjoy your Thanksgiving Holiday and stay on track? Here are some ideas that may help you to conquer Thanksgiving and come out ahead.
Planning
The first thing you have to do is plan. Plan your meals, know when you are going to a relatives house and plan for it. You will want to and should try the food when you go but with careful planning and little preparation, you will be able to stay right on track and see that even through the holidays you can lose weight and feel great about yourself. So plan your meals and the times you eat so that you aren't as hungry when you visit and save some points for sampling the turkey and gravy or a small portion of the delicious apple pie. Better yet, bring your own low point holiday treats to share with the family. You will stay on track and they get to enjoy your amazing cooking. Auntie may even ask you for your recipe. 😉
Exercise
For some, it's dreaded, I know… but exercise is necessary during this season and here are some easy ways to do it. Walk, yep walk more! Get in a few extra steps EVERY chance you get. Get your 10,000 steps in and you won't feel so bad about eating that gravy! If you have limited mobility, you can still do chair exercises; move as much as you can to keep your body active. This is the time when we want to add cheat days and not exercise as much because we ate too much and just want to sleep. To win at weight loss, you have to be willing to do what others are not. We are winners so let's act like winners and move!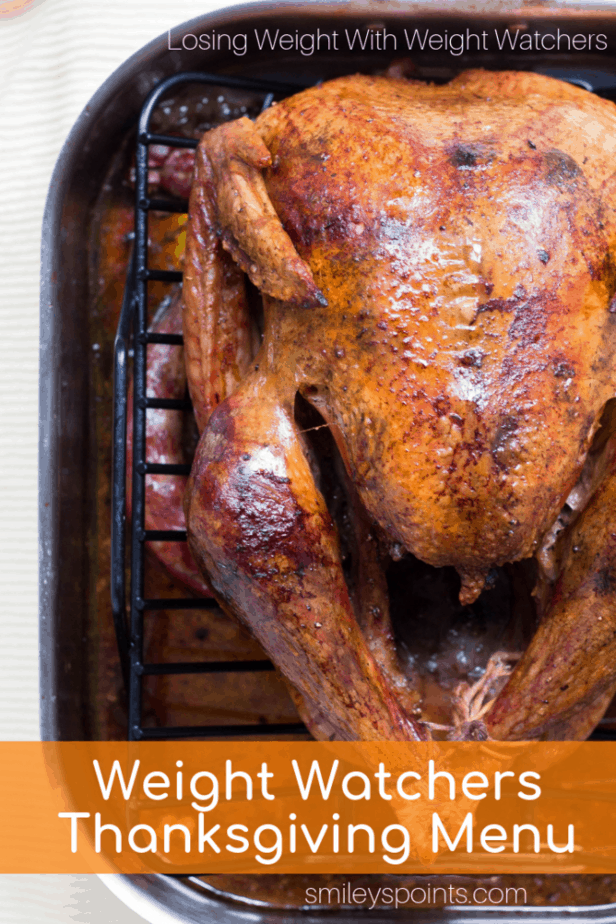 Weight Watchers Thanksgiving Recipes
Want to stay on track and still enjoy the holidays? With some planning and a little preparation, you will be able to do just that and still lose weight and feel great! In the coming weeks, keep in mind what your goals are and how you are going to get them. The key to success is knowing what you are trying to achieve and then going after it with all your might. Happy Thanksgiving everyone! 🙂
Apple Crisp Cookie Cups – 3 Points
Chicken Corn Chowder – 1 Point
Roasted Red Pepper Dip – 1 Point
Instant Pot Bread Pudding – 2 Points
Pumpkin Pie Mousse – 3 Points
Instant Pot Potato and Shrimp Soup – 3 Points
Butternut Squash Soup – 3 Points
Cheesy Bacon Corn Dip – 3 Points
Orange Sugar Spiral Ham – 3 Points
Cornbread – 3 Points
Vegan Stuffing – 4 Points
Cranberry Orange Chicken Glaze – 5 Points
Old Fashion Potato Salad – 6 Points