You have seen my eggplant parmesan recipe by now and I have had rave reviews on it. My stuffed eggplant with pomegranate & tahini is a delicious variation on that recipe. And Oh my gosh does this meal taste good!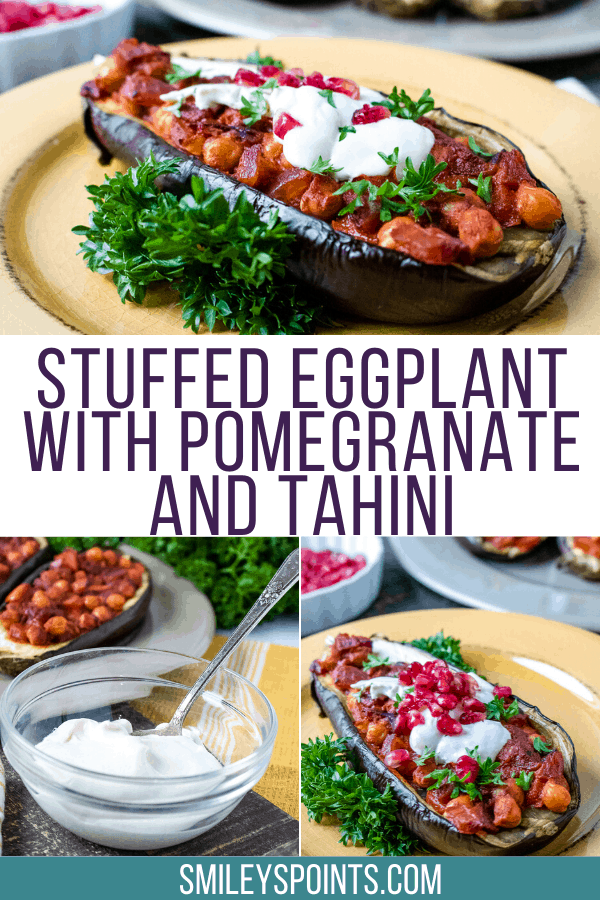 ---
"Healthi formerly iTrackbites is an alternative to Weight Watchers. "
---
How to make stuffed eggplant
If you have not tried my eggplant parmesan recipe it is a recipe from my Aunt and is absolutely divine, give it a whirl and let me know what you think. Adding pomegranate and tahini gives this recipe a delightful new flavor. I love trying new things and tweaking old recipes to make a new dish.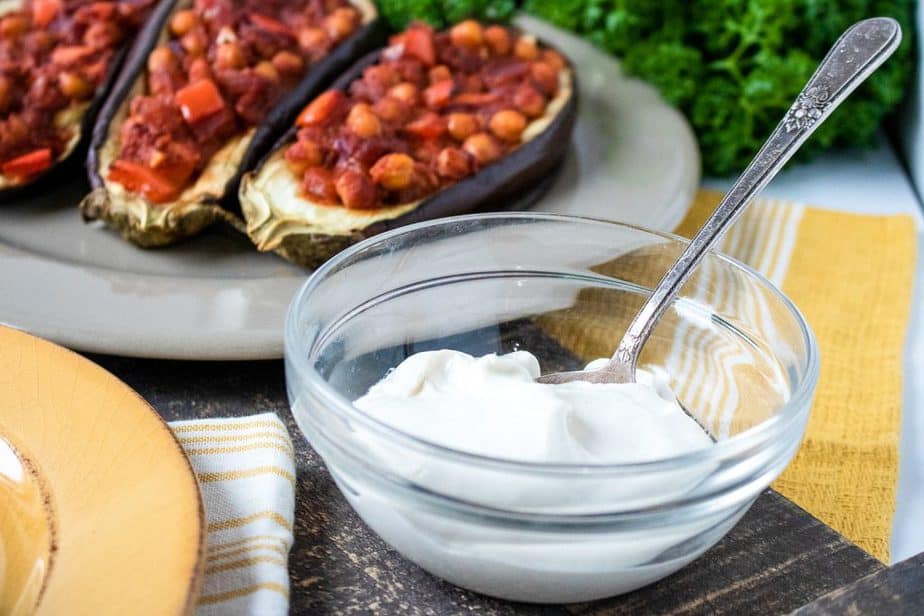 My inspiration for this dish was to add some Middle eastern flavor while keeping the dish easy to make. I also wanted to make sure it was a healthy meal that everyone could enjoy guilt-free. I made sure you would get your veggies as well as having textures and colors. We like to keep the meals visually pleasing as well.
How do you take such great pictures?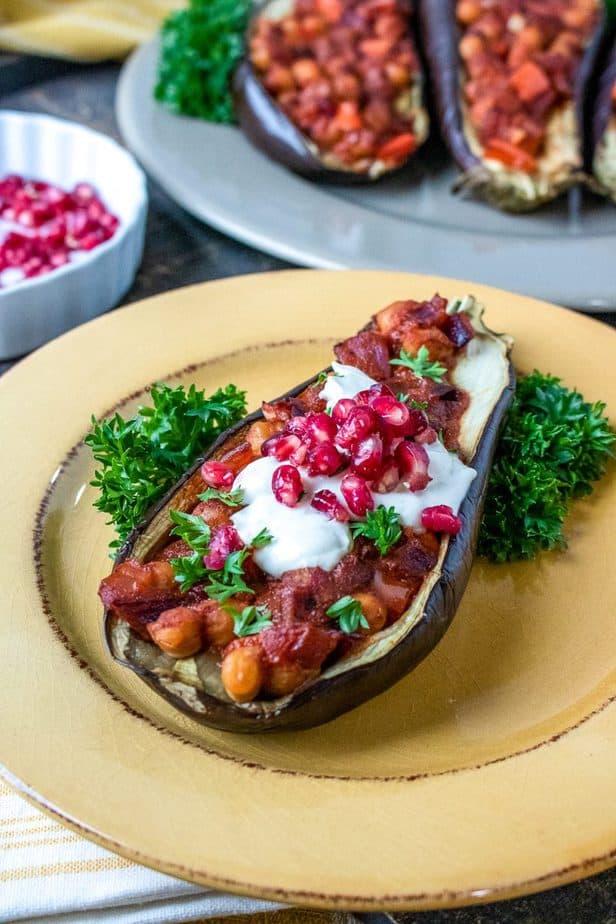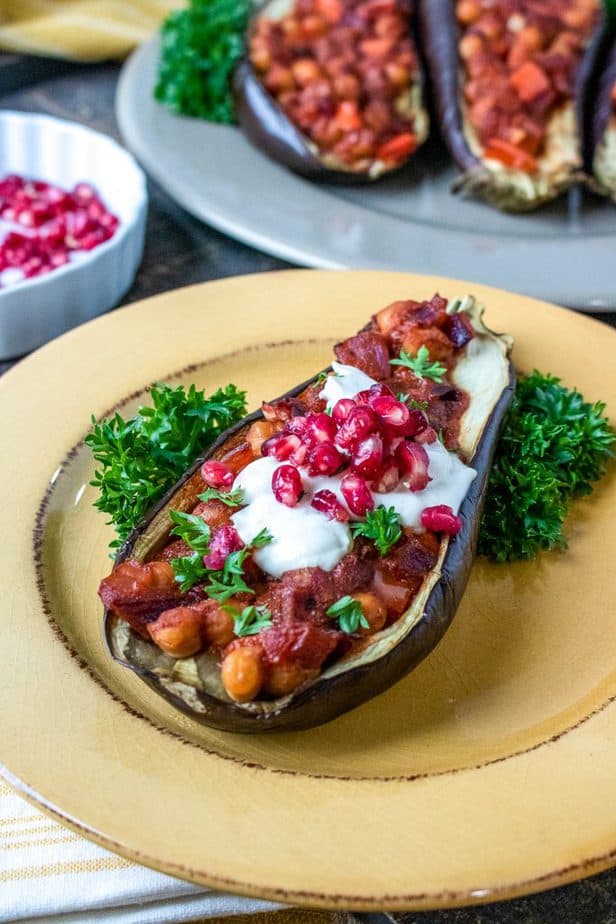 You don't have to spend a ton of money to create a beautiful table and delicious foods. The dishes in the pictures are from my local Goodwill. I broke this plate so that means a shopping trip. My loves those. The parsley and vegetables I either grow at home or source from local farmers. I pay less than shopping at a big box store and I get fresher vegetables. I take most of the pictures with my cell phone. I do have extra lights but it is far from professional. I hope you all enjoy the pictures but more importantly the food.
How do I start a garden?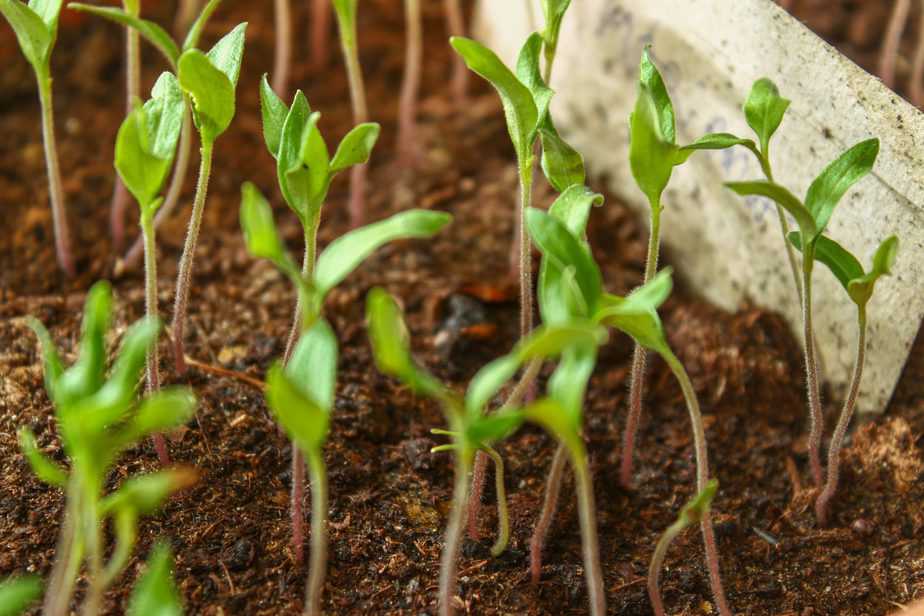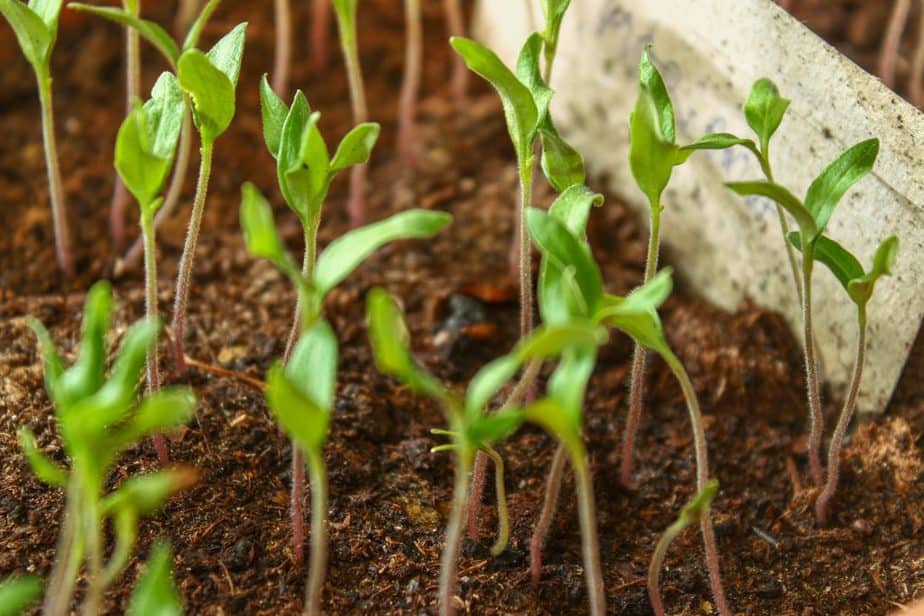 If you want to grow your own garden but don't know where to start check out our garden section here on the blog I am growing tomatoes first and showing how I do that and all of the pitfalls so you can avoid them. As I grow more things I will add to the section. I want to make sure I share great information and let you know what is working for me.

Stuffed Eggplants with Pomegranate & Tahini is a vegan meal but you can add shredded chicken or cubed beef to add some protein. You can add cubed Tempeh also and still have a vegan meal. Yum.
More vegan inspired recipes
Points for Weight Watchers and Healthi formerly iTrackbites
BLUE PLAN: 2 Points

GREEN PLAN: 3 Points

PURPLE PLAN: 2 Points
Print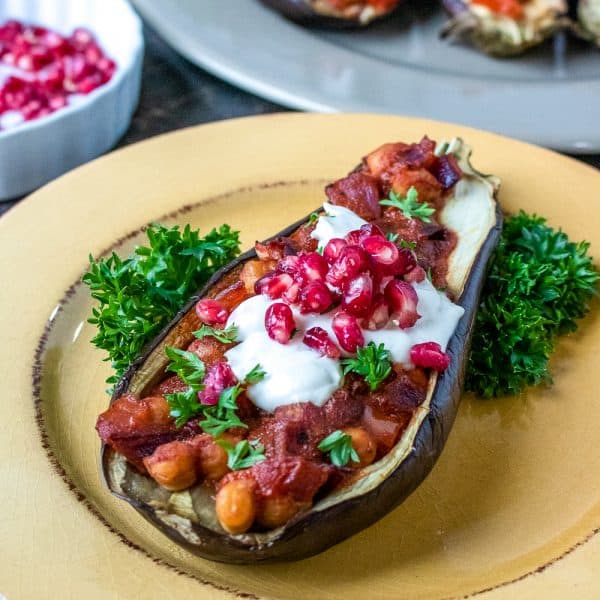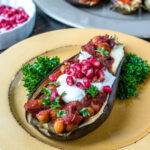 Stuffed Eggplant with Pomegranate & Tahini
---
Ingredients:
3 small eggplants, halved
2 T. extra virgin olive oil
½ medium red onion, diced
1 medium red bell pepper, diced
Sea salt and black pepper, to taste
2-3 garlic cloves, minced
2 T. tomato paste
2 t. ground cumin
½ t. ground cinnamon
¼ t. dried oregano
¼ t. red pepper flakes
1 15-oz. can crushed tomatoes, with liquid
1 15-oz. can chickpeas, rinsed and drained
½ c. coconut yogurt
3 T. tahini
2 T. fresh lemon juice
½ c. pomegranate seeds
½ c. fresh parsley, chopped
---
Instructions
Prep time: 20 minutes
Cook time: 40 minutes
Serves: 4-6
Directions:
Pre-heat oven to 400°F and line a large, rimmed baking sheet with a piece of parchment paper or Silpat® baking mat.
Place the eggplant halves cut-side-down onto the prepared baking sheet and place in the oven to roast for 20 minutes or just until the eggplants begin to soften up.
In the meantime, heat the olive oil in a large skillet over medium heat. Add the onion and red pepper. Season with salt and black pepper, to taste, and stir to combine. Cook, stirring occasionally, until the onion becomes soft and translucent, approximately 4-5 minutes.
Add the garlic, tomato paste, cumin, cinnamon, oregano, and red pepper flakes. Cook, stirring occasionally, until the spices become fragrant, approximately 2 minutes.
Add the crushed tomatoes and chickpeas. Season with additional salt and black pepper, if desired, and stir to combine. Cover and simmer for 8-10 minutes.
After 20 minutes, remove the eggplants from the oven and flip so that the cut side is facing up. Once cool enough to handle, scoop out the seeded part from the eggplants and discard.
Stuff the eggplants with the warm chickpea mixture and return to the oven to roast for another 15-20 minutes, or until the eggplant flesh is really soft and the chickpea mixture is bubbly.
Meanwhile, whisk the coconut yogurt with the tahini and fresh lemon juice in a small bowl. Season with salt and black pepper, to taste, and stir to combine. Set aside.
Remove stuffed eggplants from the oven and cool slightly. To serve, top each stuffed eggplant with a spoonful of the tahini dressing, pomegranate seeds, and some fresh chopped parsley. Enjoy!