It is soup season in most places, but here in Arizona, it is still quite warm. I wanted to include a summer soup that is traditionally served chilled but delicious warmed up also. This recipe is vegan and gluten-free making it the perfect refreshing lunch on a warm fall day or a delightful addition to your meal on a chilly winter evening.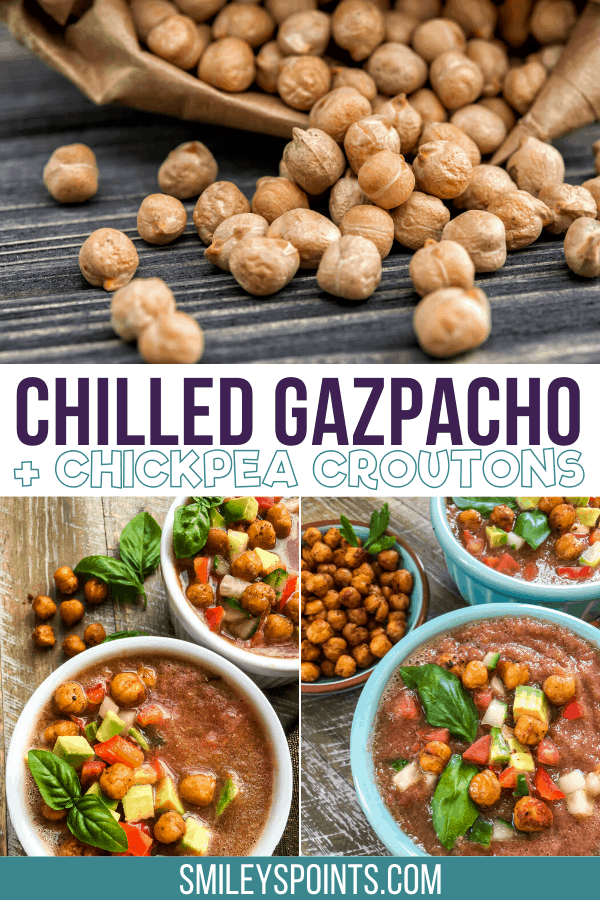 ---
"Healthi formerly iTrackbites is an alternative to Weight Watchers. "
---
What is Gazpacho?

Gazpacho also called Andalusian gazpacho, is a cold Spanish soup made of raw, blended vegetables. Why is it served chilled? Well, it is a traditional summer refreshment. When the outdoor temperature is hot, you don't want to be eating hot soup. Chilling Gazpacho for a few hours in the fridge gives the soup time to develop its famous flavors. Like a hot soup that is better the next day, gazpacho needs time to settle so the flavors can mingle. You will be glad you waited.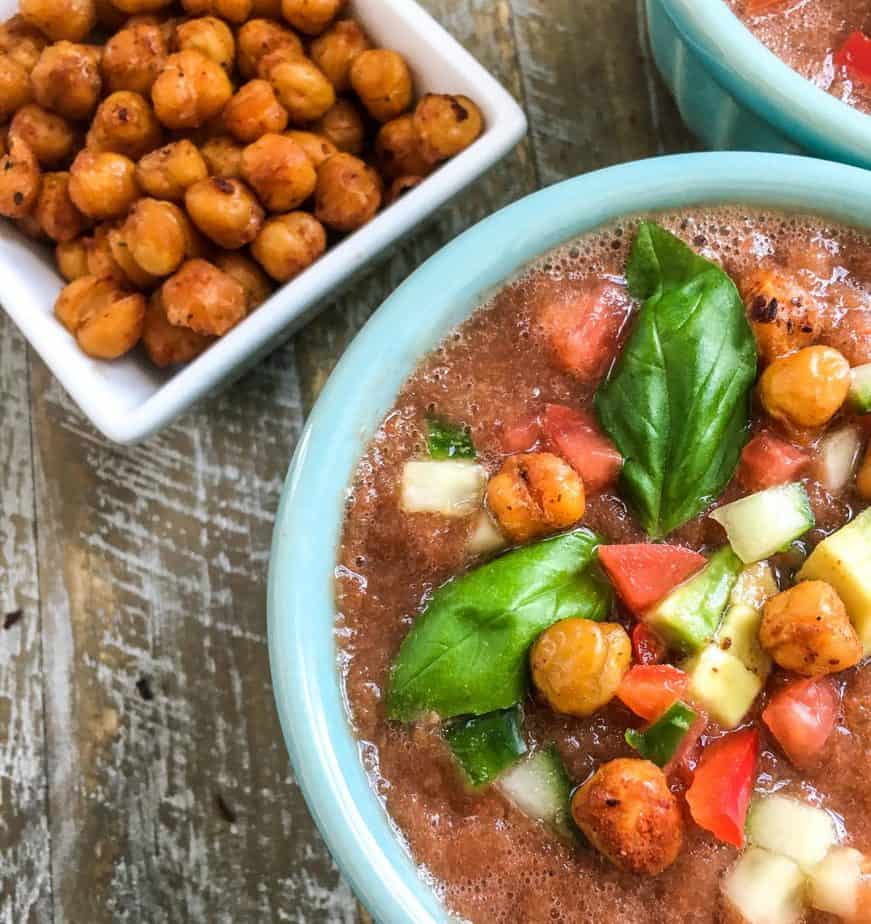 How long will gazpacho last in the fridge?
The simplest way to store gazpacho is simply in your fridge. It will stay fresh for up to 5 days if you store it in a Tupperware container with an airtight seal. Thank you to the foodguys.com for recommending using glass to store your soup. It makes sense because tomatoes stain plastic. Check them out for tips on storing and freezing your wonderful soup.
Most traditional gazpacho recipes include crusty bread as one of the key ingredients. However, this gluten-free version features crispy chickpea "croutons" as an alternative. Bread in my opinion tends to wash out the flavors of this wonderful soup. Using chickpeas as a side this soup has a full-bodied flavor and no gluten to boot.
Tips for making this cold Spanish soup
Blending the fresh herbs with the vegetables yields a more robust, uniform flavor. However, this also affects the color of the finished soup. For a brighter red color, don't blend the fresh herbs with the other ingredients when preparing. Finely mince and stir them in after blending, instead.
Another option is to blend half of the vegetables and once they are creamy add the other half of the vegetables and blitz until they break into tiny pieces. You'll end up with a delicious, rich base, with tiny pieces of tomatoes, cucumber, and pepper. Experiment a little to see what works best for you. If you are in a hurry or want your gazpacho completely smooth blend all of the ingredients together and enjoy your masterpiece.
More vegan inspired recipes
The points for Weight Watchers and Healthi formerly iTrackbites
BLUE PLAN: 4 Points

GREEN PLAN: 5 Points

PURPLE PLAN: 4 Points
Print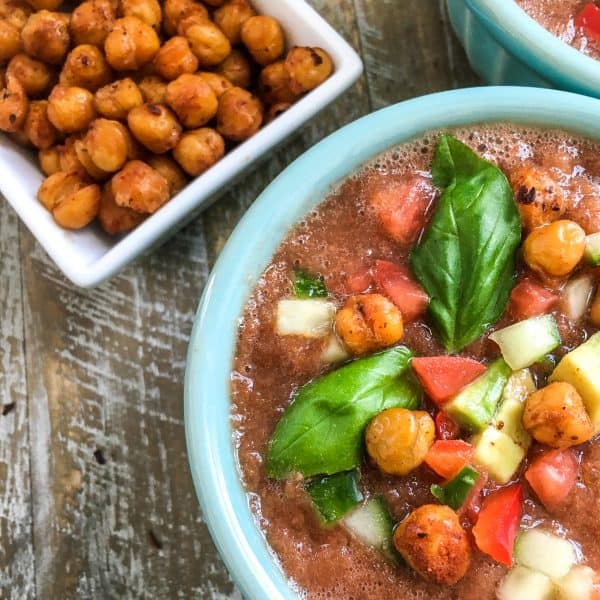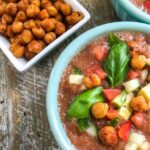 Chilled Gazpacho with Crispy Chickpea "Croutons"
---
Author:

Total Time:

40 minutes + time to chill
Chickpea Ingredients:
1 15.5-oz. can chickpeas, drained and rinsed
3 T. extra virgin olive oil, divided
1½ t. ground cumin
½ t. smoked paprika
Sea salt and black pepper, to taste
Gazpacho Ingredients:
1 medium red onion, roughly chopped
1 large red bell pepper, roughly chopped
1 large cucumber, peeled and roughly chopped
5 large tomatoes, roughly chopped
2-3 fresh garlic cloves
¾ c. water
2 T. red wine vinegar
3 T. fresh lemon juice, divided
¼ c. fresh basil, roughly chopped
½ c. fresh parsley, chopped
Sea salt and black pepper, to taste
1 medium avocado
Optional: Sprigs of fresh basil and/or parsley, for garnish
---
Instructions
Place the top oven rack in the center position and pre-heat oven to 400°F. Line a large, rimmed baking sheet with a piece of parchment paper or a silicone baking mat. Set aside.
In a medium bowl, toss the chickpeas with one tablespoon of olive oil, ground cumin, and smoked paprika. Season with salt and black pepper, to taste, and toss until the chickpeas are fully coated.
Spread seasoned chickpeas onto the prepared baking sheet and place in the pre-heated oven to roast until golden-brown and crispy, approximately 15-20 minutes. Turn the chickpeas or give the pan a good shake halfway through cooking.
While the chickpeas roast,  finely dice one quarter of the red onion, bell pepper, and cucumber. Set aside.
Place the tomatoes, plus the remaining red onion, bell pepper, and cucumber in a food processor or high-powered blender. Add the garlic, water, red wine vinegar, two tablespoons lemon juice, and fresh herbs. Season with salt and black pepper, to taste, and quickly pulse until the mixture is mostly smooth.
Transfer the gazpacho to a large glass bowl. Cover and place in the refrigerator for at least 30 minutes to overnight to chill.
Once the chickpeas are golden and crispy, remove from oven and set aside to cool. They will become crispier as they cool. Store in an airtight container if using the next day.
Right before serving, dice the avocado and toss with the remaining tablespoon lemon juice to prevent browning. Set aside.
 Transfer the chilled soup into individual serving bowls and top with some of the finely diced red onion, bell pepper, and cucumber. Garnish with the crispy chickpeas, diced avocado, and sprigs of fresh herbs, if using. Enjoy!
Prep Time:

20 minutes

Cook Time:

20 minutes