Bacon-wrapped water chestnuts are one of my favorite appetizers! Salty, bacony, crunchy, deliciousness that fits into so many meal plans!
---
"Healthi formerly iTrackbites is an alternative to Weight Watchers. "
---
Bacon makes everything better, even water chestnuts
Who doesn't love bacon? It's an extremely versatile food that pairs well with things that are sweet or savory. I will eat bacon candied, covered in chocolate, on a donut, on a burger, with my eggs, with just about any food, as long as it's so well-done it can stand up on it's own. This appetizer is delicious, crunchy and satisfying.
Water chestnuts can be enjoyed raw or cooked and have several benefits to them.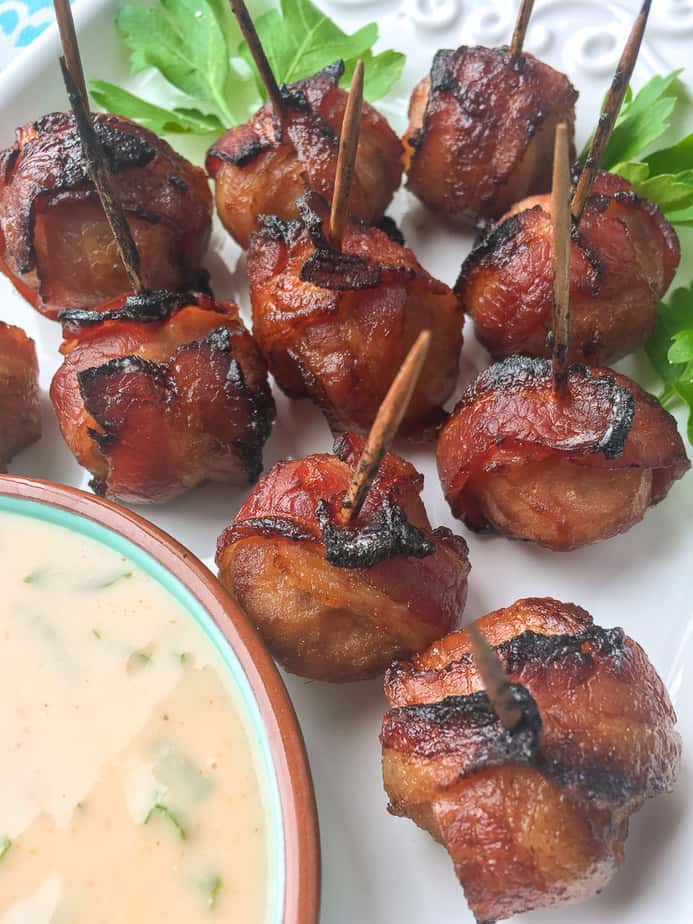 What are water chestnuts anyway
While these little beauties are called water chestnuts, they are not actually nuts. They are an aquatic tuber vegetable that grows in marshes, ponds, paddy fields and shallow lakes. They are native to Southeast Asia, Southern China, Taiwan, Australia, Africa, as well as in many islands in the Indian and Pacific oceans. This is why you have likely eaten them while enjoying your favorite Asian food dish.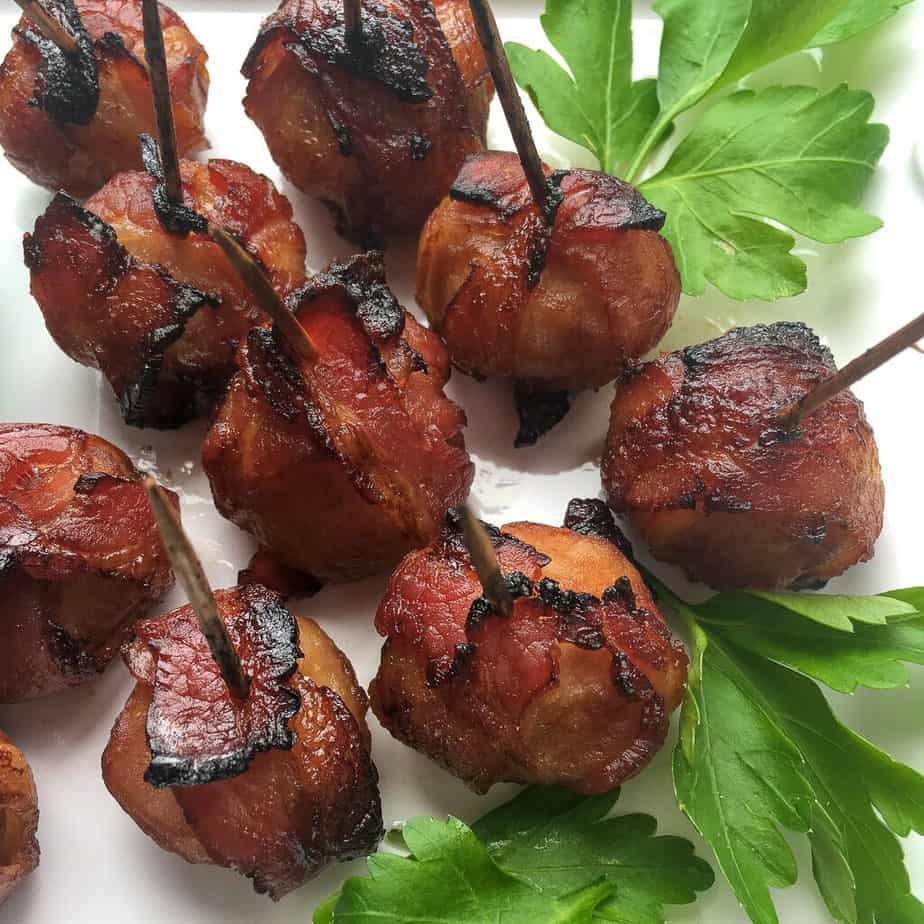 Benefits of water chestnuts
Water chestnuts are full of nutrients and low in calories. If you are watching what you are eating, this is exactly the kind of food that you want. You also want foods that are high in fiber and this veggie ticks that box.
Water chestnuts have many antioxidants. Antioxidants help protect the body against free radicals. If free radicals accumulate in the body, they can create a state called oxidative stress. This has been linked to a higher risk of chronic diseases such as heart disease, type 2 diabetes and many types of cancer. These antioxidants are also what help ensure that water chestnuts stay crisp and crunchy, even after they are cooked.
If you are prone charlie horses, this is a great dish to enjoy! Water chestnuts are high in potassium, which help prevent charlie horses, as well as reducing your risk f stroke and high blood pressure, which are two risk factors for heart disease.
Water chestnuts are considered a high-volume food. High-volume foods. are low in calories and have a lot of either water or air. High-volume foods are great because they can effectively curb hunger.
Check out this article to learn more. about the health benefits of water chestnuts.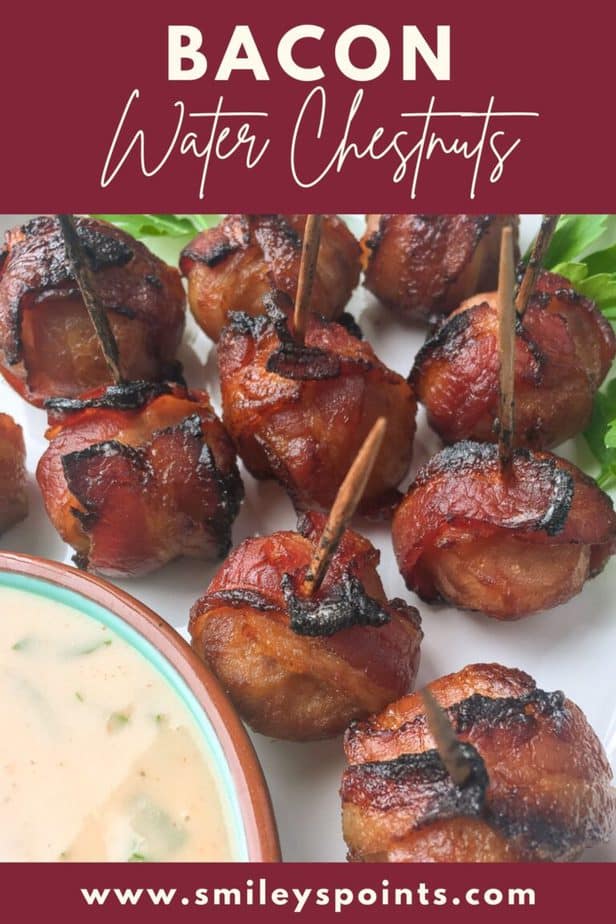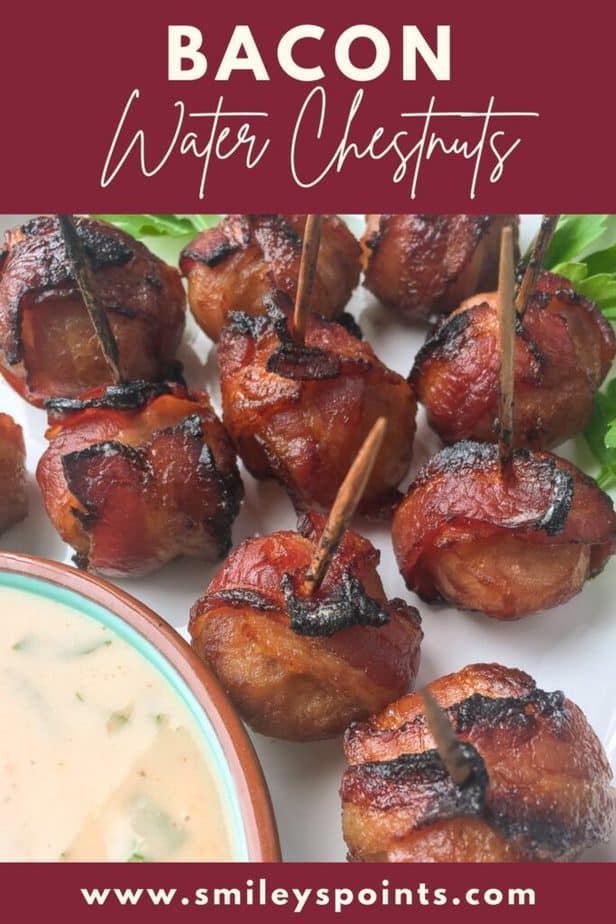 Bacon is key in bacon wrapped water chestnuts
All bacon is delicious, but not all bacon is created equal. If you are making a candied bacon, a thick cut of bacon is a fantastic choice. For bacon-wrapped water chestnuts, however, the regular bacon is better. It will wrap up around the water chestnuts much easier. As for the brand, that's a matter or personal choice. Our kiddo swears that the bacon from our local grocery store is better than any of the name brands. I did tend. to buy whatever was on sale, but now I stick to the grocery store brand. Much easier than listening to the teenager complain!
Air fry your bacon wrapped water chestnuts
This recipe calls for you to make these in the oven. You could easily follow the same temperature setting and make them in the air fryer. I would just keep an eye on the time. I would check on them after 8 minutes. or so.
Bacon wrapped water chestnuts are great for the holidays
This is a great appetizer to serve at any holiday party. These would air nicely with our strawberry capresse skeweres and our spicy chicken satay
No matter what I'm eating, I'm so grateful to have found the Healthi formerly iTrackbites plan. It helps to keep me on track while eating foods that. I love.
cost: Healthi formerly iTrackBites costs $36 for the year (using this link for 40% off makes it $36 – use COACH_SMILEY to save!!), WW is $20+ for the month, and it's the same formula and less options
choices: I can choose PointsPlus, Freestyle, or any other plan I want with Healthi formerly iTrackBites. Even with the new WW changes, they only offer 3 plan options (not PointsPlus).
logs: You can export your tracker data by the week, month, or quarter with Healthi formerly iTrackBites. WW does not give you access to quarterly data.
accuracy: I've found inaccurate info in the WW app due to members submitting and not paying attention to the right numbers. With Healthi formerly iTrackBites, I know if I see the green check, it's been verified as accurate. This puts my mind at ease!
BLUE PLAN: 1 Points
GREEN PLAN: 1 Points
PURPLE PLAN: 1 Points
Print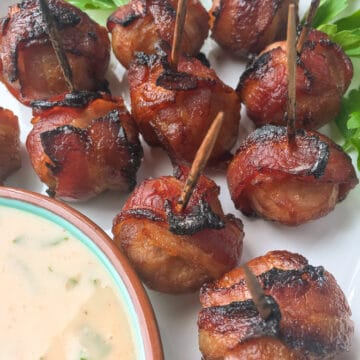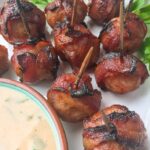 Bacon-Wrapped Water Chestnuts
---
Author:

Total Time:

1 hour 5 minutes

Yield:

2

4

1

x
Description
This tasty little appetizer is reminiscent of the classic Rumaki, minus the chicken livers and brown sugar. In this version, honey provides a touch of sweetness, while a spicy mustard dip adds some heat. Together, they create a winning combination that will soon become a new family favorite!
---
8 strips center-cut bacon
1/3 c. gluten-free soy sauce
3 T. honey, preferably local
2 8-oz. can water chestnuts, rinsed and drained
¾ c. Greek yogurt
2½ T. Dijon mustard
1 T. hot sauce
¼ t. cayenne pepper
2 T. fresh parsley, roughly chopped
Sea salt and black pepper, to taste
---
Instructions
Cut bacon strips in half lengthwise, then cut each thin strip into 3 equal sections for a total of 48 pieces. Set aside.
Mix soy sauce and honey in a medium mixing bowl. Add water chestnuts and turn to coat. Marinate at room temperature for approximately 30 minutes, turning water chestnuts 2-3 times during that time.
Preheat oven to 400°F and place a metal rack inside a large, rimmed baking sheet. Spray rack with non-stick cooking spray and set aside.
Drain water chestnuts, but reserve the marinade. Wrap each water chestnut with a piece of bacon, then repeat with a second strip on the opposite side. Secure both pieces of bacon with a toothpick and place on a baking rack.
Repeat with remaining water chestnuts. Each appetizer with reserved marinade on all sides. Place prepared baking sheet in preheated oven for 20 minutes, then remove from oven and brush with more marinade before returning to the oven for another 10-15 minutes.
While the water chestnuts are roasting, combine Greek yogurt, Dijon mustard, hot sauce, cayenne pepper, and parsley in a small bowl. Season salt and black pepper, to taste. Cover and place in the refrigerator until ready to serve.
When finished, remove the bacon-wrapped water chestnuts from the oven and serve immediately with the spicy mustard sauce for dipping. Enjoy!
Prep Time:

30

Cook Time:

35