Looking for a new twist on Taco Tuesday? Look no further! This recipe will satisfy your taco craving without the guilt!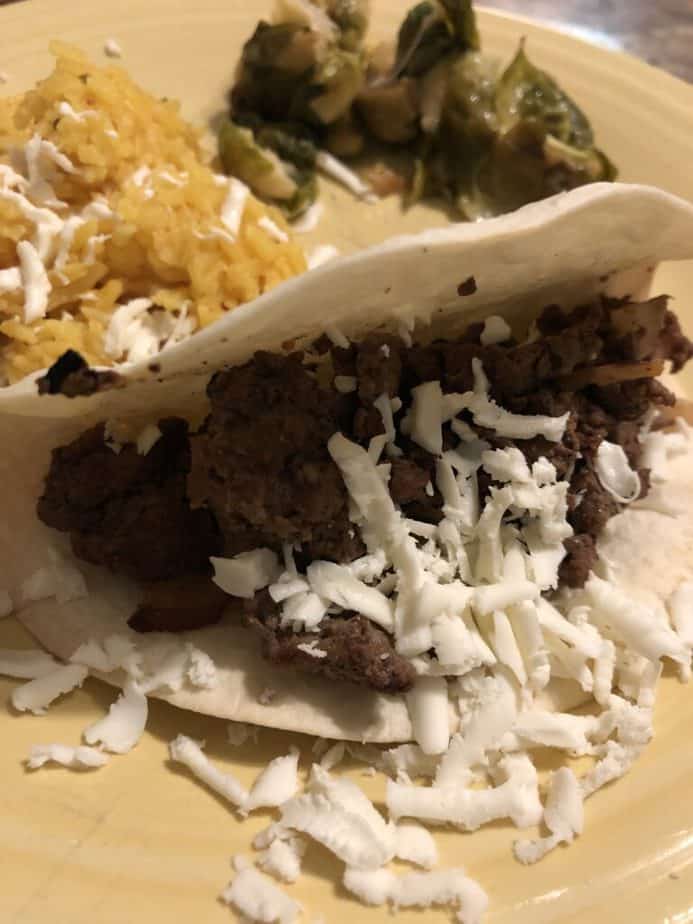 Hard or soft, steak, chicken or veggies, tacos are always a family favorite, especially these steak and onion tacos
We love tacos in our family! I mean, who doesn't. This recipe has become another family favorite and best of all, it's quick and easy to make!
---
"Healthi formerly iTrackbites is an alternative to Weight Watchers. "
---
Lighten up the shells in this steak and onion taco recipe
One of the things that I do when I make tacos is I never purchase the hard shells. They are fried, usually taste similar to cardboard and are a bit on the small side. Instead, I get flour tortillas, put them on this special pan, and bake them for 5 minutes or so. They come out nice and crispy, no cardboard taste in sight!
If hard tacos aren't your jam, no worries. You can simply heat the tortillas in a pan for a few minutes and make this dish as a soft taco instead.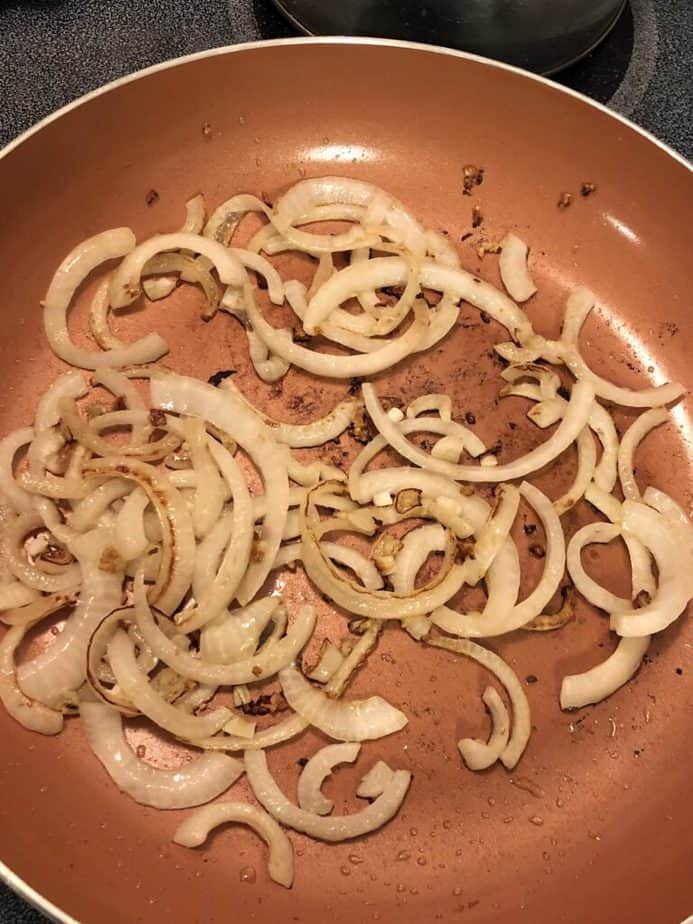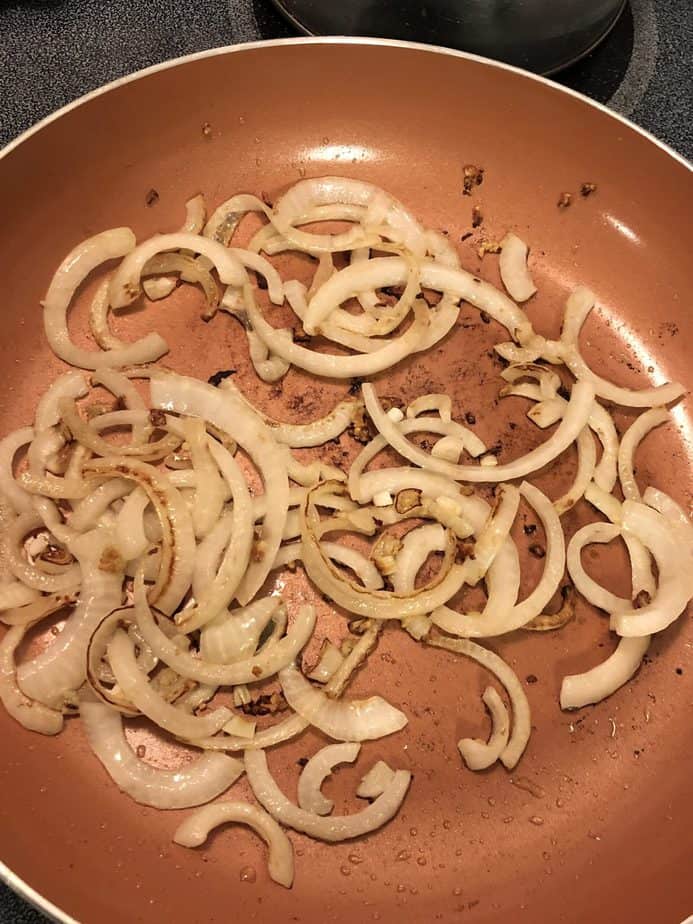 Steak and onion tacos…or chicken…or veggie…
This recipe calls for thinly sliced steak, think Steakums (which is a good choice, super easy to cook up). But, if you don't like steak, there are plenty of other options. You can substitute chicken quite easily. I would get the thinly sliced chicken breasts, or you can buy regular ones and use this tool to cut them into cutlets. We save sooooo much money doing this! Once you have your cutlets, slice into strips and then again into pieces about two inches long.
Not into meat at all? No problem! Substitute tofu, impossible meat or just load up on lots of veggies and some beans.
Veggies, the choices are endless
Your choice of taco veggies can be as varied as what you make the main base. This original recipe called for steak and peppers, but our oldest will not eat peppers. If one gets near a dish, all bets are off. But everyone here will eat onions all day long, so I just make that substitution. Easy peasy! You can easily do onions, peppers (all the colors or just one), onions and peppers, mushrooms, the list goes on and on. And bulking your tacos up with veggies will help to fill you up, always a good thing if you are looking to lose weight.
Steak taco toppings, the possibilities go on forever
Just like what you can put in your tacos, your options for what to put on your tacos, the sky's the limit! We went with freshly grated mozzarella, sour cream and fresh guacamole. But again, there are sooooo many possibilities!
For cheese, cheddar (and there are so many varieties of this to chose from), mozzarella, colby jack, pepper jack, the choices go on and on.
If you like lots of raw veggies, shredded lettuce, diced tomatoes, chopped onions are all good choices.
This tomato and rice salad would also be perfect on or next to your tacos.
We love sour cream on most things Mexican and I usually make fresh guacamole. Fresh salsa is also super easy to make and very healthy. You can also throw any leftovers in some brown rice with a can of black beans and you'll have a delicious lunch the next day.
I've been trying to make sure that I eat healthily and stay on track with my goals. iTrackBites has helped out so much with this!
cost: Healthi formerly iTrackBites costs $36 for the year (using this link for 40% off makes it $36 – use COACH_SMILEY to save!!), WW is $20+ for the month, and it's the same formula and less options
choices: I can choose PointsPlus, Freestyle, or any other plan I want with Healthi formerly iTrackBites. Even with the new WW changes, they only offer 3 plan options (not PointsPlus).
logs: You can export your tracker data by the week, month, or quarter with Healthi formerly iTrackBites. WW does not give you access to quarterly data.
accuracy: I've found inaccurate info in the WW app due to members submitting and not paying attention to the right numbers. With Healthi formerly iTrackBites, I know if I see the green check, it's been verified as accurate. This puts my mind at ease!
BLUE PLAN: 5 Points
GREEN PLAN: 6 Points
PURPLE PLAN: 6 Points
Print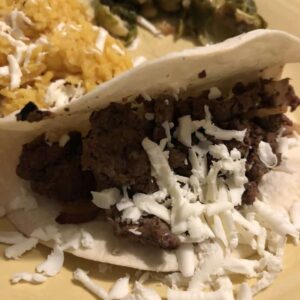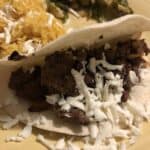 Steak and Onion Tacos
---
---
---
Instructions
garlic
medium onion
1 lb steak slices
½ oz  taco seasoning
8 (6-inch) flour tortillas
all-purpose flour
kosher salt & ground pepper
neutral oil
Notes
Preheat the oven to 400º
When the oven is at temperature, put the flour tortillas in for about 5 minutes, keeping an eye on them so they don't burn.
In a medium bowl, combine 1 Tbsp taco seasoning, 1 tsp flour, and a pinch of salt and pepper with the steak. Coat the steak in the seasoning and set aside.
Slice onions into strips and sauté until lightly cooked.
Add the steak mixture to the onions, breaking the steak up into 2″ pieces. Cook until it's cooked through and browned, about 3 – 5 minutes.
Throw the taco meat into the shells with your toppings and enjoy!