Black Bean Sweet Potato Chili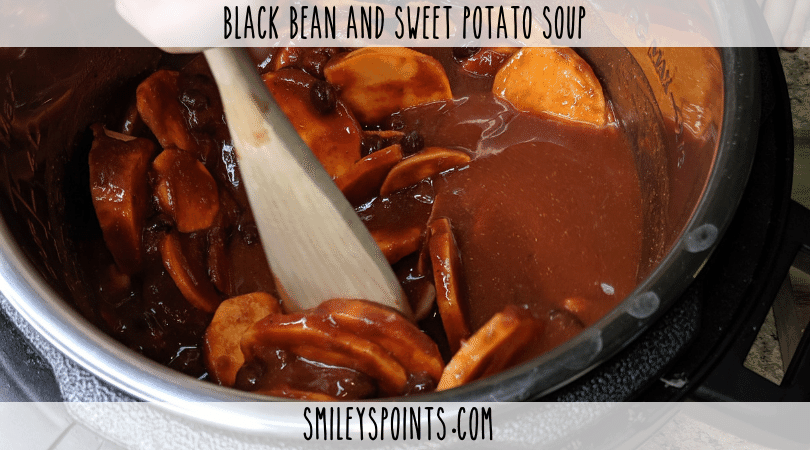 Our Instant Pot is still working well into the summer 🙂 Black Bean Sweet Potato Chili is a great meal year round. I know chili is something most people think of as a wintertime, cozy up to the fire meal, but we just couldn't resist making this one . One morning, while coming up with different meals to make for the week, we came across an interesting recipe in a vegan cookbook. We modified it a bit to come up with a Weight Watchers friendly freezer meal.
Black Bean Sweet Potato Chili
While you're here, be sure to check out the roundup of our favorite Weight Watchers Instant Pot Recipes!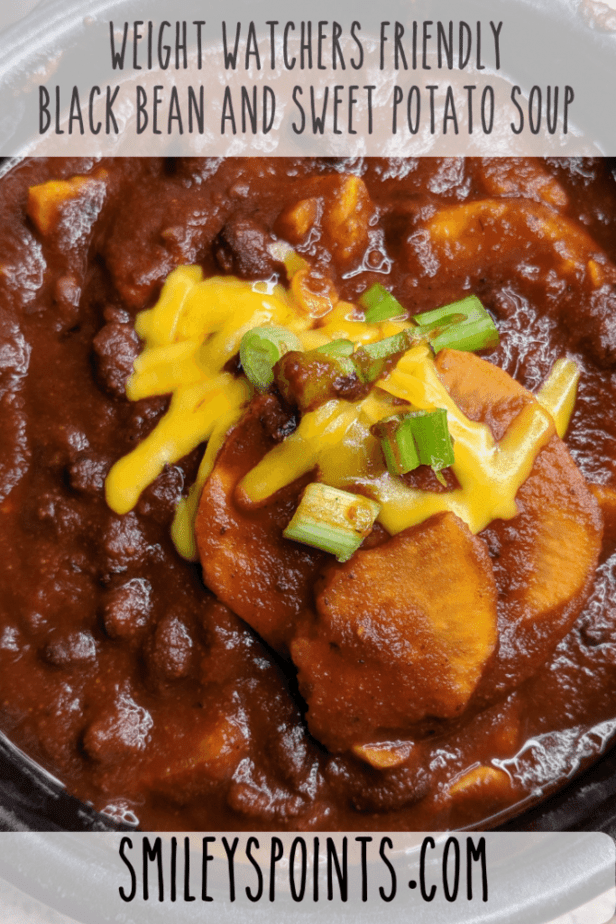 Sweet Potatoes
I know, I know potatoes are all but forbidden on most diets. They are starchy and full of fat blah, blah, blah. 😉 We love potatoes and someone in our family is always wanting them or eating them, plus they're NOT off limits on Weight Watchers!
Here is the skinny on sweet potatoes and why you shouldn't exclude them from your diet. I love Weight Watchers, because you can eat whatever you want and as long as you follow the program you will achieve your goals. It really is about learning moderation and enjoying what you eat. Sweet potatoes are one of the highest vitamin A foods you can eat. Sweet potatoes are also less calories and have more nutrients than regular potatoes. They have a sweet, smooth taste and they're nutritious too? Yes!
We hope you love this recipe as much as we do. All comments and suggestions are welcome. If your cooking time varies please add it in the comments, include where you live and your elevation as that may affect cook times. Also, let us know the consistency of your potatoes and how you like them, we think that is important.
Are you counting calories? One medium, baked sweet potato with skin contains just 103 calories. Go make this yummy chili and tell us what you think! 🙂
Sweet potatoes are versatile. Check out these Sweet Potato Fajitas from You Brew My Tea.
Black Bean Sweet Potato Chili Ingredients
2 teaspoons olive oil
1 small onion minced
3 garlic cloves minced
3 tablespoons tomato paste
3 tablespoons chili powder
1 teaspoon dried oregano
1 teaspoon ground cumin
1 teaspoon ground cumin
1/2 teaspoon smoked paprika
1 16oz jar of salsa
3 cups of black beans cooked
1 1/2 pounds sweet potatoes sliced thin (peeled)
salt and pepper to taste
1 cup of fat free cheese (optional)
>Black Bean Sweet Potato Chili Instructions
Press saute on your Instant Pot
Add olive oil once heated
Add onion and garlic and saute until the onion starts to caramelize (about 5 minutes)
Stir in tomato paste, chili powder, oregano, cumin, and paprika.
Stir in 1/8-1/4 cup of water to prevent the mixture from burning. You only need a small amount.
Stir in salsa and black beans, heat through and taste, adjusting seasonings if necessary.
Turn off your Instant Pot.
Add sweet potato slices and stir to mix well. You want to make sure the potatoes are suspended in your chili mixture.
Seal the lid, pressure cook on high for 15 minutes.
Natural release for approximately 10 minutes, release the rest of the pressure, and stir.
Potatoes should be soft but not mushy. Cook 5 minutes – a little longer if you want them softer.
Layer chili and cheese in a bowl top with cheese and enjoy!
Serves 6 (1 cup servings)
3 points per serving
15 points for the whole thing
Black Bean Sweet Potato Chili Pro Tip
Omit the oil in this recipe and use a few tablespoons of water to soften your onion and garlic. You can even use your microwave to speed the process up a bit. Put the onion and garlic in a microwave safe bowl with 3 tablespoons of water for 2 minutes. Add them to the Instant Pot and continue with the recipe. 🙂
---
---