Consuming a balanced lunch should include lean protein, vegetables, fruits, and whole grains. While busy schedules can make having a nutritious lunch difficult, when dealing with weight loss, it is essential to have some go-to recipes on hand. These lunch ideas for weight loss will help you avoid skipping meals or making a dash for an unhealthy quick fix.
Since many people have different dietary, lifestyle, and nutritional needs, each section has been broken up into healthy alternatives to fit each individual need and give you the best healthy lunch idea for your tastes and lifestyle.
Plant-based Lunches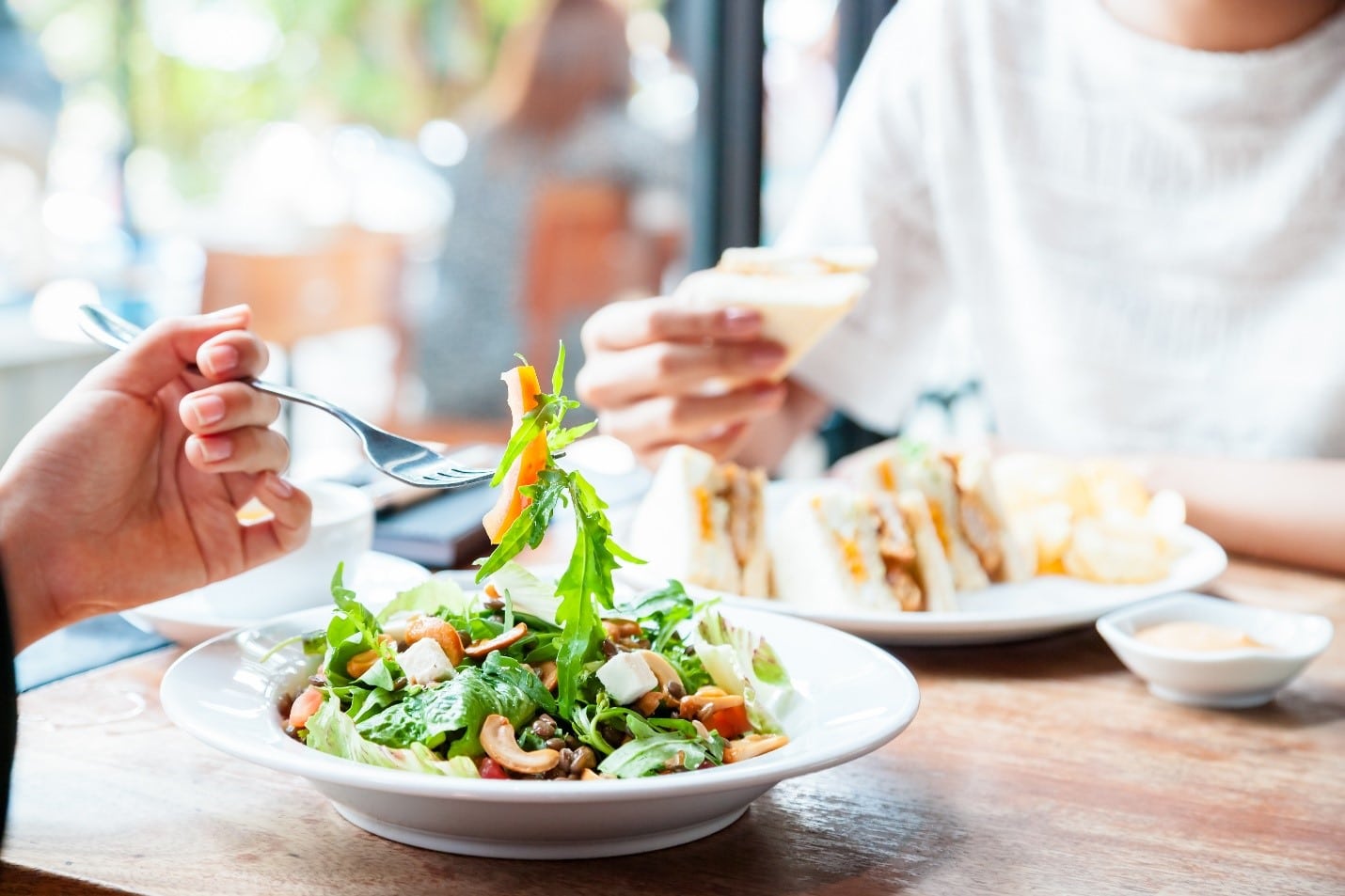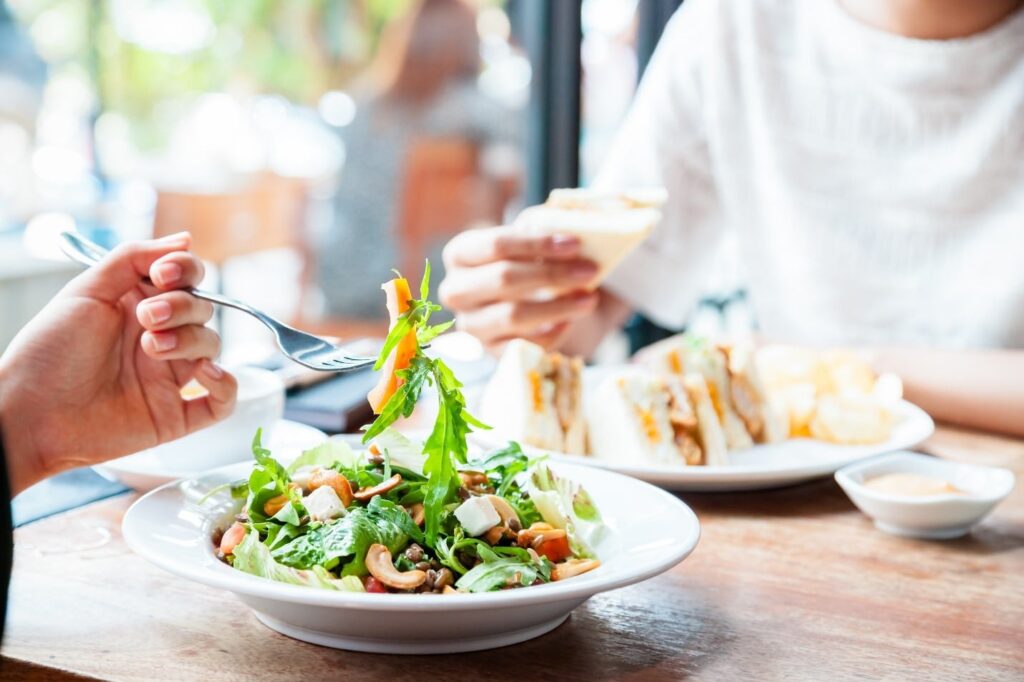 Plant-based lunches are ideal for those who are vegan or vegetarian. These foods include lunches made with vegetables, whole grains, legumes, nuts, seeds, and other sources of fiber. They are lower in calories yet filling.
Chickpea/Garden Vegetable Salad Sandwich
Chickpeas are an excellent source of protein and can be used in a plethora of healthy lunch recipes. Backed by research, some experts suggest that chickpeas are effective at managing weight because of their minerals, fiber content, vitamins, and beneficial compounds.
Chickpeas are easy to smash to create a sandwich or for filling. This recipe is also great to make ahead for lunches throughout the week as it is versatile, and you can mix it up each day.
Lunches for Diabetics
If you are diabetic and overweight, your healthcare professional may have requested that you reduce your weight to help manage your condition. In this case, healthy eating and weight management are significant in managing blood glucose levels.
Diabetics often pay close attention to carbohydrate intake as they can increase blood sugar. Carbs may be eliminated or kept consistent per meal.
Quinoa Salad with Lemon Chicken
Whole grain salads are healthier choices for lunch and are less time-consuming to make. While quinoa is similar or considered to be a type of cereal, it easily becomes attached to whole grains due to its nutritional content and high fiber.
It will provide you with minerals, vitamins, and proteins perfect for weight management/weight loss.
Chicken provides added protein to the meal. The veggies will make you feel fuller for longer, and the lemon juice adds a special flavor to the meal.
Avocado Toast with Cottage Cheese
With non-starchy vegetables high in fiber, protein, and complex carbohydrates, alongside healthy fat from the avocados, this is a well-balanced, healthy meal. By balancing carbs with other macronutrients, you will be able to maintain a steady blood glucose level and higher energy levels through your day.
The avocado with whole-grain bread provides a wonderful base for this meal. The diabetic recipe version contains cottage cheese and tomatoes to provide proteins.
Low Carbohydrate Lunches
There are those who use the Keto diet or low-carb diet to help them lose weight. This diet limits foods high in carbs while increasing proteins and fats. While there is sufficient research that indicates limiting carbohydrates helps with weight loss, as it improves blood sugar levels, they can also lead to weight gain once the individual ceases using the program.
A lack of carbohydrates during lunch may lead to hunger soon after consuming a meal if there are no whole grains to keep you feeling fuller. Whole grains, fibers, and vegetables are slower to digest in the body.
Mexican Cauliflower Rice Bowl
This recipe calls for replacing regular white rice with cauliflower rice to lower your carbs. Cauliflower contains Vitamin C, it's good for the healing of wounds, and it's beneficial for your skin health. It may also keep you a bit fuller throughout the day.
Zoodle Stir Fry with Chicken
Zucchini-Noodles, or Zoodle, makes for a tasty lunch while you're on a low carbohydrate diet. They look like regular noodles visually, but the carb count is lower. Since zucchini is packed with micronutrients and fiber, you will feel fuller longer. You will also not be as tempted to snack. Chicken adds healthy protein to the dish.
Paleolithic Lunches
The Paleolithic diet places a special emphasis on seeds, nuts, animal proteins, vegetables, fruits, and healthy fat. Meanwhile, substances like alcohol, vegetable oils, dairy, legumes/beans, grains, and sugars are all eliminated. This diet is designed to closely resemble the nutrition of hunter-gatherers.
This diet can be successful because it permits many nutritious foods but limits choices that result in weight gain. It has also been known to reduce blood pressure and help blood sugar.
Paleo Greek Meatballs in a Tzatziki Sauce
Since meatballs can either be created ahead of time and frozen, or bought frozen, this makes for an easy lunch. Combined with fresh veggies and a tasty sauce, you can create a well-balanced meal.
Meatballs are extremely filing with their protein content and are rich in Vitamin B12. This lunch gives important nutrients for the nervous system, with the veggies giving you fiber. This recipe will provide you with an easy-to-make, quick lunch.
It can also be used for a keto-friendly or Whole30 diet.
Hamburger Soup
This is a great soup that will satisfy your hunger while providing the same flavors as eating an actual hamburger. It is an easy recipe to follow. It uses common items found in a pantry, seasonings, and ground beef for a flavorful, satisfying meal.
Since there are tomatoes/tomato paste, you will receive potassium that promotes healthy blood pressure and good heart health.
If you want a variety of recipes available at your fingertips, combined with a solid weight loss plan, consider investing in apps like Zoom and Healthi. Both contain perfect recipes to suit any diet and are available on your phone. You will also have the added benefit of being able to track the calorie count easily in the app. They offer a quick and easy alternative.
Healthi is probably a little more well-suited to adapting to various diets. It has many different types of plans available tailored to your specific need. It will provide you with better tools.
These recipes will provide you with great lunch solutions that are easy to make if you are on the go, or alternatives if you are tired of eating the same thing each day. Each one is tasty, and most are backed with fiber to keep you feeling fuller for a longer duration.