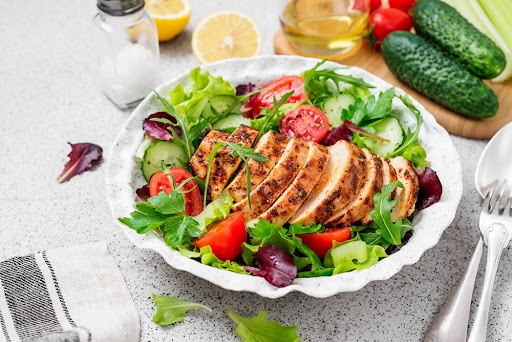 How many meals should you eat a day, and what should the calorie content be? Many confusing facts are floating around, leaving people feeling frustrated because they are not seeing the weight loss results they would like, or the progress they're making is slow. Even studies show mixed results when it comes to eating. We go over common questions to navigate through the confusion.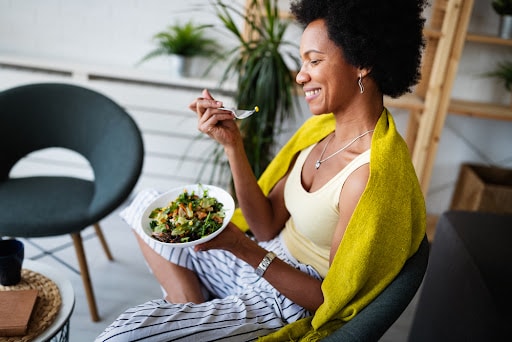 Frequent Eating and Metabolism
When we eat frequently, does our metabolism speed up or slow down? Are frequent meals good for you? Do they stabilize blood sugar levels? These are all things to consider, but we need to know all the facts.
Does Frequent Eating Increase Metabolism?
Your metabolic rate is determined by the number of calories burned within a specific period. There is a myth that consuming smaller, more frequent meals increases metabolism, but this isn't entirely true.
What is true is that digesting a meal slightly raises the metabolism. This is known as the thermic effect on food. But it is the amount of food consumed that determines the energy expended while it is digested.
For example, consuming three meals at 800 calories each has the same effect as eating six meals containing 400 calories. There is no difference or advantage to either of these methods.
Evidence suggests that consuming three to six meals high in protein may effectively reduce hunger, but it is not conclusive whether this benefits everyone.
Does Frequent Eating Reduce Cravings and Balance Blood Sugar?
The thought process behind this idea is that big meals generate lows and highs in blood sugar. Eating frequent, smaller meals, in theory, should stabilize this effect, generating a more even blood sugar level throughout the day. While it sounds plausible, scientific research does not support this idea.
Studies conclude that individuals who consume larger yet fewer meals have lower blood glucose levels. While there may be higher blood sugar spikes, their overall levels are lower. This is vital for those with blood sugar problems.
Furthermore, eating less frequently improves satiety while reducing hunger as opposed to consuming frequent meals. Breakfast also plays an important role in blood sugar. Studies indicate that eating your largest meal in the morning and early in the day lowers the average blood sugar level.
Fasting and Weight Loss
Evidence is conflicting in this area. Some say that fasting puts the body into starvation mode, and it ends up deteriorating muscles rather than burning fat. They say that the only thing that fasting does is cause the body to conserve energy by slowing down the metabolism. Yet, is this the entire truth?
Does Intermittent Fasting Help in Weight Loss?
There are fitness experts who tout the importance of intermittent fasting for weight loss, while others claim that it is impossible to lose weight while fasting. Those opposed argue that shutting down the metabolism prevents people from burning fat by putting it into starvation mode.
While long-term weight loss reduces the number of calories burned over time, this occurs independently of weight loss methods. Evidence does not suggest that intermittent fasting reduces the number of calories burned. However, some evidence suggests short-term fasting increases metabolic rate.
Increases in norepinephrine, which stimulates metabolism, may cause this phenomenon. Norepinephrine also instructs the fat cells to reduce body fat and leads to a slender figure. Fasting for two days can boost metabolism by 3.6-14%. Yet if you fast longer, the effect reverses, decreasing your metabolic rate.
Does Fasting Decrease Muscle Mass?
There is a myth that says when you fast, the body burns muscle and converts it to fuel. This may occur in general while dieting, but nothing supports this myth. Studies do, however, indicate intermittent fasting is good for maintaining your muscle mass.
There is one review that supports intermittent fasting, showing it generated similar weight loss as restricting calories did; however, there was less of a decline in muscle mass.
Fasting Intermittently: Is it Bad for Overall Health?
While rumors circulate that intermittent fasting is detrimental to your health, research reveals impressive health benefits. Some of these include:
Change in gene expression regarding longevity and immunity
Prolonged lifespan
Improvements in insulin sensitivity
Reductions in inflammation, oxidative stress, and heart disease
Elevated levels of brain-derived neurotrophic factor, which protects against depression and mental illness
Does Fasting Make You Gain Weight?
While some feel that fasting causes people to overeat during eating periods, this may not lead to weight gain. Since the individual may compensate for lost calories during a fast by eating a bit more, it isn't a full compensation.
Most people who fast for one day eat an extra 500 calories the next day, which is still 2,400 calories less than what they would have consumed if they hadn't fasted. Since overall food and insulin levels are reduced, the metabolism, human growth hormone, and norepinephrine levels are all increased. Fasting causes you to lose fat rather than gain it.
Studies conclude that fasting for 3-24 weeks generated average stomach fat and weight to decrease by 3-8% and 4-7%. So, it may be a very powerful tool in weight loss.
Does Eating or Skipping Breakfast Lead to Weight Gain?
Is breakfast really the most important meal of the day? It is commonly believed that missing breakfast generates cravings, hunger, and weight gain. However, a 16-week study using 283 obese/overweight adults observed no weight differences between people who ate breakfast and those who skipped it.
That said, other studies conclude that, over the long term, those who regularly eat breakfast lost weight. Also, teenagers and children who eat breakfast perform better scholastically.
Does Eating Before Bedtime Cause You to Gain Weight?
People once commonly thought that eating large meals before sleep caused the body to store more fat or increase weight and that, while we are sleeping, everything in the body slows down, including the metabolism. Yet, this is far from the truth.
The metabolism doesn't shut down while sleeping. The body uses any energy it is given regardless of when it was consumed, providing you aren't going over the daily calorie intake and causing your body to store excess energy rather than use it.
Some research does indicate that those eating later at night consume more calories in general, leading to weight gain. It can also cause people to make poor food choices. Eating late at night may additionally cause indigestion affecting the quality of sleep. If you experience acid reflux during the night, overeating may be the culprit.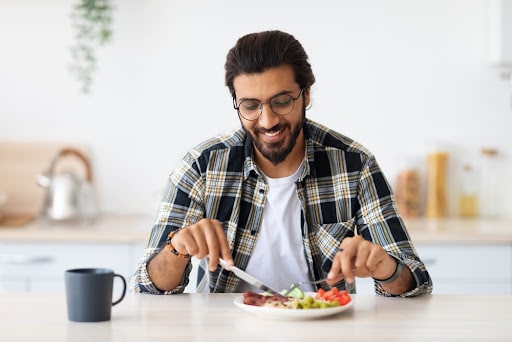 When Should I Eat?
There are numerous myths about when to eat, how often, and the effects of fasting. Yet not many of them have any basis in scientific fact. In some cases, the opposite is true.
There are no benefits to frequent eating of small meals. It doesn't increase the burning of calories nor help with weight loss. Moreover, frequent eating doesn't improve blood sugar levels. Eating fewer meals throughout the day appears to be healthier, contrary to popular opinion.
The best things to do are the following:
Eat when your stomach says it is hungry (rumbling and not head hunger).
Eat slowly and savor your food. When your stomach says to stop eating, stop.
Make a habit of listening to your stomach.
Refrain from skipping meals and create a regular eating pattern as much as possible.
One thing that can help regulate how much food you're eating is to eat when you are hungry but not ravenous. When you are ravenous, you run the risk of excessive eating. True hunger is when the stomach feels empty. Once you feel this, eat within an hour. Your body will quickly go from hungry to ravenous.
To determine actual hunger, ask yourself the following questions:
Am I really hungry? If you aren't sure, wait 20 minutes, then ask again.
When did I last eat? If it was fewer than three hours, you may not be experiencing genuine hunger.
Will a small snack help until my next meal? Keep fruits and veggies on hand in case this occurs.
If you have difficulty recognizing true hunger, create a schedule and eat smaller meals for three or four hours until you finally feel hungry. If you do overeat, compensate and eat less with the next meal.
How Often Should People Eat?
Experts recommend consuming three balanced meals daily. Each should be 350-600 calories. If you are snacking, they should be between 150-200 calories. If you are not, you can add these calories to the meals.
This plan depends, of course, on your weight, age, height, gender, and activity levels. Refrain from going five hours without eating anything. After five hours, the body becomes ravenously hungry, and the ability to make healthy decisions wanes. In your hunger, you may choose any readily available food. These may be processed foods, fast foods, or high-calorie treats.
There is a caveat with snacking, however. Some people may consume too much while snacking. Instead of the recommended intake, they eat close to 400-500 calories for a snack. Snacks should be nutrient-rich as opposed to high-calorie snacks void of nutritional value.
The Overall Truth
If you want to stay healthy, you need to maintain overall daily calorie control. Regardless of how many meals you eat during a day, whether you fast or anything else, you need to have a consistent calorie intake to lose weight.
If you overeat, then the excess calories are absorbed as fat. The body will not be able to burn them off and will instead store them. Exercising to compensate for this may not prove beneficial. You may end up just harming your body and causing injury rather than losing weight. However, if you combine exercise with restricted calories, you will reap the benefits.
If you eat after exercising, the body is still burning calories at a higher rate, which will aid in weight loss.
While it is hard to decrease caloric intake, it is not impossible. Initially, it is hard because your body is used to a certain amount of food. However, your body will quickly adjust, and eating less will become more effortless.
What if I Blew it the Night Before?
Don't stress about it. We all fail occasionally. Some days, you are just hungrier than others. That is perfectly natural. The body tends to compensate for this by eating less in subsequent days, so everything tends to equalize.
The danger is forcing your body to consume extra food when you're full. You bypass your body's natural satiety signal, and you will increase your weight. Your stomach will stretch its capacity, causing weight gain, not loss.
Don't beat yourself up if you end up eating more. Either decrease the food intake at the next meal or start over the next day. We all have cheat days. These can be beneficial in multiple ways.
Programs like Healthi and Noom talk about the importance of rewarding yourself. While rewards may be things other than food, they permit you to indulge in foods that you love, just within reason.
So, when you are upset, instead of downing an entire pint of ice cream, you may want to have a single scoop as a treat. This way, you eliminate cravings and have an incentive to stick with your diet. It also makes for sustainability once you reach your goal weight.
It isn't how many meals you should eat a day that you should be concerned with. The truth lies in knowing when you are hungry. Too many of us emotionally eat or overeat. When you are full, stop. When you are hungry, eat.
These are the governing principles. How you break down your meals will depend on you, your schedule, and your natural appetite. Just make sure you stick to your daily allotted calories, and you will be fine.