I made this list of companies that hire plus size ambassadors because most companies don't use plus size models or ambassadors to show their products off. Thankfully, this is changing, but finding a company that features plus size models can still be difficult.
This list takes care of some of the legwork of tracking down programs that accept plus size models, and I've also included each brand's social media channels so you can start following them right away! Let's dive in.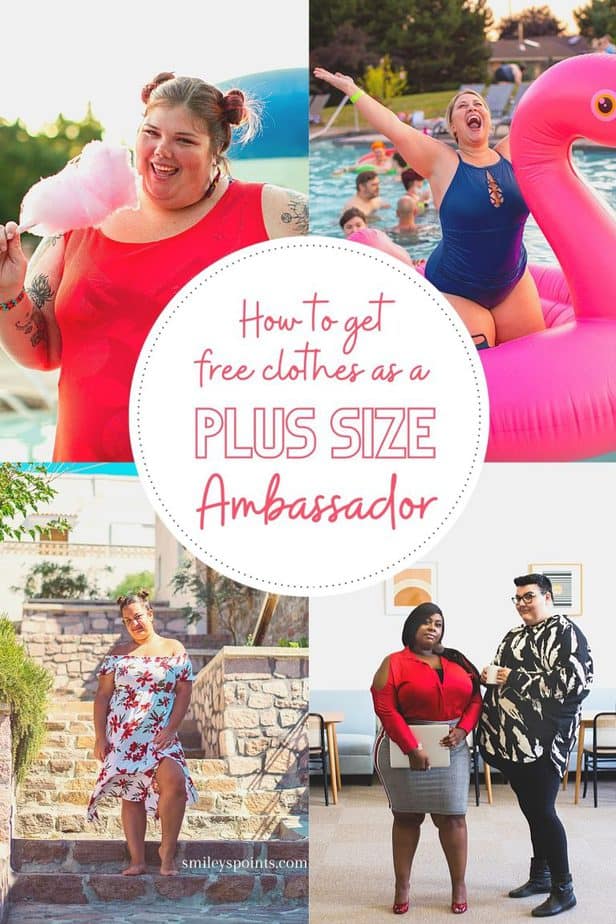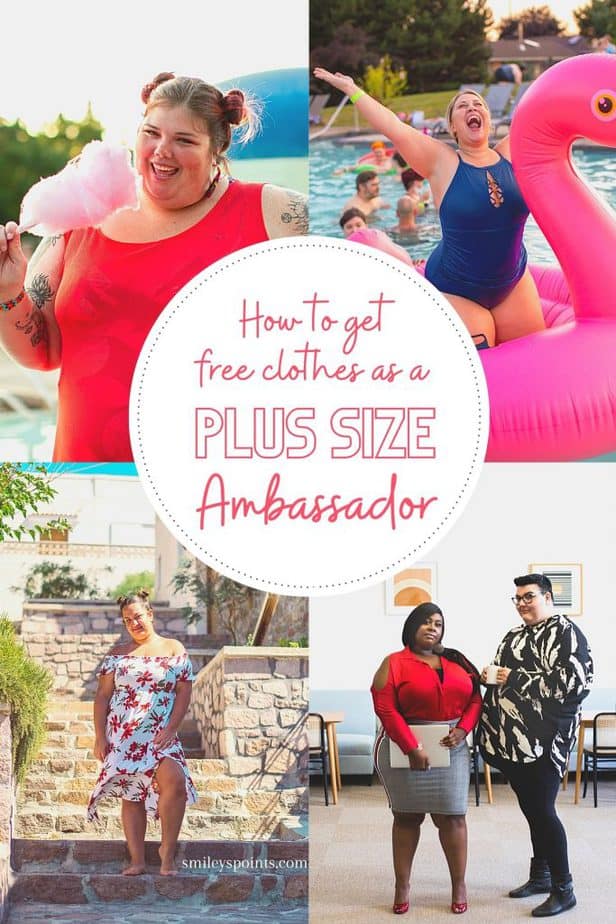 What is an ambassador?
Each brand's ambassador program is a bit different, but the general idea is that you earn rewards (usually for future clothing purchases) in exchange for being a brand's "cheerleader" on social media. You can even earn cash, which is awesome!
Who can be an ambassador?
You'll find that becoming a brand ambassador is fairly easy if you already have a large social media following. If you don't, the best way to grow is to post consistently. We'll be posting more about this in the future, too!
All of the brands here have requirements that you must be at least 18 years old. Many require you to live in the United States. You must have public social media pages. The goal, after all, is to get the word out about their brand. You can't do that very well with private or closed pages. 🙂
Tips for becoming a plus size ambassador
Follow the company on social media. Start interacting with their posts, and being a natural cheerleader. "Like", comment, and engage a little so you are on their radar. Don't be too enthusiastic, as you do want to give them a reason to choose you as an Ambassador. If you're already doing ALL of the work of an Ambassador, they have no reason to send you merch, right? 😉
Make sure your social media profiles look professional. "Professional" means something completely different now than it did 10, or even 5 years ago, but keep in mind that at any time, these companies could be scouring your profile. They don't want to work with folks who are super combative and controversial all the time. Before applying, put your best foot forward and clean up your social media.
Take photos. Lots of them! An Ambassador is basically a model + cheerleader. YOUR look is what is selling the brand's products and earning you commission. Before you even apply to be an Ambassador, you've gotta show the brand that you're the type of person they're looking for. Be yourself, use good lighting, and have fun. Don't try to be someone you're not – let YOUR true personality shine through. Authenticity is key.
Try their products. Yes, this means you need to buy the product and try it out! The last thing you want to do is start promoting, being an Ambassador, etc for a company only to find out their products are complete crap. Plus, if you have a photo of you wearing the items you want to promote, you can show the company how awesome you look in their gear!
Do some digging. Find out about their business. What are their values? Do they align with yours? For example, if you're a witchcraft practicing Atheist, you probably wouldn't apply to be an Ambassador for a religious clothing line, right? This is the same type of thing. Do some digging on their social media and on their website to learn more about what they represent. Make sure their company aligns with your values, enough to where you feel comfortable promoting them.
Follow up. If you apply and don't hear back within a few weeks, best practice is to follow up with an email or Facebook message.
Open your emails. With most Ambassador programs, you'll fill out a form. In this form, you're leaving your email and consenting to be contacted by the company. This usually means they will put you on their email list. For example, Smiley's Points has an email list just for those who have applied to our Ambassador program. They get special coupons, even if they haven't been selected as an Ambassador yet! Be sure to open your emails to show the brand you're serious about working with them. Set up a separate email folder to keep everything organized.
Ask questions. Not sure about something? Your best bet is to ask the company directly. Some brands do not allow you to be an Ambassador for more than one clothing company at a time, so it's a good idea to ask that question before signing up as a plus size Ambassador for multiple companies.
Perform. Be the company's best affiliate, then ask for a raise! You can ask for a raise in commission, or ask for free clothing instead of a discount, the sky is the limit when you are a top performing Ambassador.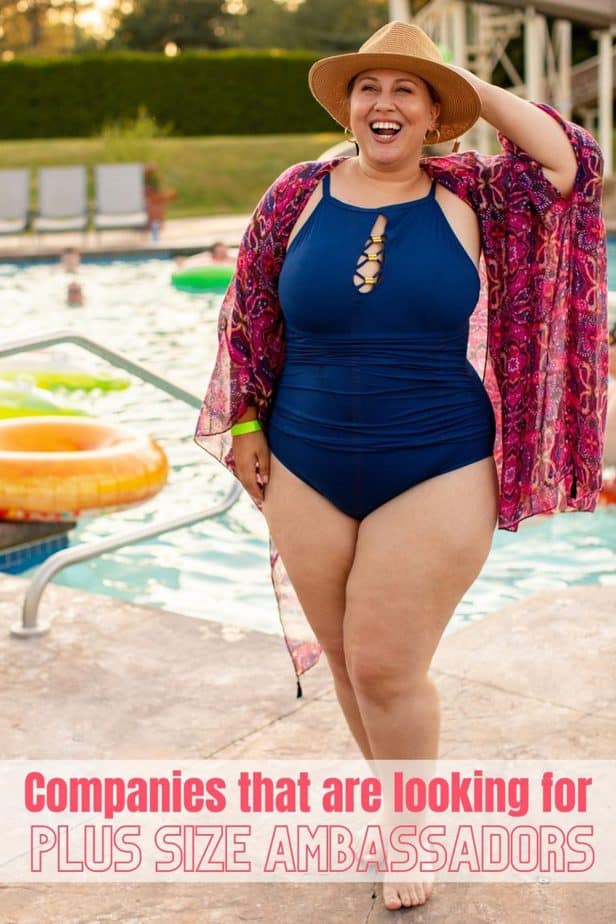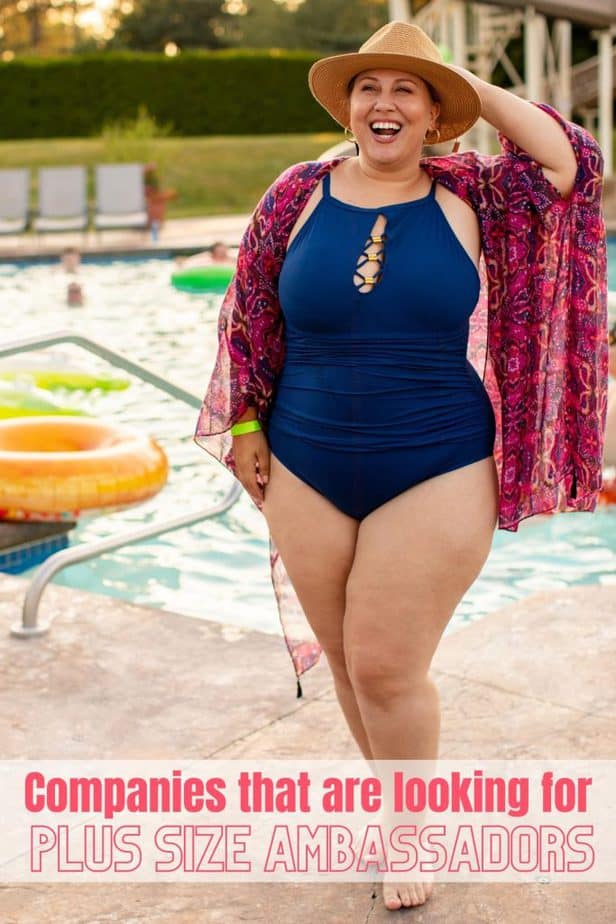 Plus Size Ambassadors
I reached out to each company to confirm they accept plus size Ambassadors. If you find your experience is different, PLEASE leave a comment or contact me on Facebook so I can take them off the list right away. If you apply, please let me know how it goes so I can remove them from this list if they aren't size inclusive!
1. Just Resist
Just Resist is our clothing brand, and we are always looking for new models! Our designs are near and dear to our hearts and we hope they will be to yours as well.
Just Resist Ambassadors receive exclusive discounts and merch in exchange for posting on Instagram, Facebook, etc.
Who should apply?
Anyone who is active on social media and passionate about living an anti-racist life!
Follow:
Just Resist Instagram | Just Resist Facebook
Requirements:
Must be 18+
Clean social media (no nudity or violence)
How to apply:
Fill out this form!
2. Smiley's Points
Yes, me again! 🙂 We love our Ambassadors of all shapes, sizes, and shades! Smiley's Points Ambassadors get to see products before they're released, get discounts on products and challenges, and more! We love featuring our cheerleaders on social media. Looking to grow your following? Message us and we will help. We are experts in that field!
That's us, taking a selfie! And yes, that is a year round "Christmas" tree in the background. 😉
Who should apply?
Anyone who is already living a healthy lifestyle or is serious about improving their health and fitness.
Follow:
Smiley's Points Instagram | Smiley's Points Facebook | Smiley's Points Pinterest
Requirements:
Selfies welcome!! 🙂 Most Ambassador programs do NOT allow "selfie" type photos. For Smiley's Points, selfies are just fine. In fact, our favorites are "sweaty selfies" that get posted in our challenge group!
Ambassadors must participate in the wellness challenge for the month they are assigned (at least one month per quarter, so 4x per year). The wellness challenge is all virtual and includes workouts and nutrition tips for all body types!
How to apply:
Fill out this form: Smiley's Points Ambassador Program
3. Kervology
Kervology's Ambassador program offers a great opportunity to become part of the movement empowering curvy women worldwide! If you believe in empowering women, are plus size and want to share your self love journey, apply to join the Kervie Ambassador team. You'll earn 10% on orders purchased through your platforms.
Who should apply?
Kervology has a diverse group of models, featuring up to size 3XL, all over their social media platforms. It seems like everyone is truly welcome! Love it.
You'll earn 10% (paid via Paypal) from sales you generate, and you'll also get 20% off the clothes you buy.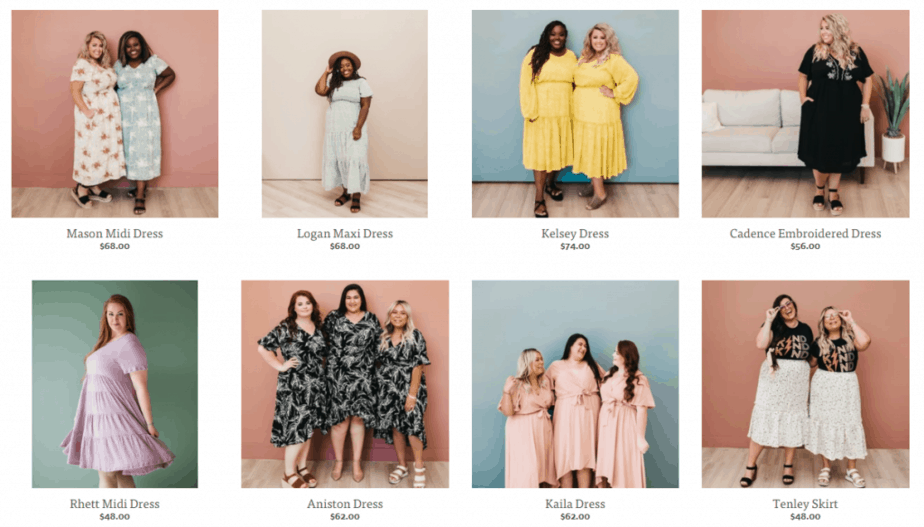 Follow:
Kervology on Instagram | Kervology on Facebook
Requirements:
minimum 1,500 Instagram followers
post 2x per month on IG
be passionate about being a role model, sharing encouragement and support for other ambassadors
How to apply:
Email Kervology from this page.
4. Rebdolls
Rebdolls is a missy and plus size fashion retailer that stays on the pulse of trendy fashion. As a minority and women led brand, their goal is to make great quality clothing for women of all sizes. In May 2016, Rebdolls adopted our slogan #sexyforall to bring about size diversity in the fashion industry.
Who should apply?
Rebdolls caters to women who wear sizes 0 through 32. For this reason alone, we LOVE this company! As an Ambassador, you'll get free goodies, invites to exclusive events, and exposure to the Rebdolls audience of over 300K!
Requirements:
minimum 5K followers
must post fashion forward content
Follow:
Rebdolls on Instagram | Rebdolls on Facebook
How to apply:
Fill out the Reb Dolls ambassador program form. You can also keep an eye on this page, which is their model call (currently closed as of posting but should re-open in the future).
5. Juicy Body Goddess
Juicy Body Goddess Clothing line was created in 2015 by Summer Lucille. Their purpose is to empower Curvy, Plus Size, Fat, Chubby (whatever you reference yourself) with Fashion. As a plus size woman, Summer wanted to show the world Big Girls can do it and do it better with fashion forward fashion. So, she created Juicy Body Goddess!
Who should apply?
I love that Juicy Body Goddess showcases plus size women that are my size! They offer sizes L-6XL.
Look through their products before you apply, as some may feel they're a bit vulgar.
Follow:
Juicy Body Goddess Instagram | Juicy Body Goddess Facebook
Ambassador requirements:
There is a long list of requirements on their website, but the main ones are: no selfies, no bathroom pictures, no one else in the photo.
Juicy requires that you post 3 separate photos on IG per item(s) within 5 days of receiving your goodies. And you must pay for your box to be shipped to you.
They have times you are allowed to post, as well as the copy (wording) and hashtags you use. Go here for a full list of requirements.
How to apply:
View all requirements and apply on their website.
6. Fiercely Built
Join the Fiercely Built Ambassador program to get FREE merchandise! All you have to do is post about Fiercely Built – including fitness, nutrition and overall well being – on your social media networks (tag Fiercely Built Apparel) and you get free gear.
A Fiercely Built Ambassador (FBA) is a person who has chosen to live a happy and productive life and is motivated to inspire others to do the same. The role of an FBA is to promote the Fiercely Built brand, mission, and values in a tasteful manner. As an FBA you are encouraged to share pictures of you being active, having fun, hanging with friends, and most importantly wearing the merchandise. You should use your own unique style to stand out among the crowd!
While they do have a few photos of plus size models on their social media, they're few and far between. I'm not sure if that is because not enough plus size women applied, or because they weren't chosen. I do love how diverse their models are. I am hoping they expand that to include size diversity as well.
Who should apply?
I did notice the sizing on FB's website only goes up to XXL, though I didn't find any XXL while browsing. The biggest size I found was an XL. An XL, according to their size chart, is a 14-16. It seems their clothing is best for those who are on the smaller side of the plus size 'scale'. I'm a size 22 and I know these would not work for me!
Follow:
Fiercely Built Instagram | Fiercely Built Facebook
Ambassador Requirements:
active Instagram
active Facebook
'tasteful' photos
How to apply:
Fill out this form. They will contact you if you are chosen.
7. Just Strong
Just Strong is looking for passionate, active women, not just followers! Empower the women around you. Access new products, special promotions and exclusive discounts only available to Ambassadors. You'll also get access to our supportive private Facebook group who will make sure you never give up!
Who should apply?
Just Strong has fitness and workout clothes for sizes up to 2X/3X. While their Ambassador program doesn't give you free clothing, you get a 20% discount on their clothing and earn 10% cash – paid via Paypal – for all sales you refer.
Requirements to be a Just Strong ambassador:
must post once per month wearing Just Strong clothing
Follow:
How to apply:
Apply using this form.
Plus Size Clothing Ambassadors
Didn't see your favorite on the list? Contact the plus size clothing stores you already shop with, and see if they're hiring for plus size Ambassadors. Chances are, they have a referral program of some sort and will be happy to include you!