Top 8 Exercises for Smaller Waist – Sculpt a Strong Core
It is disgusting when you have to cover your stomach with arms or hide in the layers of clothes. These little things lose your confidence and make your life like hell. But worrying does not make you better. You need to go for healthy exercises to reduce your waistline and improve your overall health. Yes, to remove fat in your waist, you have to incorporate some of the exercises which help in reducing the fat and perfectly shaping your body.
This article teaches you about different exercises that can sculpt a strong core and make your waist slim and smaller.
Exercises for Small Waistline
1. Oblique V-crunches
How to do?
Lie down on the floor mat turning towards the right side, keeping your left hand behind your right hand on the floor mat.
Now try to press down into your right hand while raising your legs off the floor mat.
Also, bring your torso towards your legs.
Now lower yourself back to the floor mat with control.
Repeat the same reps on both sides.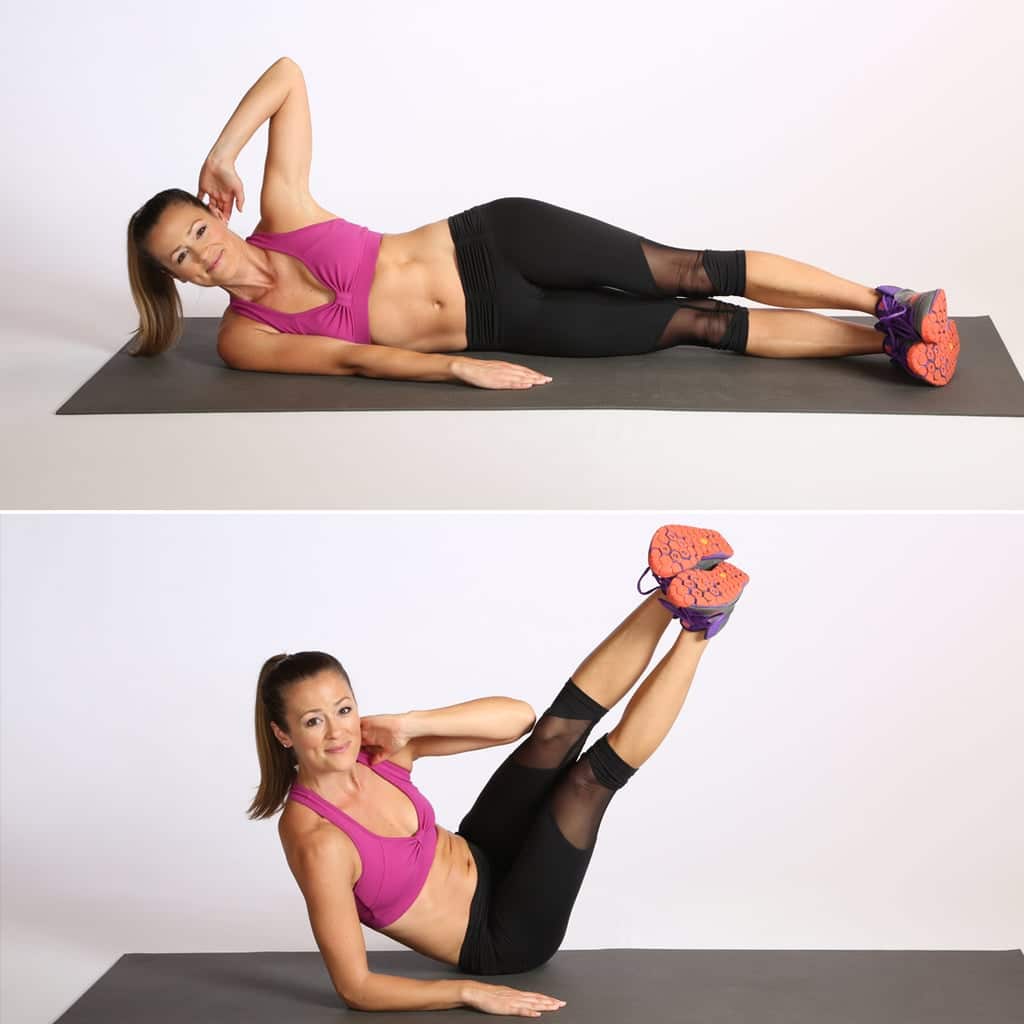 Benefits
It is an effective exercise to improve core and trunk balance.
The balance and strength help to maintain a good posture of the body.
It also helps perform any physical activities and work in a better way.
Oblique crunches target hip flexor, rectus abdominis, external and internal obliques of the body.
It is a great exercise to keep you fit and slim.
Tips
Make sure your legs are straight and lift them at a 45-degree angle.
Always start with side crunches and triangle crunches.
2. Crossover crunches
How to do
Lay down on your mat and cross your right ankle over your left knee.
Breath out when you contract your abdominal muscles. Now slowly and smoothly raise your upper body away from the mat as you do in a basic crunch.
Now try to twist your torso to your right side as you compress your abdomen. Do it till your left elbow touches your right knee.
After that, reverse the side of the twist and breathe in when you slowly lower down your upper body back to the floor mat.
Repeat the steps to the exercise from the other side and complete your reps.
Get back to your normal position by putting both feet on the floor mat to end the exercise.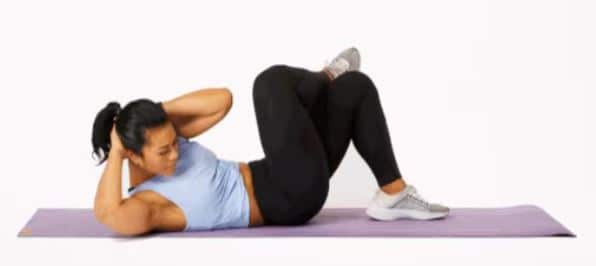 Benefits
Crossover crunches help in improving balance and coordination in the body.
An effective resistance training exercise to burn calories and fats of stomach areas.
It strengthens and sculpts stronger core muscles.
Reduce the risk of back pain and rib injuries.
It helps to build obliqueness and improve sprint time.
Tips
While lifting your upper body from the floor mat, do not pull your neck up.
If you align your breath with the direction of the movement, you will not face any difficulty.
If you feel discomfort and pain in your neck, try another position.
3. Donkey kick
How to do
To do a donkey kick, you have to make a proper start position, your knees should be hip-width apart, the neck and spine part should be neutral and normal, and at last, keep your hands under your shoulders.
Support your core and start to lift your right leg, knee staying bent, and foot staying horizontal.
Now use your gluteal region to press your legs directly towards the ceiling and squeeze at the top.
Make sure your pelvis and working hip stay pointed toward the floor mat.
Now return to the starting position.
Complete 20 reps on each side of the leg.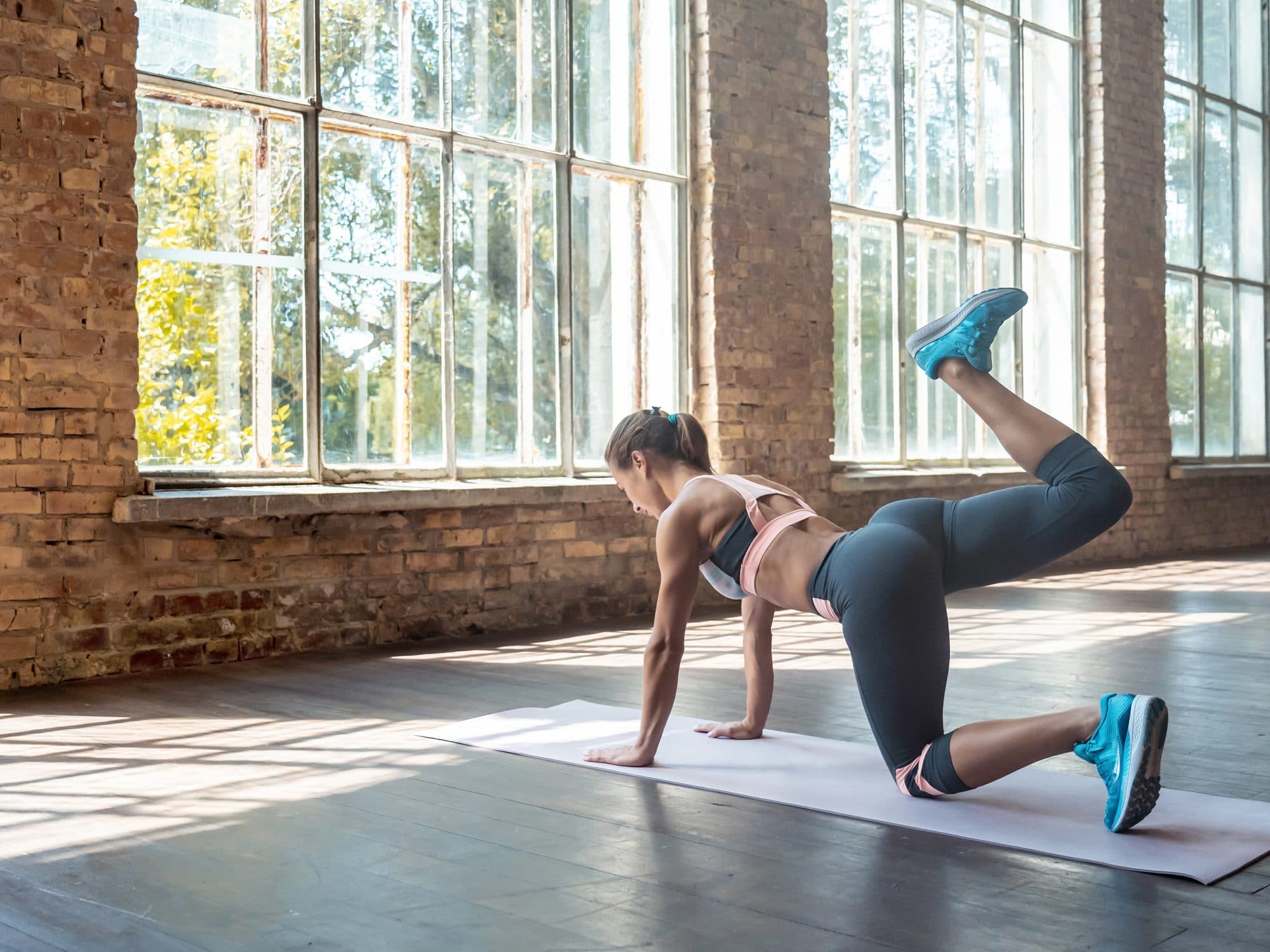 Benefits
As you grow older, the risk of injury increases. So for maintaining, boosting, and improving the balance and mobility of the body, donkey kicks can be very beneficial. It activates the core and hips muscles and improves body functionality.
It promotes the right body posture that can help reduce back pain, spinal problems, and discomfort.
It helps to tone the gluteal muscles.
A great and worthy exercise for shaping your body and keeping your waistline with zero bulky fat.
Tips
Keep your lower back straight as you lift your leg.
If you don't feel the burn after doing 20 reps, add resistance such as ankle weight or dumbbell nestled on your knees.
4. Windshield wipers
How to do
Lay down by facing the ceiling with your arms resting on the floor mat. Keep your pelvis and spine in a normal position.
Now slightly tuck your pelvis and keep your ribs down.
Lift your feet off the floor mat to bring your knees towards your chest. Try to keep your knees bent or straighten your legs. Your leg should be perpendicular to the floor.
Now clasp your feet together to create balance in your lower body.
After that, engage your upper body and slowly lower your legs towards the leg side of your body. To control the movement of the exercise, use your core and legs.
While performing the exercise, wait for some time at the bottom of the movement before letting your leg touch the floor mat.
Now, begin to stretch your legs towards the right side of the body.
Bring back your legs to their original position and breathe.
Repeat the steps a few more times back and forth like a windshield wiper.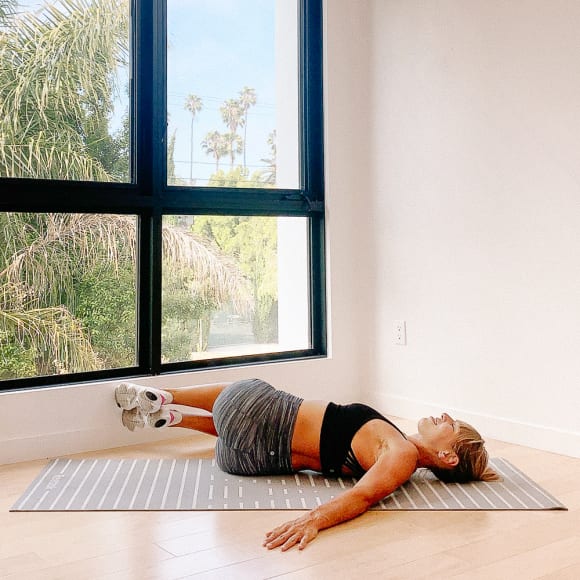 Benefits
It is a full-body workout that stimulates the body muscles to keep it active and fit.
It strengthens your core muscles of the hip flexor, rectus abdominis, internal obliques, and external obliques.
It helps build a strong core by strengthening the lower back muscles of the body.
A regular moderate to high-intensity 10-minute windshield wiper can burn approx 100 calories.
Windshield wipers burn excessive fat from the abdomen and promote a slim waistline.
Tips
Always consult your doctor if you have faced any health issues before.
Take two to three days of rest after performing windshield wiper exercise.
5. Side jackknives
How to do
Lie down on your left side of the body. Keep your left leg on the top of the right leg. Place your left forearm on the ground on your abdominals.
Place your right hand behind your head, putting elbows facing your feet.
Now contract your abs. Bring your right leg and your torso towards each other.
Remain in this position for a few seconds and return to your starting position.
Squeeze your abs while bringing your leg and torso towards each other.
Do 15 reps, i.e., three sets on each side.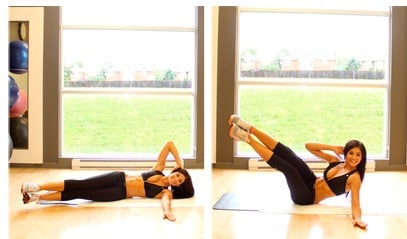 Benefits
It is a kind of resistance training that can help you strengthen your muscles.
It helps to avoid muscle asymmetries.
It is very beneficial in improving the quality and the duration of sleep.
Side jackknives are a quality and beneficial exercise to reduce the abdominal area's excessive fat, making it slim and small.
One can also improve one's mood by doing this exercise.
There is no need to purchase equipment for this exercise. It depends on you if you need a yoga mat or not.
Reduce stress and back pain.
An effective exercise to slow down aging.
Tips
Always keep your legs straight while performing this exercise.
Breathe in when you are lowering and breathe out when you lift.
For making your exercise a little more challenging, you can bend your knees
6. Russian twist
How to do
Sit on the yoga mat. Keep your feet at a ninety-degree angle on the floor.
Now tilt backward and lift your legs off the floor, keeping your knees bent.
Stretch and straighten your spine at a 45-degree angle from the yoga mat creating a V shape from your thighs and torso.
After that, interlace your finger or clasp your hand together.
Then use your abdominal areas to twist to the right, then center, and to the left.
Repeat the above steps 10-15 times.
Finally, take a long breath and relax.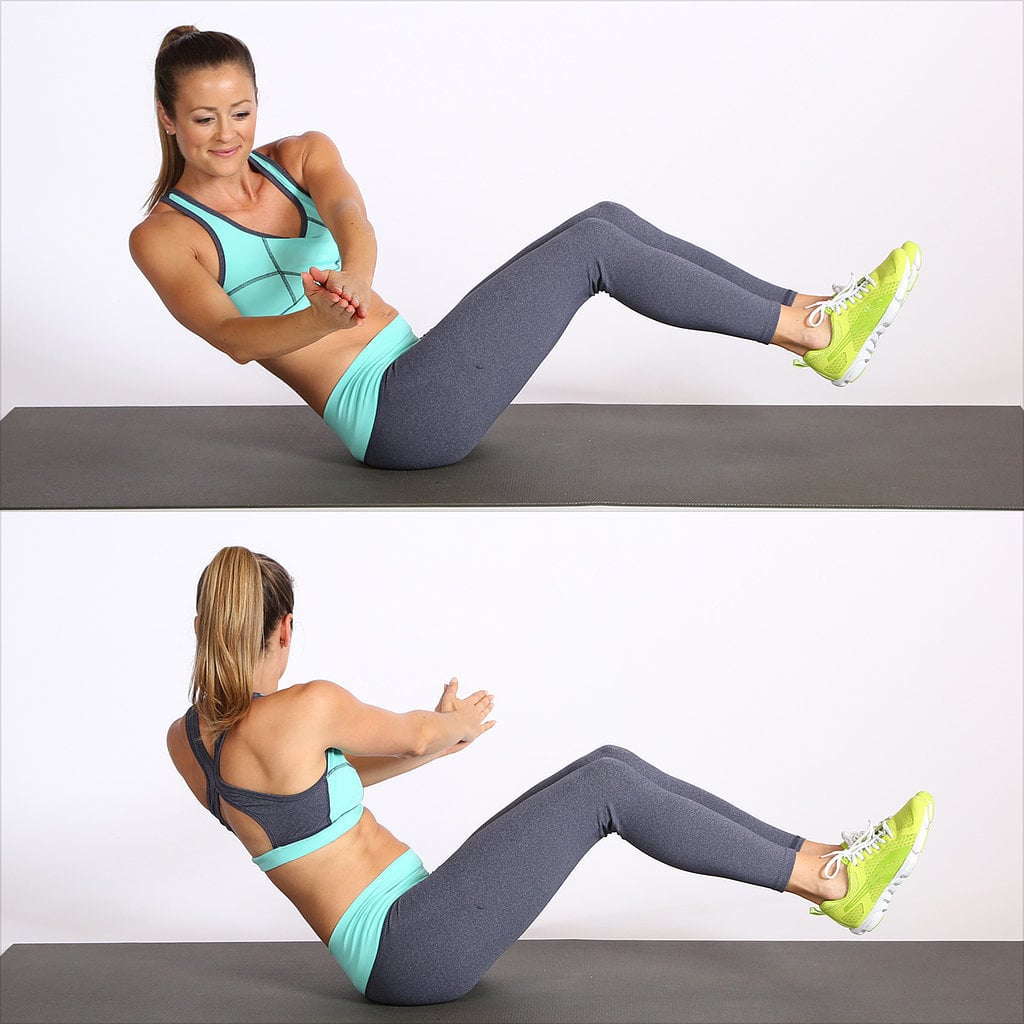 Benefits
The Russian twist is one of the good exercises to get a slim waistline and flat stomach.
It strengthens your core muscles of the hip flexor, rectus abdominis, internal obliques, and external obliques.
By doing the Russian twist, you can reduce the risk of heart attacks and strokes.
A great tool to burn calories and fats stored in the abdominal area.
It also helps to maintain good posture.
Russian twist sculpts a strong core and allows you to lift any heavy things without considering injury risks.
It can be a simple exercise that anyone can include in their workout routine.
It also increases mobility and maintains balance and stability.
Tips
Do not arch your lower back while doing a Russian twist.
Do not move or twist too quickly. Start with a slow pace.
7. Starfish crunches
How to do
Lie on the mat taking support of your back. Stretch your legs and arms, forming a letter X.
Now lift your right hand and left leg up to touch each other.
Return to letter X position. Lift up your left hand and right leg to touch each other.
Exhale when you lift your arm and leg and inhale when you lower them back to the position.
Repeat the lifting 10-15 times.
Benefits
It is a resistance training exercise to strengthen the core and abdominal muscles.
It can help you lose excess weight by burning more calories and fats.
These starfish crunches need more energy to do that helps in improving stability and mobility.
It helps improve the mood by releasing the hormones responsible for a happy and calm mind.
It also promotes healthy sleep.
A helpful exercise to reduce back pain and risk of injury.
Starfish crunches act as an anti-aging exercise to keep you healthy, fit and young.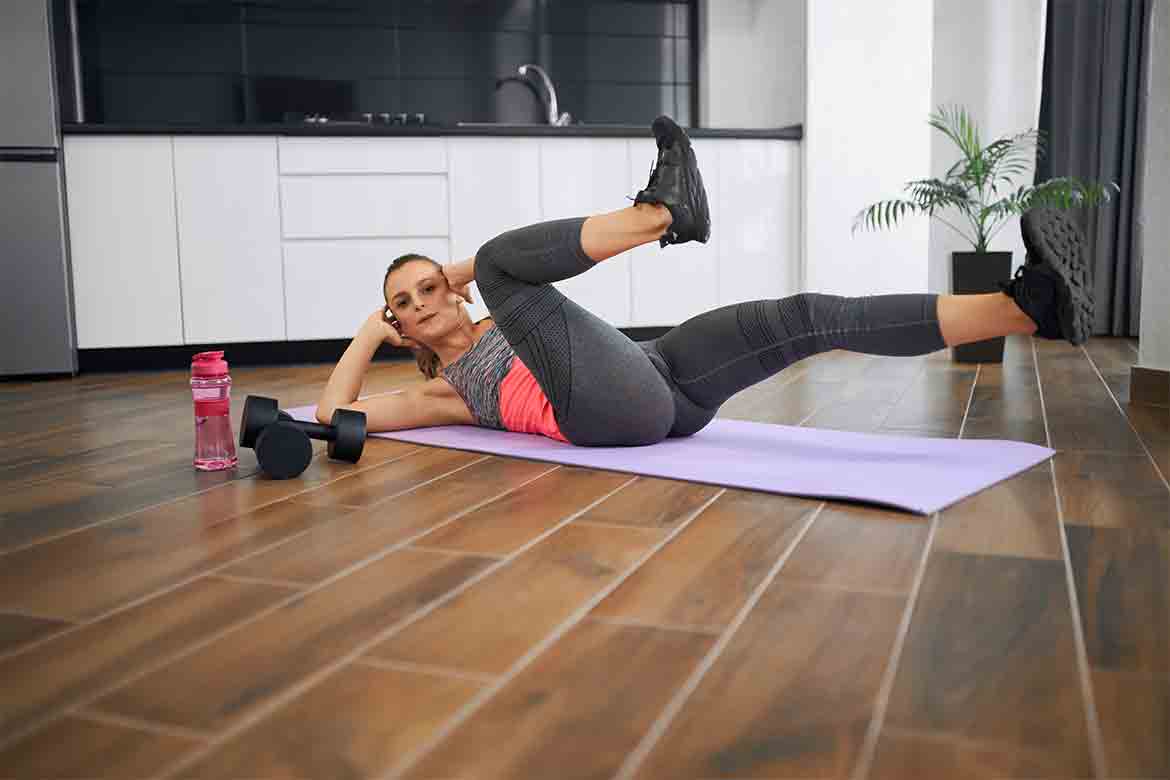 Tips
While doing starfish crunch, do not strain your neck. Keep it neutral and straight.
To make the starfish crunches challenging, you can add extra weights of dumbbells, kettlebells, or weight plates.
8. Plank
How to do
Lie belly-side down on the yoga mat. Flex your feet in a position where your toes are on the carpet.
Press your hands and knees to the yoga mat with your back, shoulder, and wrist aligned straightly.
Now extend your leg back with toes flexed.
Then bring your left leg to join it.
Tighten your abdominal area and lift the pelvic region to engage all the abs muscles.
Hold this position for 20-60 seconds.
Rest and relax in a child pose.
Repeat the above steps and try holding it for a longer time.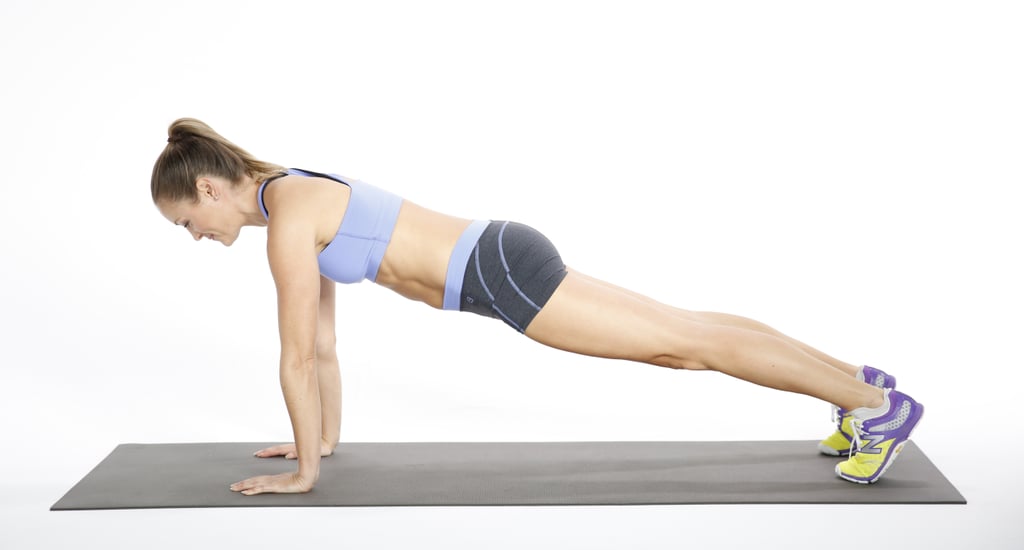 Benefits
It helps to maintain balance, stability, and mobility.
A soothing exercise to keep your mind and body calm and relaxed.
It improves the gluteal muscle that helps improve the shape of the back and hips.
Plank helps to improve metabolism and circulation.
A beneficial exercise to increase the flexibility of the body.
It strengthens your core muscles of the hip flexor, rectus abdominis, internal obliques, and external obliques.
Suitable for core conditioning and body strengthening.
Tips
Your body should be aligned and straight while performing the plank.
Shoulder shrugging or rear cowling can create pain and injury to the back, lats, and shoulders.
Do not bend your knees or keep your legs more apart from hip-width.
Risk of Doing Exercises for Smaller Waist
Doing waist exercises in the wrong posture can lead you to face problems in breathing.
These exercises provide a slimming effect and posture to your body, but only temporarily. They do not give permanent change.
Sometimes, these exercises can create problems with stomach abs and constipation.
A study says that wearing waist trainer clothes may improve body posture temporarily. However, if a woman wears it too much, it may weaken the core muscles of the body and result in back pain and poor posture, which invites health-related issues.
Also, excessive waist exercise can risk fracture of ribs.
These exercises are not a long solution to weight loss and fat loss.
Pregnant women can face severe issues in the development of a fetus. So they should always consult doctors before practicing it.
Healthy Habits For The Small Waistline
Start your day with herbal tea, soaked walnuts, and almonds.
Add one lemon daily to your diet.
Try to intake a glass of milk in your routine.
Add veggies, seafood, and soup that contains seasonal vegetables.
Avoid taking fast food and processed meals that are highly loaded with trans fats, salts, sugar, preservatives, etc., that might affect your health. Instead, go for homemade cooked food.
Get rid of distractions while eating. Food quality and preference studies have found that people who listen to music or are exposed to noise are tempted to eat more than those who eat at a quiet place. Experts say that distractions block the parts of the brain from sending the signal that you are full even if you are so tempted to eat more. Perhaps that explains why we eat ourselves out in restaurants playing music.
Always do breathing exercises before sleep. To feel young, energetic, and lead a stress-free life, one can also do these exercises in the afternoon or night.
Do not forget to keep track of your progress, including diet, exercise, and lifestyle changes to lose weight and fat. Note all these details in your journal and see where you did your best and what areas should be improved.
Conclusion
A flat belly and small waistline are the priority of every individual. But it is not that easy. To get rid of belly fats, one has to be very consistent and committed to doing exercises and eating a healthy and balanced diet. You also need to watch your calorie intake and burning enough calories while being on a strict diet will help you lose extra stored abdominal fat.
Reference
https://www.yogapod.com/yoga-fitness/
https://www.healthline.com/health/fitness-exercise/plank-exercise-benefits#Planks-can-help-increase-your-flexibility
https://livespowerful.com/donkey-kicks/
https://blog.weightlossmadepractical.com/starfish-crunches/
https://www.regularityfitness.com/side-jackknife/
https://www.stylecraze.com/articles/amazing-benefits-of-seated-russian-twist/
https://betterme.world/articles/how-to-get-a-smaller-waist/
https://www.verywellfit.com/crossover-crunch-abdominal-exercise-3120063
https://www.masterclass.com/articles/windshield-wipers-exercise-guide#how-to-do-windshield-wipers-with-perfect-form