Smiley's Points | Weight Watchers Recipes that Make You Smile! | So happy you're here. :) Smiley's Points participates in affiliate programs. That's how the bills get paid! Though I earn some revenue if you buy a deal through one of our affiliate links, there is no additional charge to you and I only recommend products I know and love.
I am enjoying Weight Watchers Freestyle program so much! Making Weight Watchers casseroles is easy because you can mix a bunch of zero point foods or low point foods together to make an awesome dinner.
Weight Watchers Casserole Recipes
While you're here, be sure to check out my most popular Weight Watchers posts!
Low Point Weight Watchers Soups
How to do Keto and Weight Watchers
Best Tips for Maintaining Lifetime Weight with Weight Watchers
Should I Eat My Weight Watchers Weekly Points?
Online vs In Person Meetings with Weight Watchers
How to Stay on Track with Weight Watchers During the Holidays
How to Tell if You're Hungry or Bored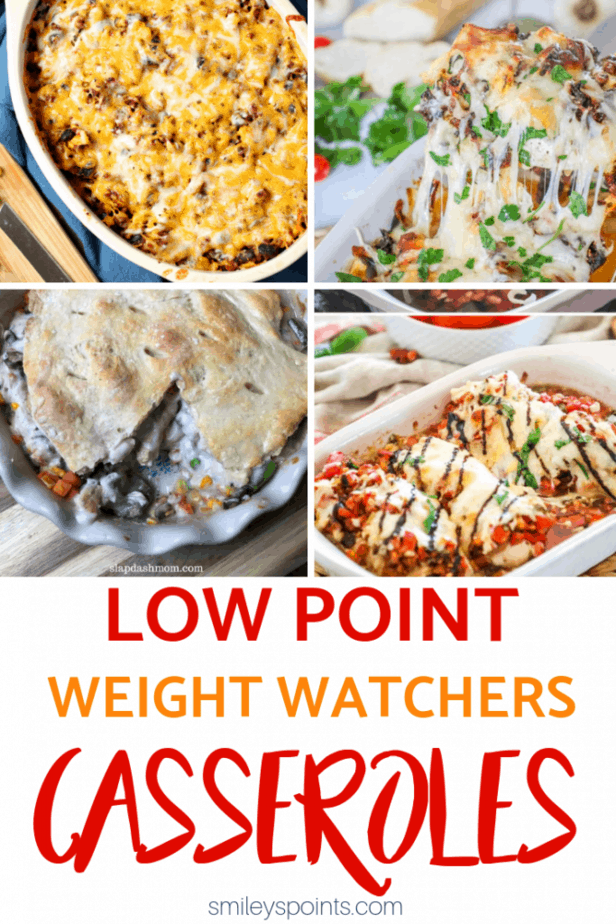 1 Point Weight Watchers Casseroles
Taco Casserole
Bruschetta Chicken
2 Point Weight Watchers Casseroles
Chicken Enchilada Casserole
Chicken Pot Pie
Garlic Chicken
Breakfast Casserole
Weight Watchers Goulash
3 Point Weight Watchers Casseroles
Cornbread Casserole
Tater Tot Casserp;e
Crock Pot Green Chili
4 Point Weight Watchers Casseroles
Vegan Stuffing
Chicken Enchilada Bake
Roasted Poblano Chicken Enchiladas
Green Chili Chicken Enchilada Casserole
Baked Turkey and Pasta Casserole
Easy Chicken Marsala
5 Point Weight Watchers Casseroles
6 Point Weight Watchers Casseroles
Delicious Pot Pie
Chicken Tacos
Instant Pot Creamy Chicken Pasta
Buffalo Chicken Pasta
Pesto Chicken