Smiley's Points | Weight Watchers Recipes that Make You Smile! | So happy you're here. :) Smiley's Points participates in affiliate programs. That's how the bills get paid! Though I earn some revenue if you buy a deal through one of our affiliate links, there is no additional charge to you and I only recommend products I know and love.
Are you ready for Thanksgiving? Turkey breast and sweet potatoes are a Thanksgiving staple. We are getting prepared for all of those homemade favorites. We do want to be conscious and stay within our points, but we also desire uber delicious down-home cooked goodness. How do we achieve both? We take all of the seasonings that make each dish a masterpiece, and we tweak it a bit to lower the point values. Ok, I hear you, won't "tweaking" it change the taste? Try our delicious turkey breast and sweet potato recipe and decide for yourself. I am sure you will agree we have come up with the recipe your family will ask for long after turkey day.
Turkey and Sweet Potatoes
We were brainstorming one day about what to make for Thanksgiving, and of course, turkey always comes up. How do we make it so that it is the perfect crispness outside and deliciously tender inside? Use the Ninja Foodi that's how. The Ninja Foodi, combined with one of the best recipes you have ever tried for turkey breast will make this Thanksgiving feast a breeze. It takes about 30 minutes total, including prep, time to come up to pressure and cook time. Save time this Thanksgiving, spend more time with your family and not in the kitchen cooking.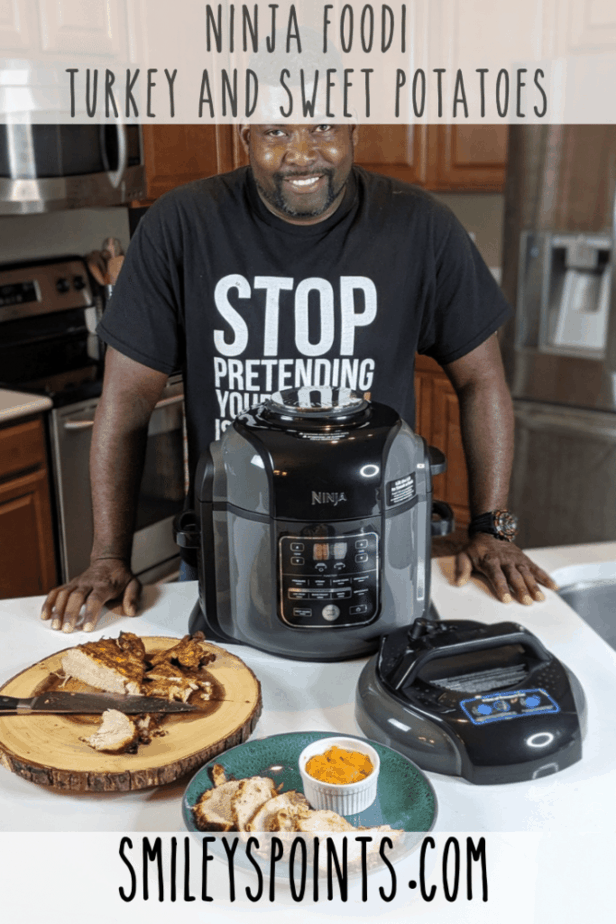 Ninja Foodi
The Ninja Foodi is an amazing invention that has truly saved us time and counter space. It really does it all. I think it is going to replace my oven soon 🙂 Making our turkey and sweet potato recipe in the Foodie was so quick and easy. If you have followed our blog, you know we love cooking, and the Instant Pot was our go-to kitchen device with some Air Fryer thrown in for crispness. We love making our normally slow cooked beef stew in the Instant Pot. It produced same flavor and tenderness and in less time. The Foodi takes our amazing turkey recipe to the next level! It is crispy outside, juicy and tender inside.
Saving Points on ThanksGiving
We used heavy cream and real butter for this recipe. It is only 4 points per serving according to the Weight Watchers App. Yes, that is awesome! You can make it even less points if you decide to substitute for the milk, butter, and heavy cream. We strive to make meals that taste way above what you expect. We love to eat so the food has to taste phenomenal. If you do substitute let us know what you did and how it turned out. 🙂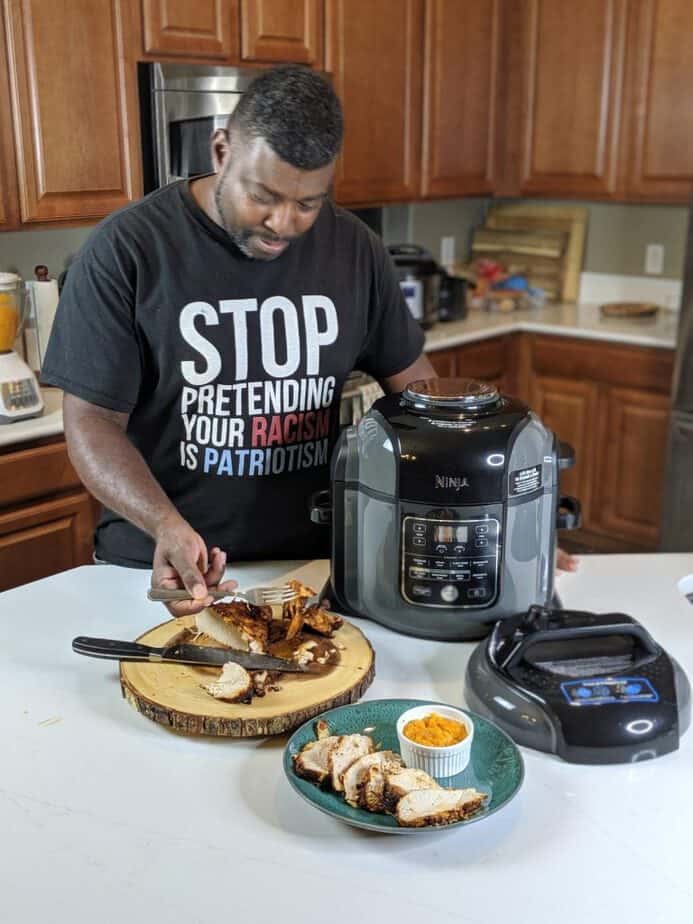 Serves 4
4 points per serving
Some more of our great recipes
BBQ Chicken Strips
Black Bean Sweet Potato Chili
Air Fryer Egg Souffle
Smiley's Famous BBQ Sauce
Print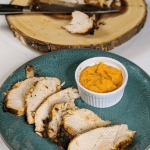 Turkey and Sweet Potatoes
---
Description
The Best Ninja Foodie Turkey and Sweet Potato recipe. So delicious
---
Scale
Ingredients
12 oz Turkey Breast
1 tbsp garlic powder
1 tbsp smoked paprika
1/2 tsp salt
1/2 tsp oregano
1 tbsp butter
3/4 cup chicken stock
Sweet Potatoes
3 medium sweet potatoes
2 tbsp heavy whipping cream
1 tsp cinnamon
1/4 cup non-fat milk
---
Instructions
Turkey
Open turkey breast and place in a bowl
Rub turkey breast with half of the seasonings ensure you get seasonings under the skin of the turkey breast.
Pour chicken stock into the Ninja Foodie
Place the reversible rack in the down (lower) position
Put the turkey breast on its side in the center of the rack
Place the sweet potatoes around the turkey breast
Put the Ninja Foodie on high for 13 minutes press start
While turkey is cooking mix the other half of the seasonings with melted butter
Natural release for 8 minutes then quick release
Remove sweet potatoes
Remove turkey pour out the juices and set aside if you would like to make gravy with it we didn't.
Baste turkey with butter mixture (use a brush to coat the turkey evenly)
Close crisping lid adjust temp to 390 degrees for 16 minutes
After 8 minutes flip turkey breast over baste the other side with the remaining butter mixture. close lid and crisp for the remaining 8 minutes (We had some butter mixture left over but we still counted the points. You can add it to your sweet potatoes if you would like)
Sweet Potatoes
Mash the sweet potatoes add cinnamon, heavy cream and nonfat milk* mix well
Add nonfat milk until you get the consistency you prefer. I used a little less than 1/4 cup.
Serve this delicious meal and enjoy the compliments
---