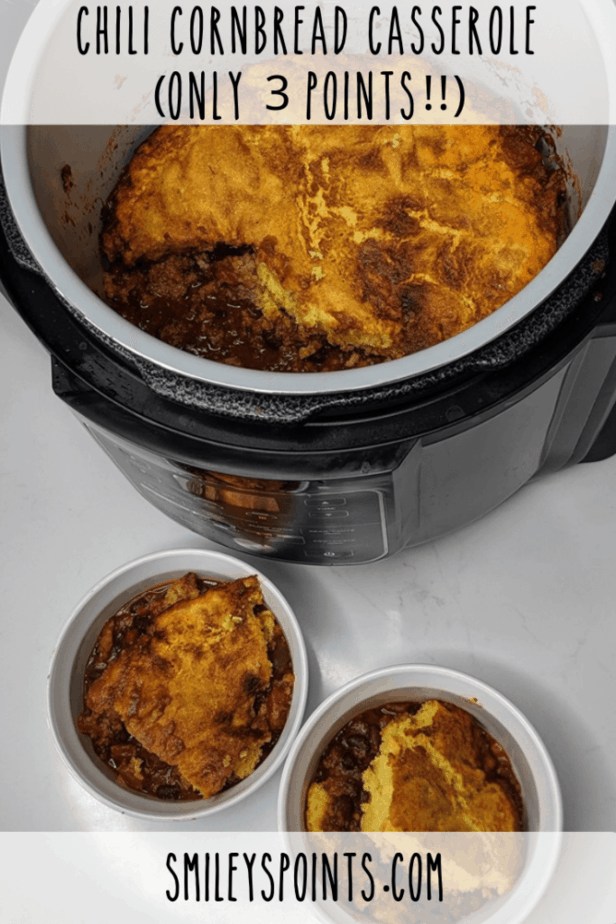 I miss cornbread. We love making our Chicken Chili recipe but we knew something was missing – and we found it 🙂 Cornbread!!! No good chili is complete without cornbread. We have designed a recipe for cornbread that tastes fantastic and is low in points. In fact, our Chili Cornbread Casserole is only 3 points on the Watchers Freestyle program. BONUS! This is 6 hearty servings. You may have to cut the points in half because you couldn't eat a full one 🙂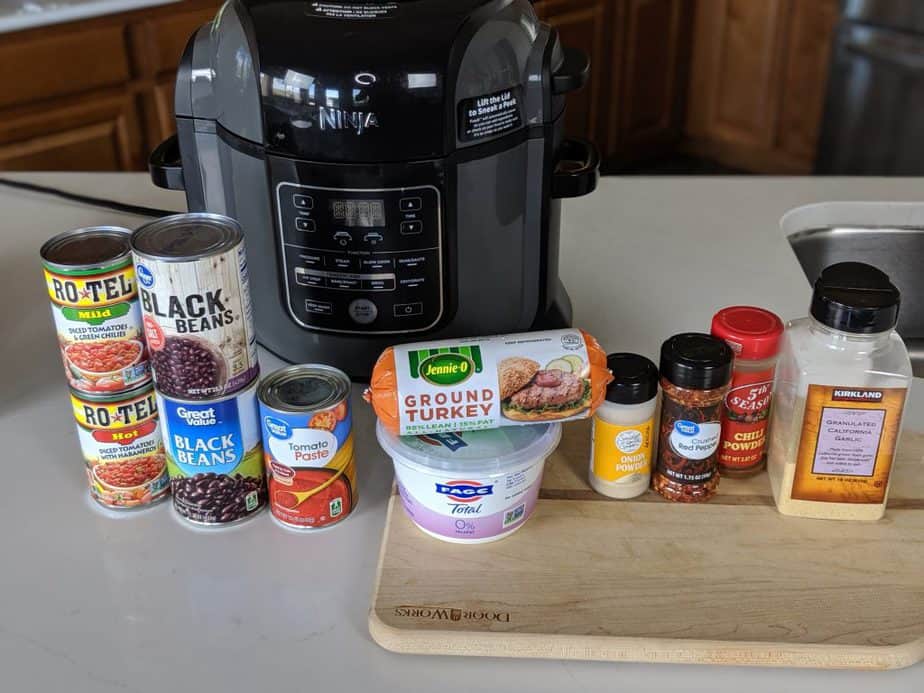 Chili Cornbread Casserole
Autumn is right around the corner and we are ready with some wonderful stews and soups. We eat chili all year long, and this is a twist on one of our favorites, it is sure to please. Remember to make extra because this one is fantastic right out of the freezer. Our Chili cornbread casserole is great for a grab, heat, and eat meal. At only 3 points our hearty chili cornbread casserole will satisfy you and keep you on track with your points.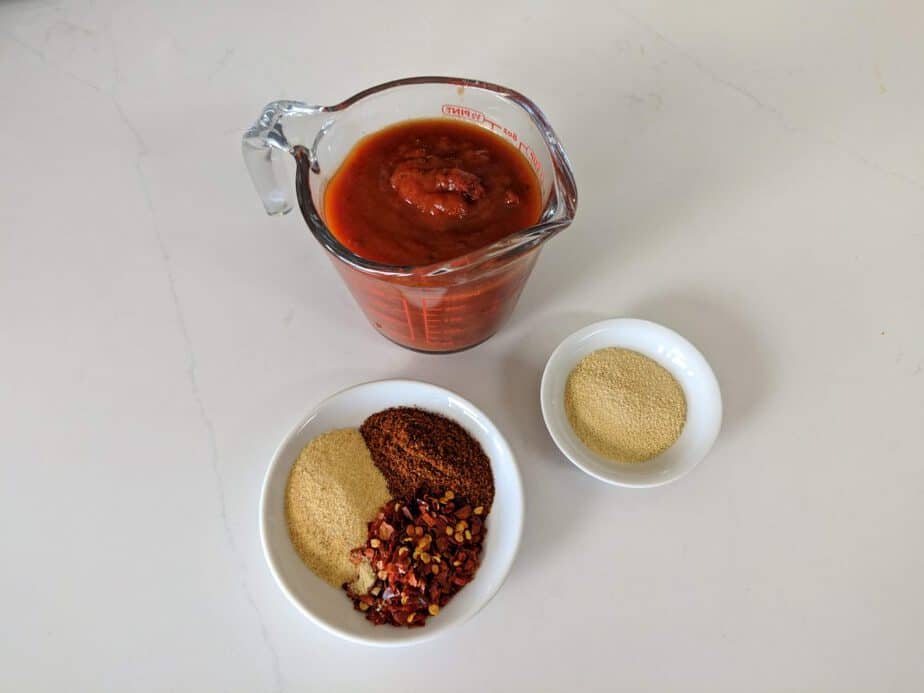 Side Dishes
We believe the main course must be complemented by amazing side dishes. A great tasting meal deserves a great tasting side. We want to keep the points low, so creating sides can be a bit of a challenge as we are sure some of you know. We love Weight Watchers and how you can eat literally anything you want, as long as you count everything you eat and drink, and stay within in your allotted points for the day. You do get weeklies 🙂 Should I eat my Weeklies? is a great article written about using your weeklies.
check out our 23 Points a Day Weekly Meal Plan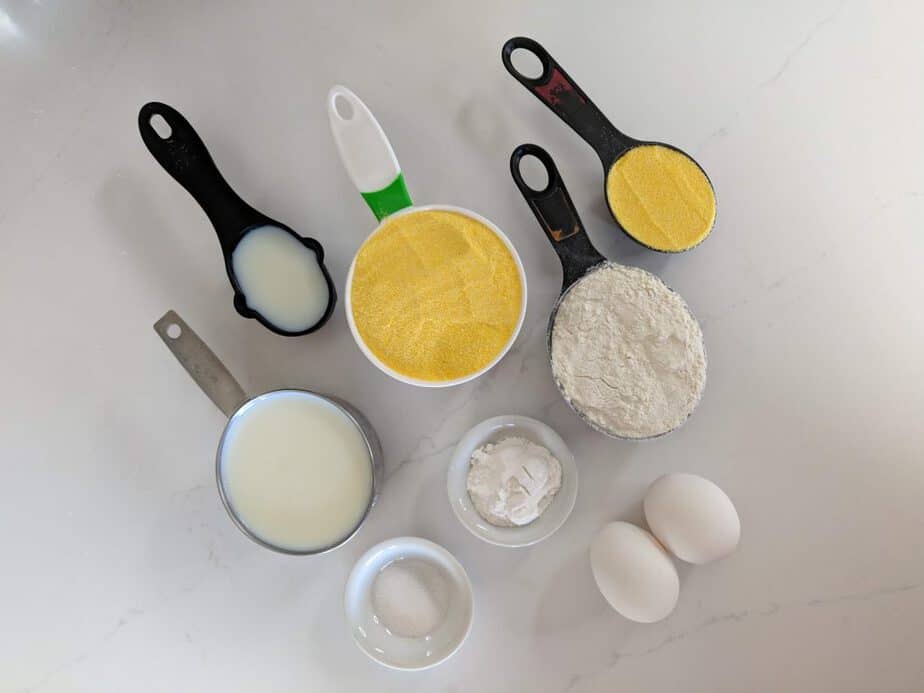 Weight Watchers Meal Prep
One of the best pieces of advice we receive and give is to prep your meals ahead of time. Freezer meals combined with meal prepping have been a real game changer, helping us to stay within our points while we continue to lose weight. We try to mention this to everyone because of the impact it has had in our own lives. Freezer meals are a great way to help with meal prepping. Cook everything on Sunday and freeze it, by Wednesday you are thankful for that ready-made lunch or quick dinner to help get you over hump day, and on to the end of your week. One key benefit of freezer meals and meal prepping is the time it saves you later on. We only have to count points once a week, and we are finished. All of our freezer meals are labeled with the meal name and the points. We always know what we are grabbing and how many points it is. For this recipe separate your chili from the cornbread before refrigerating or freezing, the cornbread will soak up all of the chili juices. We are working on getting some pictures together to show you guys how we do all of this. We want to help you succeed; let us know how we are doing. Comment below. Pin this post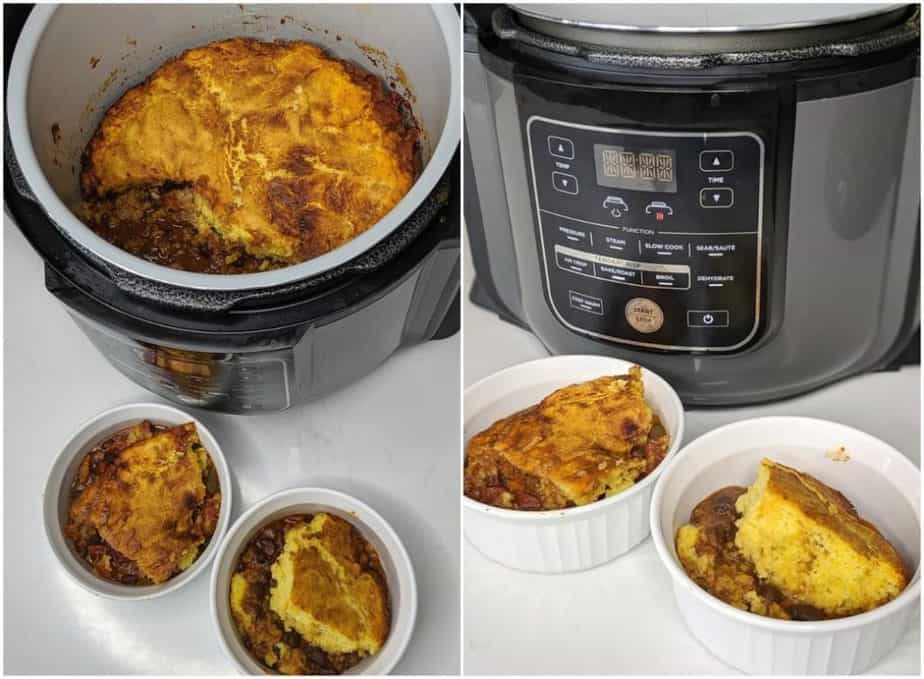 Extras
If you would like you can add some FAGE yogurt on top for a great tasting topper 🙂
Either way dig in and enjoy.
This chili was delicious with shredded chicken or ground turkey. You choose which you like better. We loved them both 🙂
Let us know how we are doing in the comments below.
Other great recipes to try while you are here
Chicken Chili
Turkey and Sweet Potatoes
Beef and Broccoli Skillet
Air Fryer Egg Souffle
Print
Chili Cornbread Casserole
---
Description
mmmm bring on wintertime, we're ready with this chili cornbread casserole in the Instant Pot or Ninja Foodi!
---
Scale
Ingredients
1 1/4 cups cornmeal
3/4 cup all purpose flour
1 1/4 cups low-fat milk
2 tbsp sugar
3 tsp baking powder
1/2 tsp salt
2 large eggs
---
Instructions
In a large Bowl mix cornmeal, flour, sugar, baking powder and salt
In a small bowl beat the eggs, and milk together until well blended
add eggs to the dry mixture and stir until blended. Do not over mix this will make your cornbread tough. You want the mixture to be completely moistened but not over mixed.
Make your chili in the Instant Pot or Ninja Foodi
Pour cornbread mixture over chili.
If using the Ninja Foodi once your chili is done pour cornbread mixture on top, close crisping lid.
Select bake/roast set temp. to 360 set time to 25 minutes press start/stop.
At 15 minutes, check to make sure the cornbread is cooked by sticking a toothpick in the middle. If it comes out clean move to the next step. If not cook an additional 5 minutes and check.
Sprinkle cheese on top of cornbread and close the lid. Bake an additional 3 minutes or until cheeses is melted. Serve hot
If using the Instant Pot, preheat your oven to 400 degrees
Pour chili into a 9×13 baking dish
Pour cornbread mixture on top of chili
Bake for 20-25 minutes, check to make sure cornbread is done
Sprinkle cheese on top and bake an additional 3 minutes or until cheese is melted
Cut into 6 servings and enjoy
Just the Cornbread
Follow the beginning instructions
Preheat oven to 400
Pour mixture into a 9×9 dish and bake for 20-25 minutes
Check to make sure it is done with a toothpick.
Sprinkle cheese on top and bake an additional 3 minutes or until cheese is melted
Cut into 6 pieces and enjoy
---
Notes
Turkey Chili is 0 points
Cornbread is 3 pts per serving